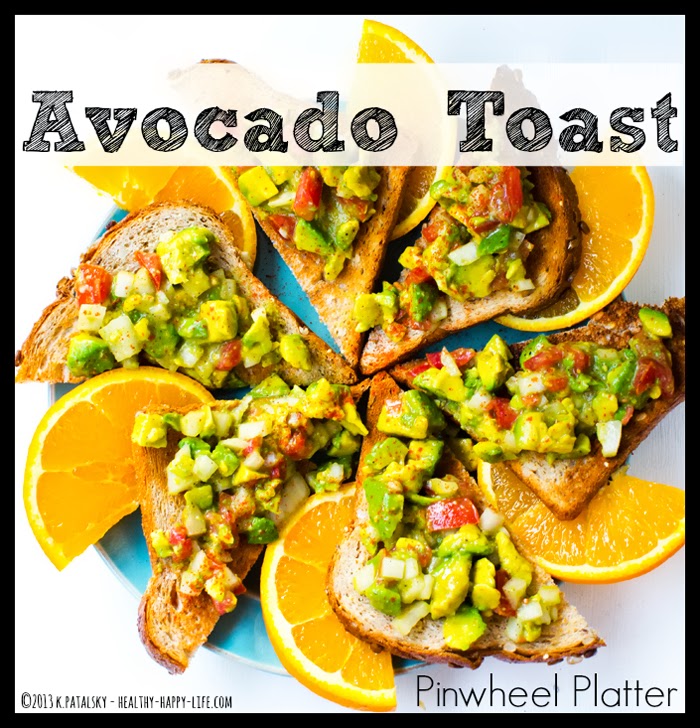 As a late afternoon snack or an evening appetizer, this Summer Avocado Toast Pinwheel Platter serves up a colorful feast for the eyes with some very healthy-delicious flavors that follow. Fresh citrus from sweet and juicy navel oranges. Buttery avocado mingling with summer's freshest vine-ripened tomatoes. Sweet onion, diced into fine cubes. And the brisk and sunlight-filled flavor of fresh lemon juice marinating and mingling with the flavors in each bite. Some salt, pepper and optional spicy accents too. Get my recipe for this party or snack-approved pinwheel platter..
Half-Smashed. I love chunky-style salsas and even guacamole. And sometimes I like chunky-style avocado toast. Well this recipe falls somewhere between chunky and smashed. I achieve this texture by processing all the ingredients in a Vitamix (or food processor) for about 3-5 seconds. Too long and you get soft spread, but just a quick pulse and the flavors blend beautifully while keeping things chunky-textured.
Summer Avocado Toast Pinwheel Platter
vegan, makes 6 slices
1 large navel orange
6 slices bread for toasting (any variety)
1 large avocado
1 large lemon
1 small vine-ripened tomato
½ small sweet onion
pinch of salt & pepper
dash of cayenne (optional)
drizzle of extra virgin olive or pumpkinseed oil to serve
Directions:
1. Slice about ¾ of your orange into thin half-moon shaped rounds. These will be added directly to the platter. With the remaining ¼ orange, squeeze the juice into a medium sized bowl.
2. To the orange juice bowl, add the avocado cubes, diced onion, salt, pepper, optional cayenne and juice of one lemon. Toss well. Tip: Add some citrus zest for a bolder citrus flavor.
3. Add the avocado mixture to a food processor or Vitamix and blend for 3-5 seconds, just until the consistency softens a bit, but stays chunky.
4. Toast and slice your bread and add the avocado mixture to the triangle slices.
5. Create the platter by alternating orange slices with toast slices. Add oil and more spices over top to present.
Some other avocado dishes to try..
Green Tower Power Salad with avocado:
Deviled Avocado with spicy-sweet curry sauce:
Strawberry Avocado Tartine/Toast:
Veggie-Loaded Avocado White Bean Salad:
Easy Sweet Potato Soup with Avocado: