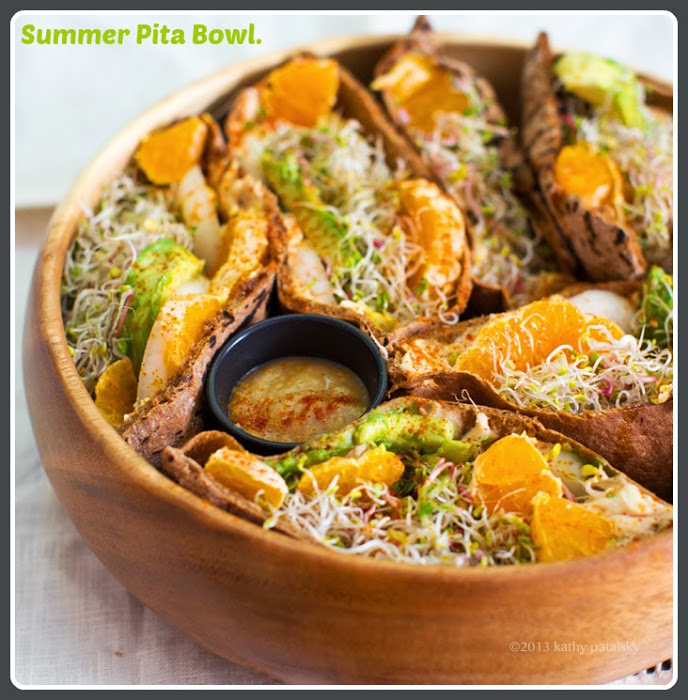 New make-your-healthy-happy-life-a-little-bit-easier recipe!..
Meet my summer meal featuring a "make-ahead" sandwich concept: the Summer Pita Bowl. This pita bowl features my Avo-Citrus-Sprout Hummus-Stuffed Pitas. Because everything is better with creamy avocado, crunchy light sprouts and a little bit of citrus. Check out the details on how you can be meal time ready this summer with this fun, delicious and healthy idea!…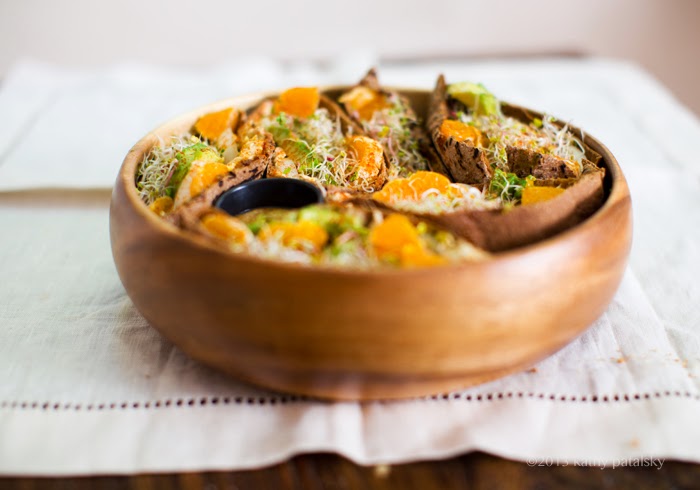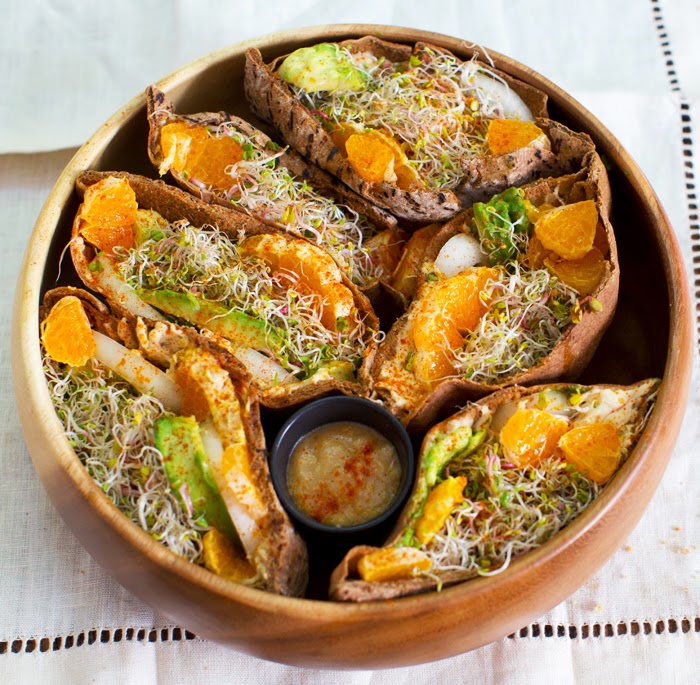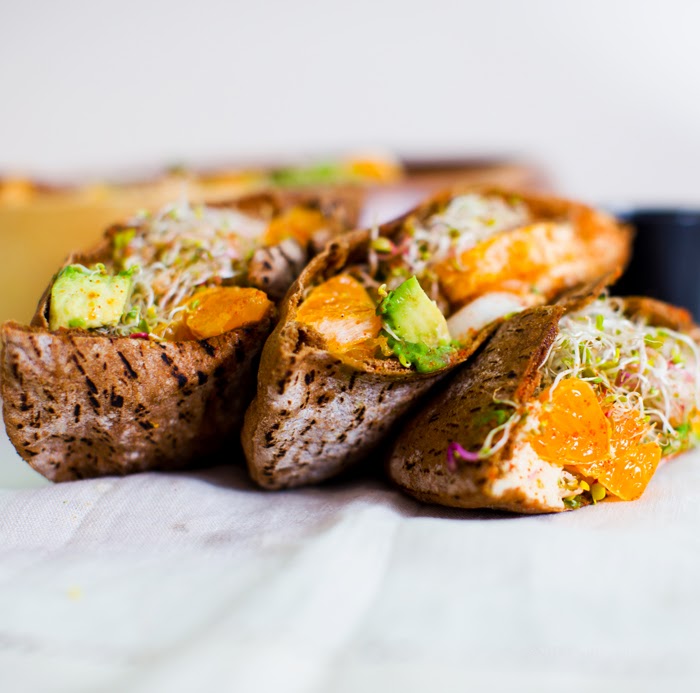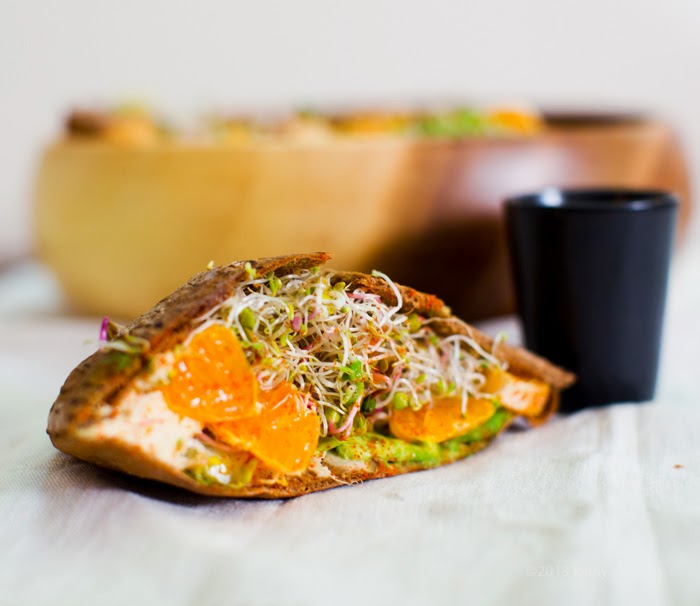 Normally you serve a salad in a big bowl. Well why not serve some pitas that are filled with greens, veggies, spreads, salads and anything else you want to stuff into a toasty pita.
Have a grab-n-go sort of summer with my Summer Pita Bowl. Instant meal! Make-ahead bliss similar to my Salad-in-a-Jar concept.
Pita Bowl & a Movie Night. Forget movie + pizza delivery night .. to feed a crowd just whip out a few pita bowls and casual, plate-free feasting is served!
How to Make a Summer Pita Bowl
You will need: pita bread + ingredients + big bowl – (a shallow bowl works best for presentation purposes)
step 1: Decide on your ingredients. These can be anything really! Grab some easy homemade or store-bought hummus, some veggies, shredded carrots, crunchy sprouts, diced onion, sliced cucumber, baby spinach, marinated kale salad … whatever! Me, I added this:
– 1 large naval orange, peeled/sliced
– 2 cups spicy sprouts
– ½ cup garlic hummus, homemade recipe
– drizzle of pumpkinseed oil over top + a few splashes of fresh lemon juice
– 1 small onion, sliced
– 1 avocado, sliced
– cayenne + fine black pepper (any spices or herbs you'd like help make your pitas complex + special)
step 2: Slice pitas in half, then toast or warm your pita pockets, then open the halves and fill each pita with ingredients. Start piling them into the bowl until you can fill no more – cram them in like cinnamon rolls!
step 3: Prepare any sides, spreads or sauces. I did a tahini maple sauce:
Tahini Maple: 2 tablespoon tahini + 1 tablespoon maple syrup + 1 tablespoon apple cider vinegar
Step 4: Serve or save! The best part about these pitas is that you can make a large bowl and be snacking on them for 1-2 days. Hungry at lunch? Grab a pita! Need a healthy midnight snack? Grab a pita! Need a fast beach picnic lunch? Grab a few pitas! Easy. Just be sure to cover your bowl to store and eat within a few days. Seal tightly with saran wrap. You can also make this bowl for a summer potluck party or feast with friends.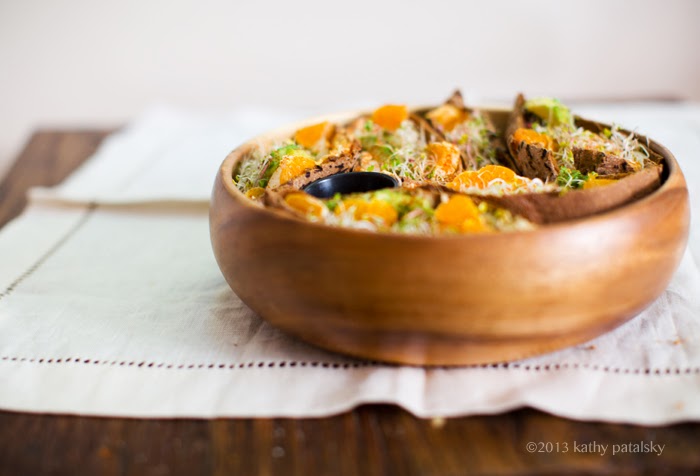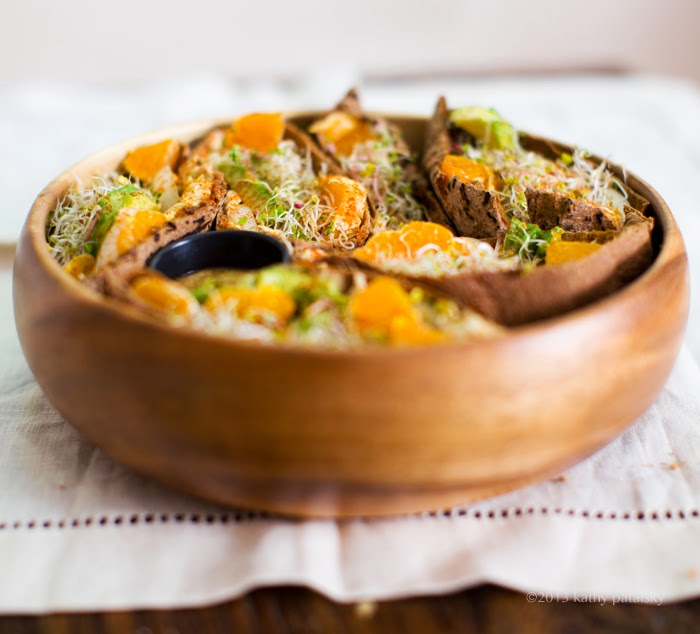 Take a hummus + veggie platter .. stuff those goodies inside some pitas and have make-ahead meal bliss..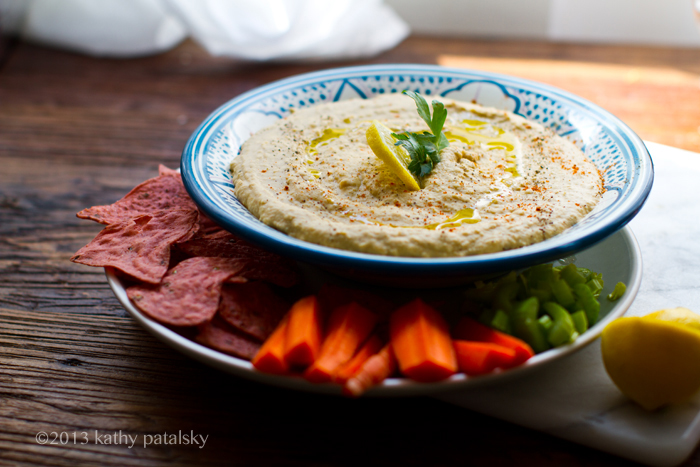 Other filling ideas for your vegan pitas:
– Vegan "Tuna" Salad
– Summer Slaw, vegan cole slaw
– Veggie-Loaded Avocado Bean Salad
– Kale, Avocado, Miso Dipped Tempeh
– Creamy Tomato Garlic Hummus Spread
– Cajun Spiced Sweet Potato Hummus
– SummerThyme Hummus Dip
– Lemon Jalapeno Asparagus Cashew Salad
– Peach Basil Avocado + Balsamic
– Philly Cheese Pitas
– Easy Tofu Crunch Salad
– Strawberries + Avocado Ginger Lemon
– Avocado Spinach Hummus