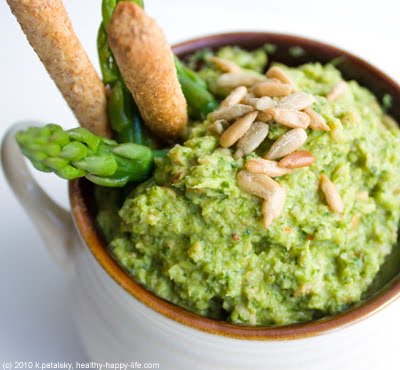 My Sunny Asparagus Tapenade is the perfect recipe to perk up any dish – sandwiches, salads, pasta or appetizer platters. Plus, you'll be adding a delicious dose of super fresh, healthy veggies to your meal or snack. Gourmet. Simple. Yummy. Versatile.
Homemade Tapenade. I must say, I've been quite obsessed with veggie tapenades lately. You know, the kind that come in those cute little jars and have simple ingredients like olive oil, salt, garlic, capers, pepper, spices and some sort of main veggie ingredient. Olives, artichoke, red pepper etc. Such simple, timeless flavors – blissfully delicious. Light bulb! Hmm, why spend $3-8 per tiny jar when I could easily make these myself – with handpicked, super fresh, creative ingredients? Thus I set off to create my very first homemade tapenade. Did it work? Well lets put it this way, I could barely stop licking the spoon as I tried to carry on with my tapenade photo shoot. Delicious. Easy. A real recipe winner. Get it…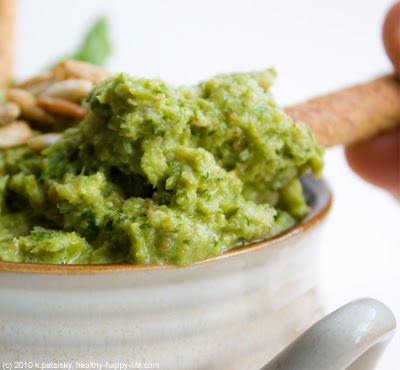 Thick or Thin? The one thing I noticed about making tapenade is that I had a lot of extra water in my mix. My tapenade blended up kinda slushy at first, but I added another scoop of sunflower seeds and even a palmful of croutons, and it firmed right up. Plus, blending for a long time helps too. And you will want to drain your asparagus (or any veggie ingredient) well before placing it in my Vitamix.
My final result was a tapenade that was a bit thinner in consistency than the jarred store-bought brands – but that extra water is healthy! A higher water content makes your tapenade much more hydrating than the bottled tapenades. That means less calories per bite. And don't worry, there's no sacrifice in flavor. The freshness of the flavors send you into loud moans of "mmmmm!" Asparagus never tasted so elegantly delish!
Sunny Asparagus Tapenade
vegan,
makes about 10 servings, one serving = 3.2 tablespoon – recipe makes just over 2 cups of tapenade
¼ cup lemon juice
¾ cup parsley, chopped
1 tablespoon olive oil
1 clove garlic
½ teaspoon sea salt
½ teaspoon red pepper flakes
¼ cup orange juice
2 teaspoons agave syrup
⅓ cup sunflower seeds
1 teaspoon black pepper
2 tablespoons breadcrumbs, optional
12 ounces asparagus
Directions:
1. Chop your raw asparagus. Add it to a soup pot of salted boiling water. Boil for 4-5 minutes. Strain, and rinse well with ice cold water, or submerge into ice bath. Set aside. Leave out 1-2 asparagus tips for garnish.
2. To a high speed blender or food processor, add your lemon and orange juice, olive oil, garlic, salt, pepper, agave syrup, parsley, spicy red pepper flakes and sunflower seeds. Lightly blend.
3. Add in the chopped and blanched asparagus. Blend until smooth.
4. Do a taste test. If you'd like a thicker tapenade, add 2 tablespoon of plain vegan croutons. Or bread sticks. Or day old bread.
5. Pour tapenade into a serving dish and garnish with asparagus spear and whole sunflower seeds. Chill or serve at once. Serve with crackers, veggie sticks or spread on toasts and sandwiches.
Nutritional Info per serving
1 serving = 3.2 Tbsp
about 10 servings per recipe
*I used my new Vitamix to pulse this dip into creamy, yet chunky perfection.

Food energy: 58 calories
Saturated fatty acids: 0.48g
Monounsaturated fatty acids: 1.50g
Polyunsaturated fatty acids: 1.86g
Total fat: 3.85g
Calories from fat: 34
Cholesterol: —
Carbohydrate, by difference: 5.16g
Total dietary fiber: 1.52g
Protein: 1.81g
Total lipid (fat): 4.03g
*calculated with MacGourmet