Most people wouldn't dream of firing up their stove top on a weekday morning. But how about some sauteed orange-saffron mushrooms and maple tempeh on a bagel? No way. Well why not, I ask? Your response: "Too much clean up. No time or energy to "cook" in the morning. I'll get something to-go when I grab my coffee."
Craving: Satisfied. I know you are hungry for more than a luna bar, slice of dry toast, grab-n-go muffin, one banana or that liquid Starbucks diet you've been surviving on. Satisfy your real food craving with my Sunny Mushroom Tempeh Morning Bagel. It's easily yours, let me convince you…
Gourmet AM. To-go. I'm not asking you to whip up a four course meal at 6am, but I would like you to consider a few things:
1) Breakfast is said to be the most important meal of the day.
2) By the time you get around to eating or drinking your first meal of the day, doesn't it feel like "lunch" anyways? Why not "brunch it" with something substantial?
3) This gourmet breakfast sandwich took me only ten minutes to make. You can squeeze in ten minutes right?
4) I know you can't stand the thought of doing dishes or cleanup in the kitchen before work, you don't have to! Simply stick your saute pan in some hot soapy water, and by the time you get home the pan will be easy to wipe clean.
For your get-up-n-go day, you need some get-up-n-go energy. This bagel sandwich will do it. Side of fruit, fruit juice and/or coffee/chai, suggested as well. The vegan recipe below…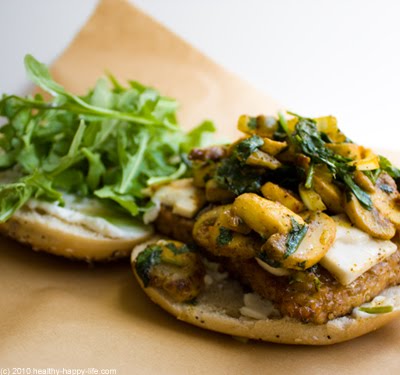 Sunny Mushroom Tempeh Morning Bagel
makes 2 sandwiches
Mushroom Saute:
1 tablespoon vegan buttery spread
½ orange, juiced
1 tablespoon apple cider vinegar
1 cup mixed mushrooms, sliced
1 small onion, sliced
1 pinch saffron
small handful of chopped parsley
optional: 1 celery stalk, thinly sliced
s&p to taste
Maple Tempeh:
1 block tempeh, 8 oz.
1 teaspoon olive oil
¼ cup maple syrup
½ orange, juiced
1 tablespoon apple cider vinegar
optional: vegan cheese, melted
s&p to taste
Bagel:
2 bagels, sliced
handful of organic arugula
optional: jam or Vegenaise spread
2 slices maple tempeh
a few spoonfuls of the mushroom saute
Directions:
1. Slice your mushrooms, juice your orange and slice your tempeh. Your rectangle block of tempeh should be sliced in half, then down the center to create 4 think cubes.
2. Over med-high heat, melt 1 tablespoon of vegan buttery spread. Add your mushrooms, onions and optional celery to that.
3. Next add in your orange juice from ½ orange, 1 tablespoon apple cider vinegar and a nice pinch of saffron. Saute until saffron blooms and mushrooms become tender. Add a small handful of parsley and remove from heat. Transfer to a separate container and set aside.
4. In the same pan, add a teaspoon of olive oil and 2-3 tablespoon maple syrup. Add tempeh. Saute a bit and add in the rest of your orange juice and apple cider vinegar.
5. Saute for about 2 min on each side. If adding cheese, add it over top the tempeh and melt gently. Add salt/pepper to taste.
6. Slice and toast your bagel. You can add a smear of berry jam or Vegenaise spread to each side of your bagel (optional).
7. To the bagel, add two slices of tempeh, a big spoonful of your saffron mushroom mixture and a handful of raw arugula. A pinch of pepper on top. Slice bagel and pack to-go, or eat at home. A side of fresh OJ or other fresh citrus or tropical juice (pineapple, grapefruit, papaya, tangerine) goes perfectly with this bagel.