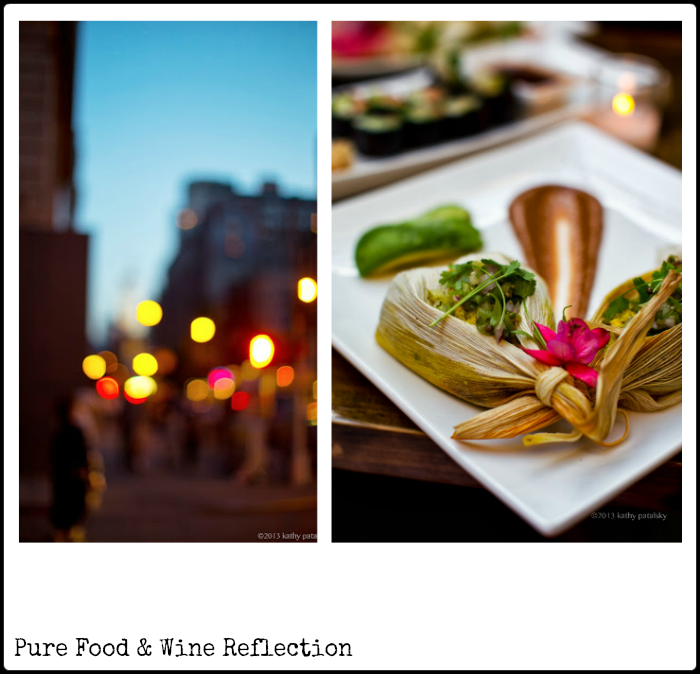 Through the satin green leaves on fluffy trees lining the gritty silver streets of the Gramercy Park neighborhood in New York City, there sits a special spot to me and to many. Pure Food and Wine Restaurant, and around the corner, One Lucky Duck juice bar + takeaway.
Pure Food and Wine is a place where towering raw zucchini lasagna with its bright green pesto and glossy layers, vibrant vegan salads, the best vegan tamales you have ever tasted, velvety Mallomars and rippling Chocolate Mint Sundaes are carried out on shiny dishes by passionate people, amidst twinkling lights, glowing faces sipping Sake Tinis and a hum of something magical in the air. Kind of like Disneyland for people who like plants. And in place of Walt, we have miss Sarma. In the place of Mickey, we have a duck. A duck logo who Sarma says she created with kid-appeal in mind,
"..enough of a cuteness factor that kids would find it (the logo) appealing too, which is important if we're talking about changing the future too." And in terms of changing the future, Sarma was succeeding.
If you know anything about the PFW + OLD brand, you will know Sarma's face. Shiny bobbed blonde hair, low key smile, duck tattoo, Swan Greens juice in hand, pumpkinseed salad munching at her desk, rescue pets speckling her Instagram, like her blonde-eared pitbull Leon, and Sarma's candid blog posts and voice — all things synonymous with her brand.
But a few weeks ago I was saddened to hear that Pure Food and Wine was closed amidst a financial scandal that was playing out on a grand, hurtful, public scale..
Updated: Go Fund Me for Pure Food and Wine!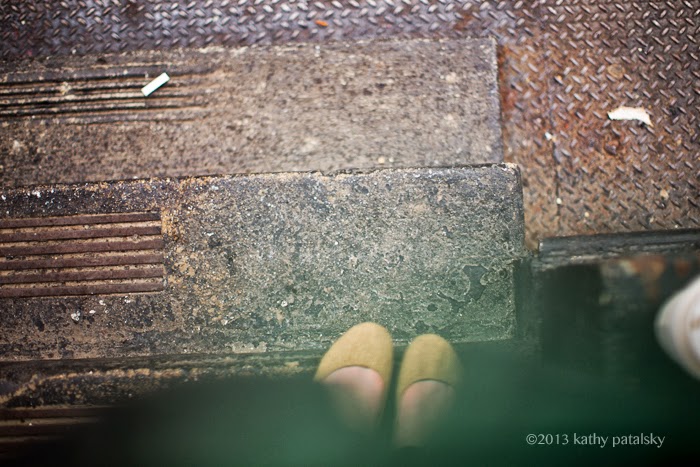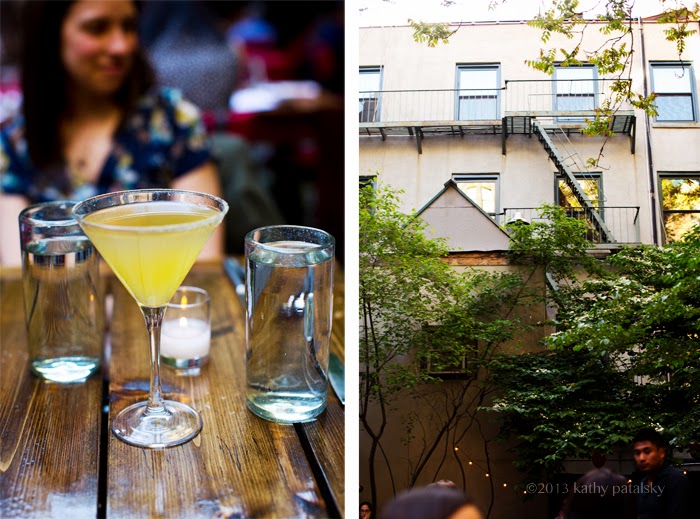 I was pretty shocked at the circumstances and images flying through "foodie" media and reports on what went down. I felt bad for the employees and vendors that were impacted by the conflict. And while common sense told me that this could be the end of the iconic raw + vegan establishment and brand, I knew for certain that this was only the beginning of an uphill climb, a raw (no pun intended) battle that Sarma would have to confront face to face, and hopefully come out on the other side of this mess with mistakes mended and wounds patched up.
Sarma's most recent blogpost, "What's Going On.. and hope", is a sort of open letter to her fans (and enemies) asking for forgiveness as she fully admits that she, and I quote, "F'd up royally."
And though mistakes were made, I found it ridiculous that some people were so quick to rip Sarma apart. Even if she was to blame – though obviously I am still just and outsider looking in. But it is scary how quickly humans can lose compassion and be quick to judge. While yes, Sarma even admits that she messed up, the bottom line is that there is no way that she or anyone with half a heart would ever want for this to happen to their business or employees.
I could only imagine how crushed she must have felt. In her latest letter she says,
"Believe it or not, my biggest fear in life is letting people down. Always has been. And in some insane way, I managed to create a situation where I did just that on a massive scale. How does that happen?.."
PFW magic..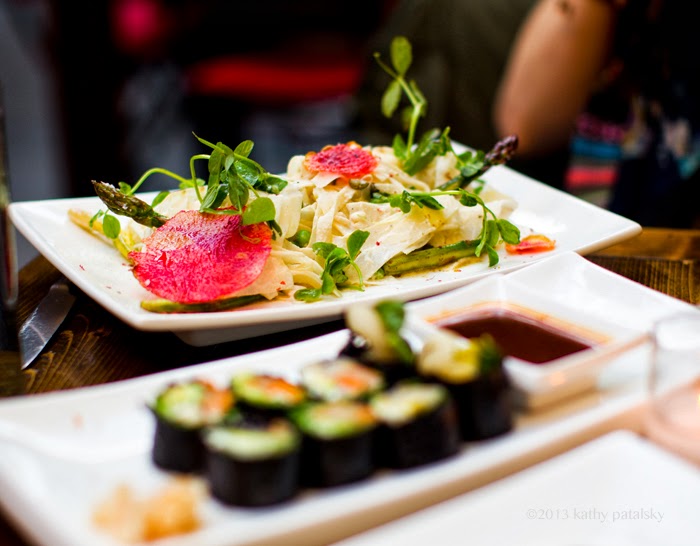 One of my most favorite NYC meals ever, visiting one of my best friends, Gena a few years back: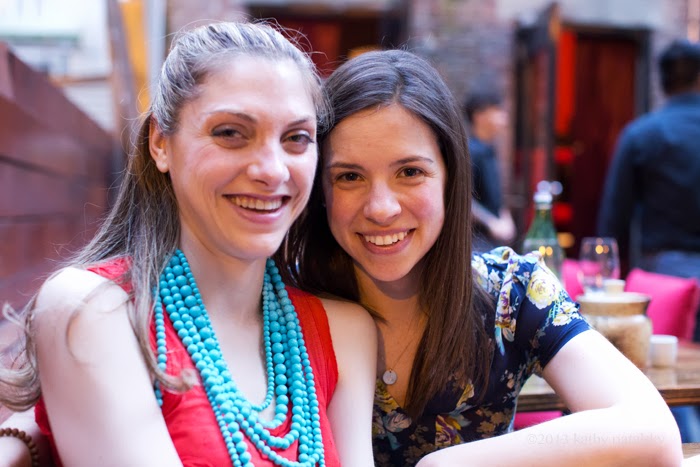 Cheezy Quackers + Mallomar: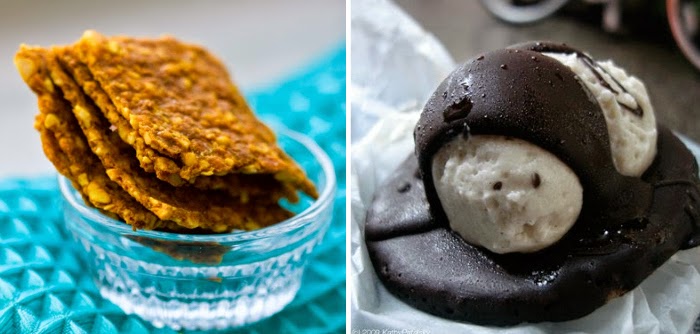 Taco Salad takeaway: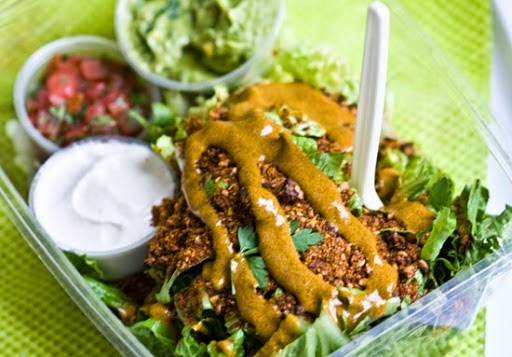 In her latest post, Sarma wrote something that truly resonated with me, and I think can resonate with anyone who has ever faced the impossible..

"If I make it through this, I will be one of those people reassuring younger people that if you believe in something with every fiber of your being, then no matter what obstacles get in the way or how many times you stumble, how bad you look, or how far you fall… don't give up. It will be worth it. I'm hoping I can say that with assurance before too long, while sitting in the garden at Pure Food and Wine."


PFW + OLD. So WHY am I taking an entire blogpost to discuss this? I am a superfan of Sarma's brand, but also of Sarma and what she accomplished. What she created. On a purely entrepreneurial scale, I have always looked up to her with wide eyes and awe. I can recall a girl chat with a vegan blogger friend where we were discussing our ambitions and she noted a famous person who she wanted to be like one day, and I giggled and in a "hey it could happen" silly tone I said as we sipped our lattes, "I want to be Sarma." I laughed. But seriously, as real and gritty as Sarma liked to get with her fans on her blog, just look at what this superwoman has accomplished:
-> best-selling books, successful restaurant, amazing brand identity, inspiring love of animals, gorgeous face and still a super innocent sweetness and raw-ness about her (again, no pun..) that I could only say was applaudable.
Here on HHL, I have featured Sarma and her brands many times:

* The Seed NYC Trip + PFW with Gena of Choosing Raw — food pics galore
* Raw Food Dining NYC: My Faves!
* One lucky Duck product faves + gift guide
* The Mallomar — a must-try treat
* Ode to Cheezy Quackers — fave snack ever
* Sarma's Veggie Girl Power Interview Series — my interview with Sarma back in 2009
In Sarma's VGP Interview she gave an answer that I ALWAYS quote when I get in a conversation with friends of other bloggers about bullies and mean comments. At the time I was dealing with a "blog troll" who kept leaving nasty comments on my blog about how he didn't agree with all the oils and fats I used in my recipes. And he wasn't polite about it. So that was why I added this question to the interview. Sarma's answer..
Question: GRACE – How do you respond to negative comments from critics, in real life or on the web?

Sarma: I try to learn something from it and not take it personally. Though sometimes I fire back if I think I've been misunderstood, or if someone misunderstood something about us (meaning, the restaurant or one lucky duck). An example is when people get mad and email me about our prices, and then I can't help launching into a heartfelt response on that. It happens rarely, but I feel like it's important for people to understand how hard it is to do what we're trying to do, and what we sacrifice to do it. Once people know then they understand.

When the comments are personal to me, sometimes they're funny. That stuff doesn't bother me much. Recently someone pointed out to me that negative personal comments usually say far more about the people making them than they do about you.
And lastly, I have a huge amount of thanks to Sarma as a person.
She contributed a quote of praise for my first book, 365 Vegan Smoothies, which you can read on the back cover of the book.
And the most touching thing in the world was when she sent me a hand-written letter when my kitty Nelly died in November 2013. I was at a bottom point emotionally, and when I received that card from Sarma I started balling my eyes out in gratitude over her kind, helpful and compassionate words. It made me feel a little less hopeless about the world.
So, for all of that and more, I wanted to write this post to hopefully bring some awareness to what Sarma and PFW have gone through, and more importantly, how you can help. Basically, hop on over to Sarma's blog and read her latest post — if anything, you will be moved by her honestly, sincerity and hope. And if you know someone who can help, awesome.
Share a Memory! And if you have ever dined at Pure Food and Wine or shopped at OneLuckyDuck.com please please leave a comment on this post with a happy memory, food moment, favorite product or personal story about how PFW or OLD touched you and brought something yummy, inspirational or fun into your life. I am sure Sarma would absolutely love reading what memories you have to share. And I will start below.. 🙂
And if you are reading this and have anything negative to say about Sarma or her brand, please leave your comments to yourself or use your own space to share them. This is a space of support, support and gratitude. No bullies allowed.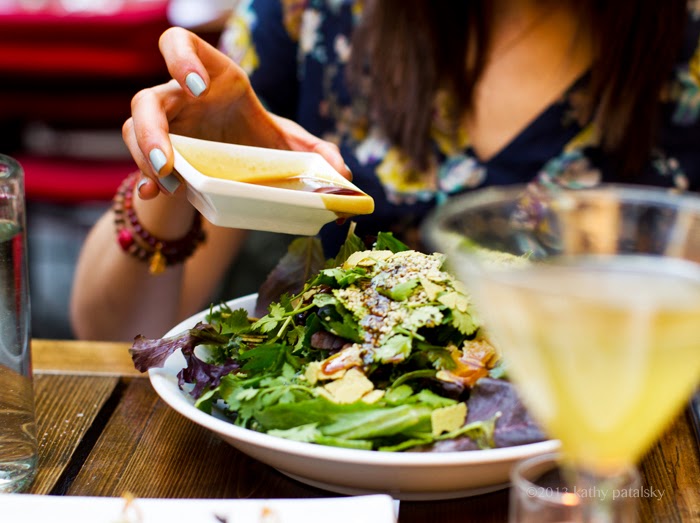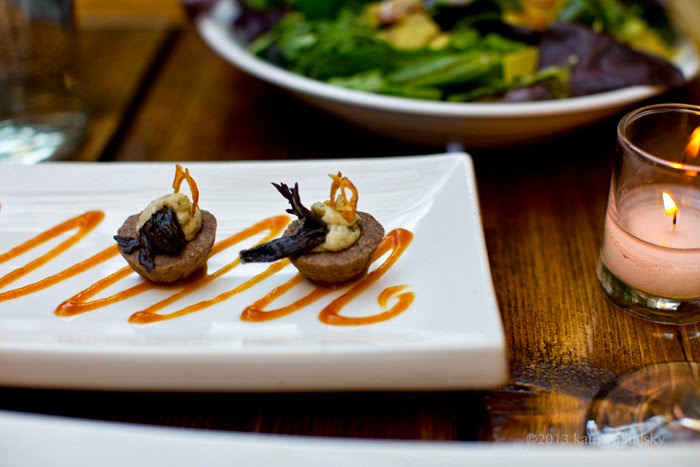 PFW garden, May 2013: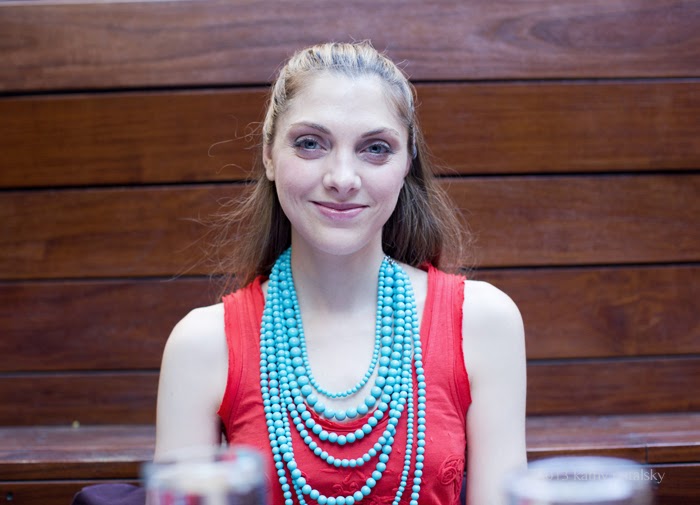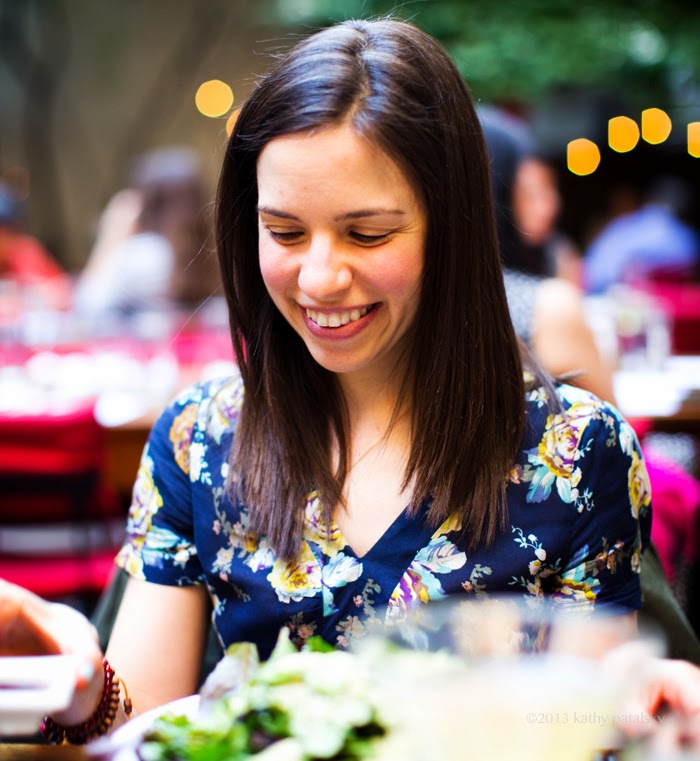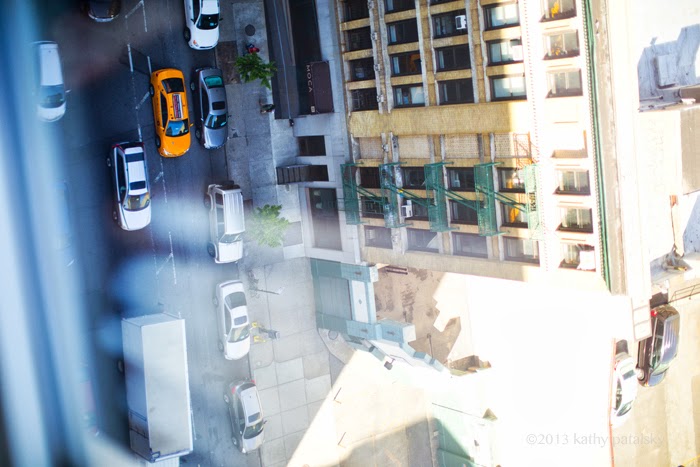 Falafel salad takeaway: