The legendary vegan blogger Susan Voisin of FatFreeVegan.com is the subject for today's Veggie Girl Power interview!
Four words I'd use to describe Susan: talented, wise, humble and real. Get to know Susan!..
Vegan Blogging Superwoman! When I think of someone who is an authority on "vegan blogging" – I immediately think of Susan. Susan's blog was one of the first vegan recipe blogs that I became entangled with reading. I loved it. I couldn't wait to see what Susan would make, photograph and post about next. Her storytelling abilities are superb, and she is always sneaking in little life lessons to pair with her stunning food photography and drool-worthy, totally-doable recipes.
And the Award Goes to… Susan was recently crowned "Favorite Blogger" in the 2010 VegNews Veggie Awards – but this was nothing new to Susan, this is a title she has held since 2007!
FFV = Inspiration. When I started my blog back in 2008, I didn't know a thing about photography or blogging. It was role model bloggers like Susan that set the bar of vegan blogging so high, that I knew I had to work my butt off to even attempt to catch up with her success. So on a personal note, I want to say "thank you!" to Susan for being an inspiration to me – and millions of other veggie girls everywhere!
Trailblazer! Susan has been setting veggie trends. This lady was blogging quinoa recipes back in 2006! Way ahead of the trend curve. From her Chocolate Orange Cake to fat free Blueberry Waffles – super creative Okra "Crab" Cakes and even Seitan Scaloppine – you'll find some delicious vegan inspiration on Susan's website. And isn't "inspiration" really what blogging is all about?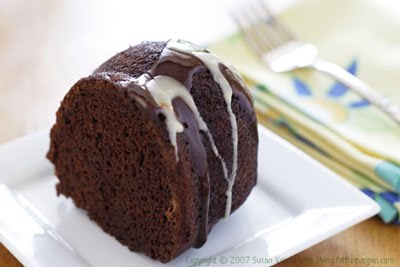 Veggie Girl Power Interview: Susan Voisin, of FatFreeVegan.com
1. DRIVE: Yawn, sunrise, what is the first food/drink you reach for to start your "Veggie Girl Power" day?
Susan: Ethiopian coffee with soymilk and stevia. I know–It's not health food, but it's my last remaining addiction. The coffee I buy is Fair Trade and organic, if that wins me any Power Points.
2. SKILLS: What foods/veg products have you discovered that you simply couldn't live without?
Susan: Smoked paprika, nutritional yeast, and quinoa are are not exactly necessities, but I wouldn't want to have to do without them.
3. HEART: As a "Veggie Girl Power" trailblazer you inspire many girls, who or what has inspired you?
Susan: My daughter inspires me. It can't be easy to be a 13-year-old vegan and know no vegans your own age, but she's very determined. She's been teased and subjected to all the standard silly questions, and though she hates being the center of attention, she quietly stands up for what she believes. I don't know if I would have been that strong when I was her age.
4. EXPERIENCE: When people ask you why you 'went VEG' what is your usual answer?
Susan: I usually say something like, "I've always loved animals and never really felt good about eating them. Once I found out I didn't have to, I stopped, as simple as that."
5. CREATIVITY: Anyone can eat carrot sticks and hummus, but give us your most creative/oddball vegan snack idea!
Susan: I like to toss cooked chickpeas with spicy Cajun seasoning and eat them like popcorn.
6. DEDICATION: When you first "went veg" what was the hardest part? – and how did you overcome those obstacles?

Susan: I went vegan in 1994 in a small town that didn't have soymilk (or any other non-dairy milk) in either of its two grocery stores, so I had to drive an hour away to get milk. There was basically nowhere to eat other than in my own kitchen, so I had to learn pretty quickly how to cook without dairy and eggs–and how to buy in bulk whenever I got the opportunity.
7. WISDOM: Words to live by: what is a favorite life tip or quote of wisdom?
Susan: I know it's a cliche, but "Be the change that you want to see in the world" does it for me. There's so much that needs to be done in this world, so much over which I have no control, that it's easy to feel overwhelmed. I can't control other people, but I can live my life according to my beliefs. That may not be much, but it's a good start.
8. GRACE: How do you respond to negative comments from critics, in real life or online?
Susan: I listen to constructive criticism and take it to heart, but if someone's just out to attack veganism, I don't engage, either online or in real life. They're usually just looking for a stage to play out their own personal dramas, and I don't give it to them.
9. PASSION: What is the one message that you always try to project to your fans/followers?
Susan: That healthy food doesn't have to be boring. And that fresh, well-seasoned, natural food doesn't need fat or animal products to be delicious.
10. PERSONALITY: Who would you award the "Veggie Girl Power" label to? And what have you learned from them?
Susan: I'm constantly inspired by the energy and creativity of Nava Atlas, who is not only a prolific author but also a gifted artist whose work is shown in museums. She published one of the classic vegetarian cookbooks (Vegetariana) in 1984, and this year she wrote two more books in totally different genres. I wish I had a tenth of her talent, energy, and dedication.
Bonus Holiday Question: Veggie Girl Advice! – How do you get through the (not-always-veg-friendly) holiday season smiling and feeling fabulous from the inside-out?

Susan: I just try to relax and have a good time and not worry about food. That may sound strange coming from someone who writes exclusively about food, but honestly, as long as I know that there will be one filling thing for my family to eat, I don't care about holiday food. But if you want advice, mine is: Always eat first. Before any holiday party or get-together, either eat first or bring food. That way you'll never starve.
Hear more from Susan on her website: www.fatfreevegan.com
Upcoming Project: Susan just completed the photography for Nava Atlas's next cookbook, The Vegan Holiday Kitchen, due out next fall.
Susan's websites: blog.fatfreevegan.com , fatfreevegan.com, and vegblogsearch.com.
Susan's Facebook page: http://www.facebook.com/FatFreeVegan
Susan on Twitter: @susanffvk
Complete VGP Series Schedule 2010
Last Years VGP Series 2009