These Sweet and Spicy Glazed Cocktail Balls are an appetizer favorite. A creamy, spicy sauce, with pineapple-cayenne-maple flavors coats every toasty warm meatless meatball.
No plate required for these tasty little vegan bites. This protein-rich nibble is perfect for holiday parties or anytime snacking. Get my recipe…
Cocktail Meatballs. Vegan.
I actually forgot all about this recipe. So THANK YOU to reader (and fellow blogger), Jessica who reminded me about it! Side note, Jessica, aka The Tree Kisser has an awesome website. Love her content and work she has done to raise money and awareness for animal rescue and animal advocacy issues. Bravo!
..I had originally shared these spicy-sweet meatless cocktail balls when I was writing for Disney's Babble.com. I loved my time there. It was really fun working on a writing team and having a 'boss,' so to speak. I loved the challenge of coming up with daily content that was both inviting, delicious and trendy. And I was still able to work from home and do my blog + cookbooks so it was a perfect gig for me. Here on HHL, I take a more relaxed flow to how/when I post recipes. But sometimes having a strict schedule with deadlines and feedback from your peers can be such a great thing – and huge motivator. I do miss that! I also loved that I was sharing vegan content with a more mainstream community of mostly moms and dads.
So, side note, I am sad to say that Babble actually announced last week that it is closing down after around ten years of content creation. It makes me so sad when fave sites and brands close or take a break, but that is the brutal nature of running a business. I've been there a few times. But really, I have no idea why Babble is closing up shop, but I do want to thank them for great content and a wonderful opportunity to work doing exactly what I am good at – and what I love.
One more thing I will say about Babble is that it produced content that was so raw, honest and fun. They posted a lot of content for new parents, and the articles always seemed written from the heart. I really appreciated all the writers I worked with during my short few years with them.
Today's recipe used to live on Babble. But since a lot of that content is gone or hard to find now, I definitely wanted to bring my old recipe to this site. I certainly won't forget about it again!
Retro Recipe
I shot some new pics and tried the recipe again. It is still so tasty and fun. It reminds me of such a retro vibe with the pineapple from a can (or you can use fresh), and just the idea of "cocktail balls" reminds me of a 1950's party.
This time, making the recipe, I used the Whole Foods brand of meatless meatballs. But in my original taste test, I used Trader Joes. Gardein would also work, though those tend to have a more Italian flavor to them. (I love Gardein meatless balls with spaghetti + marinara.) You really want a plant-based meatball that has a more neutral flavor. You could even make your own veggie balls if you'd like!
Going for a swim. Dunk the pan-fried vegan meatless balls..

Saucy.
You can totally customize the sauce recipe to suit your preferences…
To make the sauce thicker: Omit the EVOO and use another tablespoon of vegan mayo. Use a thick hot sauce like sriracha.
For a sauce that's sweeter: Use another teaspoon of maple syrup.
Less sweet: Omit the maple syrup.
Spicier: add 2-5 pinches of cayenne. I usually add at least one pinch.
Larger size: Use an extra large chunk of pineapple.
Extra decadent: Be sure to pan-fry them in some EVOO. You could also oven-bake them, or when in a huge hurry, microwave them – but pan-frying creates the best texture and flavor.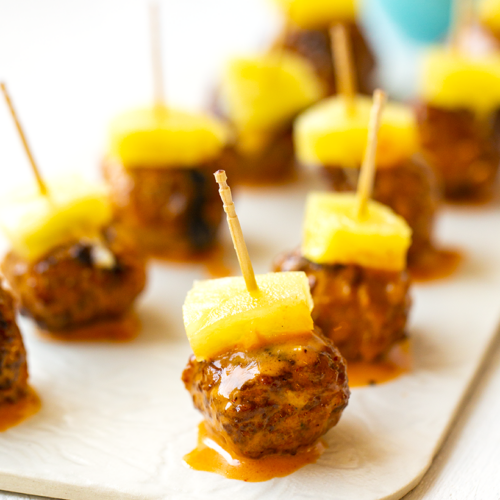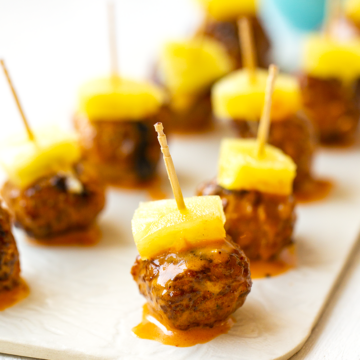 Sweet 'n Spicy Glazed Cocktail Balls
This super fast and easy recipe is perfect for a party. Meatless balls are marinated in a spicy-sweet sauce.
Print
Pin
Ingredients
SAUCE
2

tablespoon

vegan mayo

, I used Vegenaise

2-3

teaspoon

hot sauce

, something thick, spicy and robust is my preference

2

teaspoon

extra virgin olive oil

1

teaspoon

maple syrup

2

teaspoon

pineapple juice

,

(fresh or from the can)

optional: a few pinches of cayenne for more heat
OTHERS
12

meatless meatballs

12

pineapple chunks

,

(canned is fine)

12

toothpicks
Instructions
Warm a skillet over high heat. Add a drizzle of oil. Add the meatless meatballs to the pan. Cook for about ten minutes, or until cooked through and crispy-browned on the outside. Tip: For faster cooking, thaw/warm in the microwave for a minute before placing in the pan.

Transfer the cooked balls to a small bowl to cool off a bit and rest, while you whip up the sauce.

Add all sauce ingredients to a small cup and whisk briskly until smooth.

Pour the sauce into the meatless meatball bowl. Saturate every ball well so that they soak up the sauce. Allow them to sit a minute or so to fully marinate. The sauce sticks a bit better if your balls have cooled a tiny bit from the pan.

Piece a toothpick with a pineapple chunk, then pierce with a ball. Set on your serving plate. Repeat until all the balls and pineapple chunks are plated.

Serve right away. Pour the leftover sauce into a small dish for dunking. If making for a party, you may want to make a fresh batch of sauce so you have enough for everyone.
nutrition estimate | per serving
Calories:
50
kcal
|
Carbohydrates:
2
g
|
Protein:
3
g
|
Fat:
3
g
|
Saturated Fat:
1
g
|
Polyunsaturated Fat:
1
g
|
Monounsaturated Fat:
1
g
|
Sodium:
109
mg
|
Potassium:
41
mg
|
Fiber:
1
g
|
Sugar:
1
g
|
Vitamin A:
2
IU
|
Vitamin C:
1
mg
|
Calcium:
9
mg
|
Iron:
1
mg
Pin it for later:
My original photo from my Babble.com post..