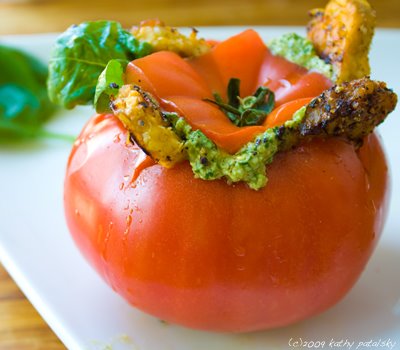 Stuff it (with gourmet vegan flavor). Stuffed bell peppers, stuffed mushrooms, stuffed avocados, I love the technique of hollowing out a beautiful piece of produce and then re-using it as the 'serving dish' for a spectacular recipe. It makes for an impressive, gourmet presentation. Cut to my craving for stuffed tomatoes.
Rule #1, it all starts with a beautiful tomato.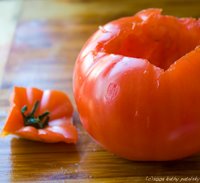 Spicy pesto & Maple Crusted Tempeh. No cottage cheese here! I decided to stuff my tomatoes with my spicy vegan basil pesto and some quick sauteed maple tempeh. The juicy tomato compliments the thick rich pesto and nutty sweet tempeh perfectly. Light lunch or light bite approved. The recipe and more photos ahead…
Prized Tomatoes. The key to a successful raw tomato recipe is good tomatoes. Select ripe, red (or orange, green or heirloom), high quality, (organic hopefully), juicy, fresh tomatoes. The flavor difference between 'good' versus 'not-so-good' tomatoes is huge! So be sure to start this recipe with some good tomatoes.
My Stuffed Tomato Memories. Stuffed tomatoes remind me of California moms who liked to read diet trend magazines back in the late 1970's. Why? Cottage cheese stuffed tomatoes were all the rage. They are classic vintage diet food. I recall my mother stuffing giant red tomatoes with heaping spoonfuls of low-fat cottage cheese, drizzling a bit of olive oil, black pepper and parsley. It always looked delicious, but I wasn't a big tomato fan (or anything mushy fan) back then so I never indulged in her stuffed tomatoes. But nowadays, I love tomatoes. And so I decided to veganize the classic stuffed tomato…
Tempeh Pesto Stuffed Tomatoes
vegan, serves two
2 beefsteak tomato tomatoes
1 cup Kathy's vegan pesto
1 cup tempeh, sliced into thin strips
1 tablespoon maple syrup
1 tablespoon olive oil
1 teaspoon black pepper
1 teaspoon salt
1 lemon, juiced
garnish: salt pepper, fresh basil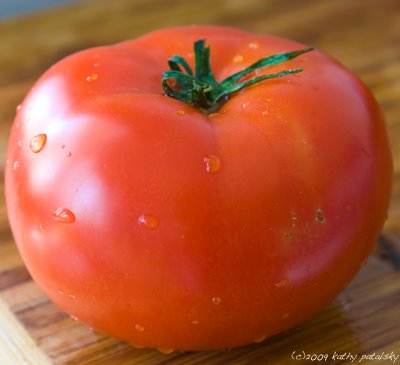 Tomato Prep:
Slice out the stem of the tomato.
Slice into tomato at a deep angle on all sides until you are able pull the top off.
Hollow out the tomato. Keep ¼ inch thick tomato rind still in tact.
Use removed tomato flesh when making the pesto.
Repeat for each tomato you are stuffing.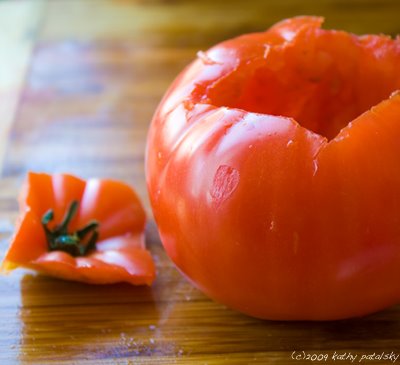 Pesto:
Make 1 cup of Kathy's vegan Pest.
Recipe here.
*Add the tomato flesh to the pesto puree.
*You can use walnuts of pine nuts in the pesto recipe.
Tempeh:
Turn heat on high.
Place 1 tablespoon olive oil in a saute pan.
Add tempeh. Lay the tempeh strips in one layer in bottom of pan.
Add in 3 tablespoon of lemon juice, 1 tablespoon of maple syrup and a sprinkle of salt and pepper.
Let saute for 2 minutes.
Flip tempeh. Bottom side should have browned up nicely. If not, cook this side a bit longer than the first.
Add a bit more lemon juice and another dash of the remaining salt and pepper.
When tempeh is done, set aside.
Tomato Assembly:
Spoon 1 heaping spoonful of pesto on the bottom of the tomatoes.
Place one of the limper tempeh strips over the pesto in the bottom of the tomato.
Add in a few more spoonfuls of pesto and arrange 4-5 tempeh strips sticking out of the tomato. Spoon another final bit of pesto. Garnish with fresh basil and leftover candied walnuts and/or pine nuts (whatever you used in the pesto.)
Grind fresh black pepper on top.
Place tops back on tomato if you wish, or leave them open.
To eat: Slice tomato into wedges and eat in bites, or eat tempeh first and spoon out pesto.
Plating tomato with crisp bread slices is a perfect way to eat this dish. Crusty bread-make your own tomato pesto tempeh finger sandwiches!
Gourmet vegan dish. Love it and serve with confidence. It's delicious.