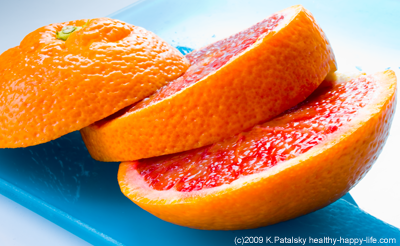 Winter is still here, and that means your immune system may need a bit of an end-of-the-winter-season boost.
Here is a list of ten immune system boosting foods and ingredients to keep your body feeling happy and healthy.
Click ahead for the list….

Ten Immune System Boosting Foods
1. Citrus. Classic vitamin C food. Easy to find in grocery stores, and widely adored by all. Drink some fresh OJ in the morning or some enjoy sliced citrus in your salad. High in fiber if you eat the fruit whole. See a winter citrus smorgasbord here.
2. Ginger. Ginger can ease a queasy stomach and give a zap to your immune system. Ginger has a warming effect on the body and helps circulation problems. Ginger is also known for its anti-inflammatory properties. Get my ginger carrot soup recipe here.
3. Astragalus. Studies have shown it to have certain potent anti-viral properties and helps boost white blood cell fighting properties.
4. Cayenne. Boosts your immune system from its spicy hot kick. Warming. Stimulating. Add to recipes or make an apple-ginger fresh juice and add a pinch of cayenne.
5. Zinc. Zinc is an important nutrient. Check out these high zinc foods:
Cashews, 1 oz.=10% RDA
Peas, 1 cup=13% RDA
Lentils, 1 cup cooked=44% RDA
Oatmeal, 1 cup cooked=8% RDA
Black Beans, 1 cup cooked=12% RDA
6. Coconut Water. A hydrated body is much more effective at fighting off illness. Drink your fluids! Well coconut water in a highly hydrating beverage. It contains high amounts of potassium, an important electrolyte which aides in proper hydration and water balance in the body. More about coconut water here.
7. Echinacea. Studies have shown that it increases the levels of a chemical called properdin in the body. Properdin activates the part of the immune system responsible for increasing defense mechanisms against viruses and bacteria.
8. Green Tea. Antioxidants in green tea are an easy way to fend off free radicals that can weaken your immune system. Hot tea provides a double effect of wellness, since hot beverages assist in sinus and respiratory wellness. More about green tea antioxidants here.
9. Vitamins! Vitamin C and E are essential for a healthy immune system. Here are foods containing high amounts of these vitamins:
Vitamin C
Orange, 1 medium=116% RDA
Bell Pepper, ½ cup=100% RDA
Strawberries, 5 large=100% RDA
Pineapple, 1 cup=94% RDA
Grapefruit, 1 medium=147% RDA
Kiwi, 1 medium=117% RDA
Vitamin E
Almonds, ½ cup=100% RDA
Avocado, 1 whole=20% RDA
Almond Butter, 2 Tbsp=41% RDA
Sunflower seeds, hulled, ½ cup=80%RDA
Wheat germ oil, 1 Tbsp.=100% RDA
Peach, 2 raw=8% RDA
10. Garlic. It has numerous beneficial properties, besides boosting immunity. Helps maintain healthy digestive bacteria, acts like an antibiotic. It has also been shown to help blood pressure and maintain a healthy heart.