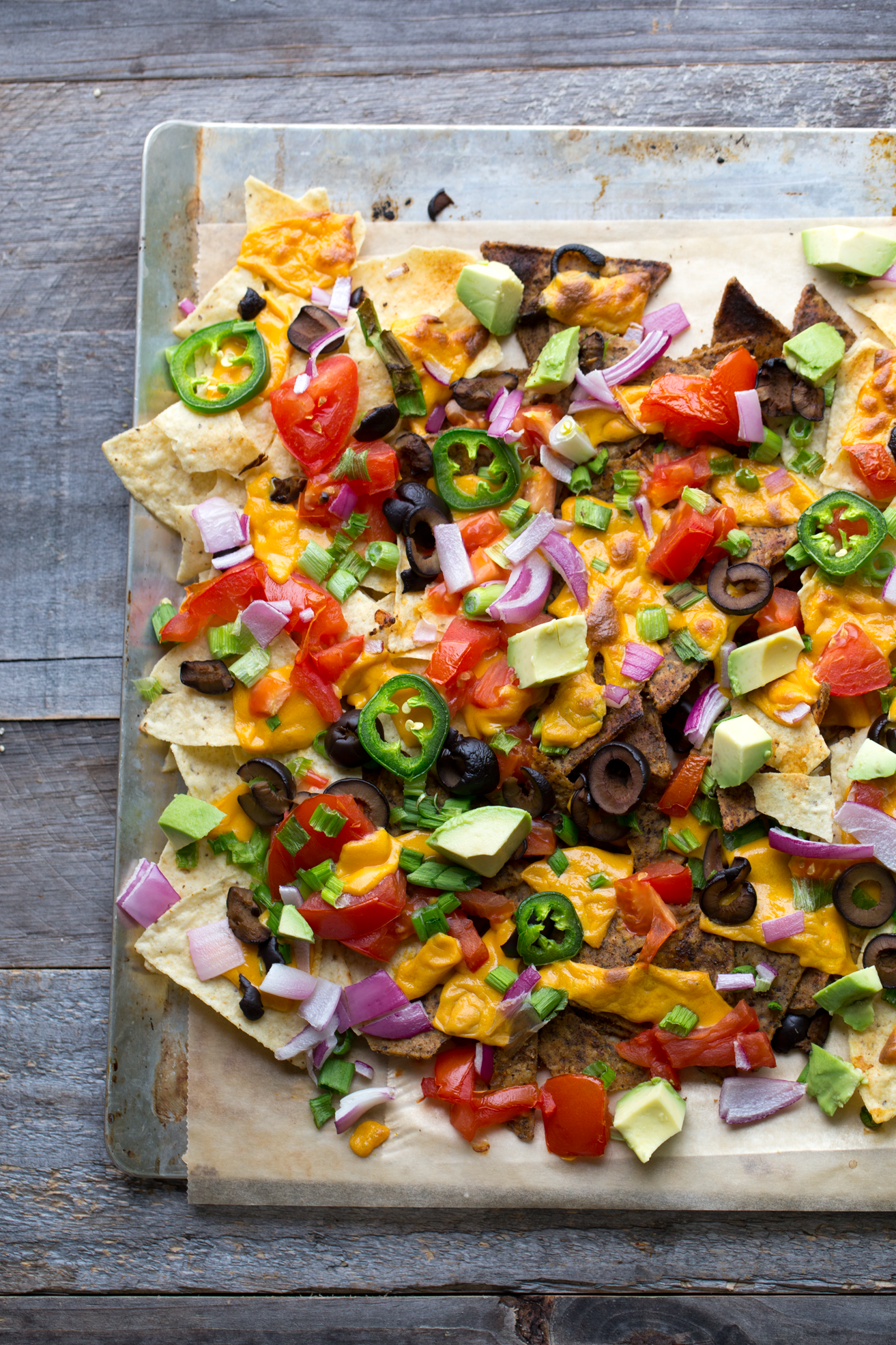 Ok, so the Super Bowl was last weekend. But I am still posting this recipe for all your future nacho-needing events. These best ever Vegan Nachos were perfect for snacking on while watching the game … commercials … or Gaga being amazing. More on Gaga in this post. But nachos are a good idea for just about any TV watching event, so I'm posting them 'post-super-bowl' anyways. I mean these could very well be Oscars party nachos, so red carpet ready guys.
These vegan nachos were SO good! Like "omg-why-don't-I-make-nachos-more-often??" good. And the funny thing about nachos is that if you pile on the veggies, in a strange way they are actually pretty healthy! I mean if you curb your chip munching appetite and focus on those veggies. Plus, DIY the 'sour cream' with cashew cream. My trick is to limit my chips and pile on the excess toppings. When crafting your nacho platter, aim for more toppings, less chips and you are good to go.
So the next time you crave a super satisfying, sharable snack, make these!
The best vegan nachos are waiting for you..
Healthier vegan nachos tips:
*Load on the veggies! Add additional chopped veggies over top. Carrots, celery, radish..
These are nachos – you need cheese – but don't overdo it. See my vegan cheese guide here.)
Sub the chips. Use tortillas cut into triangles. Or only use half the amount of chips needed and add lots of veggie sticks to the platter for scooping those toppings.
Make DIY cashew sour cream using cashews.
Add beans! Either whole black beans, pinto beans or refried beans. Beans add a punch of protein, fiber and other nutrients.
Enjoy the fresh avocado! Be sure to add healthy fat infused fresh avocado or guacamole to your nachos.
Get creative with other healthy ingredients. Besides more experimental veggies like shredded carrots, chopped broccoli, chopped spinach and more – try adding accent ingredients like nutritional yeast, chopped walnuts or even seeds like chia or pepitas. Creativity is what nachos are all about, so throw in some healthy goodies!
Superbowl Side Note..
GAGA. Side note since I am slightly referencing the Super Bowl in this post. I just want to say how awesome Lady Gaga was! I actually don't consider myself a huge gaga fan, but I was so impressed with the energy and spirit she brought to the performance! So good! And I was totally annoyed when people actually started tweeting negative things about her body during the show. I mean, seriously? What the heck? This girl is in amazing shape, thirty years old and continues to bring so much creativity and art to her performances and life.
She killed it, 'nuff said. Clappy hands emoji to you Gaga.
And anyone who wants to tweet about someone's amazing body and call it something else, is basically, well, an idiot. It is no wonder our society has such an awful relationship with self esteem and positive, er, negative body image.
I don't want to give the negativity more time than it deserves, but I just get really mad when someone amazing gets judged by their looks or body. And especially if they are literally in amazing shape. Ack. So frustrating. Society. Stop.
But anywayssssssssss. Back to the nachos.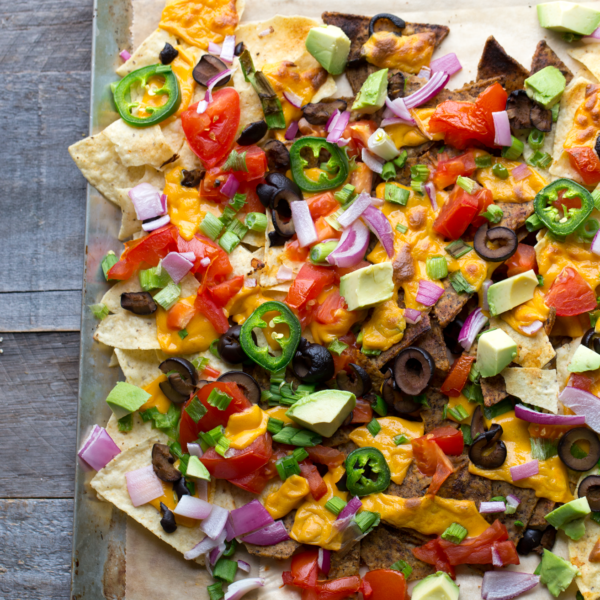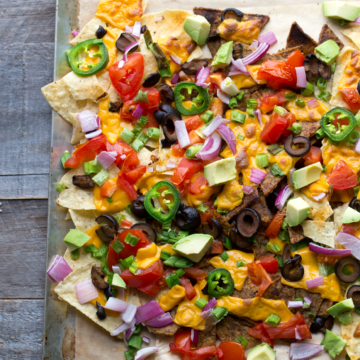 Vegan Nachos
These fully loaded, best ever vegan nachos are loaded with veggies, vegan cheese and a whole lot of love!
Print
Pin
Ingredients
3

cup

tortilla chips

1

cup

vegan cheese

,

shredded – I like cheddar and jack

¼

cup

black olives

,

sliced

1

jalapeño

,

thinly sliced

1

tomato

,

diced

5

green onions

,

chopped

½

cup

red onion

,

chopped

1

avocado

,

diced
DIY Sour Cream:
1 ½

cups

raw cashews

,

preferably soaked overnight and drained

½-1

cup

water

,

as needed to blend

3

tablespoon

lime juice

,

lemon juice works too

sea salt to taste

,

at least ¼ tsp**
Instructions
Using a high-speed blender or food processor, blend together the cashew sour cream recipe. cover and place in the fridge to chill until the nachos are ready to serve.

Preheat oven to 400 degrees on BROIL. Convection broil if your oven has that setting.

Line a baking sheet with parchment paper.

Lay a thin layer of chips down.

Top the chips: vegan cheese, tomatoes, green onions, red onions, olives, jalapeños.

Bake for 10-15 minutes or until the cheese fully melts and the edges of some chips start to brown.

Remove the nachos from the oven and top with the avocado and dot on the vegan sour cream.
Notes
*nutritional info does not include optional DIY sour cream
nutrition estimate | per serving
Calories:
416
kcal
|
Carbohydrates:
48
g
|
Protein:
6
g
|
Fat:
23
g
|
Saturated Fat:
4
g
|
Sodium:
522
mg
|
Potassium:
382
mg
|
Fiber:
7
g
|
Sugar:
2
g
|
Vitamin A:
367
IU
|
Vitamin C:
12
mg
|
Calcium:
133
mg
|
Iron:
2
mg