Somewhere between sixteen layers salads and extravagant veggie burgers and sandwiches I forgot about one of the best and simplest sandwiches out there: my TMT Pita. Here's my vegan makeover of the American classic, the BLT.
My TMT is Not Your Dad's BLT. To me, this pita tastes like summer. The flavors? Cheddar Tempeh. Mache. Tomato. Pepper. Vegenaise. Dijon. Serve it with some ice cold peach iced tea and consider it a summer vacation kind of lunchbreak. My recipe ahead…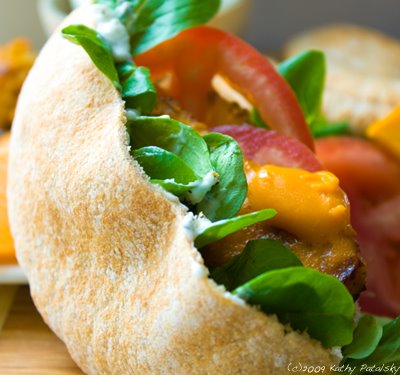 My TMT. You may know this recipe as the BLT (Bacon Lettuce and Tomato). But I've given it healthy vegan makeover. More healthy nutrients and more veggie flavor! End result: The TMT. Tempeh. Mache. Tomato.
TMT. The first ingredient in a TMT is the tempeh. I LOVE tempeh! Learn more about tempeh here. I use a simple agave or maple-pepper saute and melt on some Follow Your Heart or Daiya brand cheddar cheese.

Mache. Mache, also called lambs lettuce is a flavorful leafy green worth trying! It's incredibly healthy: high in folate, vitamin C, A, K. Iron, fiber and more. Plus it has a tender nutty flavor that most kids and adults love. Learn more about Mache here.
Here's my tempeh recipe:
Easy Agave Cheddar Tempeh 'Facon'
vegan
½ block tempeh, sliced into thin strips
*About the size of a deck of cards makes about 7 thin strips.
1 ½ tablespoon agave syrup or maple syrup
1 tablespoon extra virgin olive oil
2 teaspoon apple cider vinegar
¼ cup veggie broth or water
fresh ground black pepper
a few dashes of salt
Cheese: Vegan Cheddar
*I used Daiya Cheddar or Follow your Heart brands
To Make:
1. Turn saute pan on high.
2. Add oil and vinegar.
3. Add tempeh. When pan starts to sizzle, add veggie broth/water and cover pan with lid.
4. Steam should start to fill the inside of the pan cooking the tempeh through.
Uncover and drizzle the agave on top of the tempeh.
5. Sprinkle the salt and a few grinds of pepper on the tempeh as well. Turn heat on medium.
6. Flip tempeh strips. Bottom should be light brown and crisp. Cover pan again and saute for a few minutes. If needed add more liquid to prevent burning or drying out your tempeh. You can also shake the pan around once the tempeh is close to finished. Crisp, not burnt is the ideal tempeh.
7. Once both sides are browned add thin slices of cheese and an ice cube to the pan.
Cover immediately.
8. The steam from the ice will melt the cheese quickly. Remove tempeh from heat and allow cheese to cool and harden on the hot tempeh. Grind more pepper on the tempeh before the cheese firms up.
NOTE: You can also grill the tempeh by brushing it in EVOO/agave or maple – this will make a firmer style tempeh for your pita. I often grill tempeh right on my counter-top panini press.
Now the tempeh is ready for the TMT recipe….
TMT Pita. Tempeh. Mache. Tomato.
vegan
1-2 whole wheat pita pockets
Agave Cheddar Tempeh 'Facon' recipe above
1 cup mache lettuce
1 medium tomato, sliced thick
2 tablespoon dijon mustard
1 tablespoon vegenaise
generous amounts of fresh ground black pepper
Easy Assembly Steps:
1. Slice pitas in half. Toast pitas.
2. Add mustard and vegenaise to inside of pitas.
3. Add tomato slices.
4. Add tempeh strips.
5. Stuff in mache.
6. Grind in some fresh black pepper.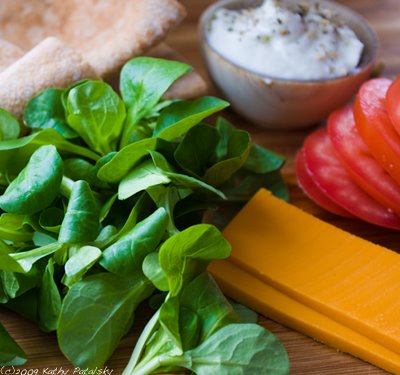 Enjoy! Serve with a tall glass of iced tea and a side of soy crisps of natural root veggie chips. Light bite full of nutrients, protein, fiber and vitamins.
You can also make this on regular bread, but the pita pockets allow for more of that delicious and healthy mache to get crammed inside the pita!