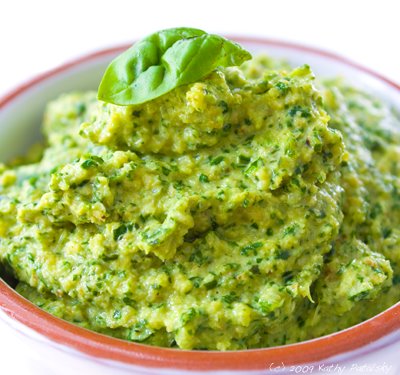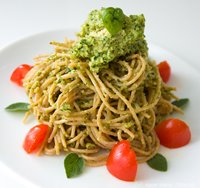 Every time I make fresh pesto I am reminded of how easy the process is and how delicious the results are. Plus, super-nut walnuts, antioxidant rich basil, and vegan cheese make this pesto quite healthy. Pair this Toasted Walnut Cheesy Pesto with angel hair pasta, garlic crusty bread, seasonal greens and dry red wine and dinnertime turns from stressful to stress-relieving.
'Pesto Night' is… a comforting way to end a long day. This vegan pesto recipe is called Toasted Walnut Cheesy Pesto, but it could be called my Vegan-Spicy-Maple-Toasted-Walnut-Garlic-Lemon-Basil-Cheesy-Pesto. But that's just a tad too long, don't ya think? My point is that pesto is easy to customize once you know the basics. Make up your own name for your favorite pesto flavor combos. I've chosen this pesto recipe to share with you because it combines all of my favorite flavors: spiciness, lemon juice, sweet maple syrup, savory vegan Parmesan cheese, olive oil, lots of garlic, parsley, sea salt and obviously lots of fresh aromatic basil leaves.
Here are a few ingredients that you can customize your vegan pesto (and this recipe) with:
garlic (roasted or raw)
walnuts (toasted, roasted or raw)
pine nuts (toasted or raw)
almonds (toasted, roasted or raw)
vegan Parmesan cheese (I like the one in the purple shaker bottle)
olive oil (high quality, the fruitier, the better)
dab of truffle oil
black pepper
salt
jalapeno pepper
red bell pepper
chives
scallions
onions
shallots
agave, maple syrup
cayenne
oregano
basil basil basil (blanched or raw)
lemon juice
orange juice
vinegar
red pepper
parsley
thyme
cilantro
Pesto allows you to get creative!
But here is my favorite pesto recipe….
Toasted Walnut Cheesy Pesto
vegan, makes about 1 ⅓ cups
1 large lemon, juiced
1 cup maple-toasted walnuts
1 tablespoon maple syrup
2 teaspoon salt
1 teaspoon black pepper
1 large bunch of basil, leaves
½ cup flat parsley, chopped
2-3 tablespoon vegan Parmesan cheese (I like the one in the purple shaker bottle)
5-7 cloves of garlic
2-3 tablespoon Olive Oil
1 tablespoon fresh oregano
1 jalapeno, de-stemmed (de-seeding optional)
optional: cayenne or red pepper flakes for more spice.
optional: Lower fat version, add more lemon juice, less oil. More parsley and less walnuts.
To make:
Maple-toasted Walnuts:
Saute walnuts on high heat with 1 tablespoon of olive oil and 1 tablespoon of maple syrup for 2 minutes.
Add walnuts to food processor.
Add basil (blanching optional), salt, lemon juice, cheese, pepper, parsley, garlic, olive oil, oregano and jalapeno to food processor. Blend on high until thick and fully processed. Pesto should be nutty and smooth, but not over-blended.
Store pesto in fridge until ready to be served.
If eating immediately, toss pesto with freshly cooked warm pasta. The pasta heat will warm the pesto-no re-heating needed!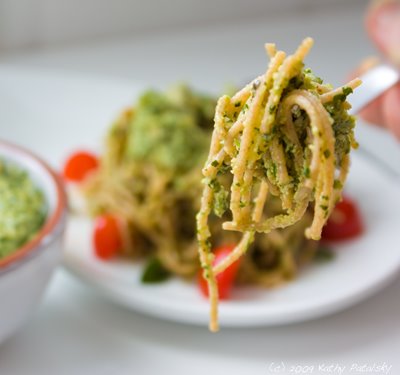 * This is a pretty thick pesto recipe, so to loosen pasta/pesto toss, add 2-4 tablespoon leftover pasta boiling water-or another liquid like lemon juice.
*I love this pesto with spelt angel hair pasta. I add some red pepper flakes and a few sprinkles of vegan parm cheese. Mu-AH! (Kisses fingers.)