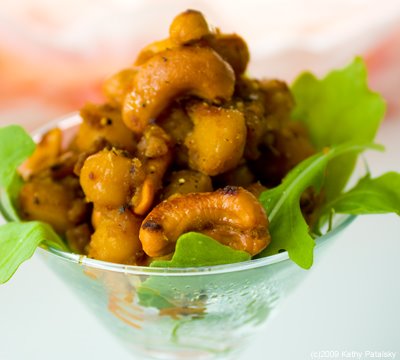 I was craving a snack. Something to munch. Something with protein. Fiber. A little spice. A little sweet. Something dense. Something savory. Flimsy chips or plain nuts would be easy to grab, but so bor-ing. I want a simple, healthy-hearty snack. Something fast. Easy. Satisfying. Hmmm. Beans. Nuts. Those sound good. Nutrient dense. But still boring. Toasty, spicy, sweet. Yum. Ingredient makeover? Yes! So, I crept into the kitchen, grabbed some cashews, poured some canned garbanzo beans into a hot pan and started adding spices, flavors and other yummy things. The result: Toasty Chicks and Cashews. Good cold, delicious toasty hot. Spicy, sweet and totally snackable! Here's the 5 minute recipe…
Toasty Chicks and Cashews
makes about 3 cups
1 can organic garbanzo beans, drained
1/4 cup salted cashews
1 tsp ground cumin
1/4 tsp cinnamon
1/2 tsp cayenne
1 tsp paprika
1/2 tsp salt
1/2 tsp chili pepper
1/2 tsp onion or garlic powder
1 tsp fresh ground black pepper
3 Tbsp agave syrup
2 Tbsp olive oil
optional: 1 tbsp lemon juice for moister chickpeas with a zesty flavor.
optional: 1/2 tsp liquid smoke for a smokier flavor.
*I basically did a mix-match of spices. I loved the flavor that came out, but if you want to modify it a bit I'm sure it will be just as tasty and healthy!

Directions:
1) Drain beans very well.
2) In a skillet, add 1 Tbsp oil and turn heat on high.
3) Add half the portion of beans and coat well in oil.
4) Allow beans to toast to brown. Toss a bit and let toast again.
5) Add in additional oil and beans. Toss well.
6) Shake pan and toast outside of beans a bit more.
7) When the beans have some nice brown edges, add in the remaining ingredients (except the cashews)-add the agave first. Toss well. Then add in all the spices.
8) Toss well-coating the beans evenly with spices.
9) Reduce heat to med-high and allow to cook through. A little more browning is a good thing. When the beans look just about done-and have absorbed all the liquid, add in the cashews. Toss cashews with beans-they should soak up any remnant spices and moisture.
10) Brown the beans and cashews as much as you'd like. However, if the beans start getting mushy-you know they are done. Try to pull them from the heat before the much occurs though.
11) Let cool slightly before serving. Serve over salads or on their own.