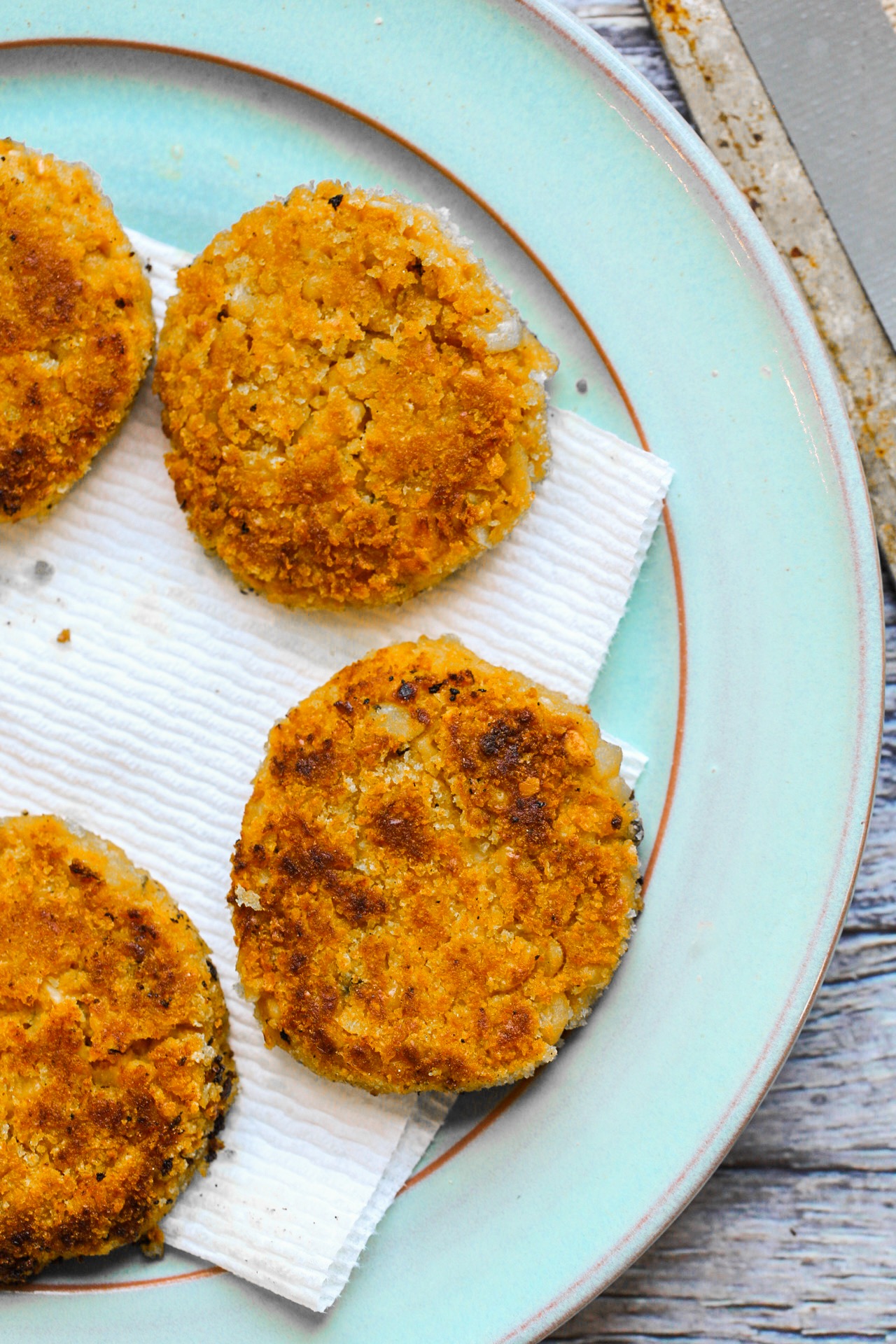 I am excited to be updating these Toasty Pumpkin Chickpea Fritters today with some shiny new photos and commentary. This is one of my most popular recipes – first published back in 2011. I'm happy to be re-sharing them with you today!
Today, I hopped in the kitchen and made these. Truth be told, it's been a few years since I have made these and I had definitely forgotten how delicious and easy this recipe is! Emphasis on the delicious!! Oh my gosh these are divine for fall..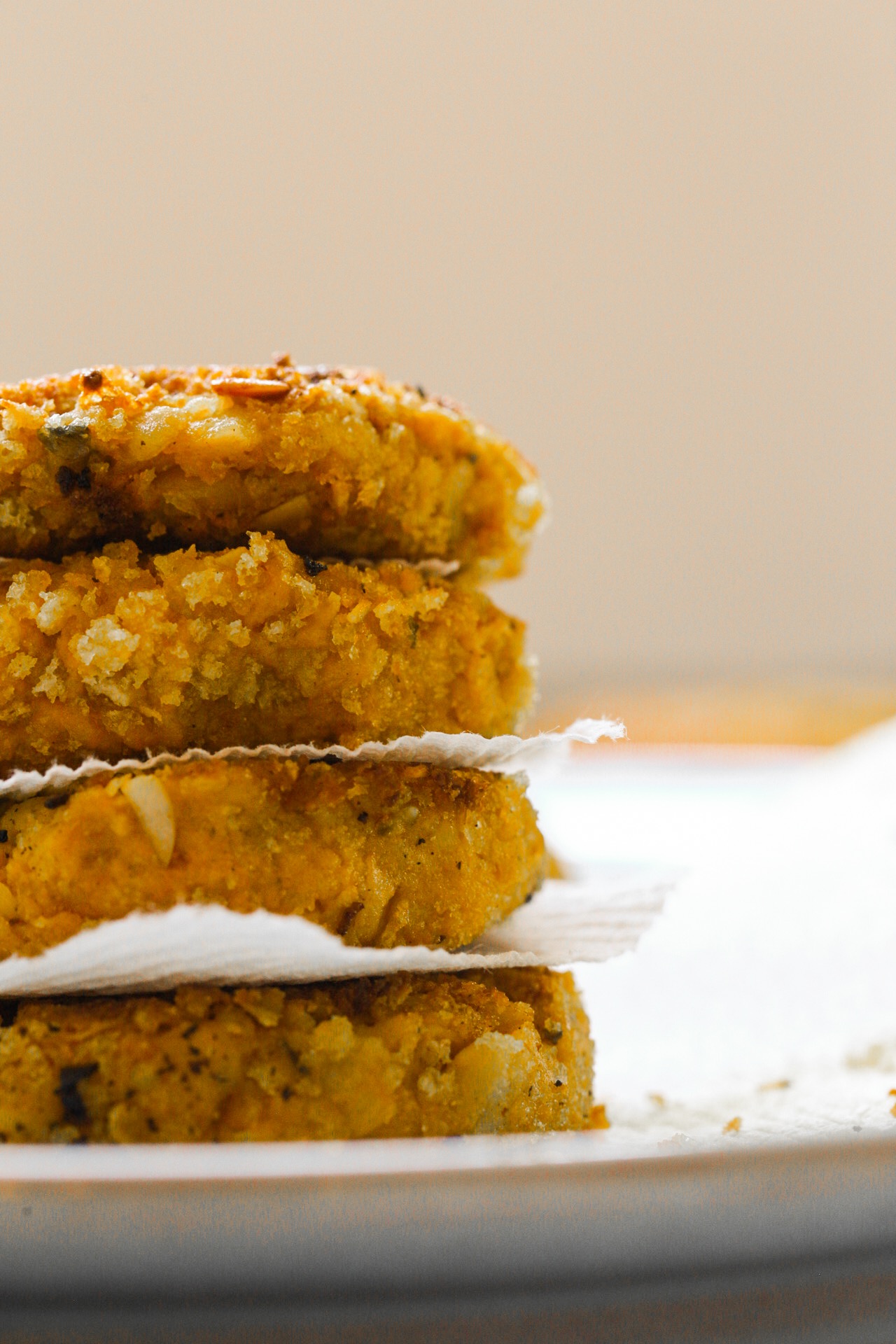 The Flavors.
Pumpkin and chickpeas with a hint of maple and garlic and pumpkin seeds (or hemp!). Tender inside and a crispy EVOO skillet-toasted Panko crumb on the outside.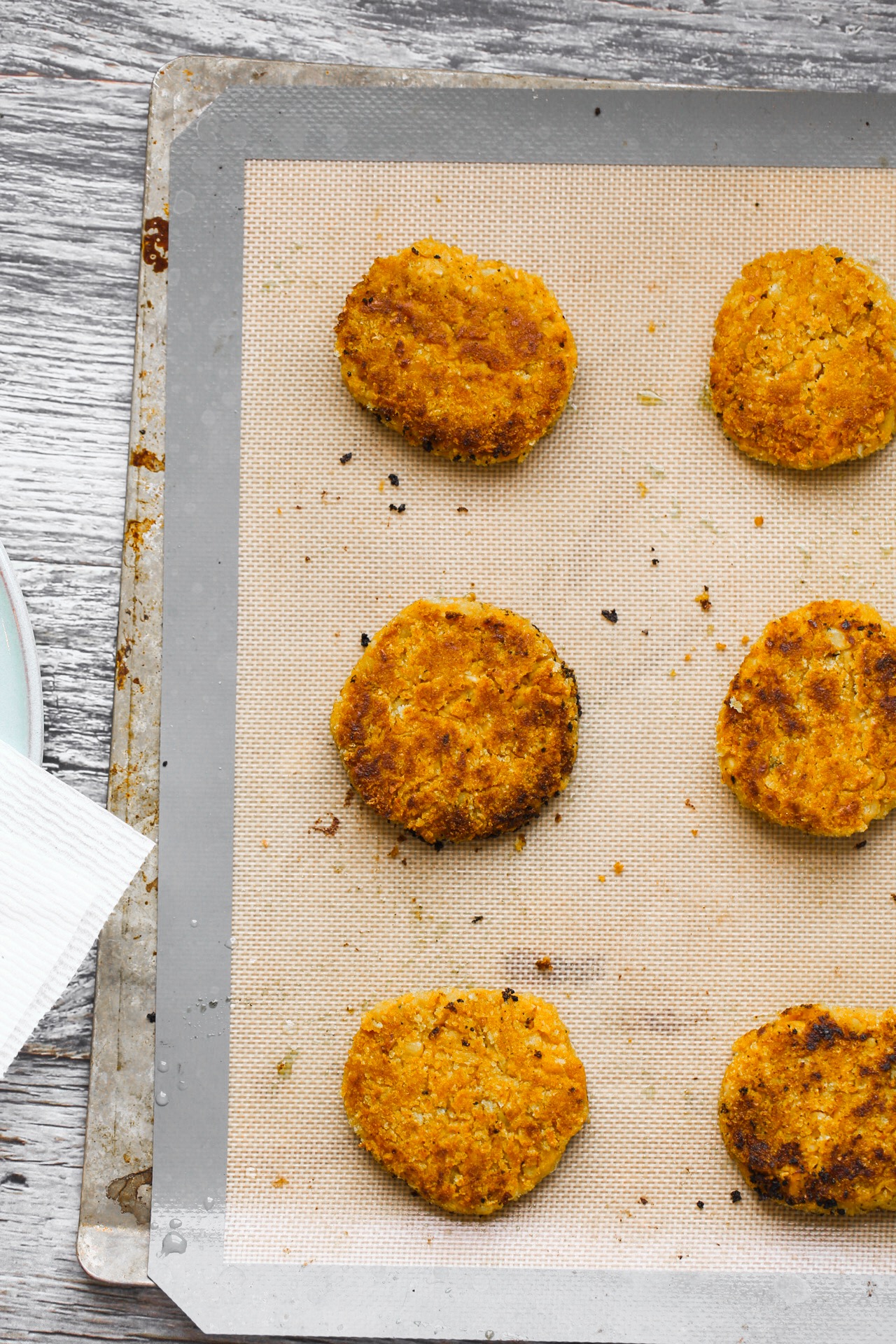 toasty pumpkin chickpea fritters
These fritters have a gorgeous golden pumpkin color to them. Browned crispy edges from those panko breadcrumbs and the most delicate and nutty, moist yet solid centers. Please not that these fritters are delicate, but they absolutely stay together once pan-fried. I also use Panko crumbs in my famous Sweet Potato Burgers!
How to Prepare them?
Three options..
pan-fry only
pan-fry, then finish in the oven for a 5-7 minute bake at 350 degrees
just bake in the oven
My directions are for the pan-fry option, but the other two options are available to you. Note: If you do the 'just bake' option, just be sure to spray or lightly brush your fritters in EVOO so that they do not dry out. those Panko crumbs need moisture to taste good!
For the best flavor and texture, pan-fry these babies. Now when I say "fry" we are not talking dunking them in a pot of oil, this is just a light fry to the coating of the fritters. The fritters will cook through in a few minutes.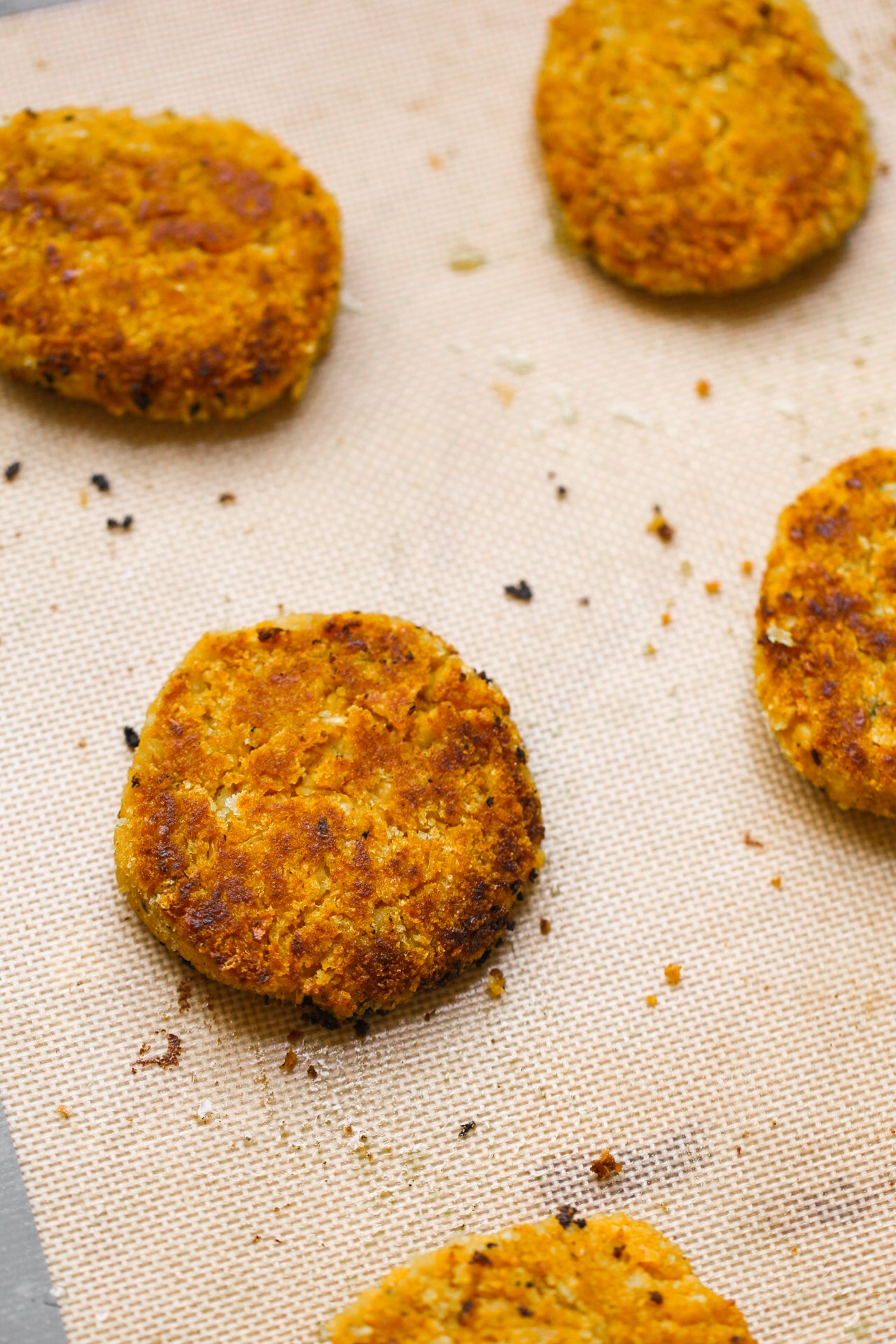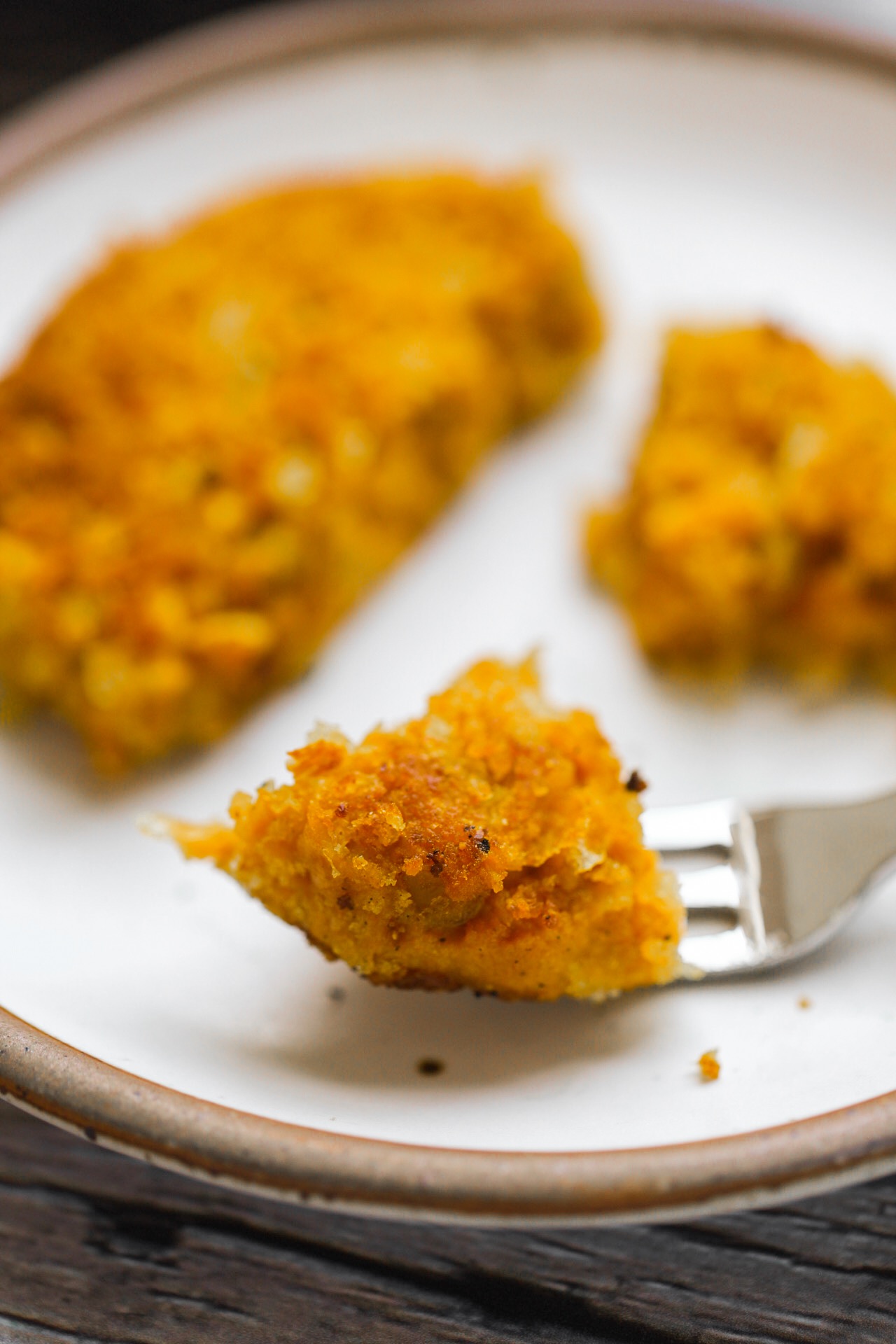 Pumpkin Seeds or Hemp Seeds?
My original recipe called for hemp seeds, but today I tried out pumpkin seeds – finely chopped – and they worked really well.
These easy, Toasty Pumpkin Chickpea Fritters are tender and moist on the inside – toasty on the outside. A light, crisp layer of panko breadcrumbs coat a cozy fall-inspired filling of mashed chickpeas, rich golden pumpkin, nutty hemp seeds, garlic, a hint of maple and a splash of bright cider vinegar.
Sage Cream Sauce
This is the original side sauce for this recipe… (optional)
I blend up 4 fresh sage leaves with 1 cup silken tofu, 2 tablespoon lemon juice, 1 heaping spoonful of vegan mayo and a pinch of fresh parsley. For a spicy sage sauce I add in either cayenne or a tablespoon of chopped jalapeno.
Egg Replacers?
Back in 2011 when I developed this recipe, the "vegan egg" options were a bit sparse. These days, you could absolutely use a Vegan "Egg" product to give these fritters a firmer hold. I have not tested this recipe using anything like that yet, but I suspect it would be delicious!
How to Serve these Vegan Fritters
These lovable little pumpkin fritters are delicious served on their own in bite-sized morsels – or even as a festive fall patty for a veggie burger. I like to serve them as an appetizer or alongside a big salad for dinner.
Wait, what is a fritter?
Hmm, as I tried to name these tasty little cakes, I couldn't decide on naming them fritters, croquettes or just cakes. Well I settled on fritters since "fritter" seems the most flexible for a fried cake of filling with some sort of coating as the surface. Croquettes (one of my fave words ever) seem to be slightly the same thing, except they are usually shaped into round-rectangle shapes – almost like extra large dates. Cakes would have worked too, but I just love the word fritters 🙂 Vegan fritters it is!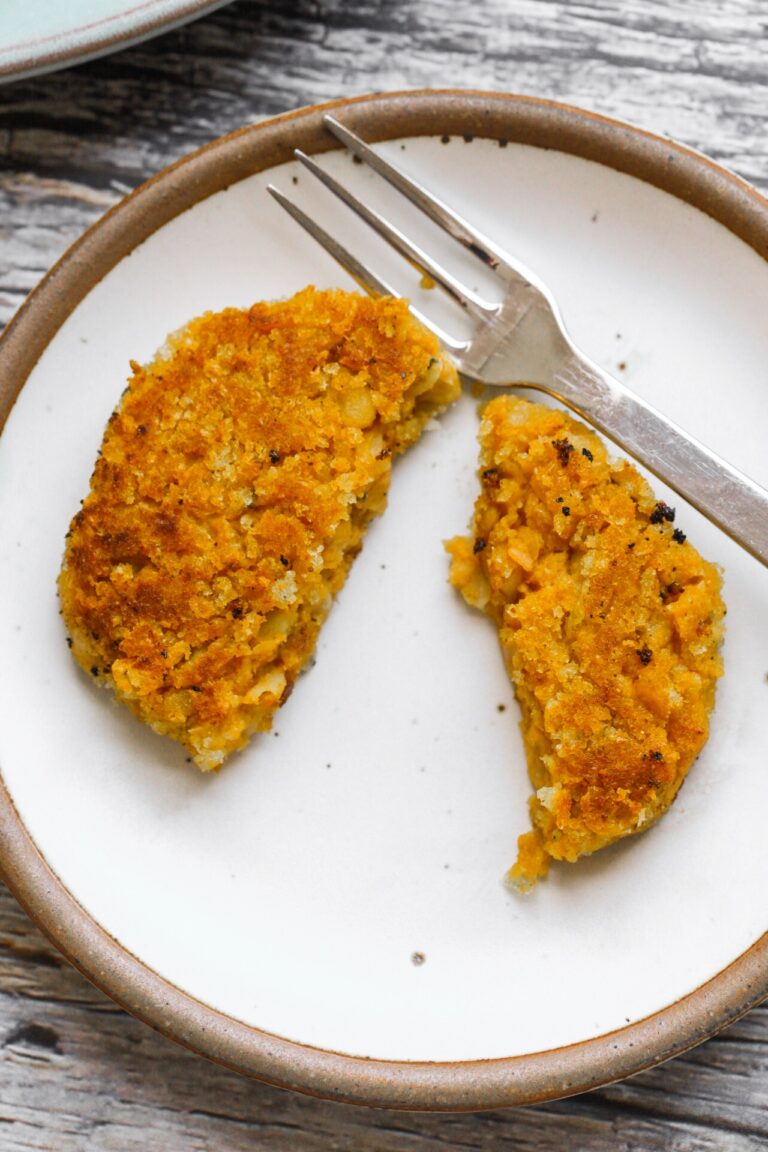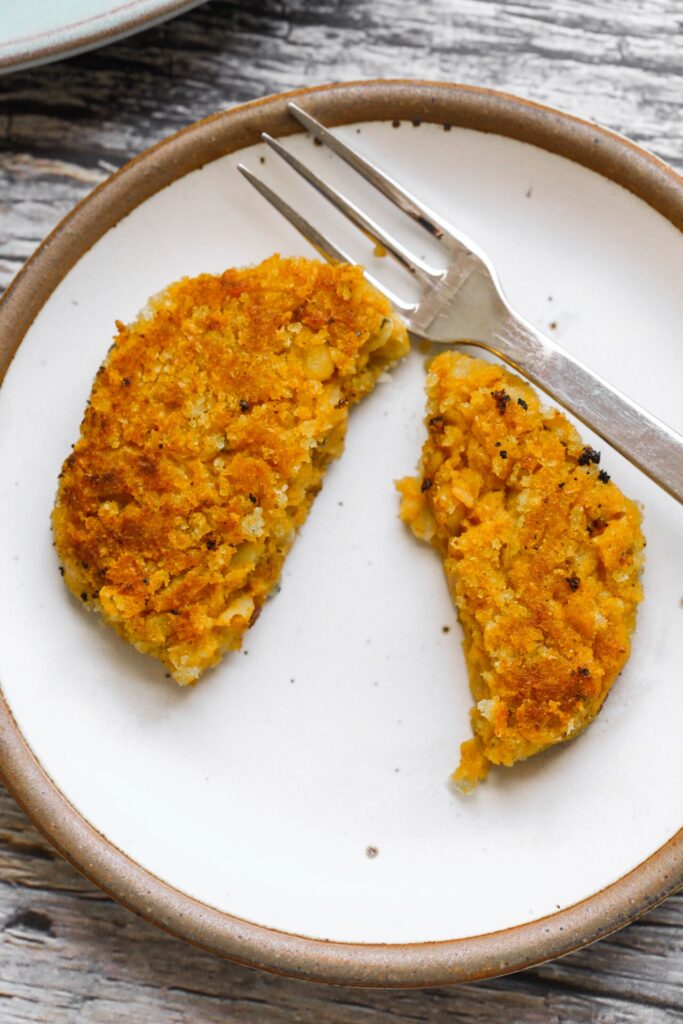 Substitutions – Can you swap out the pumpkin + bean?
If you'd like you can change up the pumpkin for butternut or acorn squash. Even sweet potato will work for a slightly different flavor. You can also change up the bean. Cannellini of even nutty lentils will work nicely.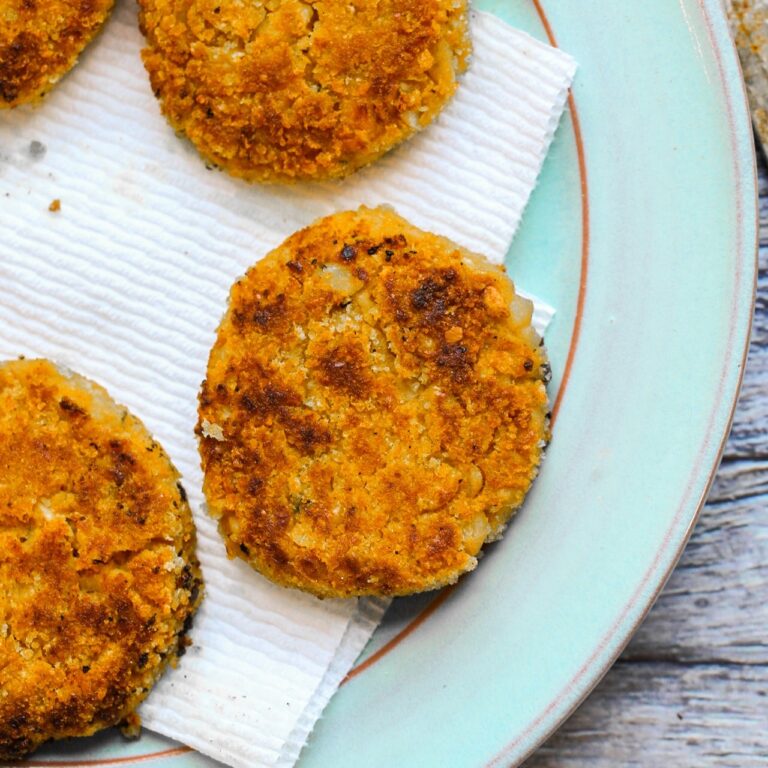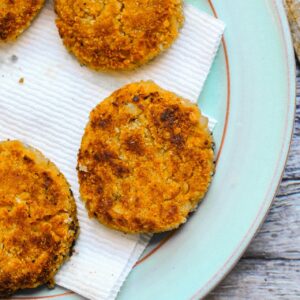 Toasty Pumpkin Chickpea Fritters
These flavorful little rounds of pumpkin and chickpea bliss are coated in a golden brown Panko crust. Perfect for fall.
Print
Pin
Ingredients
1 ½

cups

chickpeas

½

cup

pumpkin puree

,

unsweetened

¼

cup

hemp seeds

,

or finely chopped pumpkin seeds

1

teaspoon

apple cider vinegar

2-3

tablespoon

maple syrup

1

tablespoon

flour

,

any variety

1

teaspoon

garlic powder

,

granules

¼

teaspoon

salt

1

pinch

black pepper

½

cup

Panko breadcrumbs
Coating
3-5

tablespoon

olive oil

,

extra virgin
Instructions
Add the chickpeas, pumpkin, hemp or pumpkin seeds, vinegar, maple syrup, flour, garlic and salt and pepper to a mixing bowl. Using a potato masher or a sturdy fork, mash the chickpeas down until you get a chunky puree in texture. Like a chunky hummus.

Warm a skillet over high heat. Add two tablespoons of olive oil

Pour the Panko into a small bowl and set aside.

When the oil is hot, turn heat to low.

Grab a golf ball-sized bit of the pumpkin mixture and for it into a patty. Dunk the patty into the bread crumbs to coat aon all sides. Then gently place the patty into the hot oil – be careful for any splatters. Repeat with as many patties as you can fit in your skillet (three is usually standard for a medium skillet). When the patties are in the pan, turn heat back up to medium.

After about three minutes, carefully flip – the patties will be delicate. You can mold the sides back into place with the use of your spatula. Cook again for three minutes. If oil starts to smoke, turn heat to low.

Remove the cooked patties from the pan and place them on a paper towel on a platter. Let them rest for at least five minutes before serving. Repeat with all of your pumpkin mixture. Add another tablespoon of oil to the pan with each new batch of patties.

Store in the fridge and reheat in the oven if desired. You can freeze as well. However, these fritters are best hot off the skillet!
Notes
Optional Sage Cream Sauce – this went along with the original recipe, here it is if you'd like to try it!..
Directions: I blend up 4 fresh sage leaves with 1 cup silken tofu, 2 tablespoon lemon juice, 1 heaping spoonful of vegan mayo and a pinch of fresh parsley. For a spicy sage sauce I add in either cayenne or a tablespoon of chopped jalapeno.
nutrition estimate | per serving
Calories:
164
kcal
|
Carbohydrates:
17
g
|
Protein:
4
g
|
Fat:
9
g
|
Saturated Fat:
1
g
|
Sodium:
250
mg
|
Potassium:
153
mg
|
Fiber:
3
g
|
Sugar:
5
g
|
Vitamin A:
3177
IU
|
Vitamin C:
1
mg
|
Calcium:
36
mg
|
Iron:
1
mg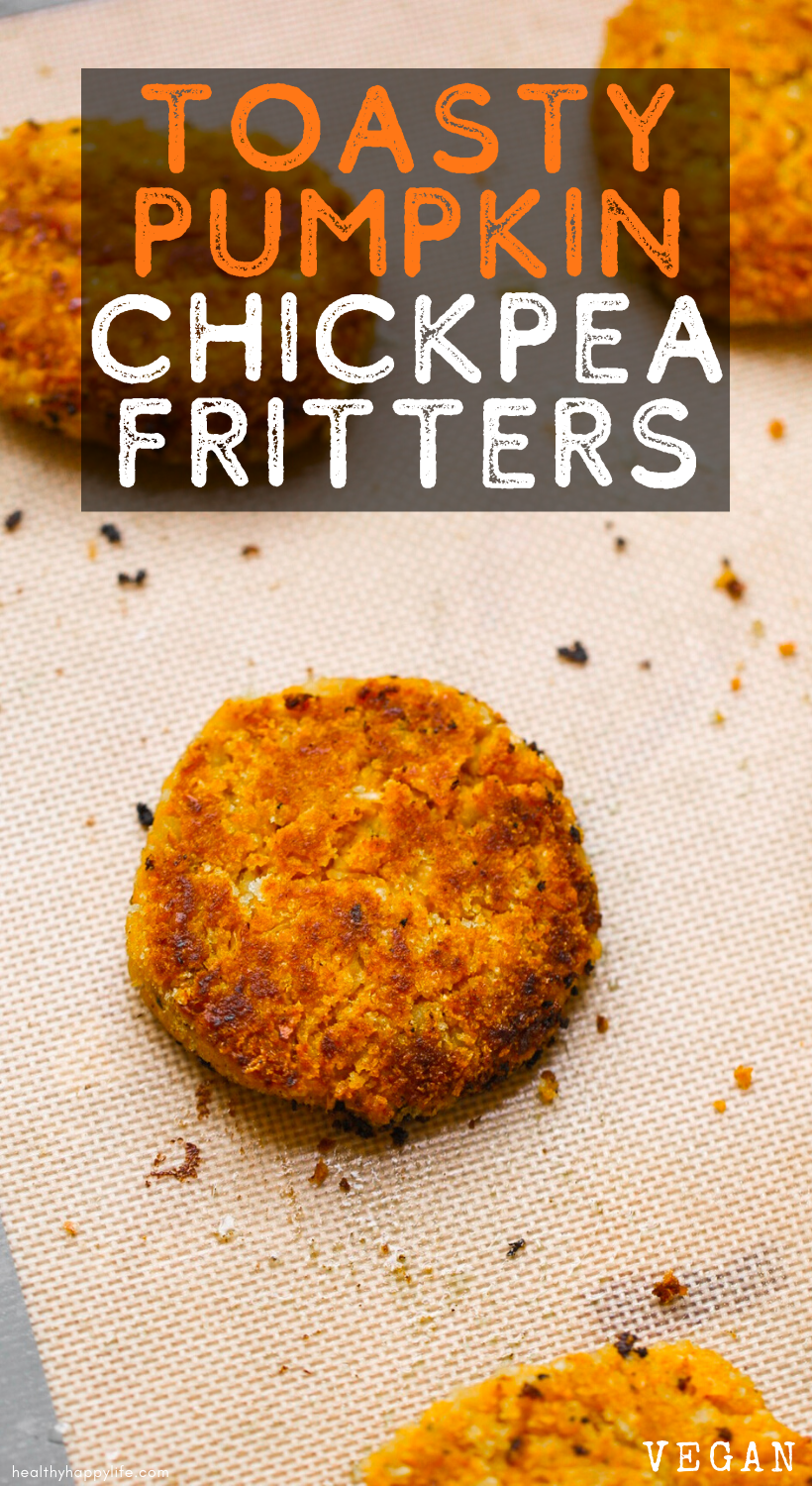 A few more of my fave chickpea recipes can be found here. And if you are looking for all things pumpkin, check out this page here on the blog!
original publish date: Oct 31, 2011 | post updated: