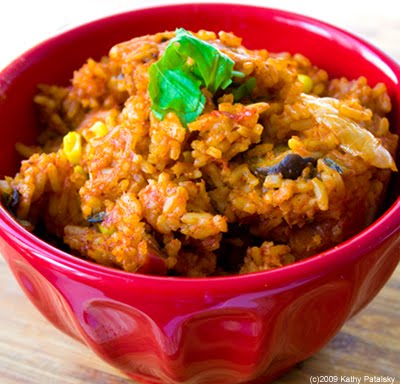 The other night I heard someone make a joke about all the "California Natives" who say that they can't get any "authentic" or "good" Mexican food in New York City, because they've been spoiled by the plethorous amounts of it in California. I'll confess! I've said this same statement many times. But with awesome Mexican joints like Cafe El Portal in Nolita, La Esquina in SoHo and Dos Caminos near Union Square, I have to admit I've been satisfied in this town. But the one thing that never seems to live up to my California Mexican food memories is the rice.
Tomato Mexican Rice. I have an obsession with 'authentic' rojo rice. The kind that is orange colored, super fluffy and comes with a side of those kinda-watery vegetarian pinto refried beans. Tastes like a Baja sunrise and a salty California sea breeze. So since my quest for Cali rice has failed me thus far, I have begun crafting my own rice recipes. My recipe for Cali Tomato Mexican Rice is actually nothing like the California Mexican style rice I crave, but I love it anyways. It's got a dense tomato texture, and it clumps together in almost a sticky rice way. Perfect as a side or main dish. And yes, there is a secret ingredient…
Secret Ingredient? Tomato Paste. I use the whole freaking can of it! Super creamy texture and adds quite the tomato flavor boost.
Is MSG Bad?A blog reader recently told me to try Goya's Sazon in my Mexican rice. I bought some, took it home and THEN read the ingredients. Ingredient number one: MSG! Oh no, chemicals, yucky! Disgusted, I decided to read up on the 'famed to be horrible' food additive. To my surprise, the solid research on why MSG is bad is a bit sketchier than I had imagined. However, it is a food additive, aka chemical. And I am an all natural kind of girl. So here's my chemical free rice recipe. Stay away from that MSG stuff, and more importantly: read those labels!
Cali Tomato Mexican Rice
vegan, makes a big bowl of rice
2 cups of water
1 package Mexican or Spanish Rice Pack
*I used Near East brand OR 2 cups of your own blend of rice/spices
1 tablespoon olive oil
½ cup black olives
1 tablespoon jalapeno, diced
1 small sweet onion, chopped
1 small tomato, diced
¼ cup sweet corn
2 tablespoon vegan buttery spread (or more olive oil)
1 can tomato paste
1 teaspoon black pepper
*seed left on will create a spicier rice
¼ cup cilantro or parsley, chopped (plus more for garnish)
½ teaspoon salt
2 cups additional cooked plain Jasmine or white rice
*I used an easy microwavable pouch from Trader Joe's
Directions:
1. Saute onion, tomato, corn, jalapeno and olives in 1 tablespoon of olive oil. Saute over high heat for 1-2 minutes. Add ½ teaspoon salt.
2. Add water, dry rice and seasonings. Add additional 2 tablespoon of oil or 'butter'. Bring to a boil.
3. Reduce heat, let simmer for 30 minutes.
4. Fluff rice with fork. Turn heat up to medium-high.
5. Fold in additional 2 cups of white rice (cooked)
6. Fold in tomato paste, cilantro and black pepper. Note, you can use less tomato paste if you want a milder tomato flavor.
7. Let cook uncovered for 5 minutes, fluffing every so often. Allow a bit of the rice to 'toast' on the bottom like a paella rice.
8. When rice is steamy hot and well fluffed, transfer to large serving bowl. Top with a nice handful of fresh chopped cilantro.
Serve hot! Also tastes great microwaved or re-heated the next day for leftovers.
Optional: fold in a cup of vegan Monterey Jack cheese.