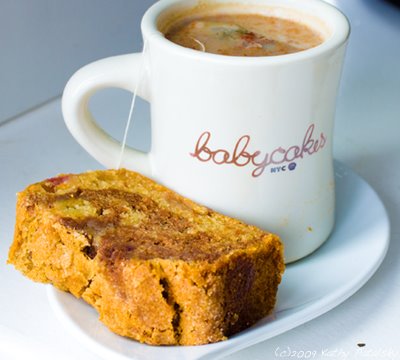 Secret Ingredients revealed from Babycakes NYC! Yippee! I recently received my copy of the new Babycakes NYC cookbook. And before I do a complete book review I knew I needed to test out a few recipes. But to my not-so-surprise, Babycakes NYC cookbook has a few must-have secret ingredients (not so secret anymore) that you will need to obtain in order start crafting your own Babycakes treats at home. Here are the top 5 must-buy secret ingredients used in the Babycakes cookbook….that are probably not in your cabinet…
Erin McKenna Loves Coconuts. And I love her. On a recent episode of Martha Stewart, I watched Erin McKenna, Babycakes founder and owner describe her passionate love of coconut oil. Honestly, I have been confused about its purpose in the past and stood by blindly as co-workers and friends did the 'coconut oil diet' by downing tablespoons of the stuff throughout the day. What always got me was the amount of saturated fat. But Erin proclaimed on the MS show that coconut oil is fabulous because it is stored in your body in a way that is not fat, but energy to use. Now I don't know the exact truth about coconut oil. But I do have a lot of faith in Erin. So I will wholeheartedly embrace her recipes and the delicious vegan gluten-free ingredients she uses in them…
Here are the Top 5 Babycakes NYC Must-Have Secret Ingredients
…..Not in Your Cabinet (Most Likely)…..
1. Coconut Oil.
One of her favorites. She says it is high in omega-3 fatty acids as well as lauric acids which allows the coconut oil to be stored as energy and not fat. Used in many many many of her recipes.
2. Arrowroot Powder.
I discovered arrowroot powder when I was obsessively tweaking my award-winning Lemon Tofu Custard Bars. Arrowroot powder is a thickener. Though similar to corn starch, it is much easier to digest in the body. It has been used for years by native Americans. It has a mild flavor, so I use it in everything from savory soups to sweet desserts.
3. Garbanzo-fava bean flour.
Wow. This one is the kicker. I have never used it, but it is a staple ingredient in many of Erin's cakes, breads and cupcakes. It is meant to be similar to wheat flour, without the gluten! She likes it much better than rice flour. Great for me because I have never really liked using rice flour as a main four ingredient.
The last two…
4. Xantham Gum.
A very important ingredient in Erin's cookies and cupcakes. She says that without it, many delicious bakery creations would fall apart! It adds stickiness and viscosity.
5. Flax Meal and Coconut Flour.
Two powder ingredients that you probably don't own. Coconut flour is a thickener and adds a nice taste. It is used in Babycakes frostings. Flax meal is like a substitute for eggs. It provides protein and adds fiber. Two yummy and healthy ingredients that aide in the nutrition content of the treats from the Babycakes kitchen-any now your own kitchen!!
Order Babycakes new cookbook online, and look for my official review in a bit (once I actually buy all the needed ingredients and head into my kitchen!)
Amazon:

Click here to see the awesome viral video about the Babycakes NYC cookbook…