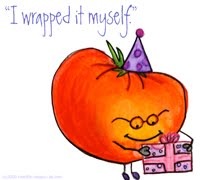 The final week of holiday shopping can get pretty hectic and intense. Buy this, wrap that, save on these and don't forget to drop those cards in the mailbox (the ones that have been perched on your counter top all week.)
Last minute shopping should only be attempted by the calm and skilled. Last minute shoppers are embarking upon an obstacle course that puts Family Double Dare to shame: pushy sales people, long lines, free gift-wrapping (if you're lucky) and 'longer holiday hours' are enough to send even the coolest of heads diving straight into a barrel of soy nog. An ill-prepared shopper is likely to fall into an unforgiving and sometimes embarrassing last-minute gift-giving trap. Here is my top five list of the worst last-minute gifts. Do not buy…
Top 5 Worst Last-Minute Gifts: Do not Buy!
1. Anything from Starbucks
I know, I know. We all love a hefty Starbucks gift card now and then, but nothing says "I'm thinking of you, but only when I'm in line ordering my daily Venti Latte" more than a holiday gift from Starbucks. Mugs, exotic coffee, sweet treats, coffee presses and (I really hope not) instant Via coffee gift sets. I know the Starbucks festive red and silver trinkets are tempting to a last-minute shopper on the run, but mark my words: get your latte and head to a real store.
2. A Drug Store Gift Card, via email
When I saw this headline in an email, I almost burst out laughing (or crying):
"Forgot someone? It's not too late! Virtual CVS Gift Cards by Email!"
If you must do something via email at the last minute, simply send a nice long note of 'hello'. A personal note beats an emailed drug store gift card any day. (I would prefer to pay for my own antacids, pain relievers and toothpaste, thank you.)
3. Airport Gifts: I Heart (insert city here)
You're going to visit Aunt Gina in San Francisco, and you have a layover in Los Angeles. Giftless and desperate, you turn to your only hope: the in-house-airport shops. Don't do it, even when the "I Love LA" gift store beckons you with its glossy magazines and loaded candy racks at the door. No, it's not OK to buy Aunt Gina and the gang "I heart LA" tees and Rodeo Drive themed gifts.
Those airport gift shops are incredibly tempting, but resist, resist! No one really wants an $80 designer pen in a nice gift wrapped box or a 'duty free' Chanel perfume gift set, anyways. OK, so maybe some do, but its the principle of it folks! And think about this: the "so where did you buy this?!" question just may pop up, and do you really want to answer: "Terminal five…the airport".
4. $Lots of Money$ on Winter Apparel
Pretty pink scarves all lovely and plush. Warm woolen gloves hanging in a row. A big puffy hat lined with snowflake-blue fleece. A giant silver sequined sweater, perfect for a snugly snow day. This is a common path that last minute shoppers take: buy the beautiful window-placed winter apparel. It's new, seasonal, festive, fun and perfect to wear Christmas day! You know your present will get tons of immediate use, right? Right. So why is this such a bad last minute gift?

On Sale, Tomorrow. Its a pretty safe bet that although you purchased $100 of sweaters, gloves, scarves and hats on December 24th, come December 26th those luxurious gifts will be slashed in price and placed on the sale rack. $60 JCrew scarf: slashed down to $19.99. $100 Bloomingdale's sweater: slashed down to $39.99. Just a few examples you are likely to see. There is nothing worse than seeing your precious last minute gifts slung up on the sale rack just a few days after your glorious gift-giving moment. If all they want is winter apparel, go for the gift card, and head to the stores December 26th.
5. Re-Gifted Anything.
It's tempting, but this is another big no no. You need a last minute gift, like in the next few hours, what to do?! You recall a beautiful tag-still-on black scarf that you received in the office Secret Santa gift exchange. Hmmm. That would be too easy. Why not? Cousin Sally will never know right? Right. But you will know.
I must admit, one year I received an absolutely beautiful red glass crystal-shimmering bird feeder in the office Secret Santa. It was stunning. Unfortunately, I didn't have anywhere to hang this bird feeder, since I was an urban apartment dwelling girl. So, I re-gifted the bird feeder to my bird-adoring sister who indeed had a place to hang it. I honestly can't remember if I ever told her it was a re-gift, ha! She knows now. But I'll never forget how slimy I felt after giving her that gosh darn bird feeder. True, it was beautiful and something I might have even bought for her had I seen it, but to this day I feel weird and a bit guilty about not going out to a store and finding something on my own. If you enjoy the gift giving process, it should be about taking the time to truly embrace the experience of picking out a gift. Re-gifted anything, something your assistant bought or a 'cash only' gift really doesn't embrace the one characteristic all gifts should have: thoughtfulness. (And FYI, I'm not opposed to giving away 'unwanted' or can't-be-used-by-you gifts. Just try not to make it a habit, or a crutch. And besides, isn't half the fun of gifting, the shopping?)
Other Gift Traps to Avoid:
*The IOU gift. I say you have a 50/50 shot of ever fulfilling a gift IOU, aka promise-to-gift.
*The "Employee Discount" Gift. Even though you get 30% off, remember you're not fooling anyone, we all know you did. The employee-discount gift does work for some folks, but not others. You know who you are…
*"I Like This!" Gift. Just because you like it, doesn't mean they will. Remember that advice.