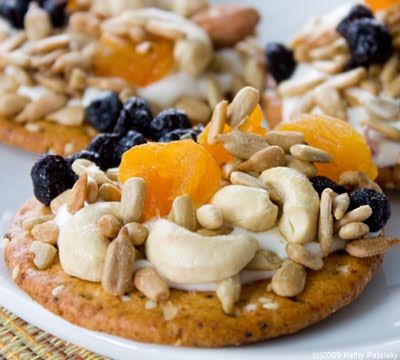 Fancy party hors d'oeuvre or kid-friendly snack: you decide. This salty-sweet Trail Mix Sprinkle Cracker Snack attracts hungry hands big and small. Recipe highlight: it's child's play! It's easily crafted by little chef hands. Kids as tiny as two could help out in the crafting of this snack. Fun to make, fun to eat. Check out this super E-Z 'frosting and sprinkles' recipe…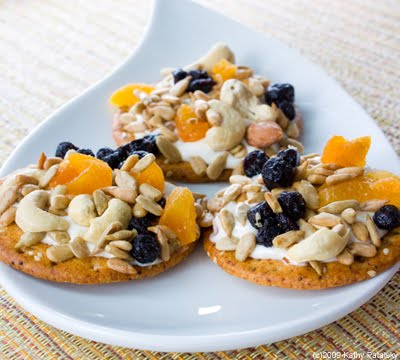 Frosting and Sprinkles. Ask your kids if they want some frosting and sprinkles for a snack and they will probably jump out of their car-seat. Well that's what we have here! It's a cream cheese maple 'frosting' spread topped with dried fruit, nut and seed "sprinkles". The thin consistency of the cream cheese spread really does make it look like frosting. It's all the fun of cupcakes with a healthy twist. And my how-to method makes this a not-so-messy craft you can eat in the end.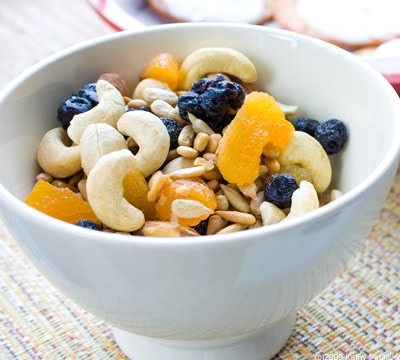 Healthy Trail-Mix. Getting kids to eat trail mix from a bowl might be a bit tricky. There's certainly nothing exciting about a bowl of dried fruit and nuts. But with so much good stuff in trail mix, you've got to give it another chance with the kids. Nuts are dried fruit are packed with fiber and nutrients. Here is a fun way to make trail mix into a cracker snack. Remember it's not 'trail mix' it's trail mix sprinkles! If you really want a treat-throw a few dark chocolate chunks into the trail mix bowl.
Here's the recipe:
Trail Mix Sprinkle Cracker Snack
makes 8 crackers, vegan
8 extra large 'entertaining' size crackers, multi or whole grain
4 tablespoon vegan cream cheese or nut butter
1 tablespoon maple syrup
1 ½ cups of "trail mix" sprinkle
*see list below
Directions:
1. Make your Trail Mix sprinkle bowl. Optional ingredients include fruit/nuts/seeds. A few ideas: dried apricots, dried blueberries, salted sunflower seeds, almonds, cashews, poppy seeds, pumpkin seeds, dried cherries, dried figs, sesame seeds, goji berries, shredded coconut, dried cranberries, walnuts, pecans, Brazil nuts, pistachios and hazelnuts.
For large items like dried apricots and large nuts-be sure to chop them into pea sized bits.
2. Line a casserole or baking pan with paper towels.
3. Make your 'frosting' by whipping 1 tablespoon maple syrup into your cream cheese or nut butter.
4. Spread 1 teaspoon of 'frosting' on each of your crackers. Big kids can help you do this part. Lay the frosted crackers side by side in your lined pan. Pack them tightly. Little kids can help arrange the crackers.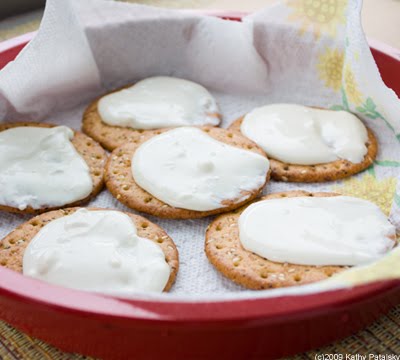 5. Sprinkle time! Here's the kids part: let the grab a big handful of trail mix sprinkles and generously sprinkle it over the crackers in the pan. Sprinkle until all the mix is used.
6. An adult can now carefully transfer the crackers onto a clean plate. The leftover trail mix that didn't make it on the crackers can be place in a sealed container for next time.