I've Got that Tropical Feeling. (Now.) I awoke feeling not so spry. Morning smoothie to the rescue!

Cashew Juice Smoothie. Yesterday I did a taste test of O.N.E. beverages. My favorite of the flavor (besides my fave, coconut water) was the Cashew Juice. It tastes like a cross between peach nectar, canned mellow mandarin and sweet tart apple cider, with a dry tangy sweet finish. Perfect for a smoothie, and high in Vitamin C.

Pink Power. Cashew Juice is golden. And I didn't want another yellow smoothie since I had a frothy yellow Ginger Banana Smoothie yesterday. I get smoothie color fatigue easily! So to bring on the color: I add some raspberries! They always add a brilliant pink color and a boost of tart berry nutrition. See what else I added to make this morning-boosting Tropical Pink Cashew Smoothie…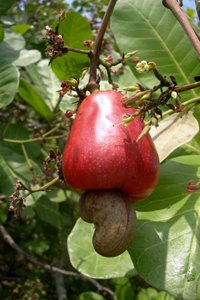 Cashews aren't pink. But neither are "Cashew Apples," which is where Cashew Juice actually comes from. (Although if you have a nut allergy I'd skip this one.) What is Cashew Juice? It is actually quite fascinating. From the O.N.E. website:
"We are all familiar with the Cashew Nut. However, what is not really known is that the nut actually grows from the bottom of the "Cashew Apple." The Cashew Apple is an oval or pear-shaped fruit that develops from the receptacle of the cashew flower. Called the Cashew Apple, it ripens into a yellow and/or red fruit about 5–11 cm long."

What is that Flavor?! It took me all day to figure out what Cashew Juice tastes like. And though it is definitely unique. It echoes the flavors of peach nectar, mellow sweet canned mandarins and sweet tart apple cider. Try it and let me know if you get those same complex flavors!
So now for my smoothie:
Tropical Pink Cashew, Coconut Ice Smoothie
vegan, serves two
1 container O.N.E Cashew Juice
1 cup frozen raspberries
1 large ripe banana, mine was raw not frozen
⅓ cup frozen mango cubes
1 kiwi, raw, peeled
1 cup O.N.E. coconut water ice cubes
Fresh OJ, from 1 sweet orange*
*I added a few dashes of fresh OJ to get to perfectly frosty smoothie consistency.
To make:
Add all the cashew juice, raspberries, mango and a few ice cubes in the blender.
Blend on high for a few minutes. Add in half the raw banana.
Blend a bit more.
When smoothie becomes smooth enough to blend through, add in the raw kiwi, remaining ice cubes and last half of the banana.
Blend.
I needed to add in a few dashes of a freshly squeezed orange to thin it out a bit and get the bright brilliant pink color!
Serve in frosted glasses.
Notes:
*You may also use a frozen banana, but you may need to use less frozen raspberries or mangoes then.
*You can substitute the raspberries for strawberries and achieve the same taste. But raspberries are a bit higher in nutrients than strawberries. And have a bolder flavor.
*You can find Cashew Juice at your grocery store (Whole Foods carries it) or at several vendors online. I found it on Amazon.com an a few others.
*Using regular ice cubes will work too, but I'd add more frozen fruit and less cubes since tap water ice cubes can 'water' down the smoothie flavor. I find that using O.N.E. coconut water ice cubes adds a nice synchronization in brand flavors.
*Want even more pink power to this smoothie? Add in a dash of spicy cayenne or ginger. Give it a real kick! I actually sprinkled in some cayenne to my smoothie and it was very refreshing. Spiciness compliments the Cashew Juice flavor.
*Extra Tropical?! Add in shredded coconut and oh-my-gosh will this smoothie taste tropical and amazing! Close your eyes and it's an instant passport to Brazil. Yum.
…..Cashew Juice. Wow, aren't we tropical today!
Image of Cashew Apple from: http://slog.thestranger.com/2008/04/new_fruit
O.N.E. website: http://www.onenaturalexperience.com/