It's always funny how recipes can evolve in the kitchen. This started out as a white cheddar cheezy mac and ended up as this crazy-good, cheezy, fluffy Vegan Baked Mac 'n Cheese. I am pretty happy about the turn of events. This plant-based pasta dish is perfect as an entree or side dish. I love how baking the pasta allows the cheese sauce to fluff up the pasta and marinate each curly elbow. I actually used whole wheat pasta for the added fiber and protein — and because I had it on hand. But you would never guess this is a whole wheat pasta because it is so light and fluffy. You can use any pasta you'd like, but I think a hearty wheat pasta works really well as a 'baked' Mac 'n Cheese.
Ok, enough rambling about this recipe, let's get to it! I want YOU to have this cozy, cravable dish on your table tonight!…
Baked Mac 'n Cheese..

Rich + creamy + cheezy..

So all I really wanted with this recipe was BOLD flavor, but in a smooth white cheese way, not necessarily in a sharp cheddar, spicy mustard way like some vegan Mac 'n Cheese recipes can be. There are no sweet potatoes in this recipe. No cauliflower or potatoes even! You will find a small portion of butternut squash and onion. These veggies help to thicken the sauce by adding fiber, but really don't do too much to the cheesy flavor. I used simple frozen butternut squash cubes for ease!
Cheese? So I remember making Mac 'n Cheese in my pre-vegan days. We always added actual cheese. Like grated cheese. And that really seemed to bring the dish over the top. So for this recipe I decided to add in some white vegan cheese slices. I know many vegan cheese sauce recipes are 100% from scratch, but with the state of the vegan cheese industry – SO MANY amazing vegan cheeses out there, why not use those in moderation to boost the flavor and texture of this sauce even more? You could absolutely omit the cheese slices and sub in a bit extra nutritional yeast and/or cashews, but I would advise trying this recipe as is, and see how much you love it.
Baked. Baking your Mac 'n Cheese changes everything! Seriously. Have you done this lately? I find baking works with sauces that are a little richer, rather than thicker when blending. More rich and thin as opposed to straight up velvety right out of the blender. If you are a vegan Mac connoisseur, then you will know what I mean. A velvety sauce, like one using more cashews or potatoes, will be thick and ready to go right from the blender. A few examples of thicker cheese sauces: spicy sauce, super creamy sauce. But this sauce is perfect for baking. (You could just eat it un-baked, but it won't get the same fluffy, marinated texture!)
Salt to Taste. I didn't add much salt to this cheese sauce recipe because I decided to leave that up to each individual person to serve. some of you may love it just as is, and some of you may want a punch of salt right on top of your pasta, folded in, to serve. I added an extra sprinkle and it was perfect.

Hot Sauce. Hot sauce would be another yummy topping for this dish!
Cheese! Mac and Cheese. Baked Mac and Cheese.
Butternut Squash. Veggies in cheese sauce: Love it or hate it? I actually love my fave sweet potato-based cheese sauce. But sometimes I just love a really buttery and cheezy sauce. As I showed in my Lazy 'Mac recipe, you really only need two ingredients to make a yummy cheese sauce! But this sauce definitely goes a step further and creates a deliciously complex flavor of cheese, garlic, salt, caramelized onion and vegan butter. The butternut squash in this recipe is so muted that you would never know at first bite that it is even there. I only use a cup, and it really just blends right into the sauce, the cheezy flavors overpowering it's lightly sweet and rustic flavor. However, the tiny bit of sweetness that it does add is very complimentary to all the savory cheezy flavors going on. Ad interestingly enough, as I was making this sauce, the last ingredient I decided to add was the squash. And before adding it, the sauce tasted really great. I just wanted a bit more body, and the squash served that role beautifully.
What else? I am very excited because in the next week I am launching a project that I have been working on for over a year. Plenty of weekends the past few months have been spent with me, in front of my computer, all day, listening to my 'work' music playlist and getting this project finished! It isn't a cookbook, but something similar. I truly hope you guys love it and find it helpful.
But for now, take a swan dive right into this dish of deliciousness. Perfect on a cozy fall night!
Because Vegan Mac 'n Cheese night is always a good idea..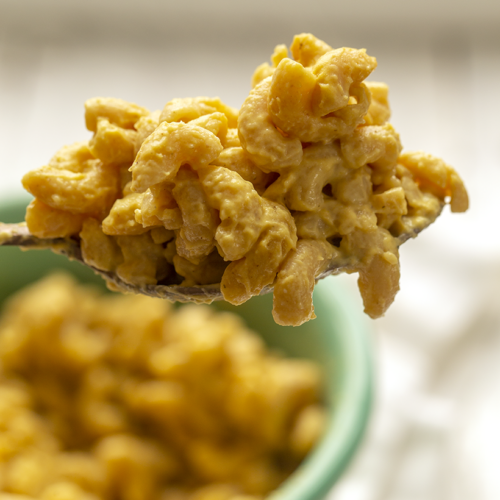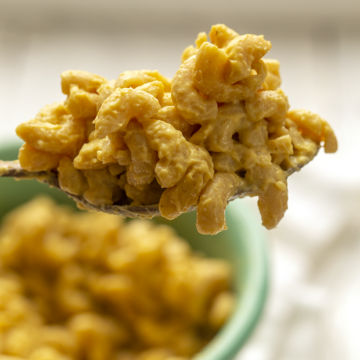 Vegan Baked Mac 'n Cheese
This fluffy, cheesy, baked vegan Mac 'n Cheese is made using plant-based ingredients.
Print
Pin
Ingredients
NOODLE
3

cups

3 cups dry elbow pasta

,

whole wheat used
CHEESE SAUCE
½

medium white onion

,

chopped

5

cloves

garlic

2

tablespoon

extra virgin olive oil

1

cup

butternut squash cubes

,

frozen used

⅓

cup

raw cashews

2

tablespoon

vegan butter

3

tablespoon

nutritional yeast

¼

cup

pasta water

⅓

cup

veggie broth (or more water)

2-3

slices

vegan cheese

,

Gouda flavor used

1

teaspoon

apple cider vinegar

½

teaspoon

salt — add more to taste to serve

¼

teaspoon

ground black pepper
Instructions
Add the raw cashews to a mug and add very hot tap water over top, to cover. Allow that to soak for at least five minutes before using the cashews.

Bring a large pot of water to a boil over high heat. Add the elbow pasta. Reduce heat to medium and boil until tender.

While the pasta is boiling, you can whip up your cheese sauce.

First in a small pot or skillet, add the olive oil and turn heat to high. Add in the onion and garlic. Saute for 2 minutes to soften and caramelize the onions anbd brown the garlic. Transfer this mixture to a blender. With the skillet heat still on, add in the butternut squash. Cover with a lid and cook for 2 minutes, just until it is cooked through and soft. Frozen squash will cook more quickly than fresh squash. If you fresh squash cubes seem a bit dry, you can add a splash of broth to the skillet. When the squash is tender, transfer it to the blender.

Drain the cashews. They will not be fully plumped, but at least slightly softened from the five minutes of soaking.

Add to the blender: cashews, vegan butter, salt and pepper, nutritional yeast, cheese slices, broth, apple cider vinegar and the pasta water. The pasta water is just removed from the boiling pasta in the pot. Blend from low to high until silky smooth.

Preheat oven to 350 degrees.

Drain the pasta and add to a large mixing bowl. Pour the cheese sauce over top. Only add about three-fourths of the sauce quantity.

Pour the pasta into an 8-9" square or rectangle baking dish. Now you can pour the reserved sauce right over top, or leave it on the side to add as desired once the pasta is baked. I like to grind some fresh black pepper over top. You could also sprinkle red pepper flakes or even smoky paprika. If you want really super cheesy pasta, add a layer of vegan cheese shreds over top!

Cover pasta with foil and bake covered for 15 minutes at 350 degrees. Then remove the foil and bake for another 10 minutes, uncovered.

Serve warm! Add salt to taste. I sprinkled some right over top my pasta to serve. I liked being able to really taste that punch of sea salt; and I also like being able to control the salt per portion. Store leftovers in the fridge. This pasta is delicious the next day. Make-ahead approved.
nutrition estimate | per serving
Calories:
190
kcal
|
Carbohydrates:
11
g
|
Protein:
5
g
|
Fat:
15
g
|
Saturated Fat:
3
g
|
Polyunsaturated Fat:
2
g
|
Monounsaturated Fat:
8
g
|
Trans Fat:
1
g
|
Sodium:
352
mg
|
Potassium:
261
mg
|
Fiber:
2
g
|
Sugar:
1
g
|
Vitamin A:
3191
IU
|
Vitamin C:
7
mg
|
Calcium:
29
mg
|
Iron:
1
mg
Cheezy…

Pin it for later!..