You know a recipe is good when.. you just finished your breakfast smoothie, but still, you can't stop snacking. And I couldn't stop nibbling on these yummy, Vegan Baked Rosemary Fries with Maple-Mustard Dipping Sauce. Fries for breakfast? Sure! Rules schmools. And just to be clear, yes, that also means you can have ice cream for dinner and waffles for lunch.
I whipped these up today on a whim. A mushroom whim. I always seem to have mushrooms on hand and want to do creative things with them, but they always end up in a quick skillet sauté. But not today! Mushroom fries it was.
I hesitated posting these guys today simply because my presentation hasn't been mastered yet, as you can see. Yup they are a bit messy — and awesome — all at the same time. They tasted so good I had to share.
The key to vegan breaded fries is figuring out how to apply the goo, aka the vegan 'egg' wash, aka the flax wash, and then the flour, without making a big clumpy mess. I have a few tips for that and the full recipe ahead!..
The first time I blog posted a vegan "fried" recipe was way back, long long ago, in a blog far far away. Ok, not that far away. Same place I guess. But it was for my Jalapeño Poppers. I used Panko breadcrumbs for the breading part, and they were amazing.
I adore Panko for all sorts of breading recipes, the light crispy texture is the best. But not gluten free, usually. So for today's recipe I skipped Panko and worked with what I had on hand. However, if you want to add Panko to your breading, go for it.
Before the recipe, a few tips to help you along..
Five Tips for Breaded Fries:

1. Thick enough vegan egg wash, aka flax wash. I like using a basic flax egg for my wash. But you want to make sure the mixture is thick enough so that it not only wets the mushrooms, but also coats them. This coating will thicken even more once the flour soaks in.
2. Dry Mushrooms. You want your mushrooms to be dry when you start the dipping process. Wet mushrooms won't pick up as much flax wash and then you won't pick up as much flour etc.
3. Don't over flour things. You will be tempted to get a thick coating of flour, but don't over do it. You want the balance of flour and wash to be even so that the fries don't dry out in the oven. This takes some time to figure out! Since there isn't an exact recipe for how much wash and flour you put on each fry, you kinda have to learn as you go.
4. Pan Fry or All Bake. There are two ways to cook the fries. You can straight up bake them in the oven, no added oil needed. Or you can pan fry them in a very light amount of oil for 2-3 minutes to really brown both sides, and then finish them in the oven to tenderize and cook the mushrooms. I think both methods are delicious, but the pan-fry method turns out a bit more decadent and "fried" while the baked route is a bit lighter.
5. Salt and season to taste. Don't get too worried about having the perfect mix of spices and salt on your flour mixture. You can always toss the fries in spices after they bake. I like to do a heavy sprinkling of smoky paprika right before serving the fries and add salt to taste. For spicier fries try adding cayenne too. Lemon zest is another fun ingredient to try!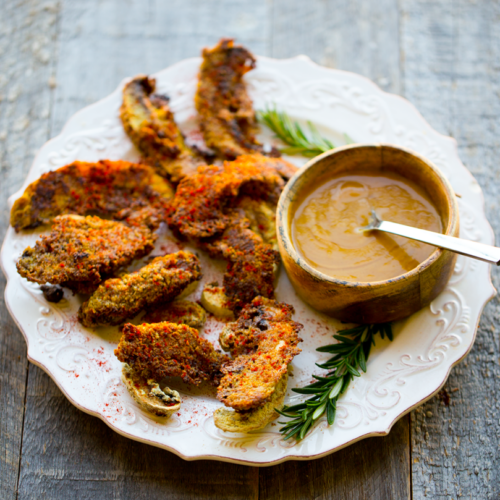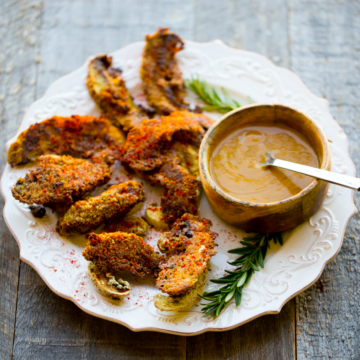 Vegan Baked Rosemary Fries with Maple-Mustard Dipping Sauce
These easy veggie fries are lightly covered in a cheezy herbed coating. A hint of lemon and nutritional yeast, smoky paprika and sea salt make these dreamy. Maple-mustard for dipping.
Print
Pin
Ingredients
3 portobello mushroom caps, stem removed, thinly sliced
"Vegan 'Egg' Wash:"
2 flax eggs (½ cup water + 2 tablespoon ground flax seed)

2 tablespoon lemon juice

2-3 teaspoon extra virgin olive oil
Breading:
¾ cup flour (gluten free, oat or all purpose – gf was used)

¼ cup nutritional yeast

1 tablespoon fresh rosemary, stem removed

¼ teaspoon sea salt

½ teaspoon lemon zest, optional
Spice accents:
smoky paprika to taste

salt and pepper to taste
Maple-Mustard Sauce:
¼ cup spicy mustard

2 teaspoon maple syrup

Optional: ½ cup finely ground pecans, for additional coating
Instructions
Preheat oven to 450 degrees. Line a baking sheet with parchment paper.

Whisk your "egg wash" mixture together: flax eggs, oil and lemon juice.

Add all the breading ingredients to a blender and blend from low to high until the rosemary is smoothly blended in to make a uniform flour.

Process: Dip each portobello fry into the flax mixture (vegan egg wash) and coat well in the liquid. Then dip each side into the flour mixture. If using the optional pecan coating, you can next dip into the finely ground pecans. Place fry on baking sheet, repeat until all are done.

You have two options. For 'lighter' fries, you can simply place the baking sheet in the 450 degree oven to bake for 15-18 minutes, flipping the fries halfway through. Option two is to pan fry the fries in olive oil for 2-3 minutes, then finish in the oven for an additional 15 minutes.