This fast, easy and flavorful Vegan BLT Salad is perfect for lunch. You could also serve it alongside a pizza or pasta at dinnertime. Or you could double the portion size for a full on entree salad. Creamy vegan ranch dressing coats crisp romaine lettuce, juicy summer tomatoes and tempeh bacon bits too. Add some steamed broccoli if you'd like and a hefty portion on buttery avocado on top…
Blue sky, yes and yes.

Summer Mood Recipe
Long weekend over and summer is on the way. I had such a chill long weekend! We didn't go anywhere or do anything really special and that made it lovely. Friday through Sunday was a bit rainy, which made for perfect writing and creative projects weather. A nice run at the gym (I'm actually working out again after a looooooooong hiatus) and I even got back in the kitchen and cooked a bit (also a bit of a hiatus). Then Monday opened up with this beautiful powder blue sky and soft streaks of sparkly warm sunshine.
I went with a friend to get a facial at HeyDay in Brentwood – super cute spot for natural skincare – and then home to make this vegan BLT salad.
Simple Starts
Breakfasts for me have still been super simple – oatmeal and blueberries. I think I may have tested the limits of how many pints of blueberries one person can eat in one weekend these past few days. I think we went through four pints! Yup. They were so good!
Schools Almost Out
And I only have a few more weeks left of my UCLA writing class, which is so sad since I've loved it so much these past eight or so months.
Oh, and the kitties loved their long weekend as well – so many sunbeam naps and snuggle time on the couch. I binge-watched Dead to Me, which was pretty good. And I also watched the GOT documentary. Still sad it's over, but FYI the GOT soundtrack from this last season is SO great. I love it as work music!
So, that was my weekend, I hope you guys had a nice one as well.
Vegan BLT Salad.
Summer should offer up simple recipes. And this salad is so simple, yet flavorful. Who needs complicated on a lazy summer day, right?
This vegan BLT salad serves up easy romaine leaves and a creamy vegan ranch to richen those veggies. My tempeh bacon provides heartiness and loads of protein too. And avocado, always!
Ranch Dressing.
You can DIY your dressing (see my recipe below for one of mine) or use a store-bought version. Follow Your Heart High-Omega Ranch is one of my faves.
You can totally use any greens you'd like and play around with the veggies on top. I love romaine for it's refreshing crunch!
Hope you love this salad! Happy almost-summer. PS. Snag this PDF for recipes!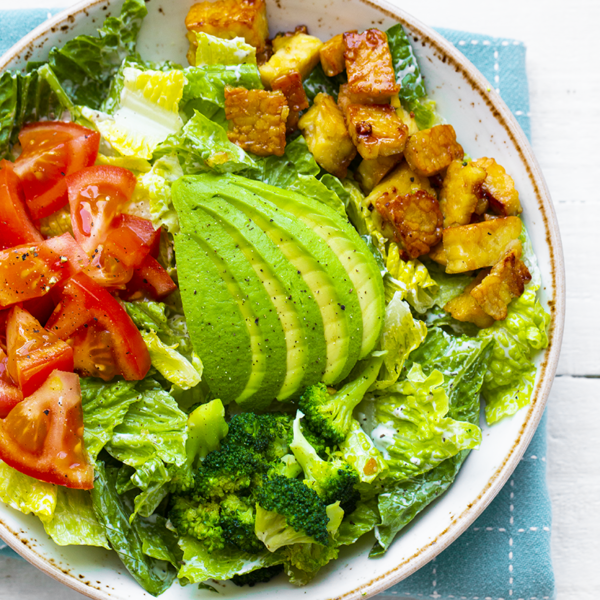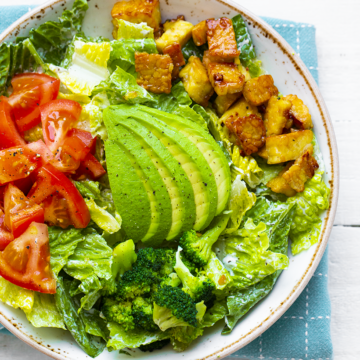 Vegan BLT Salad
This vegan BLT salad has ranch, romaine, tomatoes and vegan tempeh bacon on top.
Print
Pin
Ingredients
4

cups

romaine lettuce

,

chopped

1

avocado

,

diced or sliced

1

medium

tomatoes

,

chopped

8

oz

tempeh bacon

,

see notes for recipe link

optional additional veggies

vegan ranch dressing

,

see notes for recipe link
Instructions
Cook your tempeh bacon in a skillet. You can use ½ – 1 package of tempeh, depending on how big of a serving you'd like.

Toss the lettuce with the ranch. Pour into serving bowl(s).

Add the tomato, tempeh and avocado over top the lettuce. Add any other veggies or toppings you'd like. Nuts and seeds are also great additions.

Serve!
nutrition estimate | per serving
Calories:
407
kcal
|
Carbohydrates:
25
g
|
Protein:
25
g
|
Fat:
27
g
|
Saturated Fat:
5
g
|
Sodium:
28
mg
|
Potassium:
1333
mg
|
Fiber:
9
g
|
Sugar:
3
g
|
Vitamin A:
8846
IU
|
Vitamin C:
22
mg
|
Calcium:
175
mg
|
Iron:
5
mg
…Pin for later!