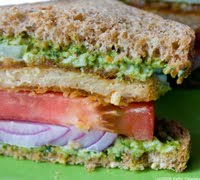 Here's a classic sandwich with a vegan twist! Talk about a super stacker sandwich. My Vegan Chick'n Pesto Sandwich combines thick cut slices of sweet onion and tomato, a hearty layer of my raw walnut pesto dip, a high-protein Boca Chick'n patty and a crisp tangy pickle to add that necessary crunch you crave. This sandwich isn't fluffy, lovely or soft, it's a hearty bold bite that puts any traditional 'chicken pesto' to shame! Check out this recipe…
Simple. Easy. Delicious. Healthy. High in protein, fiber and antioxidants. Using frozen Boca burger patties makes this a fast way to get some tasty protein. Talk about a classically perfect sandwich! This makes lunchtime something to look forward to…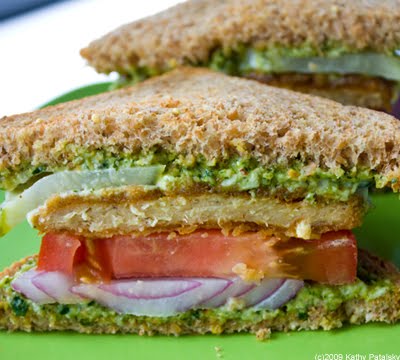 Vegan Chick'n Pesto Sandwich
vegan, makes one sandwich
2 slices sprouted grain bread, toasted
*complete protein bread is my favorite
1 thick slice of tomato
1 thick slice of onion
3 thin pickle slices
3 tablespoon of Kathy's Raw Walnut Pesto (recipe below)
1 Boca Burger Chick'n patty, vegan
*The spicy patty variety is my fave
black pepper
Raw Walnut Pesto
vegan, makes about 1 ¼ cups of pesto
1 large lemon, juiced
1 cup raw walnuts
1 tablespoon agave syrup
2 teaspoon salt
1 teaspoon black pepper
1 large bunch of basil, leaves
½ cup flat parsley, chopped
5 cloves of garlic
3 tablespoon Olive Oil
Directions:
1. Make the pesto. Blend all the ingredients in a food processor. Scoop the pesto into a bowl. Note, you will have a lot of leftover pesto which is great for another sandwich, pasta or as a side dip. Store in fridge with a squirt of lemon juice or slices-keeps it from browning.
2. Toast your bread. And heat your Chick'n patty. I microwave mine on high for 1 minute. Super easy.
3. Spread pesto on both slices of bread. Nice and thick.
4. Build the sandwich from the bottom up: onion slice, tomato slice, chick'n patty, pickles and finally the top half of bread with the pesto. You can add a bit of pepper to the center of any of these layers.
5. Stick two toothpicks in the sandwich and slice.
Enjoy!