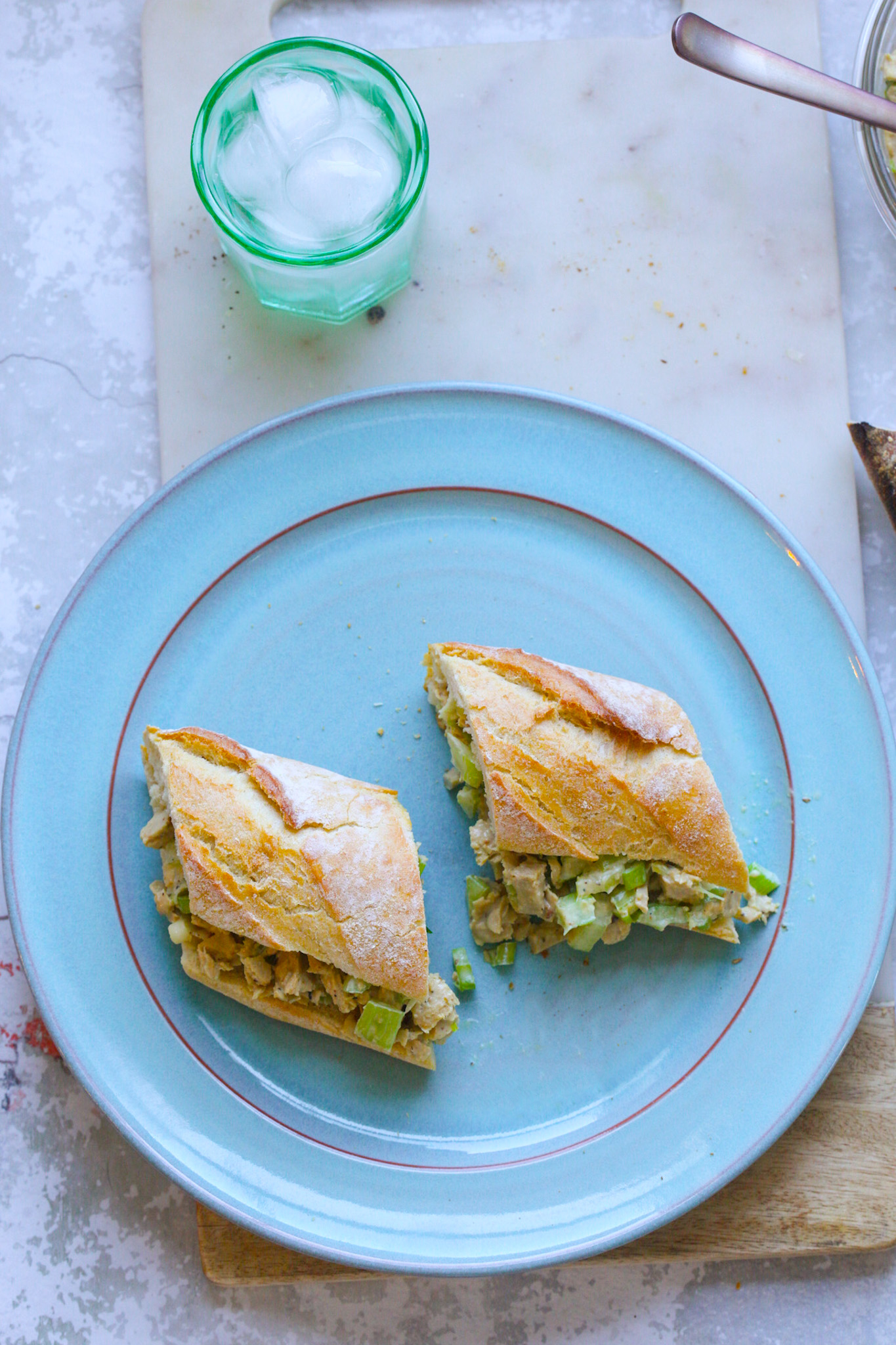 Looking for fast, easy and delicious? This Vegan Chick'n Salad is the perfect way to whip up a flavorful, protein-packed lunch in just a few minutes. Prep this salad in the morning or the night before, then all you have to do to serve it is toast up your favorite bread, or tortilla or pita and fill it up with this delicious spread! This chick'n salad couldn't be simpler to make, check it out….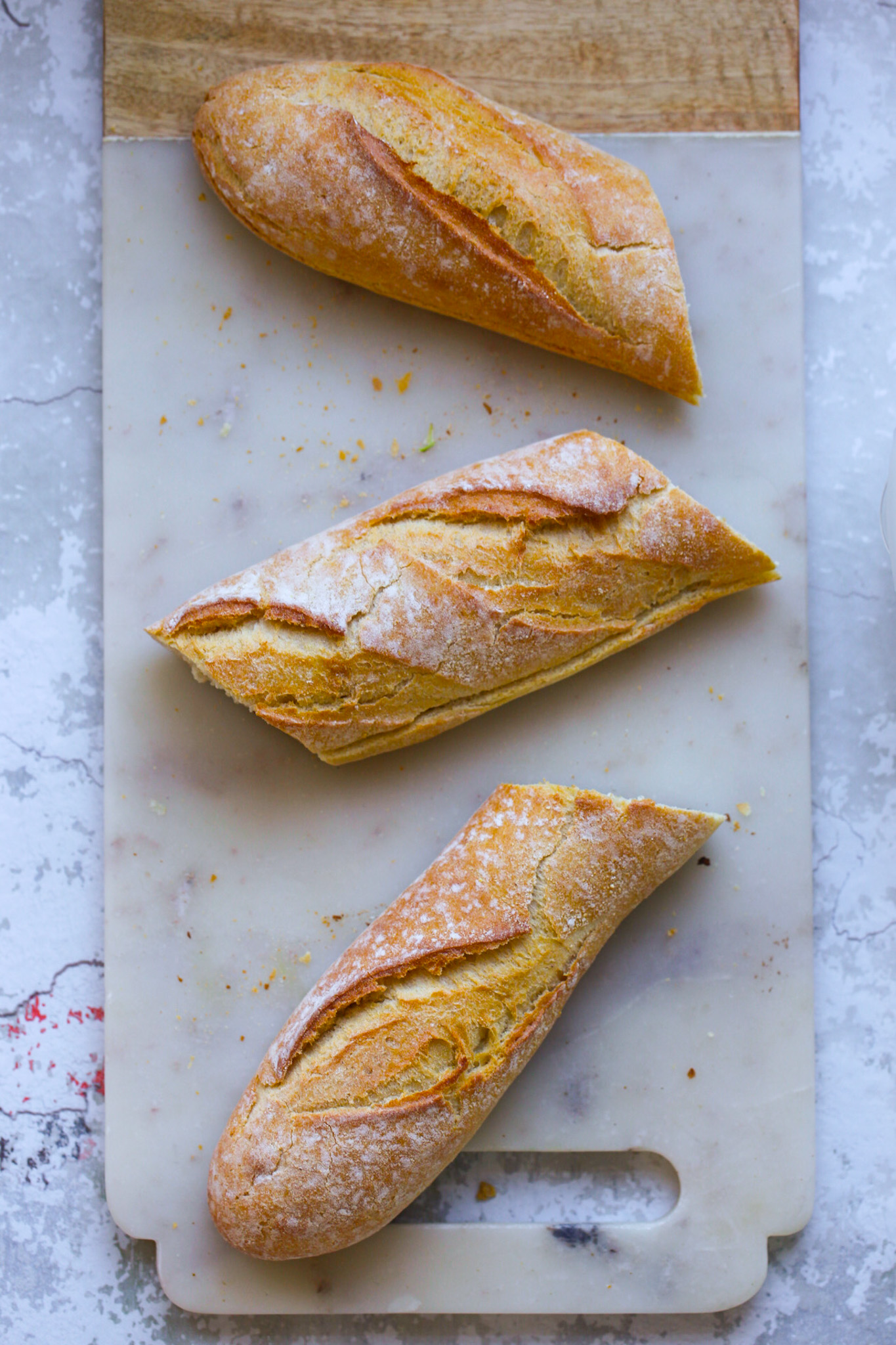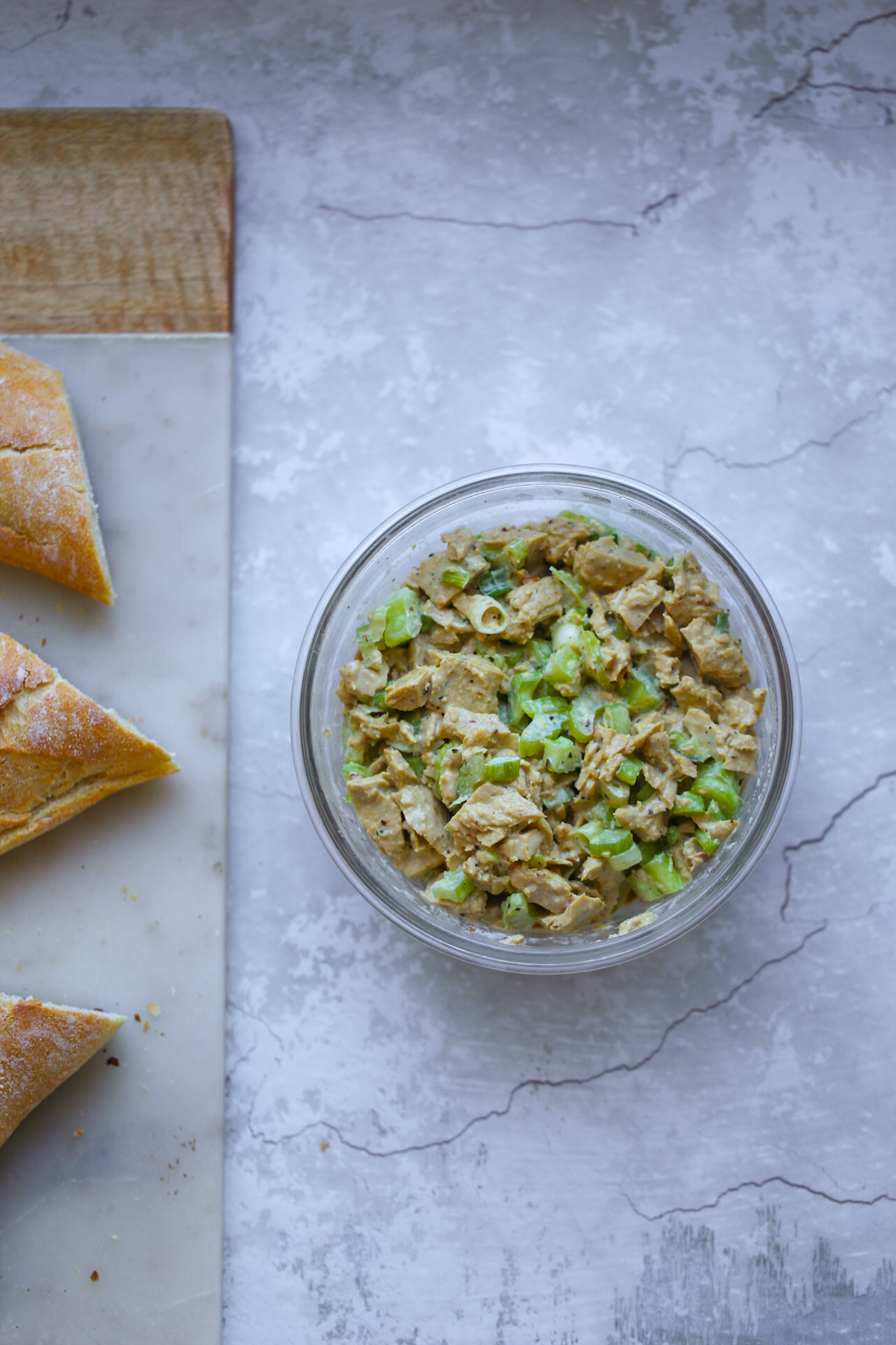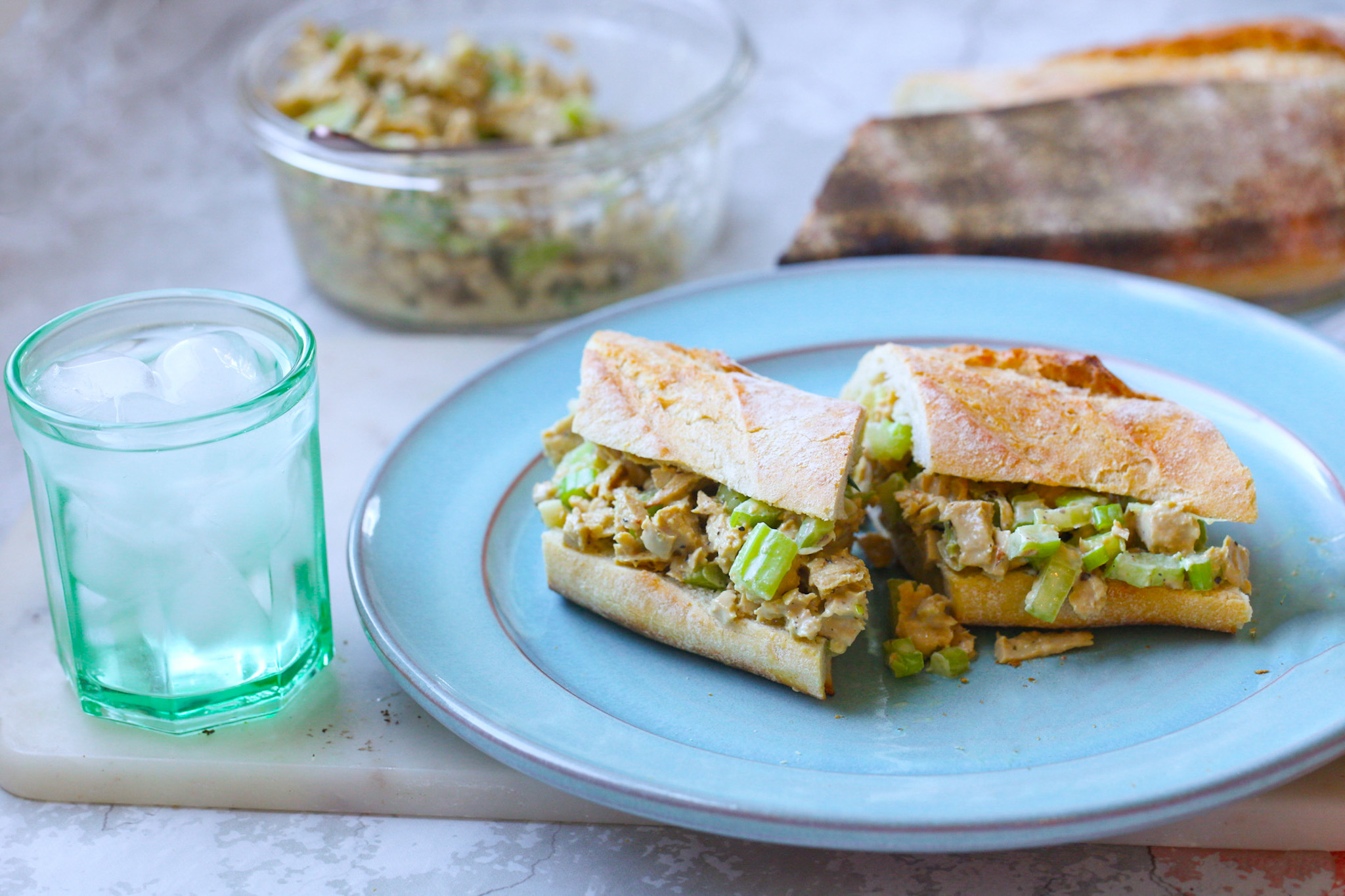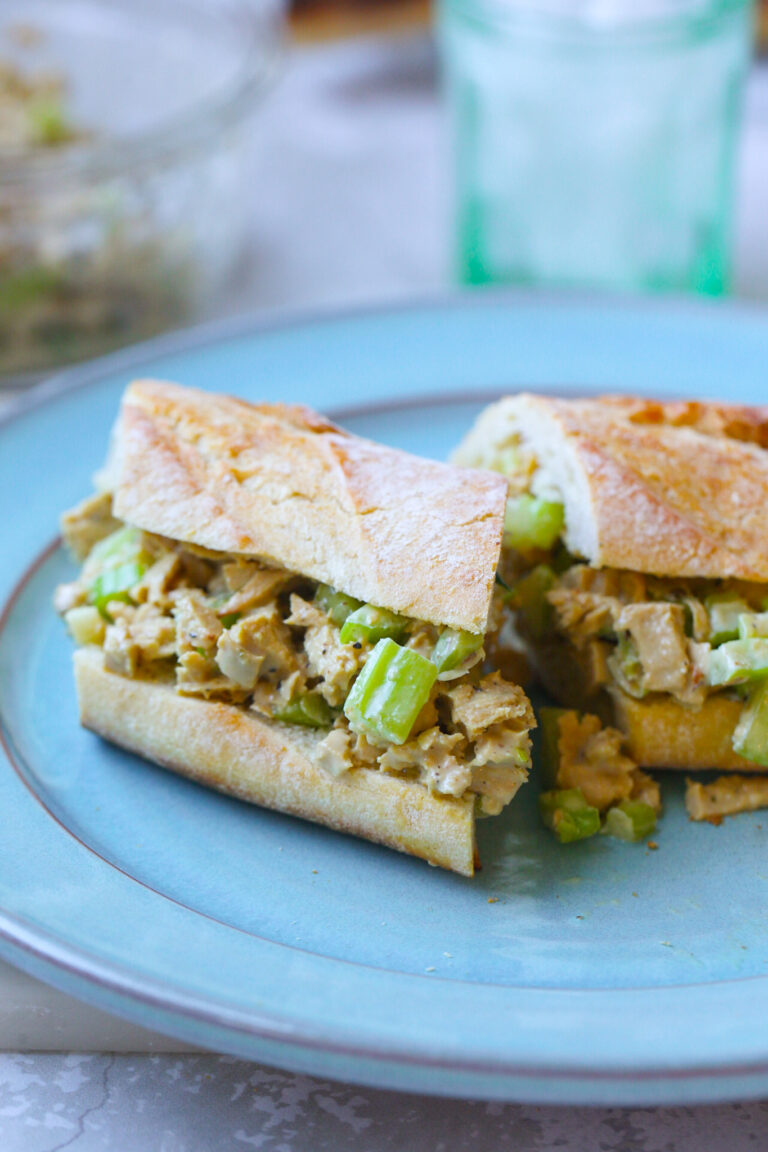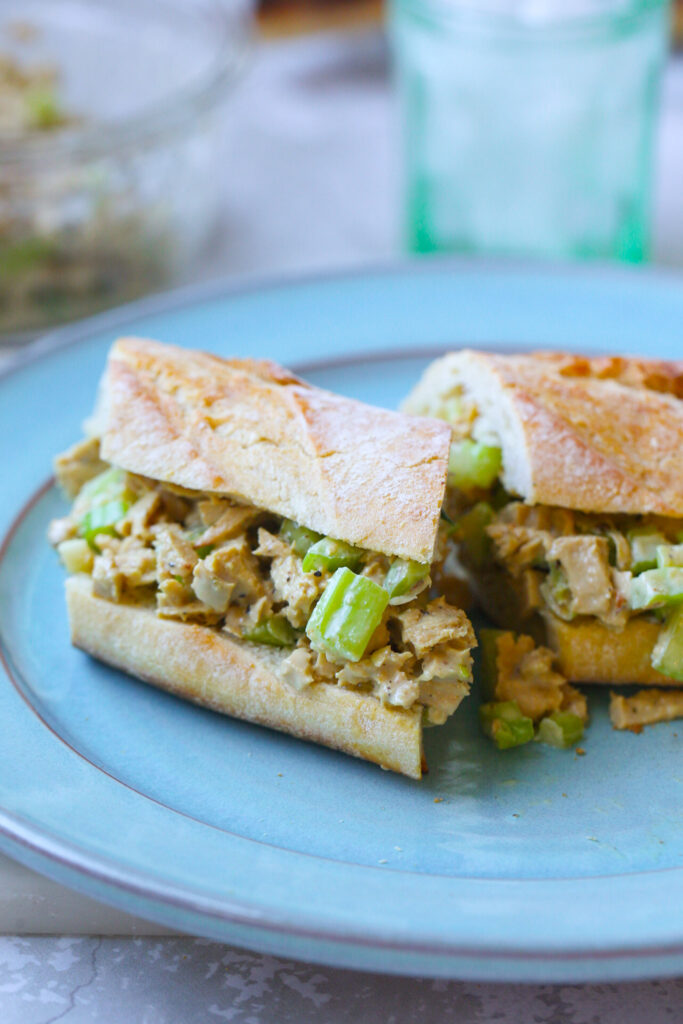 Easy Vegan Lunch
A long time ago, in a kitchen far far away, I used to love tuna salad. It was easy, flavorful and I could make it myself (as a kid!) with just a few ingredients. Extra celery, always always.
Well, flash forward to plant-based living and there are a bunch of ways to make a 'salad sandwich' without using animal products. A few of my faves include:
Chickpea Salad Sandwich – Similar to this chick'n salad sandwich recipe, only using chickpeas and no heating involved. Love this one.
Tofu "Egg" Salad Sandwich – This was one of the first blog recipes I posted, and it still holds up today. I like it served on soft, un-toasted sandwich bread.
And then there are these Curried "Eggy" Scramble Toasts using both tofu and chickpeas.
But today, it's all about Vegan Chick'n Salad..
The inspiration for this Vegan Chick'n Salad recipe comes from a food itemI used to buy at Whole Foods, back east. I don't think I've ever seen it out here in California, and I'm not totally sure that they still make it anywhere. But it was simply called vegan chicken salad. It came in the prepared foods section and you could usually find it right next to the non-vegan chicken salad, so you had to be careful which you grabbed!
It had tender cubes of vegan chick'n, seitan-based I believe. And then it was coated in a creamy sauce, a few minor crunchy veggies in there. I have made this recipe on my own for years, but I have never actually posted it! So today, I'm sharing it.
Store-Bought "Chick'n"
Many of the vegan 'chick'n' on the market is seitan-based, or a mix of seitan and soy. Beyond Meat used to have gluten-free chicken strips, but they pulled them off the market as they develop an even tastier version of plant-powder 'chicken.' You may have heard that their very limited, vegan KFC debut sold out in just a few hours.
But for this recipe, you can easily pull from what grocery store shelves already have available to you…
Vegan Chick'n Brands in Stores:
No Evil – This product is very hearty and dark in color. It is a bit tough, but flavorful. The ingredients are more minimal – and it is vital wheat gluten based.
Tofurky – This lightly seasoned option is quite tender upon cooking, and also has a light and peppery flavor already built into the chicken which will make your chick'n salad even more delicious. This was the brand I happened to use to make today's recipe.
Gardein – Gardein's chicken strips come frozen and are soy and wheat based.
DIY Seitan – I admit I have not made my own seitan in a looooong time. But it is always a great option if you want to take your recipe one step further into DIY. The great thing about homemade seitan is that it is usually very light and fluffy.
Tofu or Tempeh – You could also go a bit off the board and use firm tofu cubes or cubed tempeh for your chick'n salad.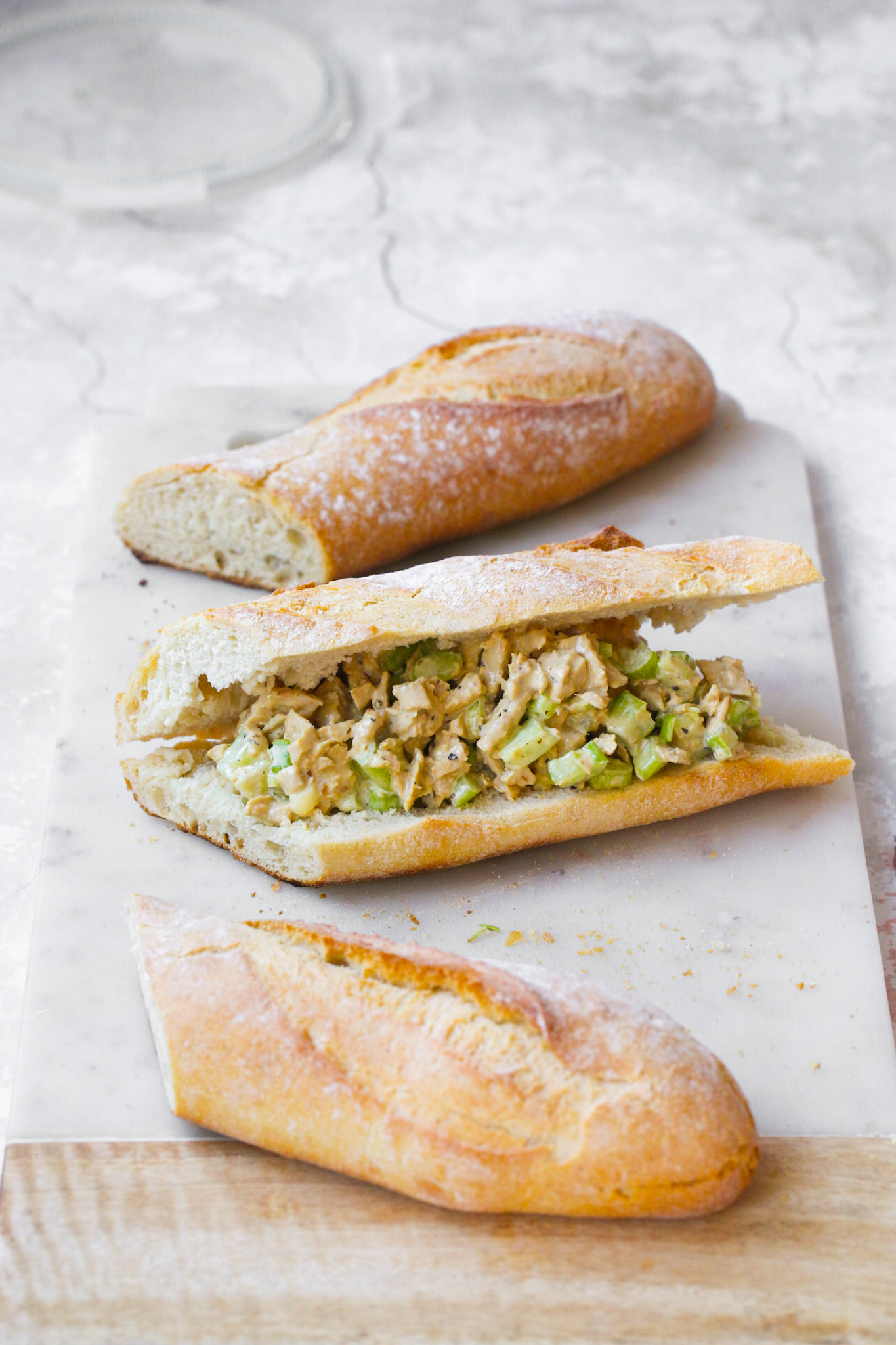 All the Crunchy Veggies, and more..
My absolute favorite part of any creamy chilled salad sandwich filling is all the crunch! Extra celery please. And I've even added a few optional spring onions to this recipe. But there are so many ways to jazz up this simple chick'n salad base. I love adding sweet ingredients like green apple, grapes or dried cranberries. Or try nuts for a bit of richness and texture. For creative add-ins, you could try..
Optional Vegan Chick'n Salad Add-ins to Try:
dried cranberries
halved red grapes
diced green apple
chopped walnuts or pecans
chopped radish
chopped green bell pepper
fresh herbs like dill
chopped carrot
And with that, enjoy this recipe!…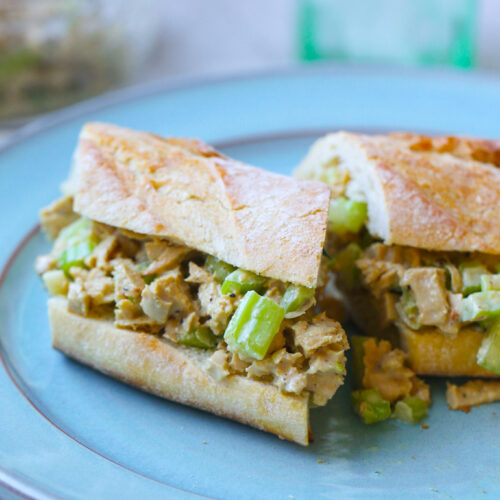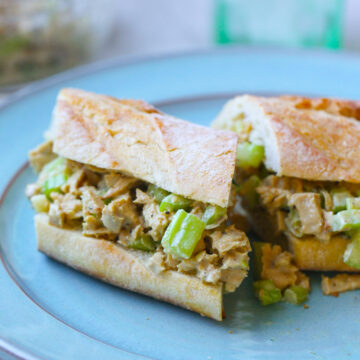 Vegan Chick'n Salad
This super easy and flavorful vegan chicken salad can quickly be made into a lunchtime meal! Loaded with crunchy veggies too.
Print
Pin
Ingredients
8

oz

vegan chick'n

,

chopped or cubed**

⅓

cup

water

1-2

tablespoon

olive oil

¼

teaspoon

black pepper

¼

cup

vegan mayo

,

– plain vegenaise

2

tablespoon

dijon mustard

1

tablespoon

fresh lemon juice

,

apple cider vinegar works too

1

tablespoon

maple or agave syrup

,

optional

⅓

cup

flat-leaf parsley

,

finely chopped (or try dill!)

6-8

stalks

celery

,

finaly chopped

2

scallions

,

chopped – optional

salt to taste
Instructions
Warm your large soup pot over high heat. Add the olive oil.

When oil is hot, add the vegan chick'n. Stir around in oil to being the lightly browning process. After about 2-3 minutes, turn heat to low and add the water. Quickly cover pot with lid and let sit on low heat for a minute. This allows the water/steam to tendeize the chick'n a bit. For extra moist chick'n, steam a bit longer with more water. Turn off heat, remove lid and transfer your chick'n to your mixing bowl.

Add the vegan mayo, mustard, pepper, lemon and optional agave/maple to the chick'n bowl. Toss well until the chick'n is coated. If desired, you can add the mayo more to taste – using more or less of it. but it will give your sandwich a lot of flavor, so don't skimp!

Next, fold in the celery, optional scallions and parsley. You could also try dill or another fave herb. Fold until everything is combined and coated. And the last step is to salt to taste. You can also add more pepper if desired.

Transfer your chick'n salad to a sealed fridge-safe container and allow to chill for at least an hour (longer is better). You can easily make this the night before serving.

Serve chilled. I like to add my salad to a toasted pita, warmed french loaf or even just scoop it up with some crackers. Leftovers should be consumed in 1-3 days.
Equipment
large soup pot

wooden spoon

mixing bowl
Notes
**I used the Tofurky brand of vegan chick'n for this recipe, but many options are available. See full post for options.
Optional add-ins to try: dried cranberries, halved red grapes, chopped walnuts or pecans, chopped radish, fresh herbs like dill, chopped carrot.
nutrition estimate | per serving
Calories:
201
kcal
|
Carbohydrates:
6
g
|
Protein:
13
g
|
Fat:
14
g
|
Saturated Fat:
2
g
|
Sodium:
471
mg
|
Potassium:
211
mg
|
Fiber:
2
g
|
Sugar:
1
g
|
Vitamin A:
750
IU
|
Vitamin C:
11
mg
|
Calcium:
40
mg
|
Iron:
1
mg