I did muffins. I did cake. So it seemed only natural that I experiment with my beloved "flour free" baking method with cookies. Success!
These Oat Chocolate Chip Cookies (I used chocolate chunks) are quite fabulous. If you love rustic-textured, nutty, oat-y cookies these babies are for you. (Just thought-read that in an SNL Stephan voice. anyone?) Cookies: Right out of the oven they are moist and super chewy with melty bits of semi-sweet/vegan chocolate. (Still Stephan voice-ing! And giggling.) I used silky-rich virgin coconut oil as my "oil/fat" so when they cool they firm up a bit. These lovely cookies are reminiscent of oat-y granola bars. (Actually I crumbled a few over top my smoothies as a sort of cookie-infused granola topping!)
You can keep the homemade oat flour very thick and textured like I did for a more "nutty" cookie. Or you can blend your oats into a superfine powder for a less textured cookie. Either way, these lovelies are flour-free (and gluten-free if you are OK with rolled oats). OK, OK enough chatter, here is the recipe for your weekend baking!..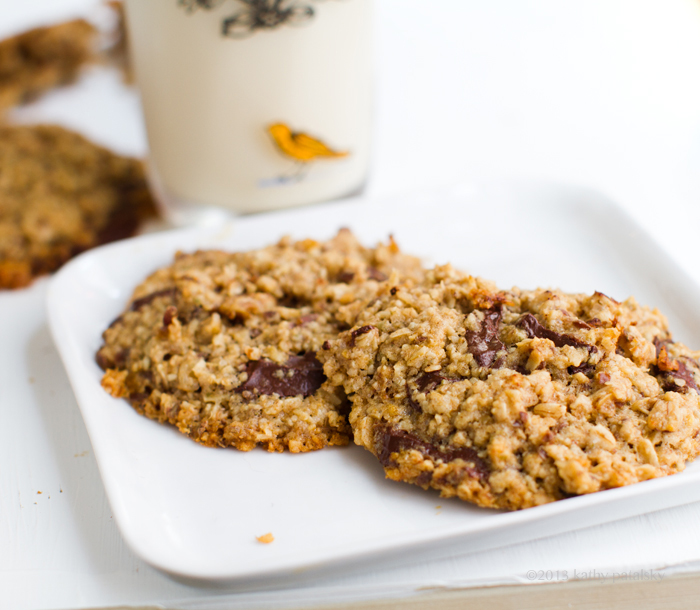 Cookie crumbled over top my Spirulina Shake … yum!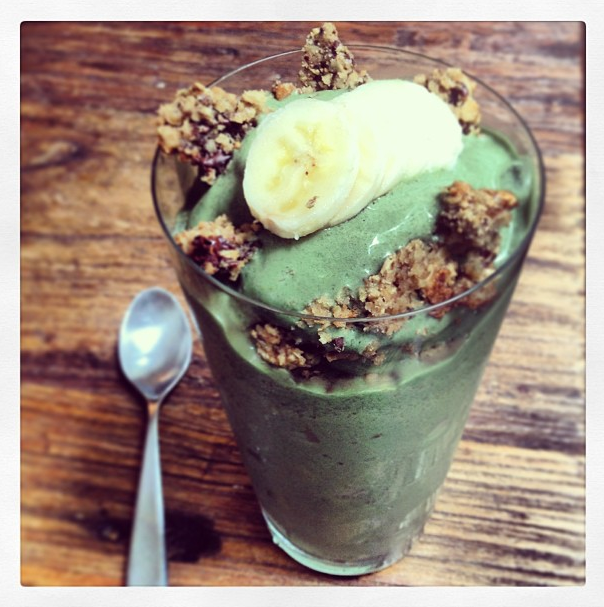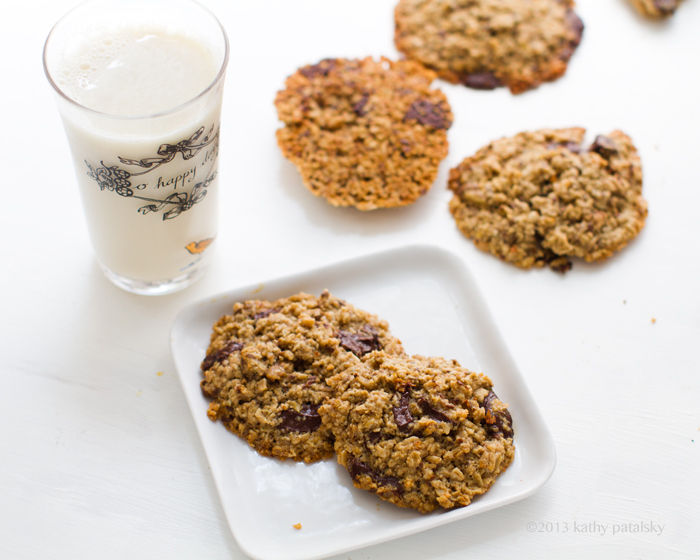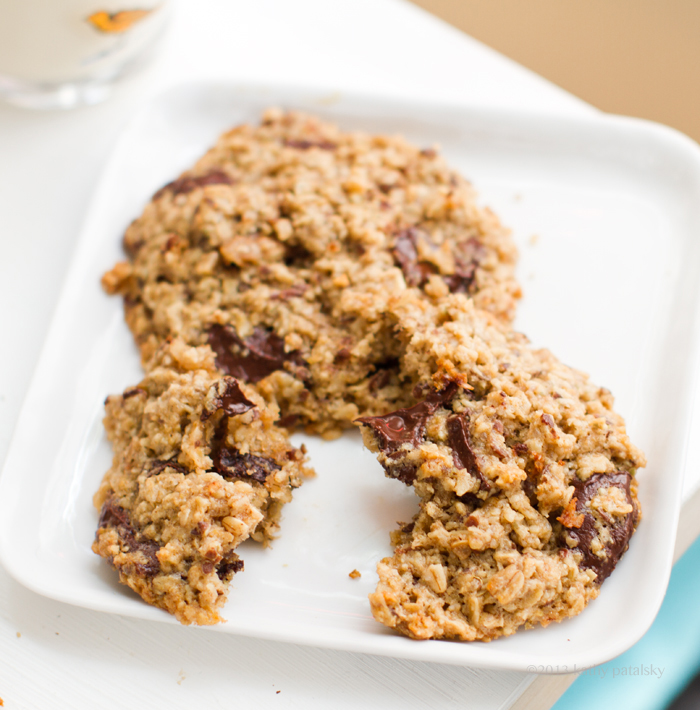 Dough balls using chilled dough: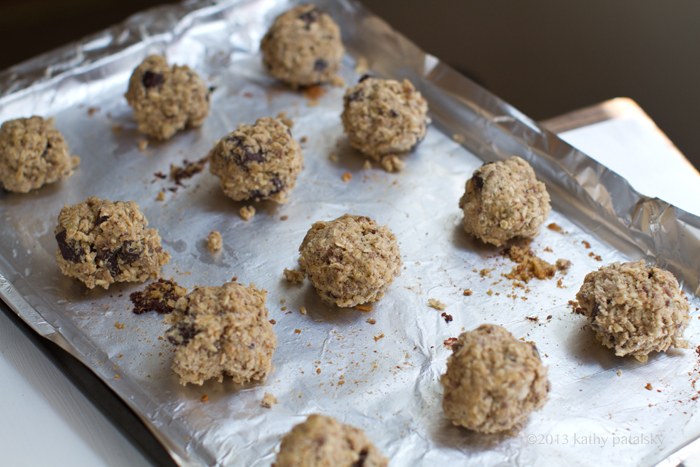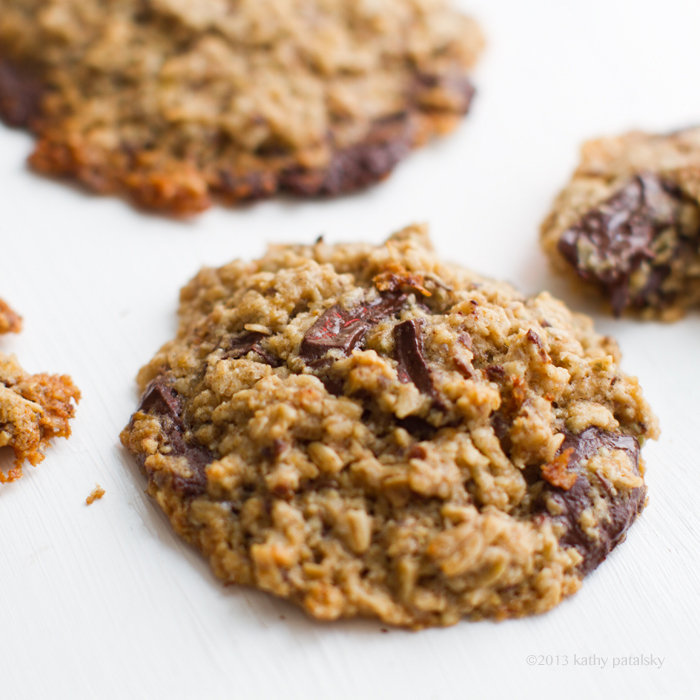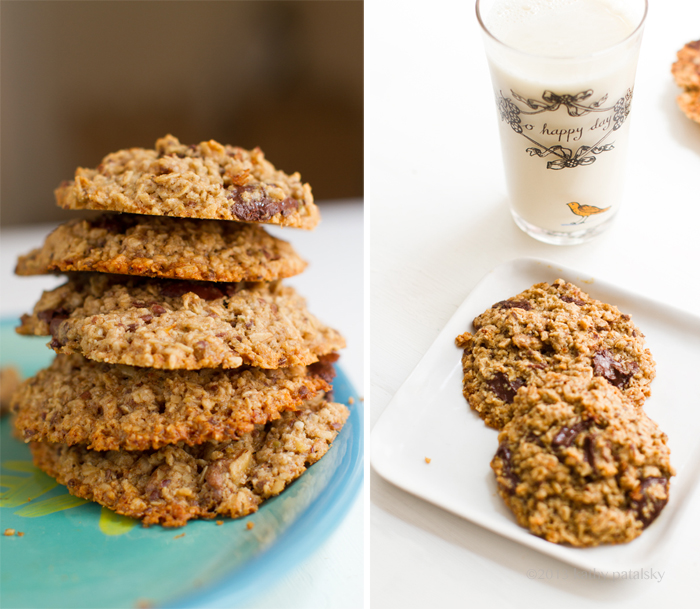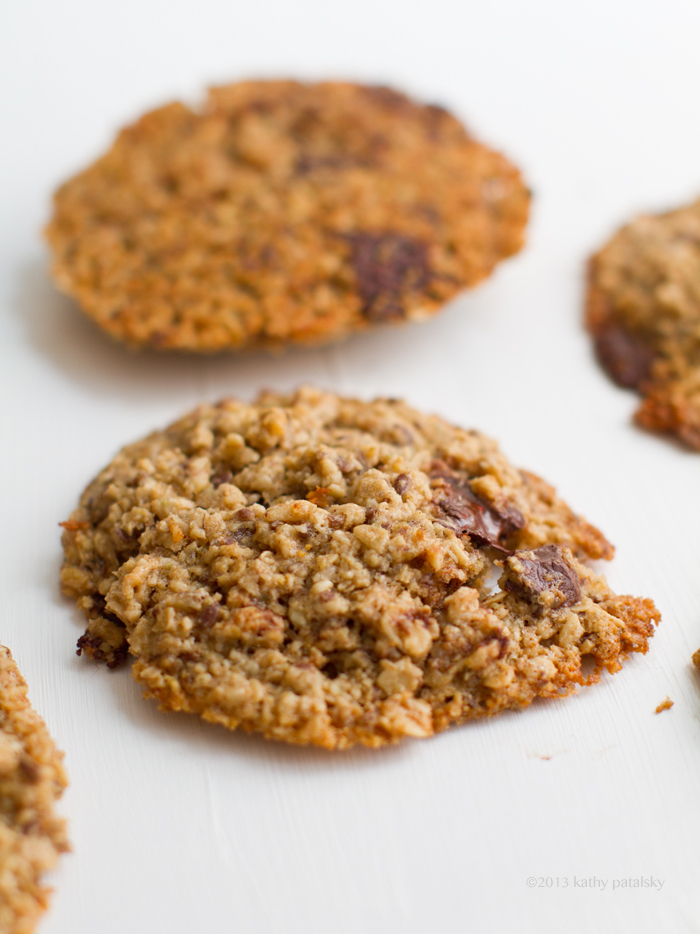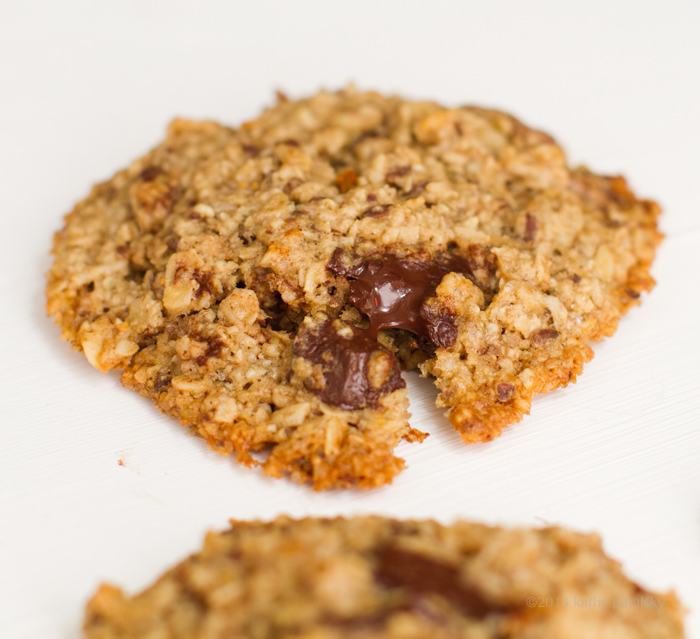 Vegan Flour-Free Oat Chocolate Chip Cookies
vegan, makes about 24 cookies
dry:
3 ¼ cups oat flour
5 tablespoon ground seeds (flax, chia, pumpkin.. – I used flax and raw pumpkin seeds)
1 tablespoon baking powder
3 tablespoon chopped walnuts (optional)
¾ teaspoon cinnamon
wet:
¾ cup virgin coconut oil, melted
¾ cup organic sugar
1 mashed banana (or sub another ¼ cup of non-dairy milk)
1 teaspoon lemon juice
⅓ cup warmed non-dairy milk
1 teaspoon vanilla extract (optional)
fold in:
6 oz. vegan chocolate chips or chunks (semi-sweet chocolate)
Directions:
1. Preheat oven to 350 degrees, grease baking sheet with coconut oil.
2. Process enough rolled oats (in high speed blender or food processor) until soft and silky like a roughly textured flour – this is your homemade oat flour.
3. Combine all dry ingredients in a large bowl.
4. In a small bowl, add the coconut oil and non-dairy milk. Warm in microwave until coconut oil melts and is warmed along with vegan milk. Stir in the sugar, vanilla, lemon and mashed banana.
5. Fold the wet into the dry and then fold in the chocolate.
6. Place this bowl in the freezer for about 5-7 minutes – just until the dough begins to firm up a tiny bit but still stays fluffy.
7. Using your hands, grab the dough and press gently into balls. Tips: If you want "ball shaped" cookies that hold their shape make sure your dough is very chilled going into the oven. If you want cookies that spread, make sure your dough is still pretty soft and just chilled just enough so you can handle it. Warmer dough makes for more spread cookies.
8. Bake at 350 degrees for 12-14 minutes or until the edges brown.
9. Cool for a few minutes before trying to move these cookies. They are very delicate coming out of the oven and will fall apart if you grab one when still steamy hot. (Still delish, but delicate.)
10. Serve warm after cooling a bit. Store in the fridge (they will become quite firm when fully chilled) and warm in the microwave to serve – or served cold – your choice. You can also store on the countertop for up to a few days. These cookies freeze very well too for long term storage if necessary.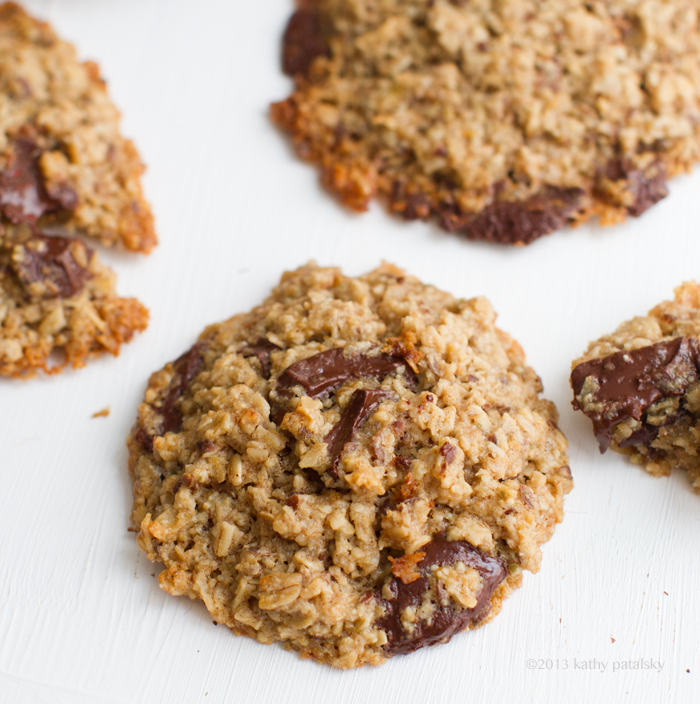 Using chilled dough the cookies turn out more round: