This is one of my most favorite holiday recipes. Gingerbread!
This Vegan Gingerbread Cake with Vanilla Bean Glaze will fill your senses with holiday cheer. Vanilla bean and sweet molasses spin with cinnamon and ginger in this festive holiday treat. I find that baking gingerbread puts your whole house under a spell of holiday coziness, comfort and joy.
Today's recipe is pulled directly from the pages of my cookbook HHVK! I am sharing it here today as my gift to you. Enjoy..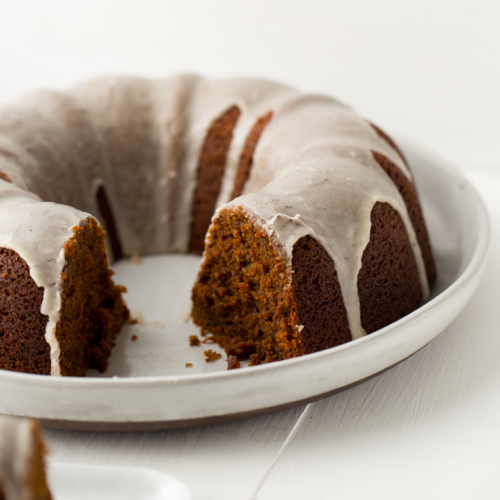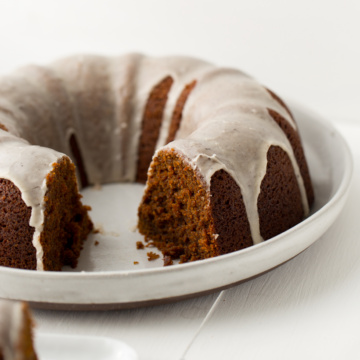 Vegan Gingerbread Cake with Vanilla Bean Coconut Glaze
Fluffy and dark caramel in color, this spicy-sweet gingerbread cake is perfect for a fall or winter holiday party. The vanilla bean glaze adds a beautiful winter-y flair and delicious accent flavor. Vegan. Gluten-free friendly if you change out the flour.
Print
Pin
Ingredients
Cake:
virgin coconut oil, for greasing the pan

1 ½ cups whole wheat flour

1 cup all purpose white flour

1 ½ tablespoon ground flax seeds

1 tablespoon baking powder

½ teaspoon ground cinnamon

½ teaspoon sea salt

10 ounces silken tofu, at room temperature

1 cup plain almond milk, at room temperature

½ cup blackstrap molasses

½ cup dark maple syrup

½ cup vegan sugar (try coconut sugar or raw sugar)

½ cup virgin coconut oil, softened

½ cup vegan butter, softened

2 tablespoon fresh orange or tangerine juice

1 teaspoon real vanilla extract

½ teaspoon ground ginger

½ teaspoon grated orange or tangerine zest
Glaze:
2 cups sifted organic powdered sugar

3 tablespoon virgin coconut oil, melted

2 tablespoon coconut milk1 vanilla bean, seeds scraped
Instructions
For the cake: Preheat oven to 400 degrees and grease your cake pan with a generous amount of coconut oil.

In a large bowl, combine the flours, flaxseeds, baking powder, spices and salt.

In a blender, combine the tofu, oil, almond milk, molasses, sugar, vegan butter, juice, vanilla and zest. Blend, increasing the speed from low to high until smooth.

Add the blended mixture to the dry bowl and blend with a hand mixer or a by hand with a large whisk. Pour the batter into your pan.

Bake for 15 minutes at 400, then reduce heat to 350 degrees and bake for another 45-50 minutes or until the surface visibly browns in a golden hue and the cake is fluffy to touch. If using muffin tins or another cake pan, baking time will vary.

Let the cake cool for 15 minutes and then carefully loosent he edges and flip onto a baking rack to cool. You want the cake completely cool before adding the glaze. I like to place in the freezer for 10 minutes right before adding the glaze.

For the glaze: In a small bowl, whisk together the glaze ingredients. Pour the glaze over top the chilled cake. Serve immediately or store in the fridge. Can be made a day ahead of time – cover with plastic wrap or parchment paper to lock in the cake moisture.
nutrition estimate | per serving
Calories:
222
kcal
|
Protein:
5
g
|
Fat:
10
g
Another one of my fave holiday recipes: these Freezer Gingerbread Men – vegan and raw – recipe in Healthy Happy Vegan Kitchen