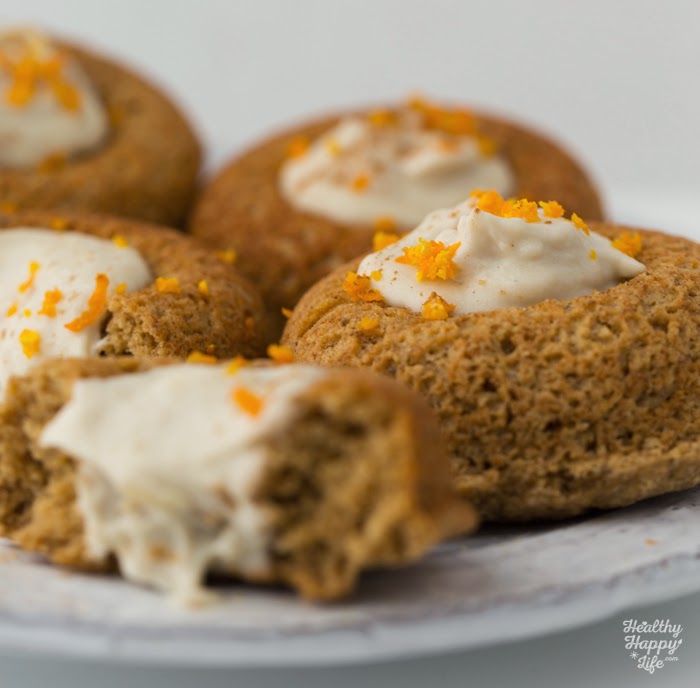 When I say the word donut, you probably do not think "healthy breakfast option," right? Well, it seems that donuts, (yes, I prefer donut and not doughnut), get a bad reputation for two things. 1) Being fried, super sweet, indulgent and/or generally unhealthy. 2) Not being easy to make and therefore only able to be store-bought — or only made on weekends when you are in a Martha-kind-of-mood.
Well this recipe for my delicious, gluten-free, vegan, Orange-Vanilla-Cinnamon Donuts with Cashew Cream Filling, will hopefully smash both those silly donut stereotypes. These lovely, fluffy donuts are healthy, delicious, easy (25 minutes total!)…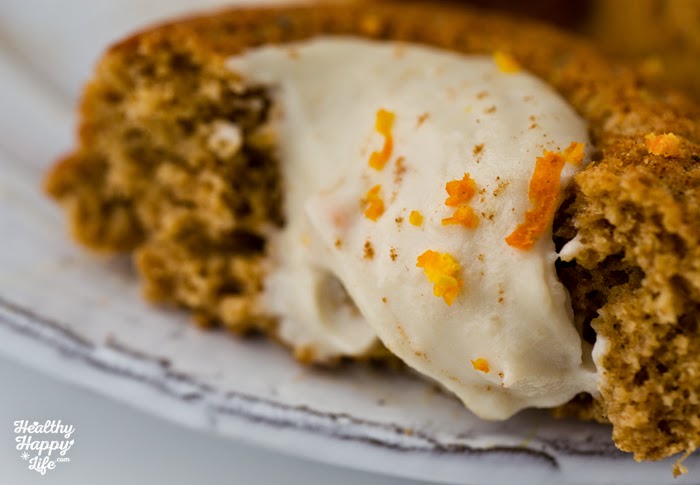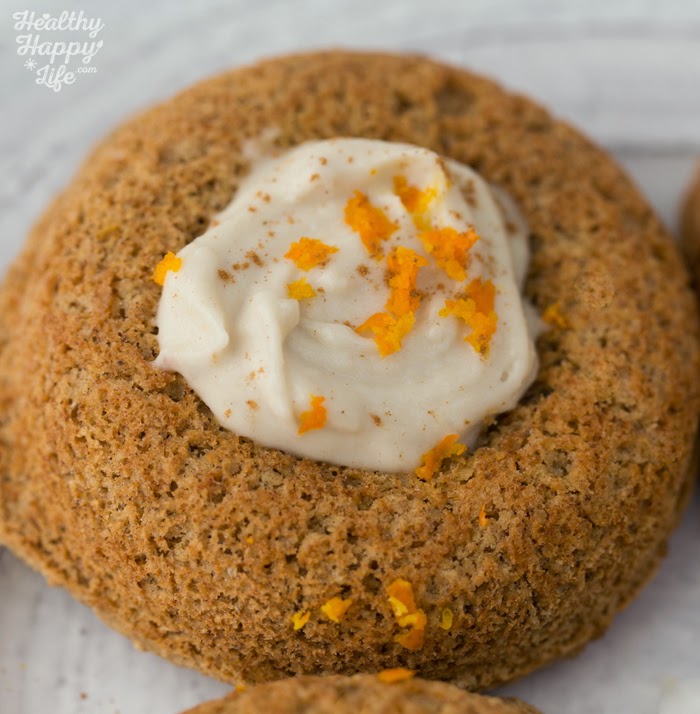 The Flavor. These donuts remind me of my favorite guilty pleasure breakfast as a kid .. those Orange Rolls .. the ones that came in a pop up can, with sweet, creamy frosting from a plastic tub. Well these orange-cream donuts taste just as good, with a bump on the nutrition side of things. A big bump.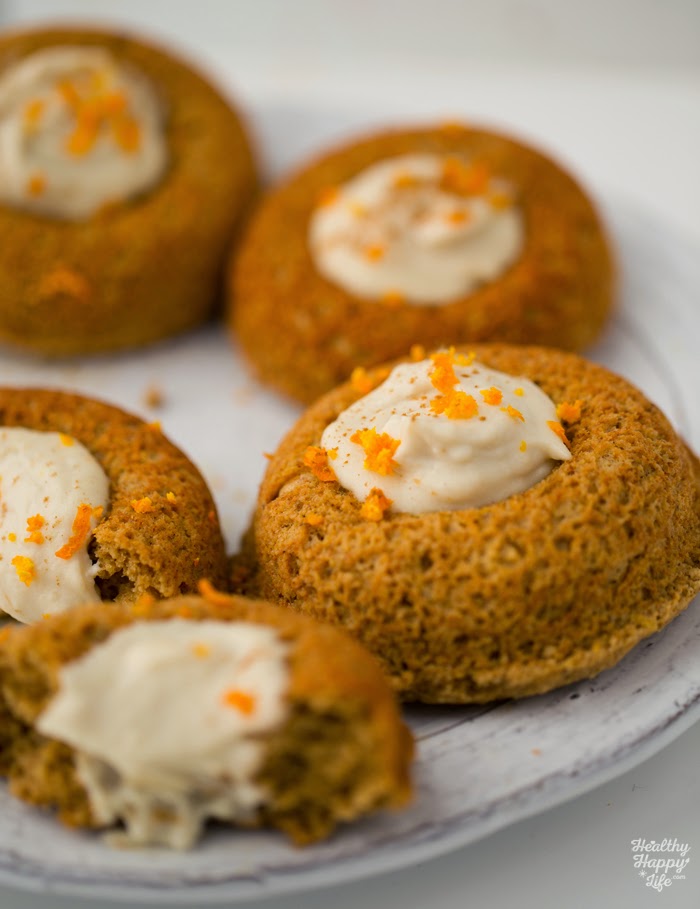 fluffy insides..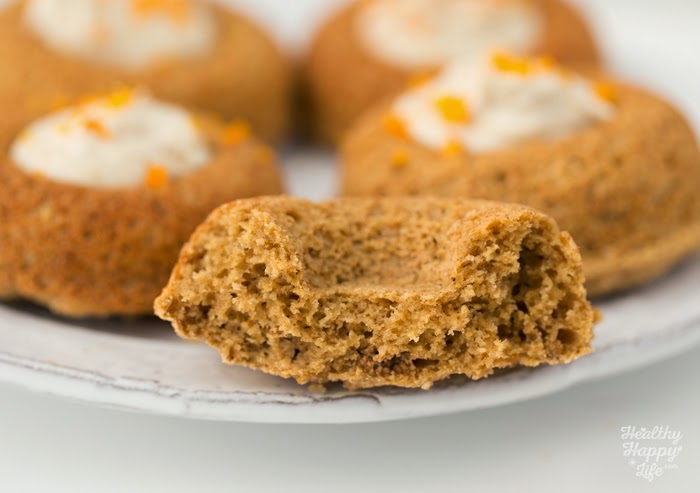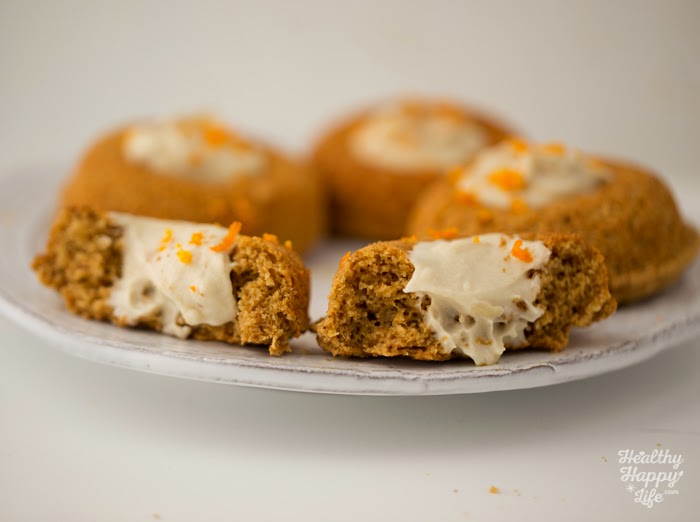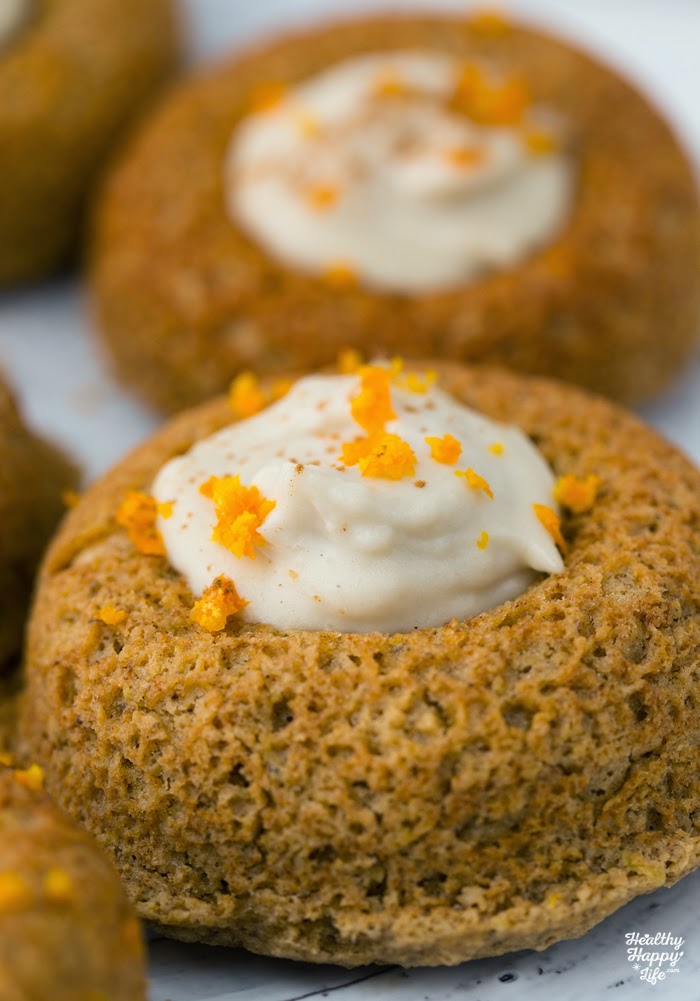 5 Reasons Why These Donuts are Healthy + Winning..
1. Portion Size. Unlike muffins or pancakes or even cinnamon rolls etc. These cute donuts have a very reasonable portion size. So while you could easily have two (or three!) for breakfast, you could also get away with just one as a light nibble or snack or light power fuel alongside from fruit and tea. Most muffins come with a larger portion size than this, so you really have no option except to eat the whole thing. Because, really, who can stop at half a muffin?
So these guys, are a bit more 'light snack' or pair with other healthy things like fruit or a smoothie – approved.
2. Baked. These fluffy gems are BAKED. No frying needed. And still DELICIOUS in taste and texture. Plus they have zero added oil to the recipe, just oil for greasing the pan.
3. Happy Ingredients. I hate using the words "good" or "bad" to describe ingredients, so today I will just call these HAPPY ingredients. Oats, chia seeds, fruit. Good stuff in here.
4. Fast. Save some time and whip these up! They bake very quickly due to their shape and size and are totally weekday approved. Crank the heat up on your oven and pop these inside.
5. Save money! You can easily spend $2-4 per muffin or breakfast goodie when you eat out in the morning. So save a little dough .. no pun .. and bake these babies.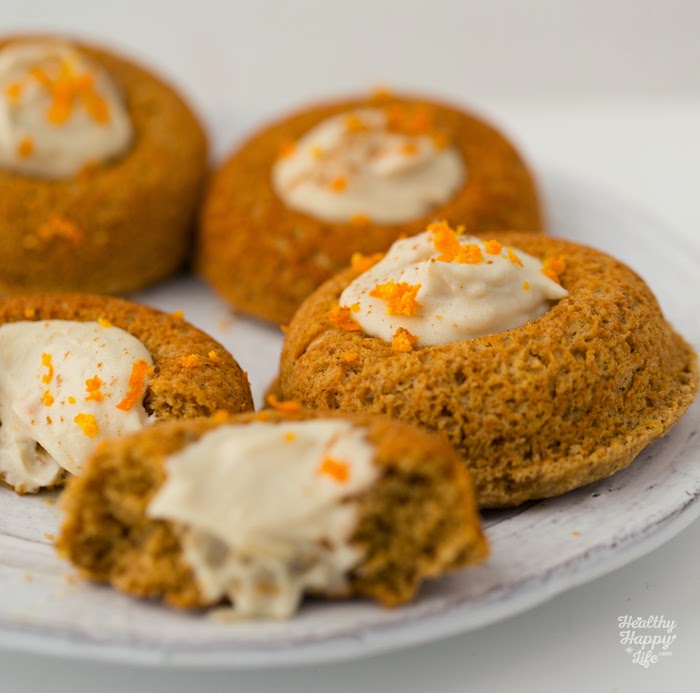 Orange Cashew Cream Oatmeal Donuts
By Kathy Patalsky
Published 01/20/2015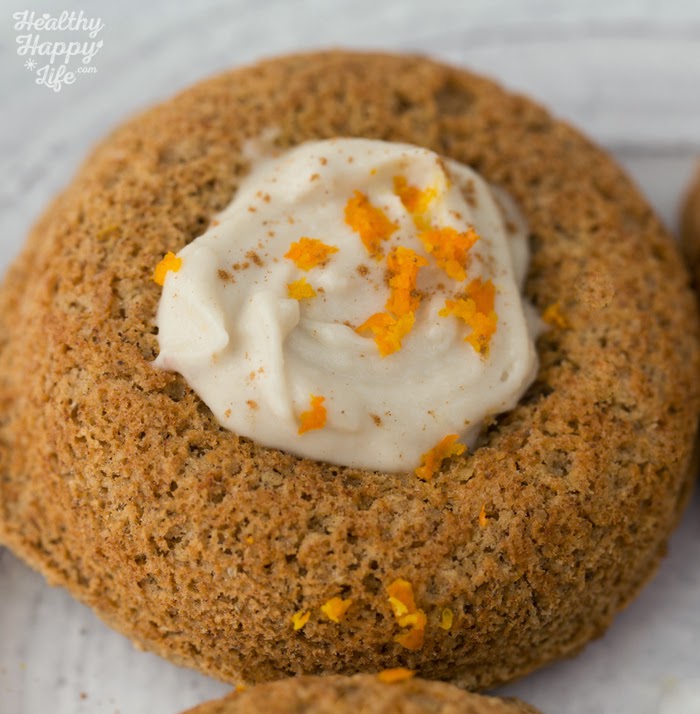 Fluffy, luscious and citrus-cream filled. These oatmeal vegan donuts can be whipped up in a flash!
Ingredients
dry:
1 ¼ cups rolled oats
1 teaspoon chia seeds
2 teaspoon baking powder
¼ teaspoon salt
½ teaspoon cinnamon
wet:
1 small tangerine (small satsuma used)
1 small extra ripe banana
¼ cup soy milk (or almond)
¼ cup maple syrup, grade B
pinch tangerine zest
cashew cream:
¾ cup soaked cashews (raw – soaked overnight / drained/rinsed)
2 tablespoon organic powdered sugar
1 tablespoon soy milk (or almond)
3 drops vanilla extract
topping: sprinkle of fresh tangerine zest
Instructions
Preheat oven to 410 degrees. Grease donut pan with coconut oil spray or rubbed oil.
Add all dry ingredients to high speed blender and process until fine – low to high for about 45 seconds. Pour dry into a large mixing bowl.
Add all wet to same blender and process until smooth – about one minute to make banana and citrus smooth out and get fluffy.
Fold wet into dry and stir. A very fluffy batter should quickly form.
Scoop fluffy batter into donut rounds. You do not have to worry about having a hole – you want to just fill the pan to the brim – even a little puffy. This will create a nice pool for you to add the filling of the cream — without it sinking through. Optional: sprinkle tops (soon to be bottoms) of donuts with coconut or brown sugar.
Bake at 410 degrees for 12-15 minutes – or until tops become light brown and centers firm to touch.
While donuts are baking, add all cream filling ingredients to a small blender container – the Vitamix S30 or the tall and narrow container work great. Blend until silky smooth. Scrape down sides if needed – and add another splash of soy milk if your cream is a bit too thick. (This would indicate you possibly did not soak cashews long enough.)
Transfer donuts to serving plates – allow to cool for about 5 minutes and then fill with 1 tablespoon cream filling. Add a pinch of zest and cinnamon on top and serve warm. NOTE: nutrition info is just for donuts and not cream. Cashew Cream adds about 50 calories per donut if you add a heaping tablespoon.
Yield: 6 donuts
Prep Time: 00 hrs. 10 mins.
Cook time: 00 hrs. 15 mins.
Total time: 25 mins.
Nutrition
Calories:

131

Fat:

1.5

Dietaryfiber:

3

Protein:

3

Totalcarbs:

27
Tags: donuts,vegan,breakfast,dessert,snack,bakery,orange,cashew cream,easy,glutenfree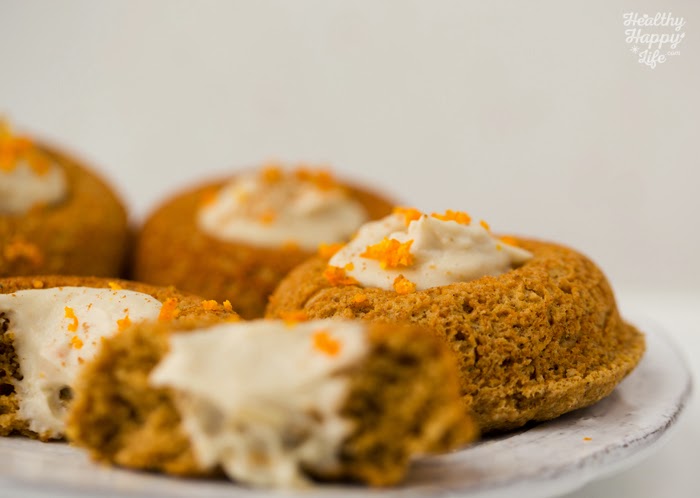 cream-filled..