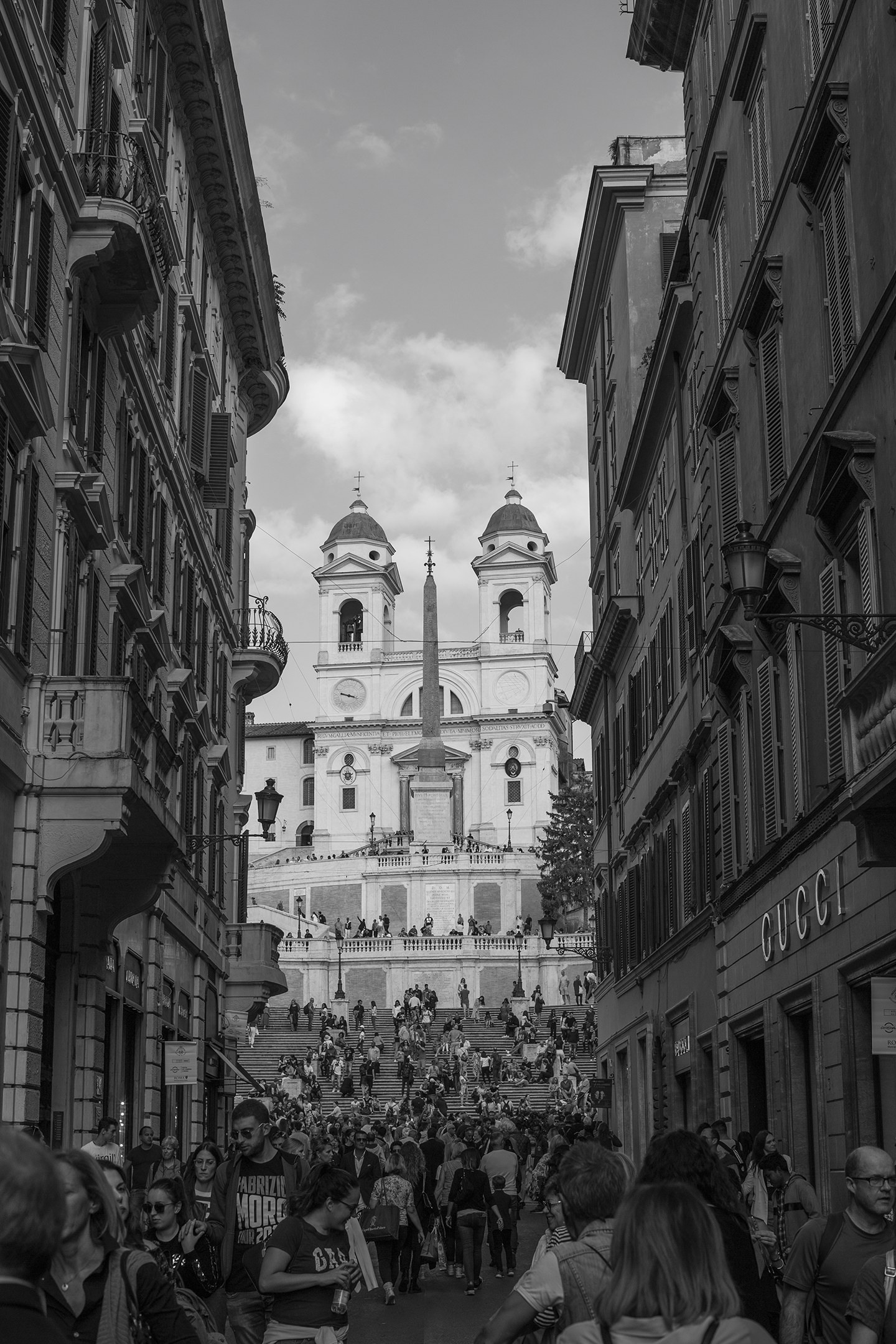 Headed to Rome, Italy and worried about how to eat vegan? Don't be! Eating vegan in Rome is easier than you may think! Think EVOO in generous supply, garlic in everything, bread baskets, the best marinara pizzas, pomodoro pasta sauce, basil, oregano-scented everything and the best garlicky veggies – and yes, egg-free pasta all around. And that's just a taste.
And besides ah-mazing food, Rome, the city, will charm your vegan leather boots off. I'm so excited to share this guide with you…
Rome, Italy
Rome is one of my very favorite cities. It reminds me of NYC – the energy, the gritty yet elegant flair. Plus, Italy tosses in that Italian gusto and historic vibe. I have been to Rome three times now and will certainly be back again – this guide will grow!
And today's guide isn't just for vegans. The restaurants below are delicious for all.

Here are some of my favorite Restaurants, Hotels and Things to Do in Rome – as well as some basic tips for ordering plant-based in Italy, wardrobe advice and a final tip!…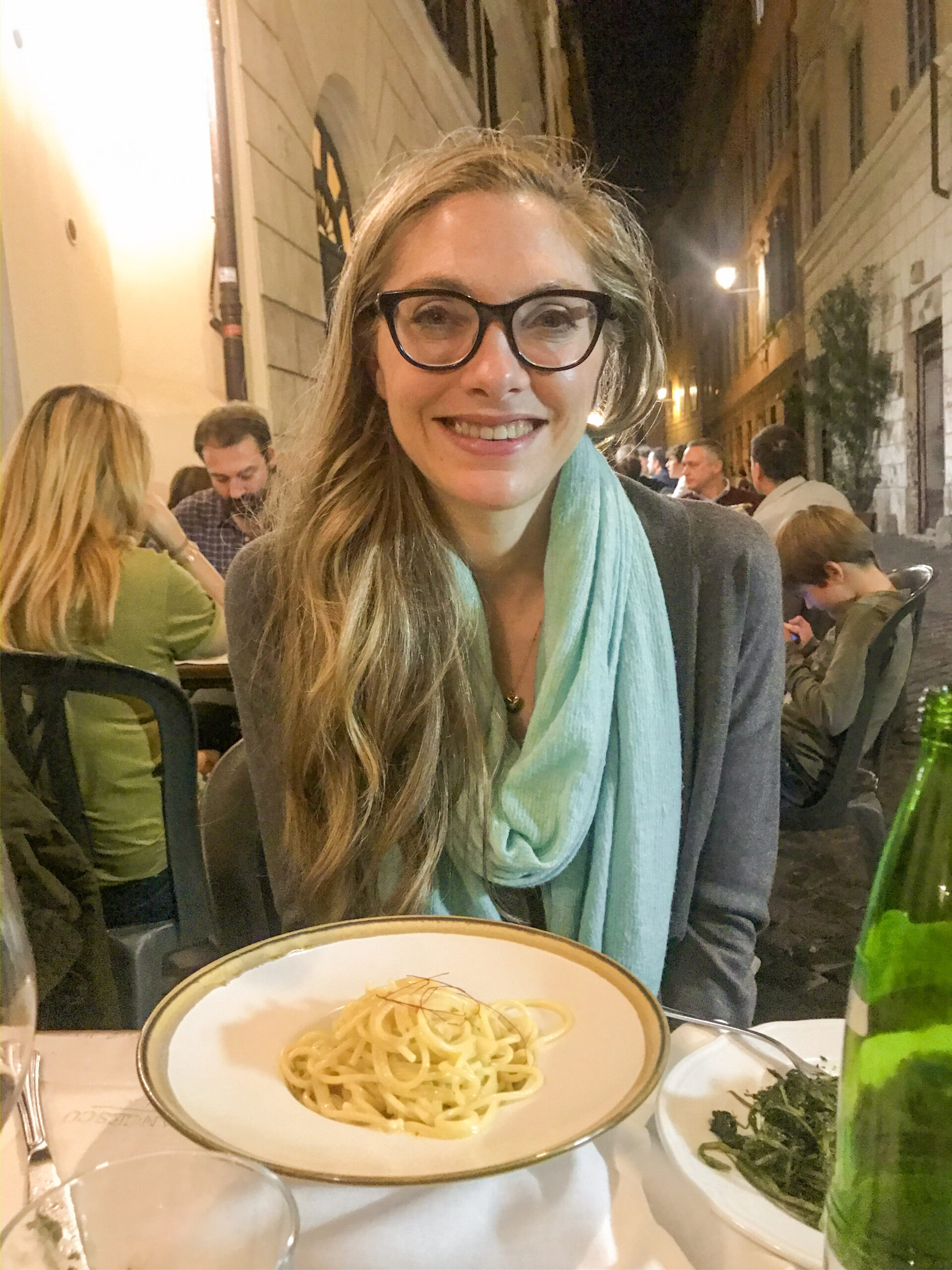 Rome Travel Guide: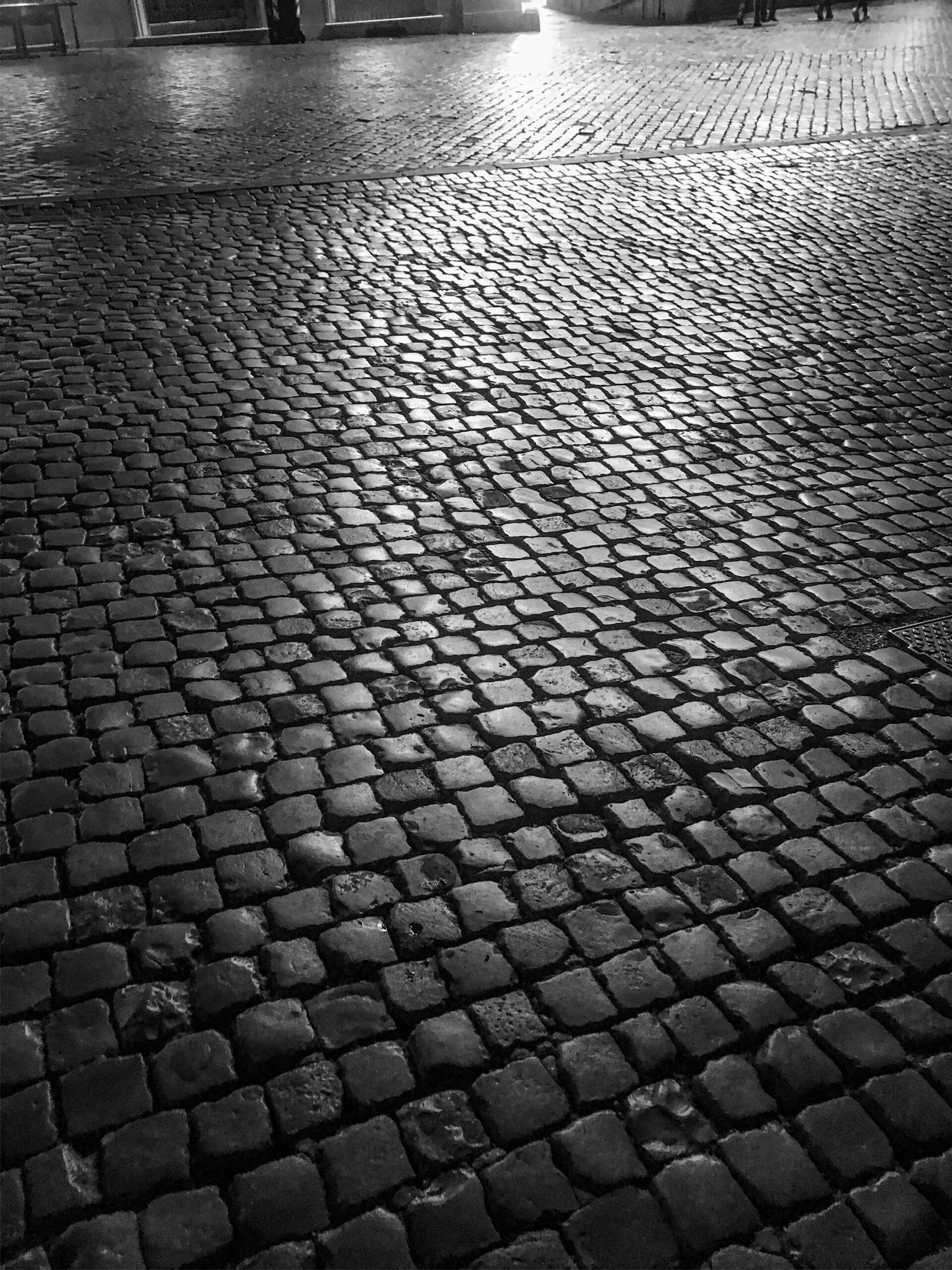 Rome is one of my favorite places to eat! Here are some reasons for that…
Vegan in Rome, Italy Restaurants:
Del Forno Alla Soffitta
1 – Emma's Pizzeria
(Vegan-Friendly) They squeezed us in last minute, but we were told that we only had an hour to eat and run. Odd, but okay. We sat outside surrounded by heat lamps and an energetic group of diners. The food came swiftly and everything was delicious. I had an avocado and fennel salad – refreshing and nourishing. Followed by a marinara pizza with added mushrooms. Their pizzas have a thin cracker-style crust. Really lovely! And YES they stick to their hour-long seating limit. Or at least on busy nights. Emma's Pizzeria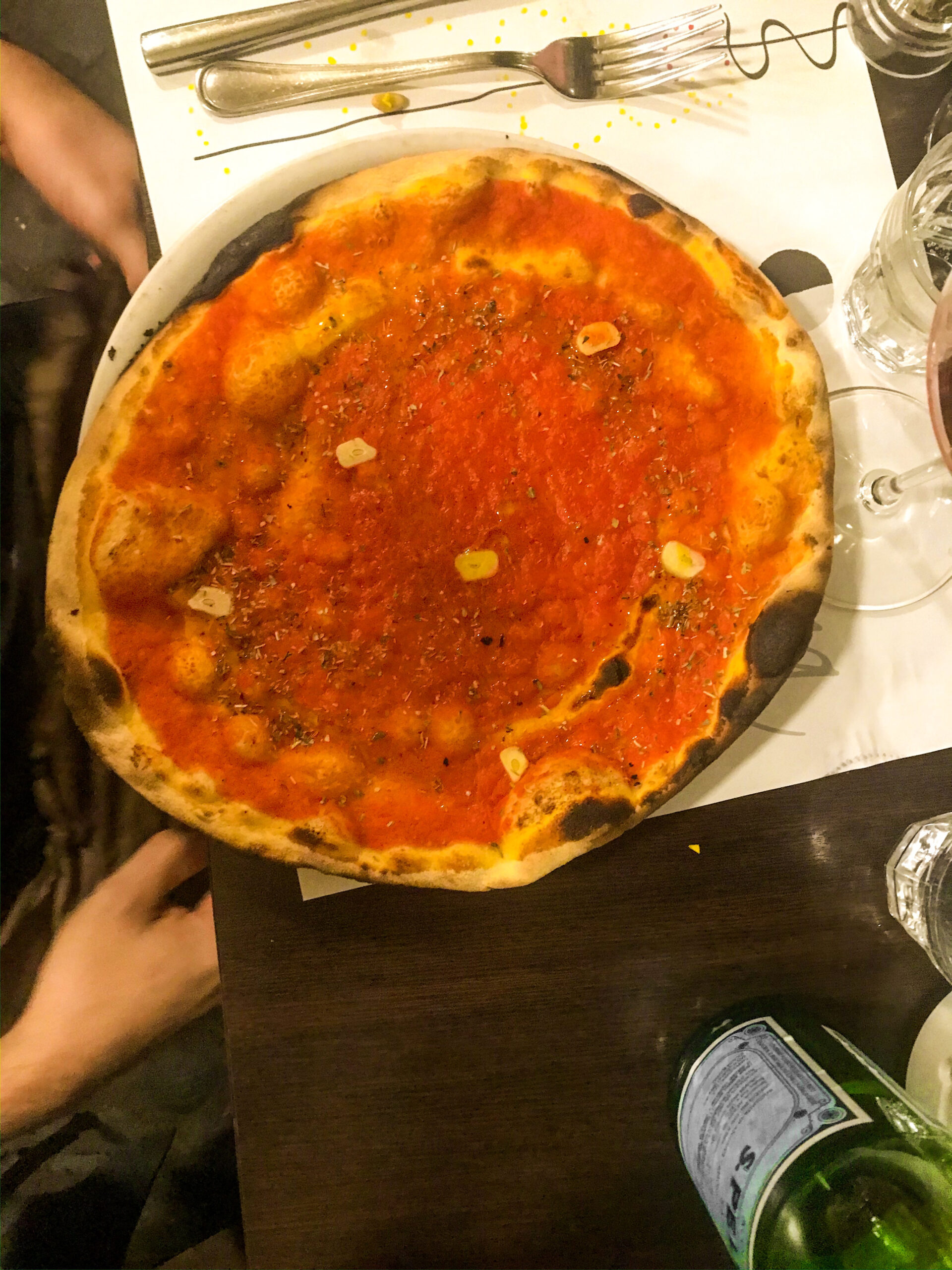 2 – Del Forno Alla Soffitta
(Vegan-Friendly) This is our own personal little spot. We've been a few times now. I found it on Instagram. I wanted a gorgeous pizza and that was exactly what we found at this neighborhood gem. The pizzas are fluffy with perfect black-spotted crusts. I always get a side of the garlicky spinach. They give you a giant plate – loaded with EVOO and garlic. My husband gets pasta, and always loves his dish. Del Forno Alla Soffitta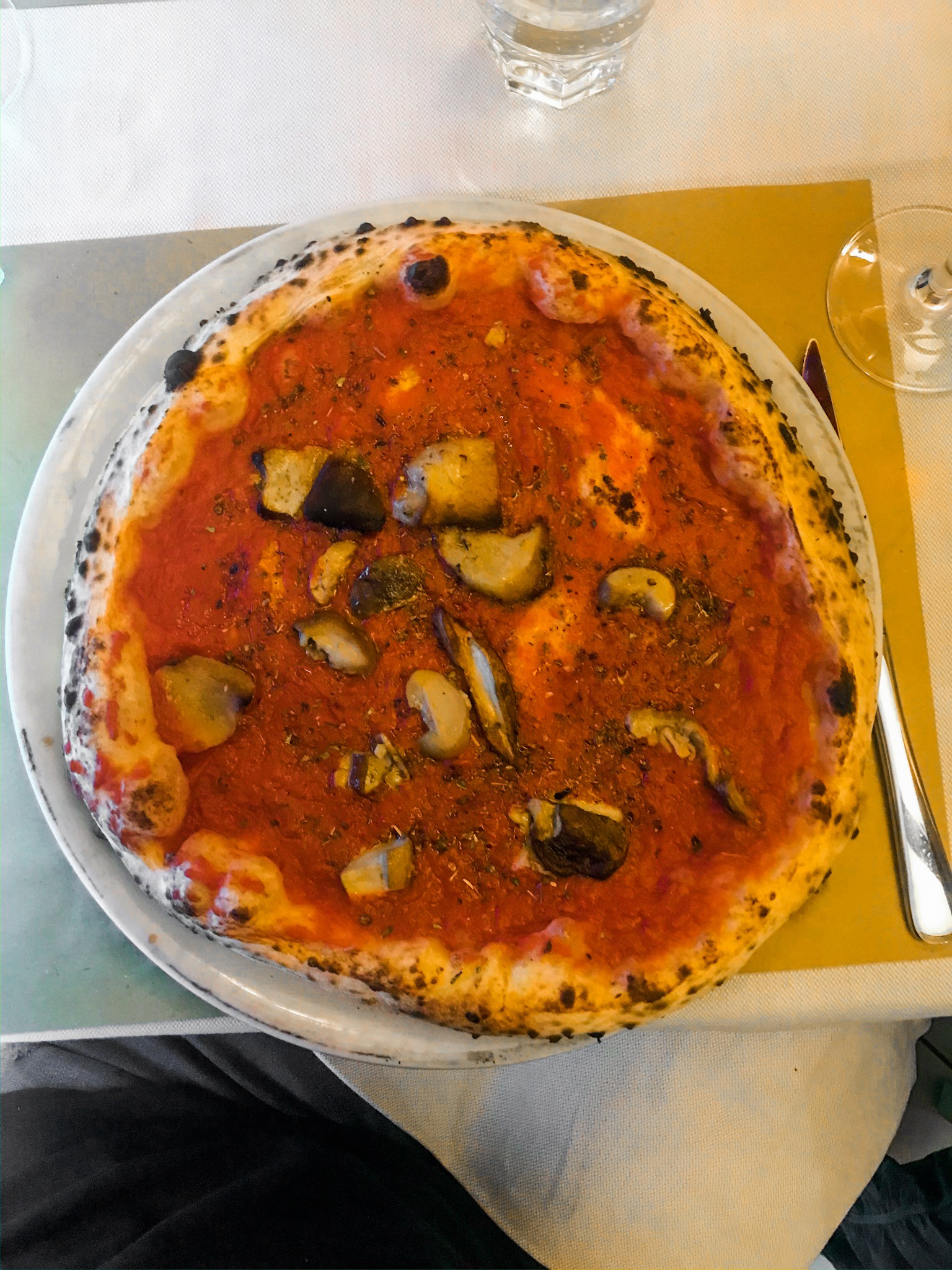 3 – Grezzo Chocolateria
I finally got a chance to visit Grezzo on my recent visit. They are 100% vegan and serve up truffles, brownies, cookies and other desserts. They also have gelato and make a few smoothies and coffee beverages. I loved the cookies and truffles. We brought some home with us too. Very cute little spot for any chocolate lover!! Grezzo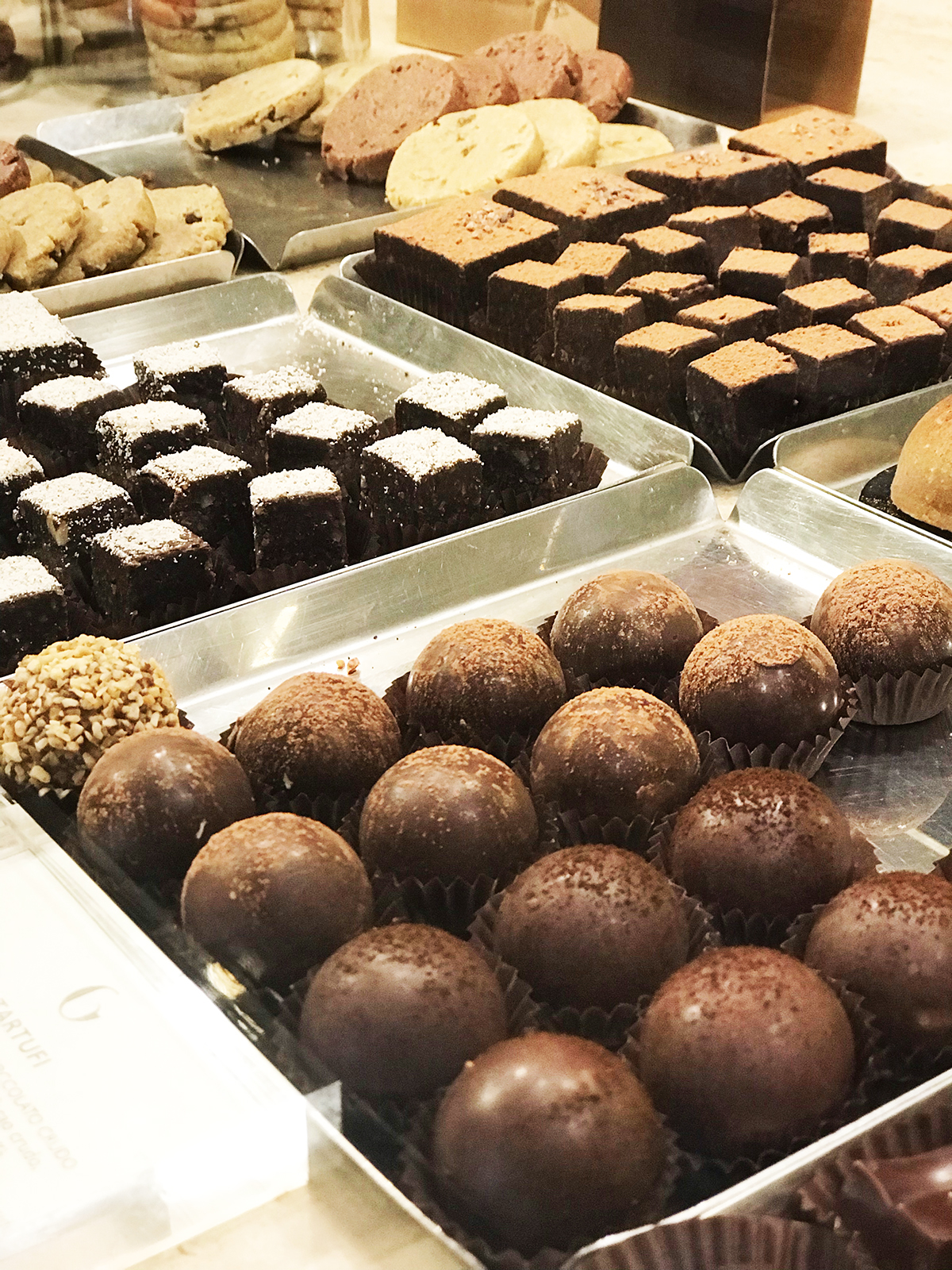 4 – Da Francesco
This was a recommendation from my friend Leslie who is my go-to expert for all things Italy. And it was wonderful! We sat outside and ordered delicious pasta – they had gorgeous veggie sides as well. I ordered the naturally vegan, Olio pasta which was a very simple combination of EVOO and garlic, a hint of red pepper – so simple but it was SO good! Really lively scene with a locals sort of crowd. Da Francesco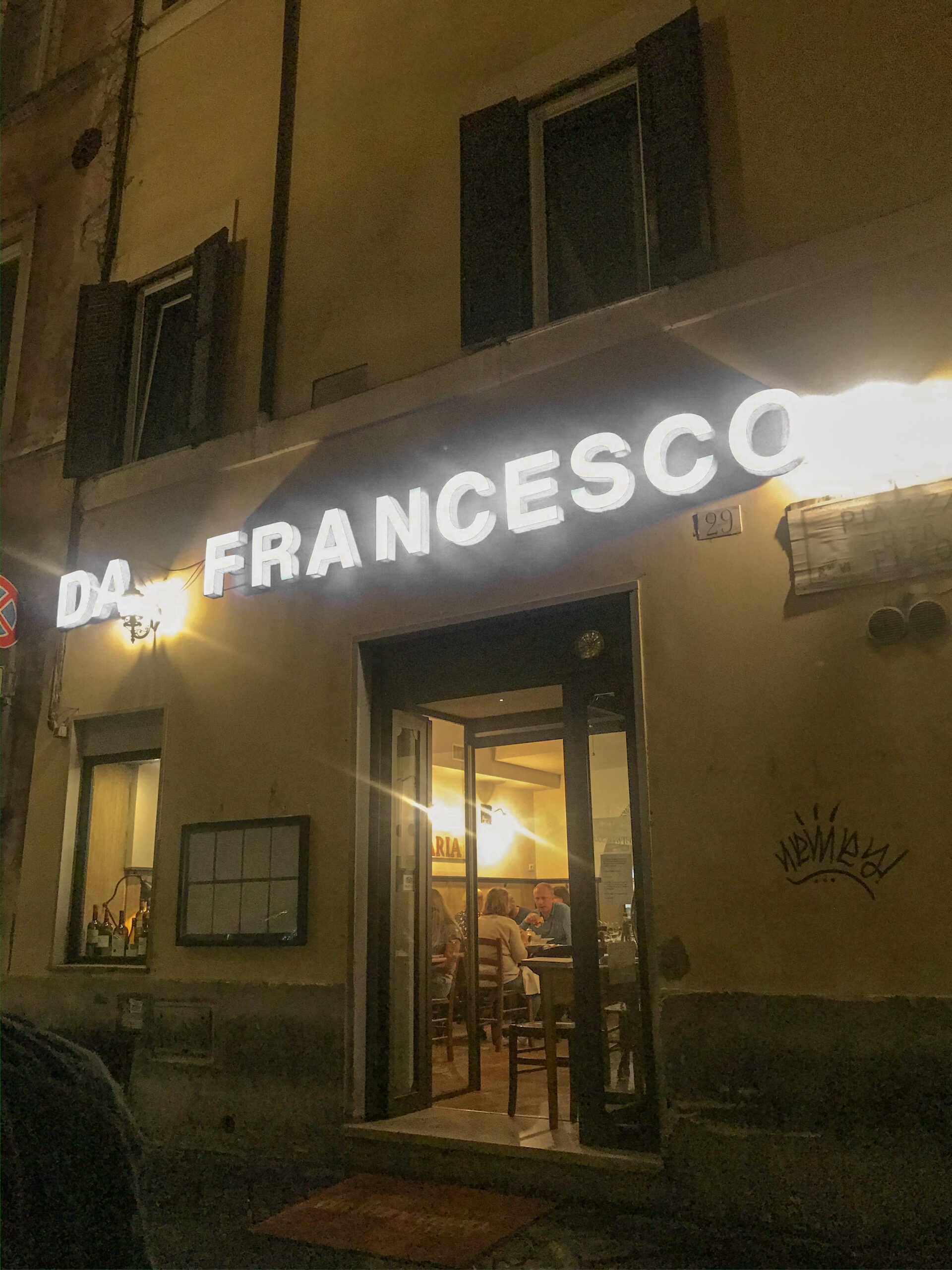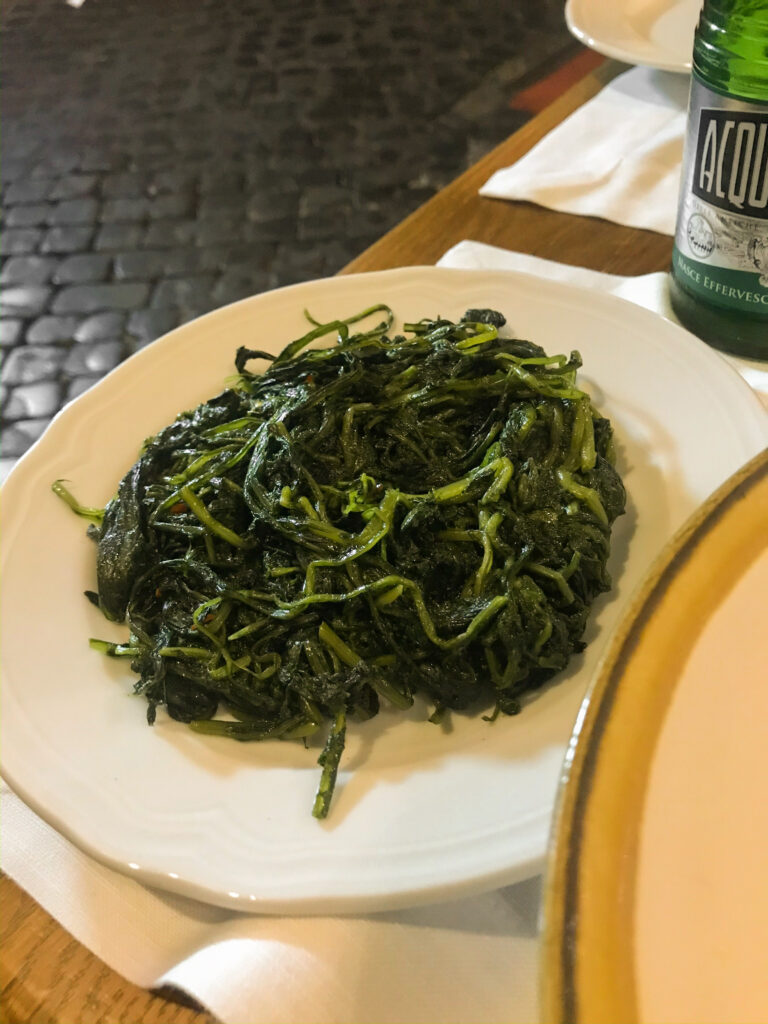 5 – Pier Luigi
Another rec from Leslie, this fish-heavy spot was the perfect spot to dine with guests for a special occasion. The outdoor seating area is super lively and the inside is dark and romantic with tons of coziness oozing from every corner. Basically, a vegan will be fine here because they will make you something even if it is not on the menu. They basically modified all four of our orders – perfect service! Really great spot for a special night out. Pier Luigi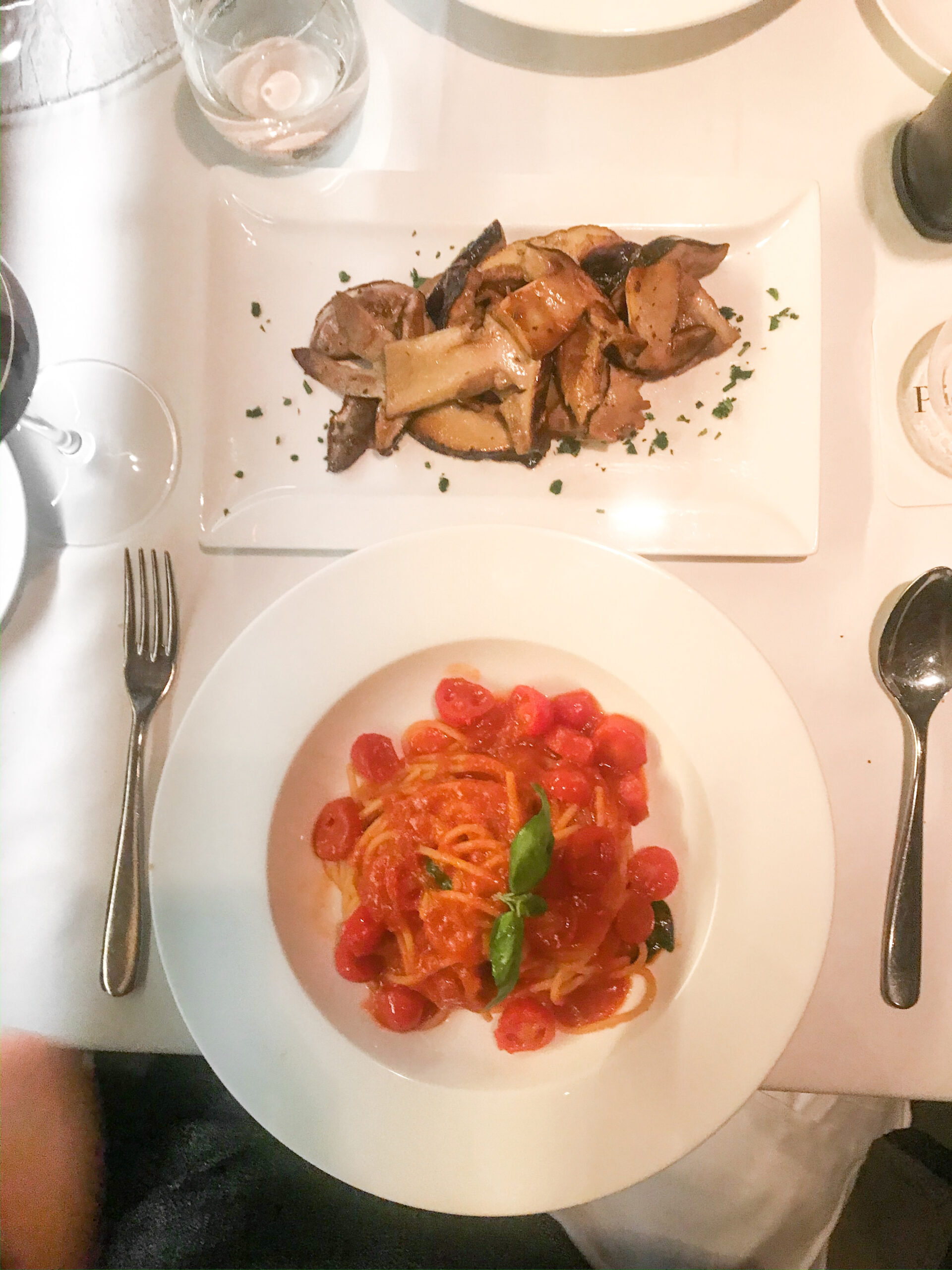 6 – Ginger
I love this place! They have a two locations, one by the Pantheon and one by the Spanish Steps – and they are your go-to casual dining spot for healthy, rainbow-colored eats. Giant salads, pasta, juices, this place is a wellness eater's dreamland. Light and modern interiors that fit the wellness branding. Very easy to eat vegan here. They serve breakfast, lunch and dinner. Absolutely love this place and their wellness + eco-friendly vibe. Ginger
7 – Il Margutta
We ate here on Thanksgiving Day a few years ago. It was the perfect spot because it is a sort of vegan buffet. So many dishes to choose from. I loved it and found the scene lively and cozy and the food delicious. If you don't like the buffet style eating then this may not be for you. However, it seems like that for dinner, they do an a la carte menu. I'm not totally sure because we only dined at lunch, but either way, this is an awesome vegetarian spot you should definitely check out if you are in town. Bonus: the neighborhood and Margutta street is one of my favorites in all of Rome. Super cute and quaint, totally strollable. Il Margutta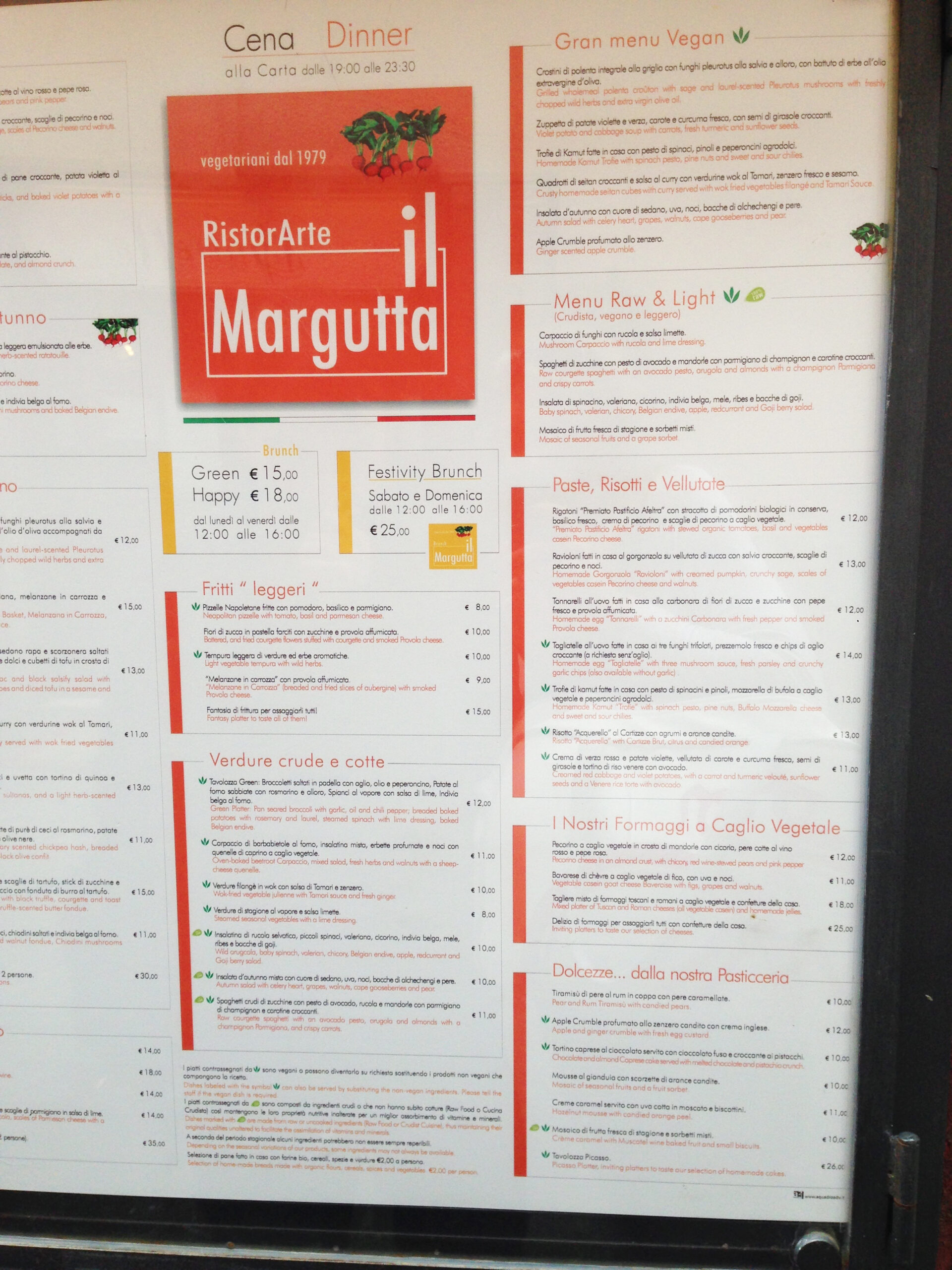 8 – Gunther Gelato
If you crave a delicious sorbetto or gelato after your feast, find a Gunther! They have vegan flavors that I haven't seen other places – like pistachio and hazelnut. The nut-based flavors are rich and creamy and taste like gelato instead of sorbet. Win! Plus, their fruity sorbet flavors are also divine. I think I got kiwi, pistachio and hazelnut last time I went and it was so good. Gunther Gelateria
9 – Caffe Greco
If coffee is your thing, don't miss this unassuming storefront right off the busy Spanish Steps. Step inside and find a seat – the seating area goes way back and the further you walk, the further back in time it feels like you are transcending! This is the "oldest coffee in Rome." This history of this caffe goes back two-hundred and fifty years.
The walls are lined with art and the puffy wallpapered walls in a striped pattern remind me of something you might find in a Victorian home – or tbh – the Haunted Mansion at Disneyland. Jk. But really, for a quick late afternoon coffee break, this is my spot of choice. Yes, they have vegan milk options. Caffe Greco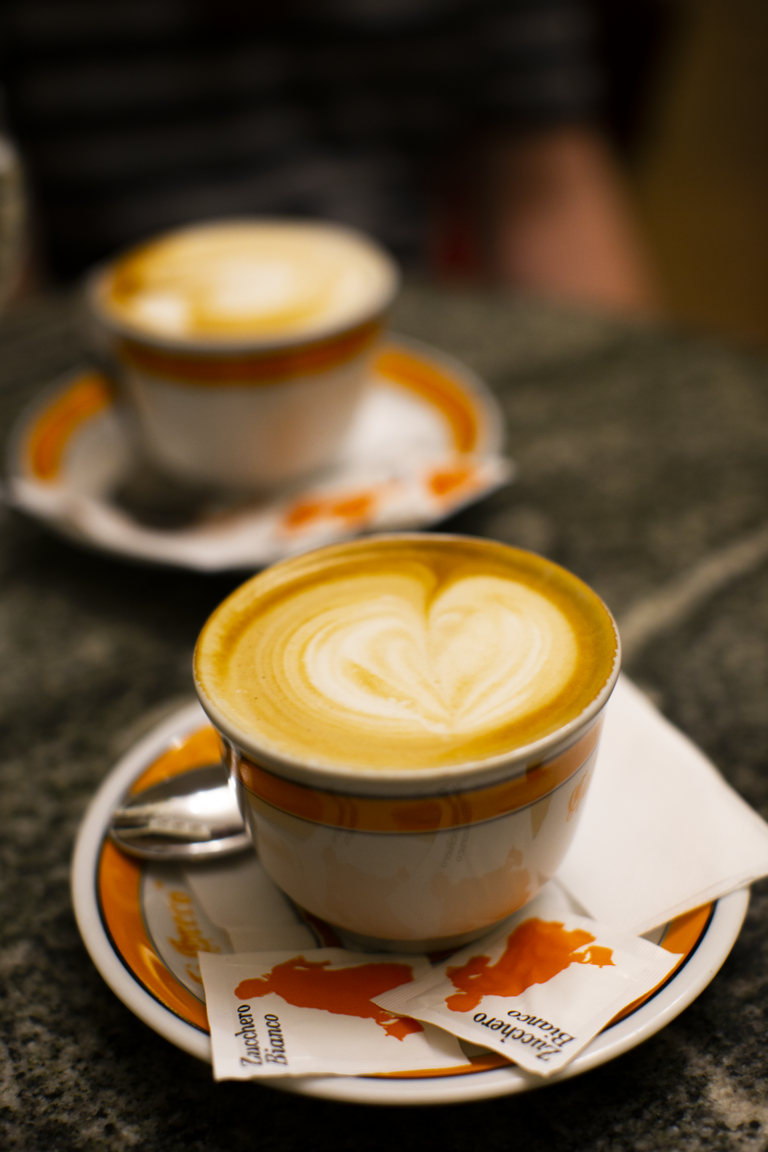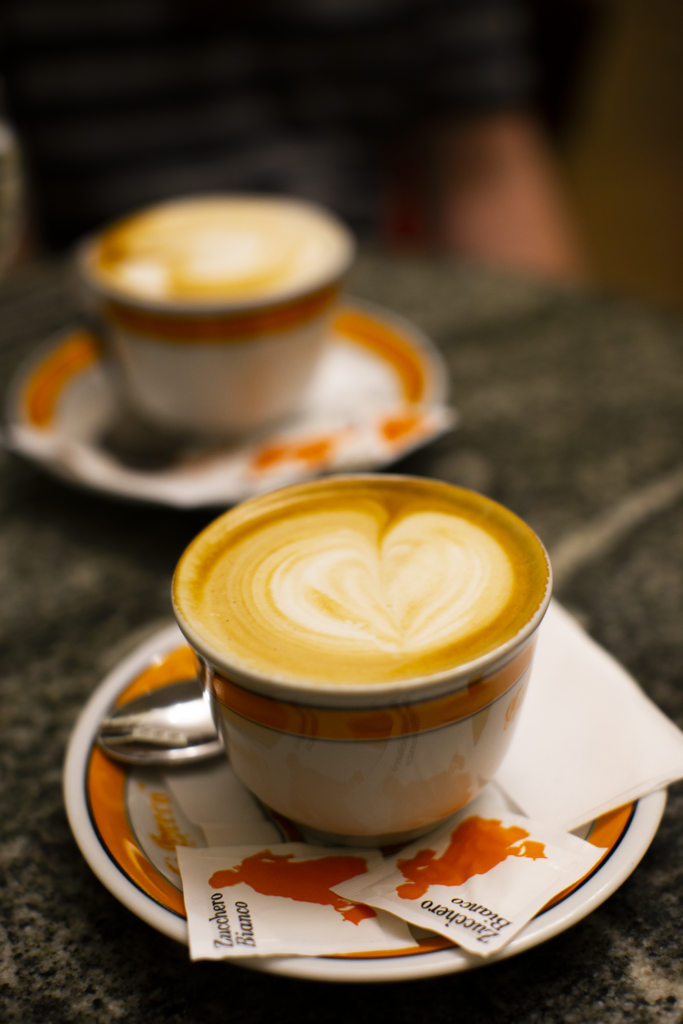 Rome, Italy – Hotels I Loved
1- St Regis Rome
One of my favorite hotels ever. Really. This hotel is grand and energized and elegant, but definitely not snooty. It is just a really welcoming space with the best of the best of everything. From the cozy beds and elegant hallways to the jaw-dropping front entryway, to the excellent concierge and service offerings.
I would definitely stay here again for a very special occasion. We were celebrating a special birthday with our travel group, so this was a special stay for us. St Regis, Roma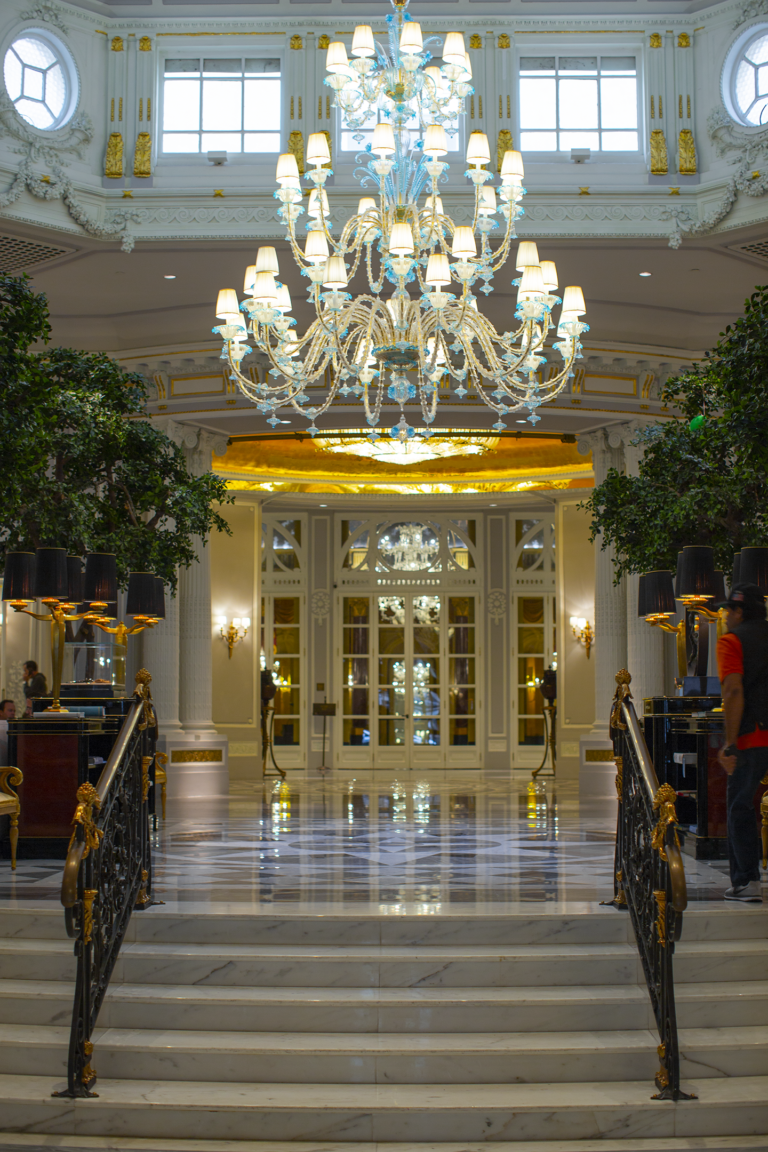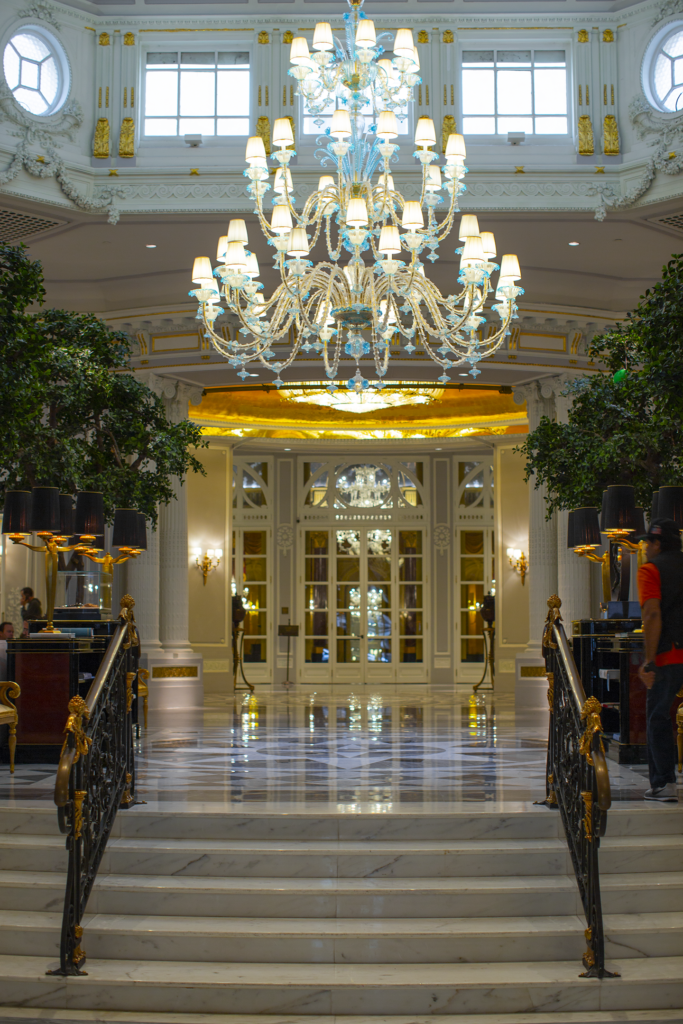 2 – Singer Palace
This hotel is located where the old Singer Sewing Machine factory used to be – thus the name! The marble stairs are original. Neat! I was so impressed with this hotel. The welcoming service was very personal and friendly. They have a stunning rooftop bar. the breakfast was excellent – also in the same top floor location.
This is a boutique hotel so you don't get the energy of a giant spot like the Westin or St Regis, but it has it's own energy. The rooms were very comfy and the location was perfect. You are near all the top tourist attractions – minutes from the Spanish Steps and so much shopping right outside your doorstep. Singer Palace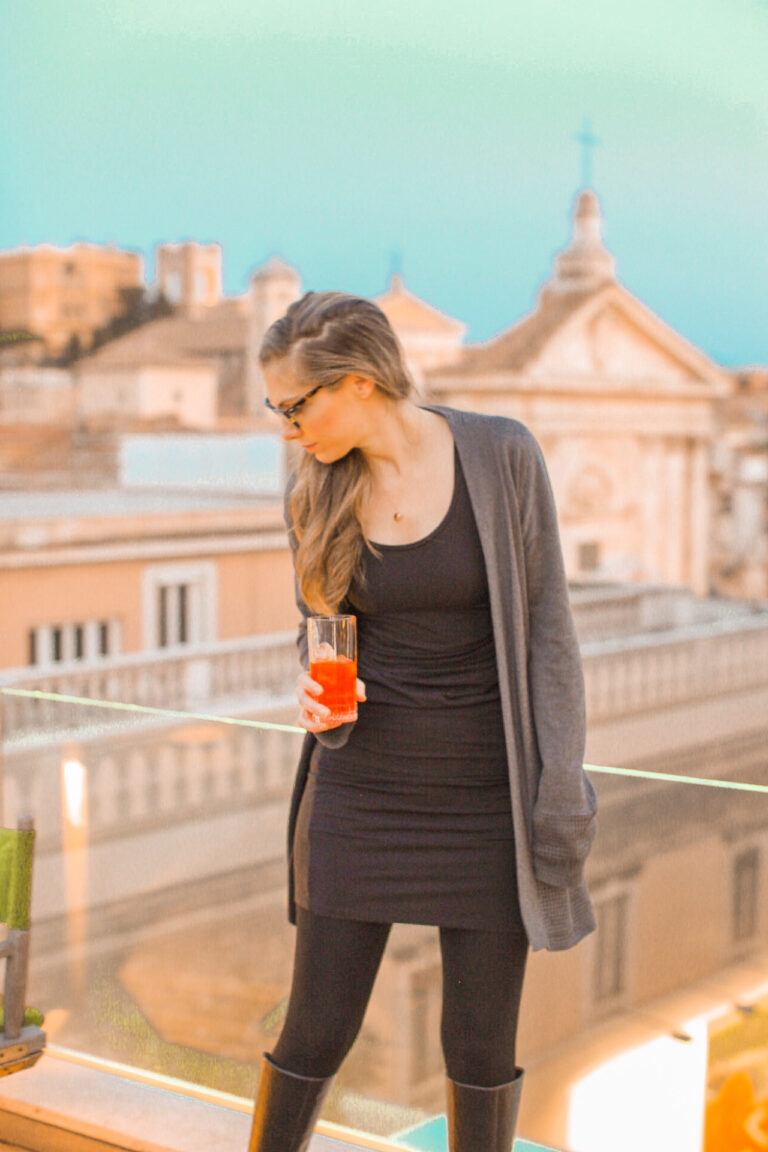 3 – Elizabeth Unique
This hotel was so modern and fun. The rooms are gorgeous and the hallways are lined with modern art pieces. We got upgraded to a suite and our room had it's own sauna which was pretty cool. Great location as well. The one odd thing about this hotel was the breakfast. It wasn't totally clear how you ordered a la carte items and they sort've just brought you a bunch of food items – most of which were not vegan. But overall this hotel was really lovely and I would stay there again. Elizabeth Unique Hotel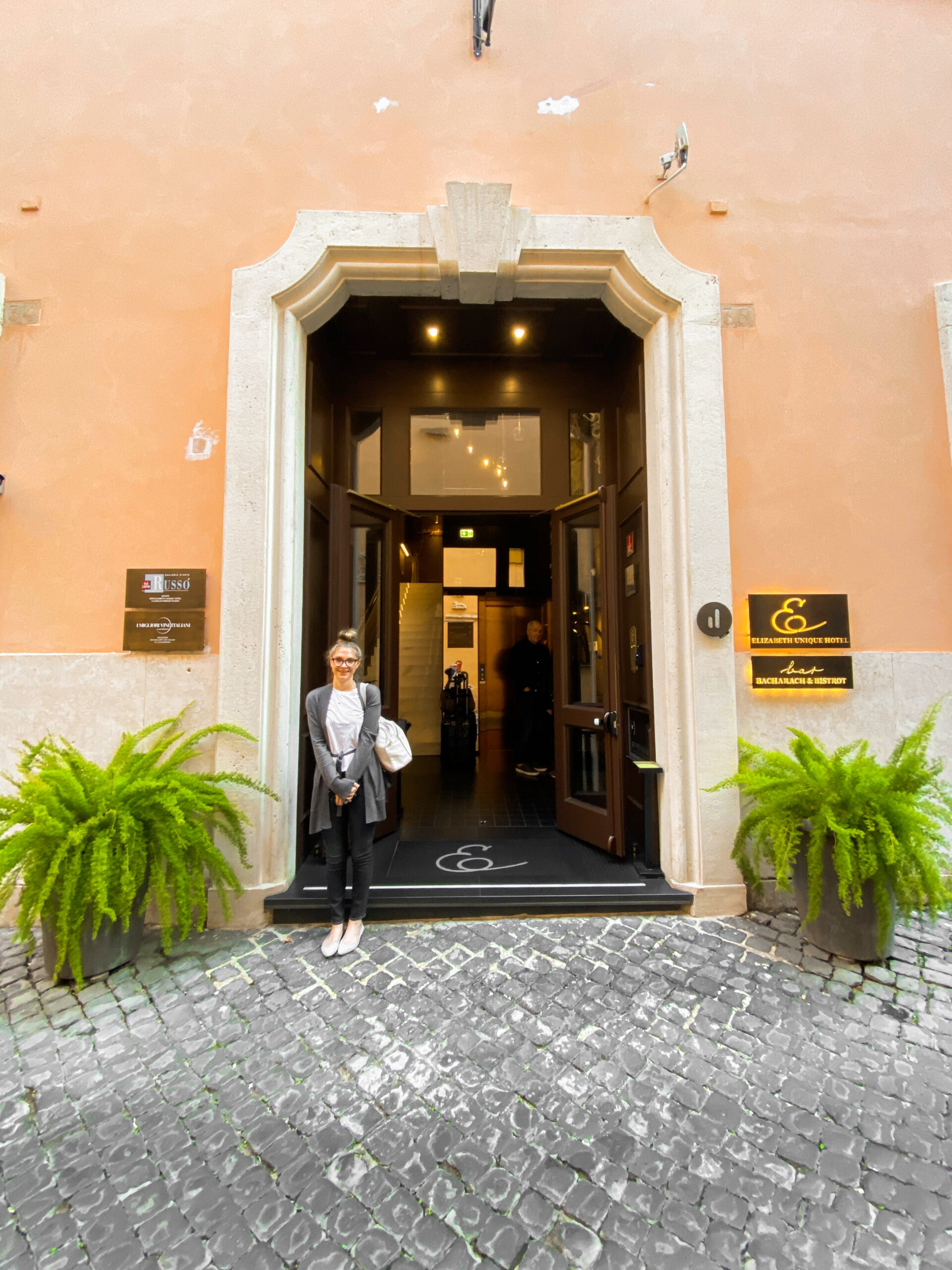 4 – Hotel Cavalieri, Waldorf Astoria
This large and sprawling hotel is seated on top of a hill that overlooks the city. You have to take a hotel shuttle to get to the main walking areas of the city. Not ideal, but the hotel certainly does make up for that fact in charm and luxury, food and views.
The view from our room was stunning. At night it was twinkly lights for miles. In the morning you could watch the sun rise over Vatican City and a soft pink haze lift over Rome as birds sang and everything felt angelic. Great breakfast. We were on the Club floor, so we even had evening snacks available to us. The location is not ideal, but I do love this hotel and would stay there again. Bonus: They have the most amazing spa! Hotel Cavalieri
5 – Westin
We stayed her for a few nights a few years ago. The rooms are a bit dated, and the breakfast was a bit loud and crowded, but really this hotel is all about energy and comfort. I felt very at ease at this hotel. This hotel simply had tons of energy, like a big bustling city center hotel should have! The ceilings in our room were very high and the balcony was gorgeous. Service very friendly: Westin, Roma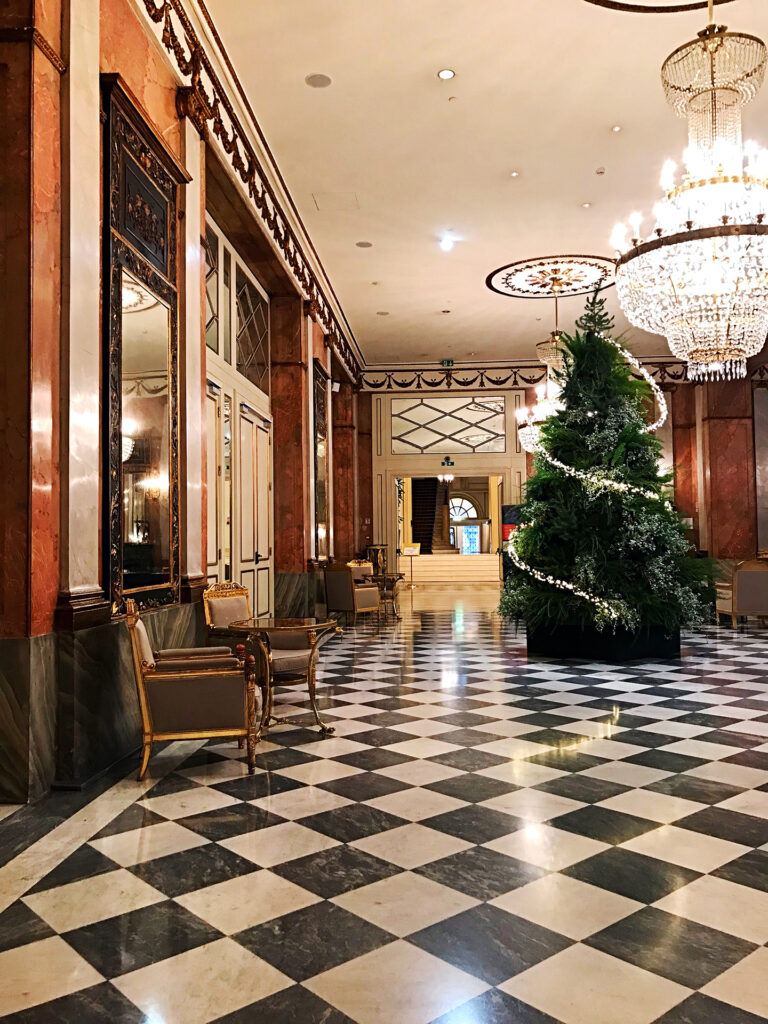 10 Things to do in Rome, Italy
Colosseum
Pantheon
Trevi
Vatican
The Quirinal Palace
Spanish Steps
Walk, walk, walk
Eat, eat, eat
Rooftop drinks
Shop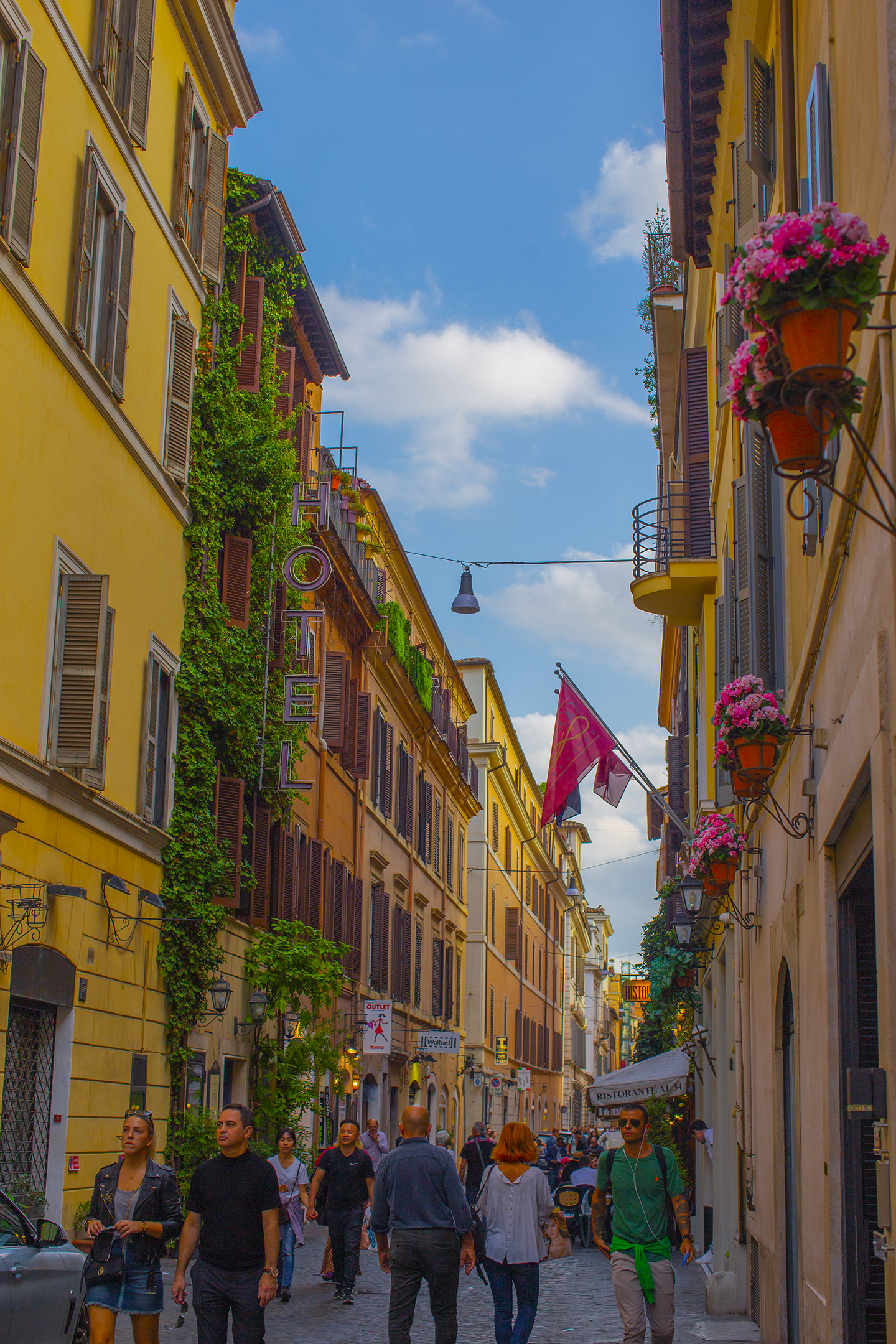 Get out there…
Touristy things allowed in Roma!
1 – Colosseum – Leave about a half day to tour this incredible piece of history. Buy "line skip" tickets in advance. Bonus points if you snag a Gladiator's entrance ticket, that allows you a unique entrance perspective.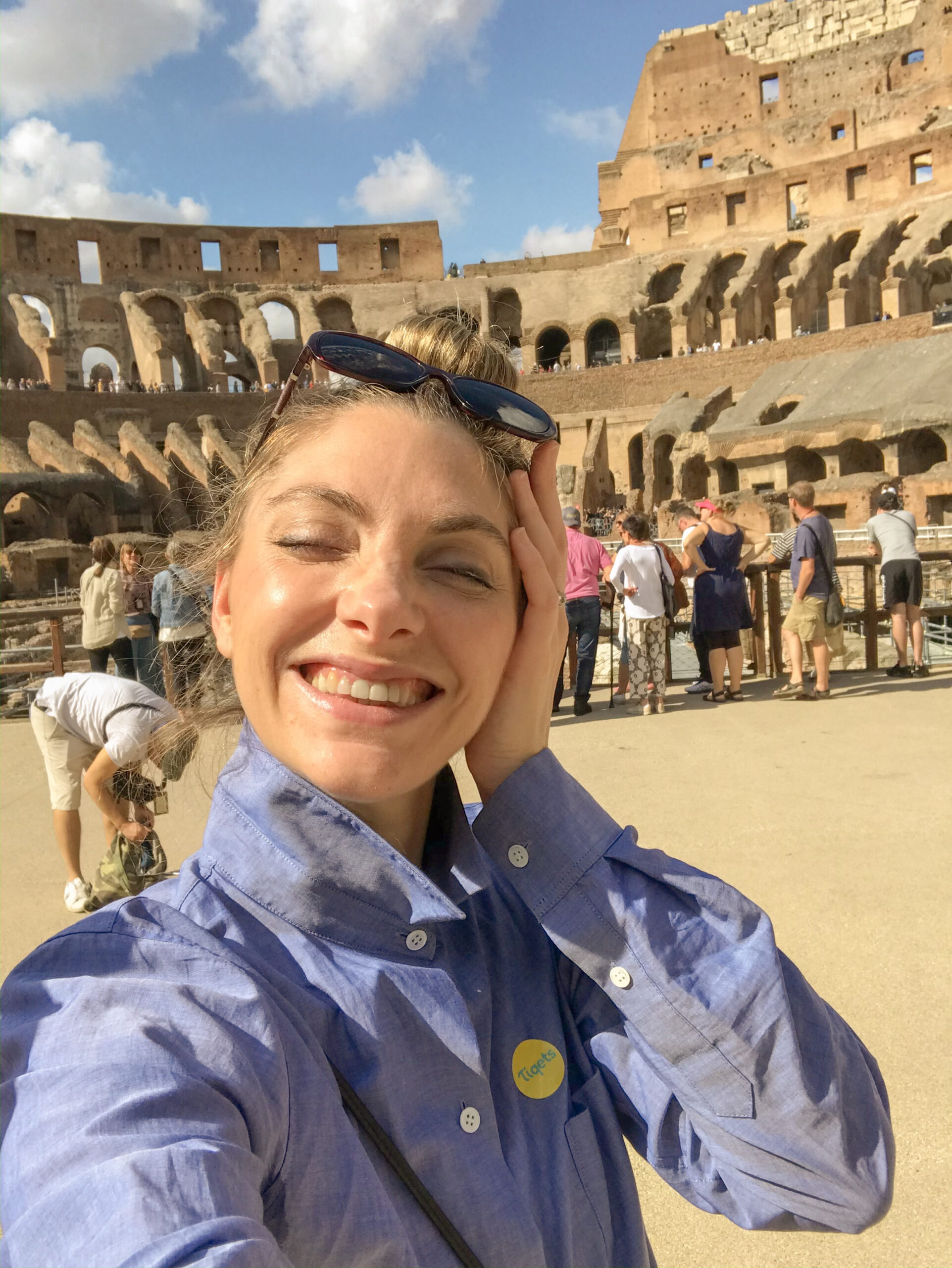 2 – Probably my fave spot in Rome to stroll + sit…
Pantheon – Probably my favorite building in rome to 'hang out' by. It is stunning at any hour of the day, but definitely plan on strolling by at night. Linger in the square a bit and feel the rich history of rome in this space. It was completed in around 126 AD!

If you plan on touring the inside (which is free and highly recommended) check the open hours. It's usually no more than a 2-3 minute wait to enter.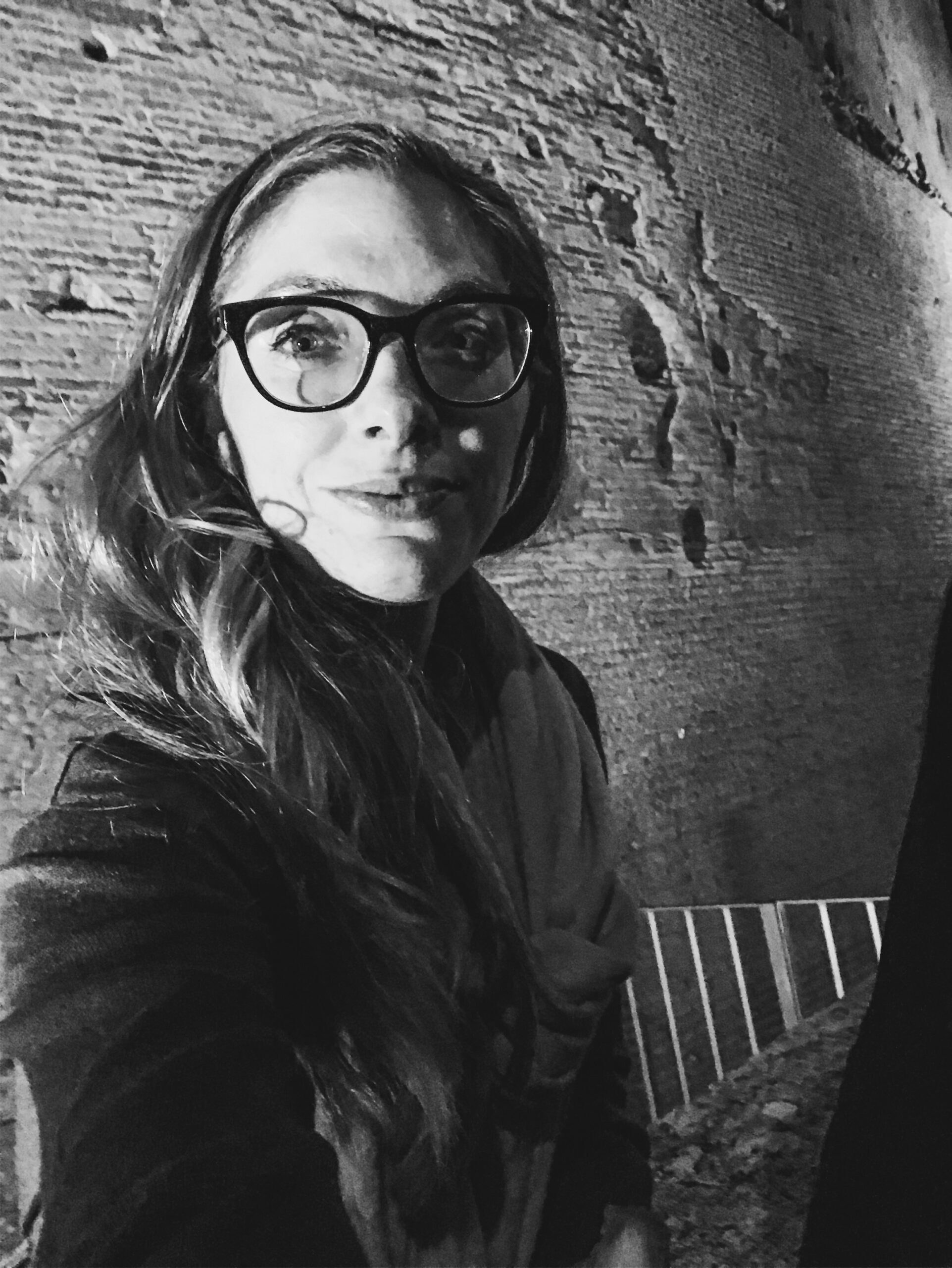 3 – beautiful spot to gather..
Trevi Fountain – Completed in 1762, this giant fountain is another gorgeous spot to visit at any hour of the day – but both AM and PM hours have their own sort of magic. The water glows a light turquoise and the sound of the fountain echoes through the cobblestone streets. There is no fee, you just walk right up to it!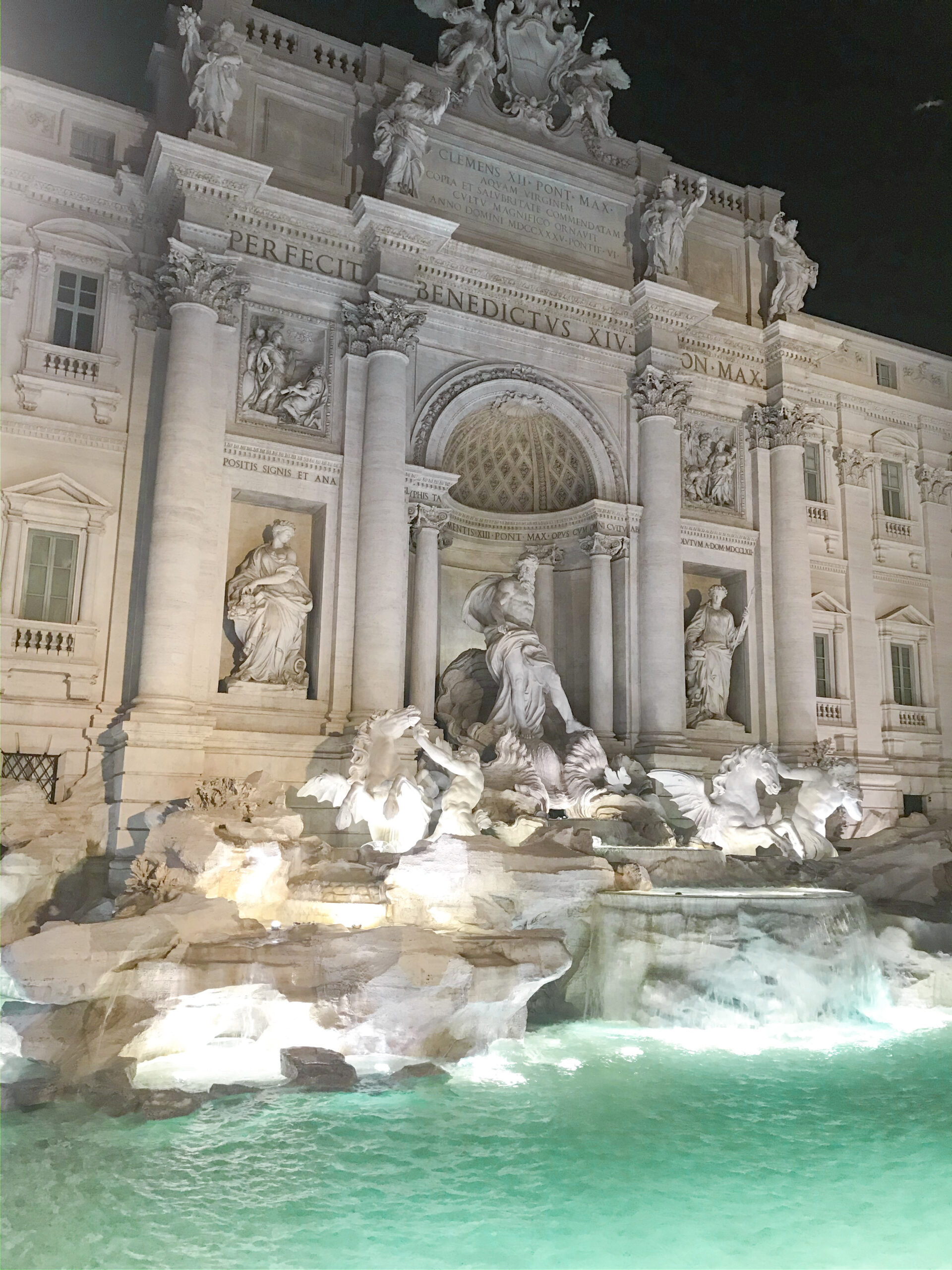 4. pretty cool visit – long day though..
The Vatican – Another very popular tourist spot. Visiting will take up at least half your day, there is a lot you can see. However, we actually went through in under two hours because we were in a hurry. We did have time to see the Sistene Chapel, which was a highlight. Buy tickets with a tour group to skip the line.
5. skippable, but pretty!
The Quirinal Palace – Not something you need to spend much time near, but walking by is fun. It is basically Rome's version of The White House. One of the residences of The President of the Italian Republic.
6. must-do, fave spot by far!..
Spanish Steps – Another fave spot for tourists to gawk at the magic of rome. Definitely make a trip during the sunny daytime as well as at night when it is all lit up.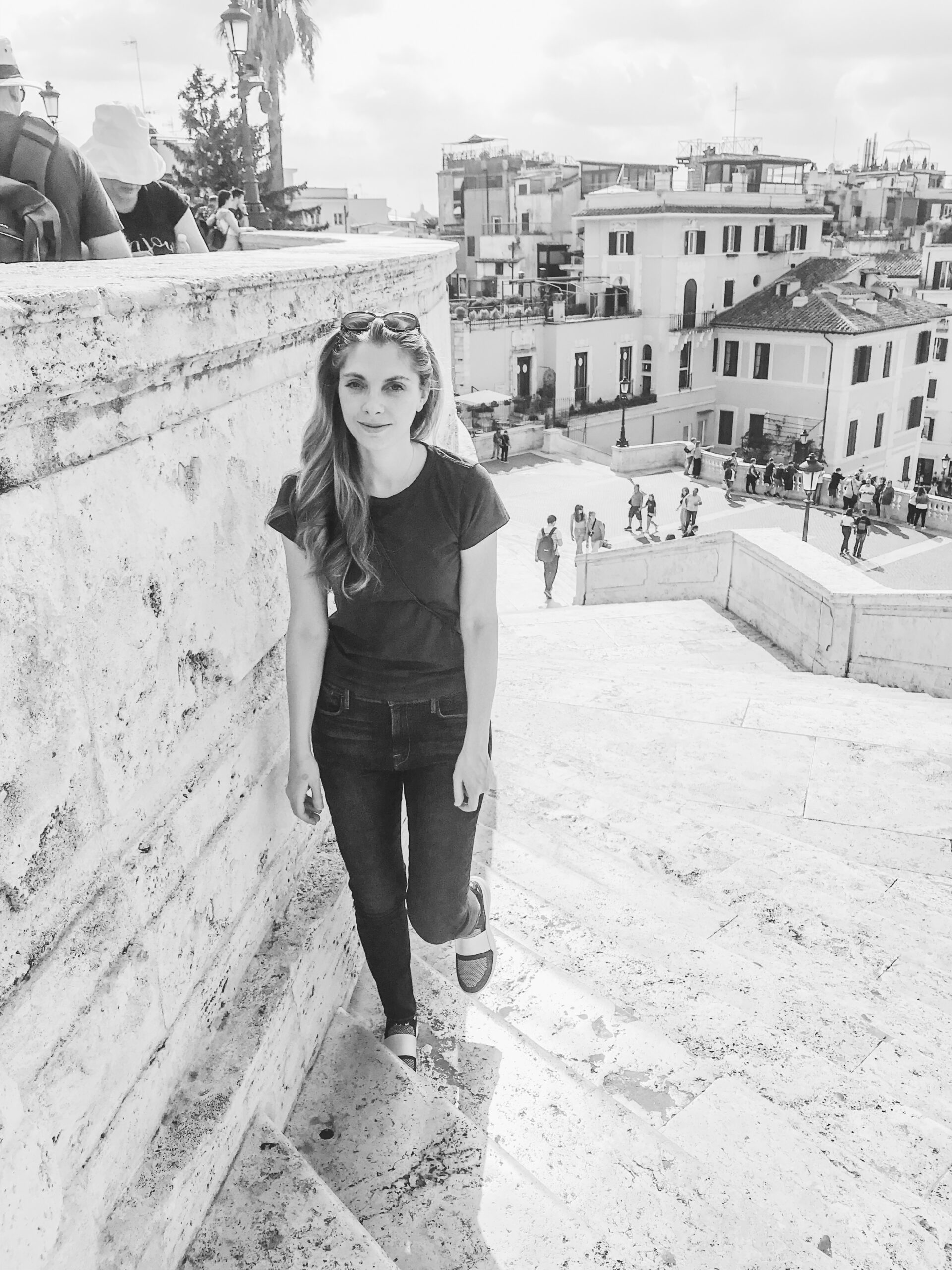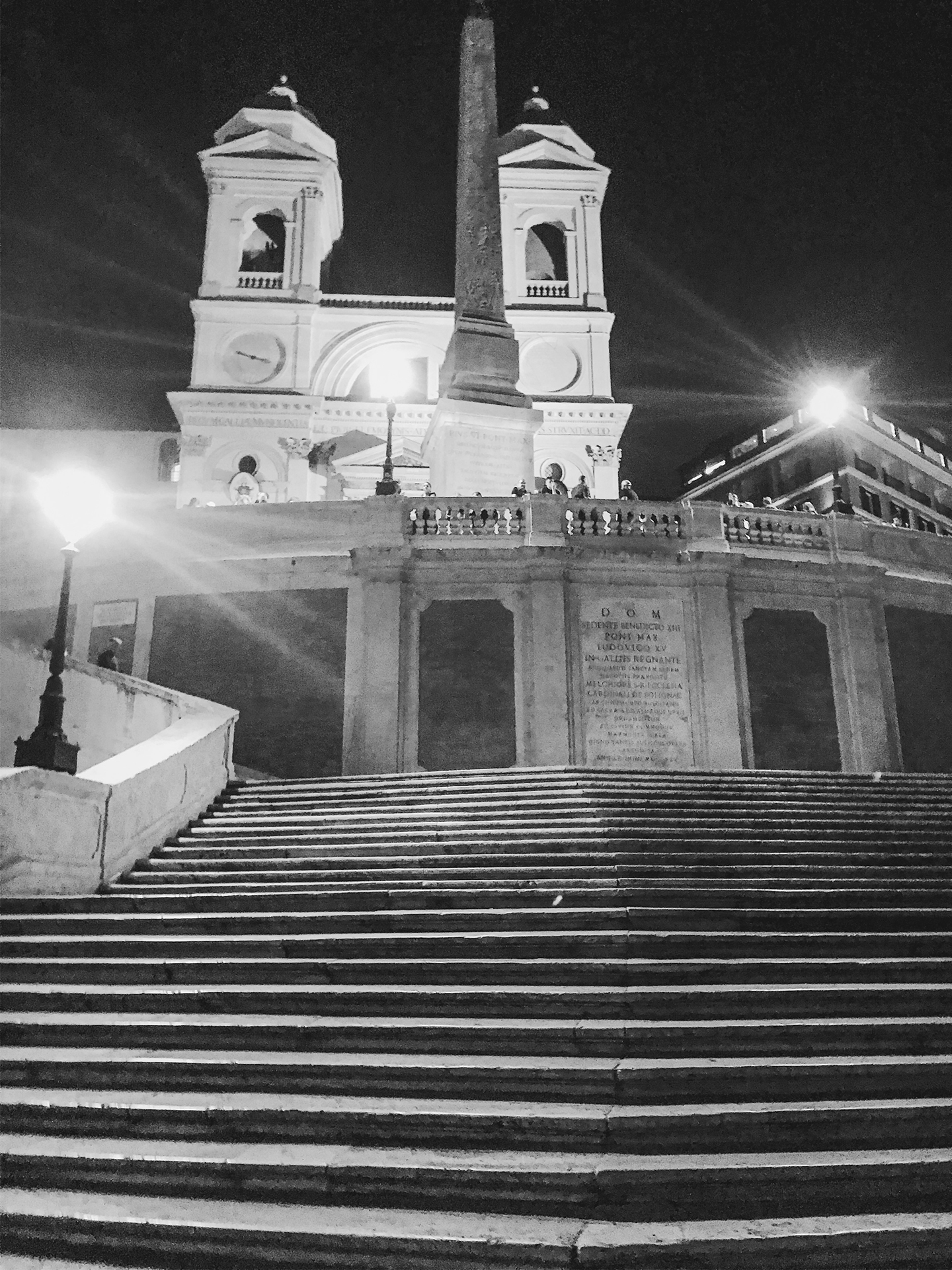 7. Walk, walk, walk. The best thing about Rome is that it is such a walkable city. Be sure to bring good walking shoes and enjoy getting your exercise in just from strolling place to place. If you have ever been to NYC – you probably remember walking a lot. IT can easily feel like that in Rome.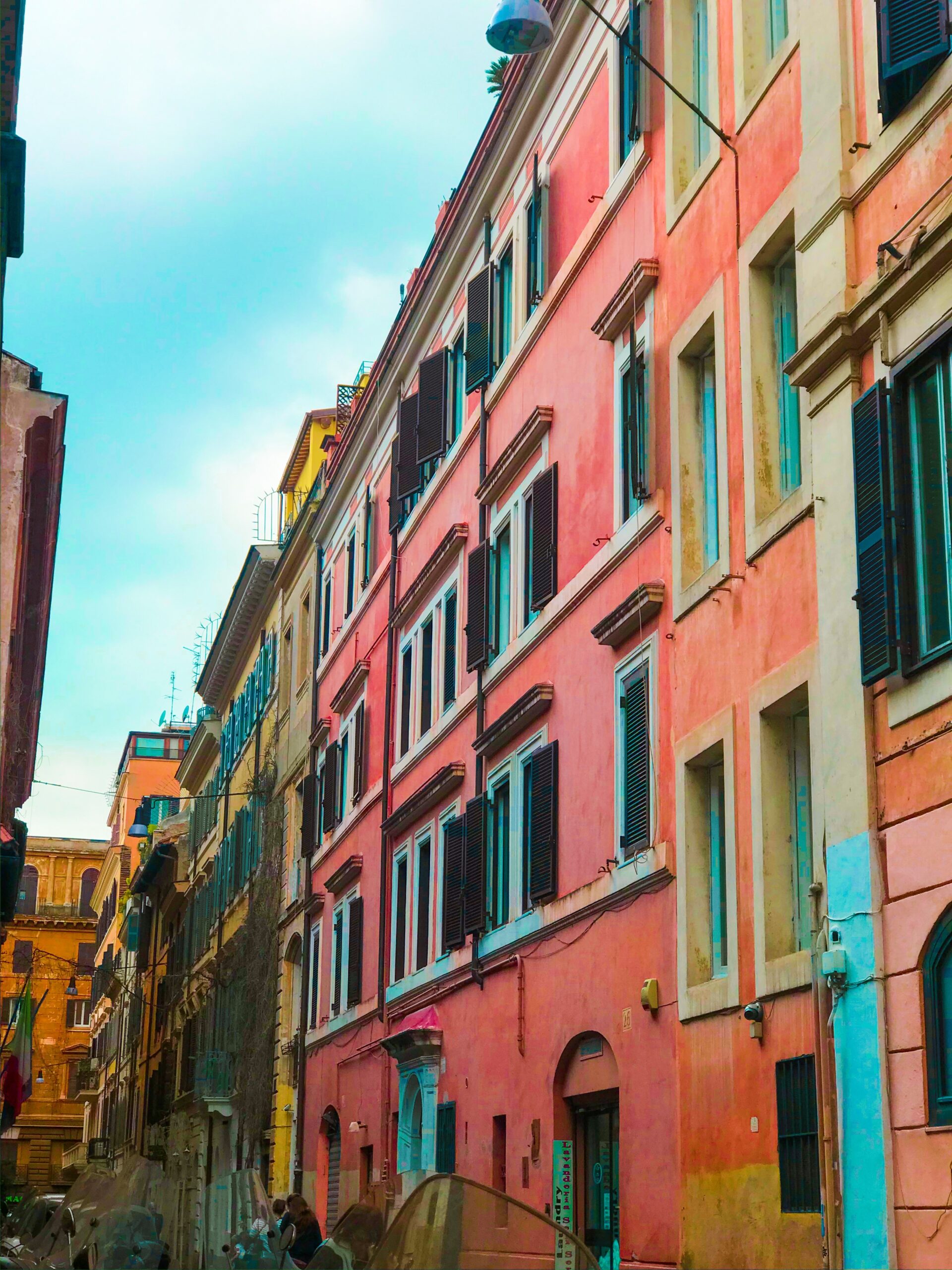 8. Eat the Best Pizza + Pasta. No trip to Rome is complete without first finding some amazing pizza and pasta. Hopefully my dining spots above will help you do that.
9. Have Rooftop Drinks – If your hotel doesn't have a rooftop bar, you can always find one somewhere. Watch the sunset and listen to the birds as a fuzzy tangerine haze settles onto the purple rooftops of the city.
10. Shop! From luxury brands to cute local shop to tons of shoe stores. Rome has some great shopping. for more guidance on the streets to stroll for good shopping, pop over to American in Rome.
How to Eat Vegan in Rome: Ordering Tips!
Dining Note: Always ask about allergens when uncertain!
Meals – Entrees
Pasta – While most homemade pasta contains egg, every single restaurant I have ever dined at in Italy has had non-egg options. Just ask. And the default pasta option may in fact already be egg-free. As for sauces on pasta. The classic pomodoro sauce – just tomato – is my go to for vegan ease. Olio is another option.
Pizza – If you see 'marinara' on the pizza menu, you are in luck! Marinara pizzas by default have no cheese. Yay. I usually order a marinara with some veggie added. Mushrooms and extra garlic is my fave.
Risotto and Gnocchi – Two other entrees you can try are risotto (rice based) and gnocchi (potato dumplings). You always want to ask if they can be made aairy-free since sometimes cheese and other forms of dairy are baked into these dishes. But when you can find vegan options – try them! I had the best vegan porcini risotto one year at a spot in Tuscany.
Sides + Salads
Veggie Sides, Cooked: Italy loved cooked veggie sides! From spinach and escarole to the most amazing porcini mushrooms I have ever had. Forget a raw salad and dive into those cooked sides! Most veggies and other sides are cooked in EVOO instead of butter – so that is great news! But you can always ask to double check.
Raw Salads – Ginger had some great raw salads and sometimes you see the simple mixed salad on the menu, but nothing too fancy. The salads usually come with a basic EVOO and balsamic dressing. Just be sure to watch for any added cheese. But again, I am all about those cooked veggie sides when in Italy.
Drinks + Dessert
Coffee + Lattes – Ask for Soya milk. It is widely available.
Tea – My fave thing is fresh mint tea after dinner. They bring you a big pot filled with fresh mint leaves.
Sorbetto – You can find naturally vegan sorbet all over Rome. Some shops (like Gunther, listed above) even have creamy nut-based options that are dairy-free.
Bruschetta – Usually vegan, you can double check about cheese, but usually it's just tomato, garlic, EVOO.
Breakfast
Breakfast – My go-to breakfast in Italy (and most hotels) is oatmeal. It is almost always cooked in water and then I can just add fresh berries, nuts or nut butters. Easy and nourishing. I also load up my fresh fruit plate and ask for a soya cappuccino.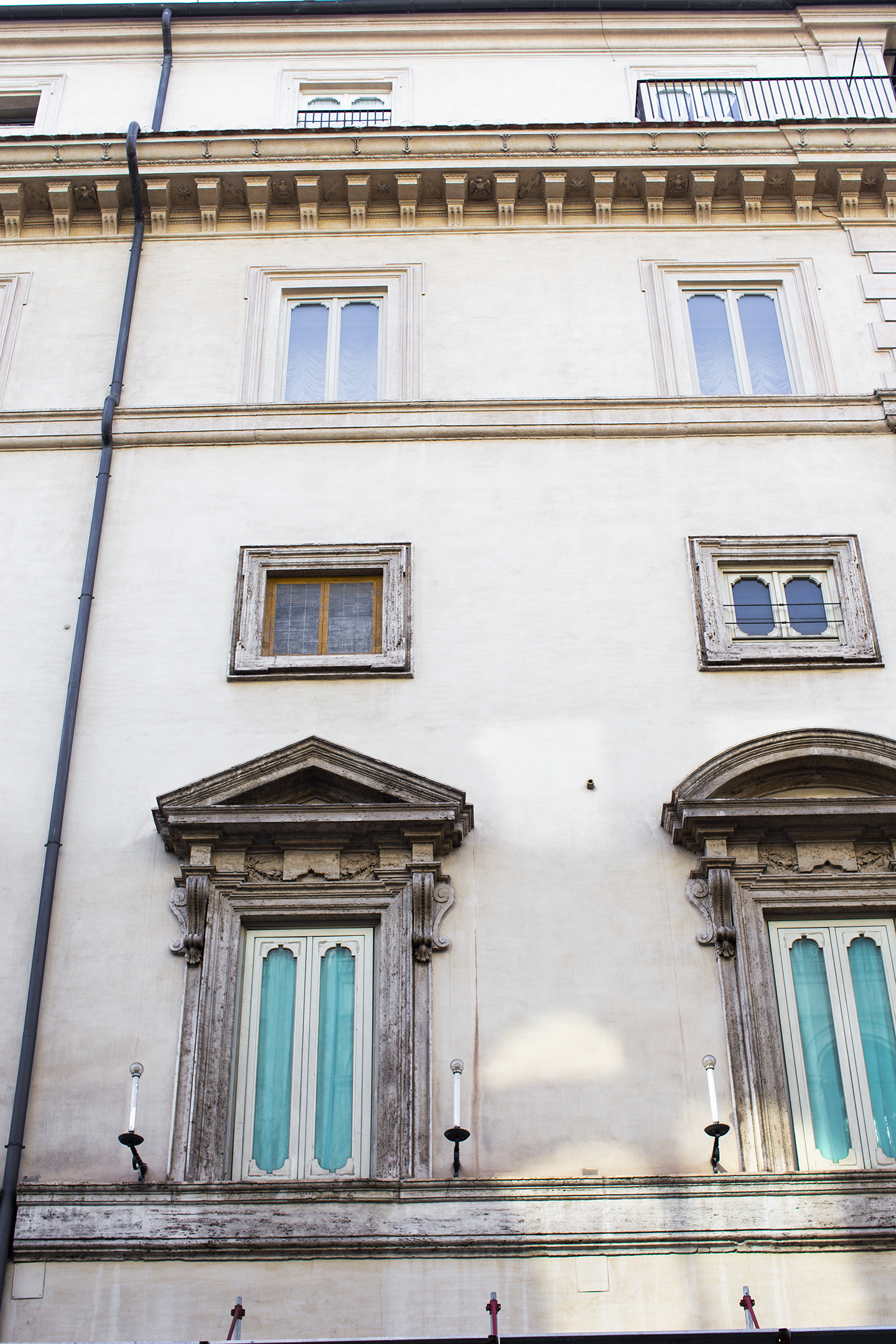 What to Wear? Wardrobe Tip: Rome
Bring black on black on black. I don't always wear black at home, but in Rome it just feels right. Similar to NYC, locals tend to wear a lot of black. So bright colors will probably paint you a tourist. However, that's not a bad thing, but still. For shoes: I packed some Rothy's, APL sneakers and my Bhava boots.
Bonus: Packing mostly black means your outfits will figure themselves out since everything will sort've match!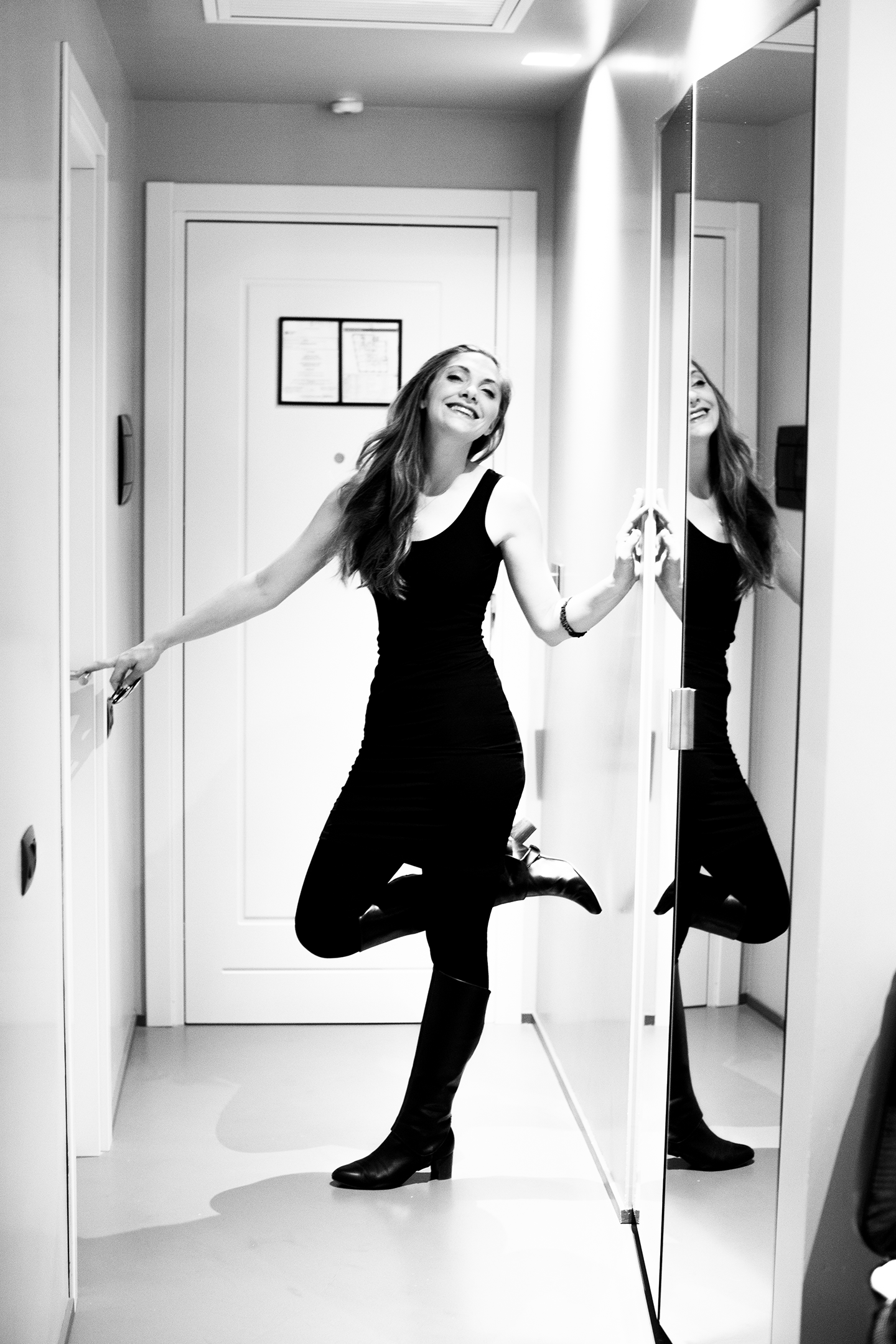 Final Tip: Learn Some Italian!
My husband and I use the Duolingo App. He is much further along than me and it really helps to know basic words and be able to speak with correct pronunciations. even though most Italians speak English, it is really nice to be able to meet them halfway and at least try to communicate in their native language.
Downsides to Rome?
Not many, but I do have a few…
smoking – I have asthma so things like hotel dust and cigarette smoke are always factors I watch for when traveling. sadly, a lot of people in Rome smoke, so it can feel a lot like holding your breath when trying to get from one street corner to another.
mosquitos – Italy has them. However, I have been told they are more annoying than dangerous, but definitely take precautions if needed. Try not to travel in the hot and humid summer months and if you have windows in your hotel room – leave them closed.
busy streets – I don't mind this at all, but it does feel a bit like NYC's Times Square at times – especially on weekends, near top tourist attractions.
That's it for Roma!
That's it! I hope you enjoyed my Vegan in rome Guide – even if you are not vegan! Rome is one of my favorite cities and I cannot wait to return and add even more fave finds to this list!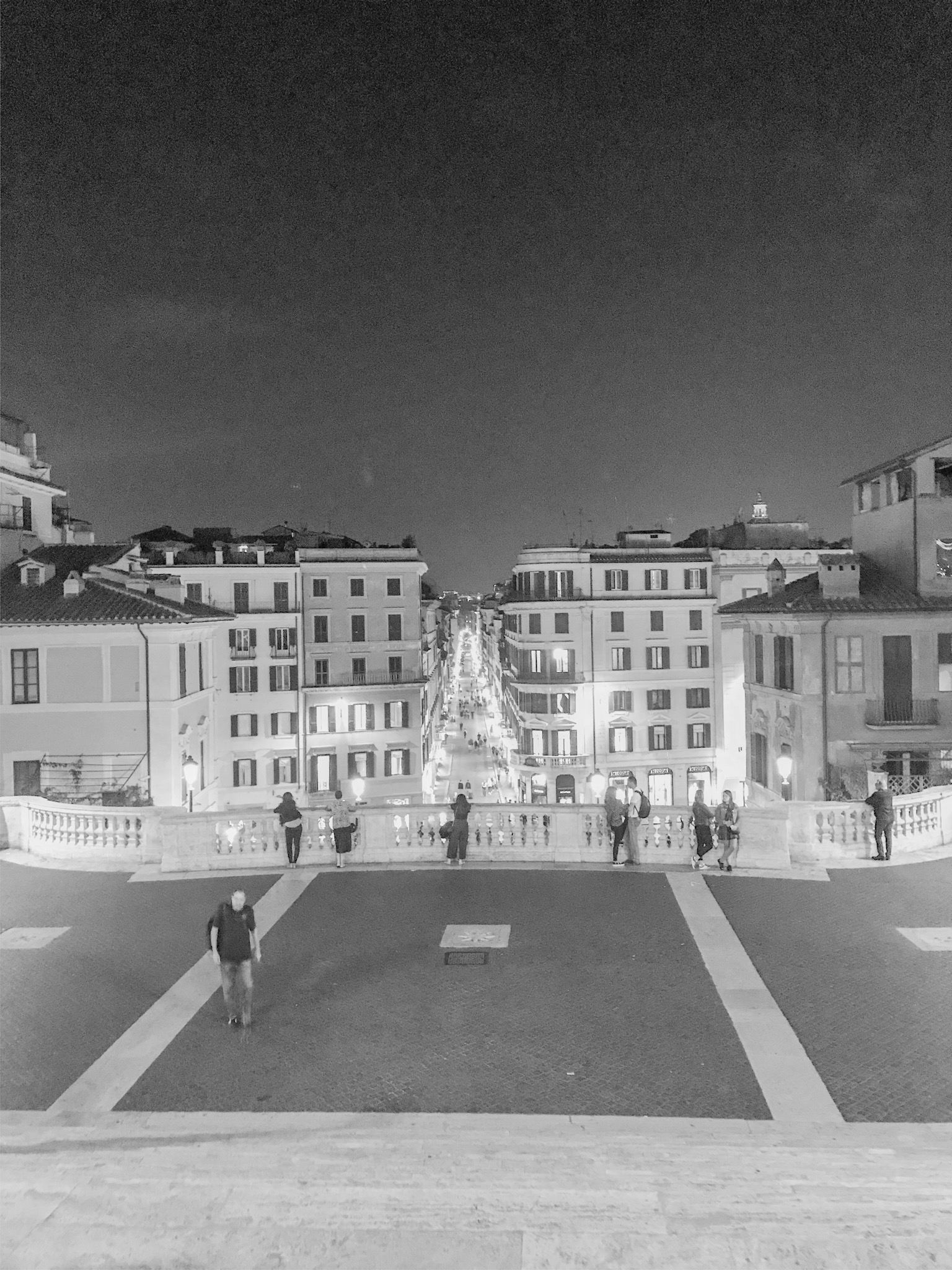 Your turn! What are some of your fave spots in rome?? Tell me in the comments!
Want more Italy? check out my Montepulciano, Tuscany Guide! Also browse my travel section for more fun travel stories.