Vegan Mac-n-Cheese. Everyone should have their own recipe to pull out when they crave it. But I must warn you, my vegan Mac-n-Cheese recipe is not like most. It breaks a few vegan-mac-n-"cheese" rules. There's no nutritional yeast, I don't make a roux and I add a lot of ingredients that aren't typically associated with Mac-n-Cheese. Like lots of greens. And mushrooms. And orange juice. And plenty of Butternut Squash. It's anything but typical, but who can argue with yumminess.

Pasta, sans Tomatoes. Sometimes I crave pasta, but I'm not in the mood for tomatoes, aioli is too simple and I'm all out of fresh basil for pesto sauce. This 'cheesy' butternut squash-infused sauce is perfect. Customize it to your Mac-n-Cheesiest dreams. You can have more cheese, less bread crumbs, more spiciness, less mushrooms. Make my Mac-n-Cheese, you own. Here is my recipe and a few rules I break…
The typical "Vegan Mac-n-Cheese" Rules I break:
Rule # 1: Nutritional Yeast.
So many vegan Mac-n-Cheese recipes use Nutritional Yeast as the 'cheese'. I certainly love that idea, but it's not my style. I prefer to get my flavor and orange color from butternut squash and vegan cheddar cheese. That's just how I like it.
Rule #2: Make a Roux.
Roux's are generally used as sauce thickeners. If you are using nutritional yeast, a roux is a good idea. But like I said, my butternut squash ingredient adds all the 'cheese-esque' thickness I could ever want. So I skip the 'roux' step.
Rule #3: Greens? What Greens?
Usually Mac-n-Cheese is served in heaping spoonfuls in a big bowl or mini-skillet. It's the main attraction. But I just can't get through a pasta meal without a lot of greens, so I basically grab a big handful of arugula and spinach and lay it on my serving plate. The small scoop of mac-n-cheese goes on top. Easy. The greens act as the main part of my bites, the mac-n-cheese is more a flavor enhancer to my delicious greens, rather than the main attraction. Yes it turns the beautiful neat pasta into kinda a bit pasta salad mess…but its a delicious mess.
Rule #4: White macaroni is traditional.
No thanks on the 'white pasta' tradition. I much prefer whole wheat, spelt or quinoa pasta any day of the week. Healthier and heartier.
Rule #5: What mushrooms?
I love adding a few sauteed mushrooms to my mac-n-cheese. If adds flavor and healthy mushroom goodness.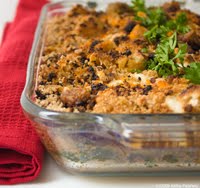 Cooking by Some Rules:
*Yes on the bubbly brown cheesy top. Must have that.
*Yes on a few bread crumbs on top for texture, but I use whole wheat panko crumbs.
*Yes on the vegan cheese! Some vegan mac-n-cheese doesn't even use 'cheese' but I do. I love the Follow Your Heart brand best. If I could find some retail store Daiya cheese, I'd use that to.
*Yes on some 'bacon' bits. I use just a few tempeh bacon 'mini-cubes' on top and they are tasty!
Vegan Mac 'n Cheese (that breaks all the rules)
Pasta:
16 ounces whole wheat pasta
*Shell shaped variety, I used Chiocciole
¾ cup of Kathy's Perfect Butternut Squash Dip
1 tablespoon olive oil
2 tablespoon cup vegan cheddar cheese, grated
3 tablespoon soy creamer or soy milk
3 tablespoon orange juice
2 tablespoon apple cider vinegar
⅓ cup chopped parsley
Mushroom Saute:
2 cups forest mushroom blend
1 teaspoon olive oil
2 tablespoon orange juice
½ teaspoon liquid smoke
1 teaspoon vegan buttery spread
dash of salt/pepper
Tempeh 'fake-bacon' bits:
1 cup roughly chopped tempeh
2 teaspoon maple syrup
1 teaspoon olive oil
1 teaspoon minced garlic
pinch of salt
½ teaspoon liquid smoke
Topping:
¼ cup whole wheat bread panko crumbs
¼ cup Monterey Jack Vegan Cheese, grated
2 tablespoon Cheddar Cheese, grated
½ cup tempeh bacon bits (see above ingredients)
Directions:
1. Make my Butternut Squash Dip Recipe. Set aside.
2. Cook the pasta. Drain. Transfer to a large mixing bowl.
3. Toss the hot pasta with olive oil. Then add in the cheese and toss again.
4. Fold the soy creamer, orange juice and parsley into the butternut squash dip. This will thin it out a lot. Perfect for your 'cheesy' sauce.
5. Fold in the thinned out butternut squash dip. Try not to break the pasta. The pasta should be well coated in an orange colored 'thick glaze'. Cover bowl, set aside.
6. Saute the mushrooms in the butter/orange/oil/liquid smoke mixture. They are done when all the liquid has absorbed and the ends are beginning to crisp up a bit. Make sure your mushrooms are well cooked and not mushy.
7. Fold your mushrooms into your pasta. Cover and set aside.
8. Saute the tempeh bacon bits until crisp and cooked through. Set aside in pan.
9. Transfer pasta into casserole dish. Sprinkle a nice border of bread crumbs around the edges of the dish.
10. Top pasta and breadcrumbs with cheese. Evenly distribute the cheddar and jack cheeses on the top of the pasta. Add a few more dashes of bread crumbs over top. I like to drizzle 1-2 tablespoons of orange juice and EVOO on top for extra moisture – this is optional though.
11. Cover dish with foil. Bake at 350 degrees for 15 minutes. This will marinate all the flavors in the pasta. Uncover dish and broil on high for 2-4 minutes. Watch those breadcrumbs! They burn easily. Hopefully you will get some nice brown bubble cheese without over-burning any crumbs. A few browned/slightly burnt edges is OK, and in fact it's encouraged!
12. Plating. I like to lighten this dish up by serving it on a bed or greens. I like spicy arugula. Garnish with some bright green parsley and red pepper flakes for a touch of spiciness.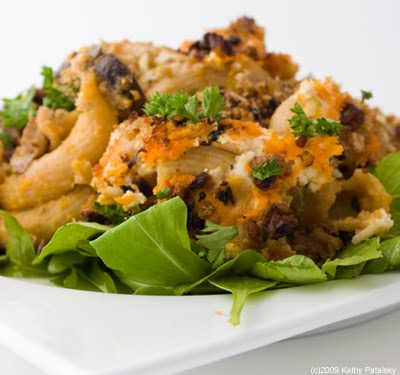 NOTES:
* You can certainly customize this mac-n-cheese recipe to suit your tastes:
* Too Dry? I like my Mac-n-Cheese a tad on the dry side. But you can add more liquid ingredients if you want a creamier pasta.
*More Greens? I love more greens. I will actually make a big chopped green salad filled with veggies and then add a scoop of this pasta over top. It turns into one big green pasta salad and it's a great way to get a big bowl of salad and some mac-n-cheese all in one meal.
* More Cheese? You can also add more cheese if you'd like. I like a light amount in the pasta and then a nice thin coating o top.
* Lighter Option? Less oil, cream and buttery spread and add more butternut squash dip. You can even add in some extra butternut squash dip for a heartier pasta with less fat.
* More Protein? You can also add in some big chunks of tempeh cubes for more protein.
* Citrus Twist-add more OJ and even some diced orange slices for a citrus-cheesy twist on this recipe.
* Spicier? Add some cayenne and red pepper flakes for more heat.