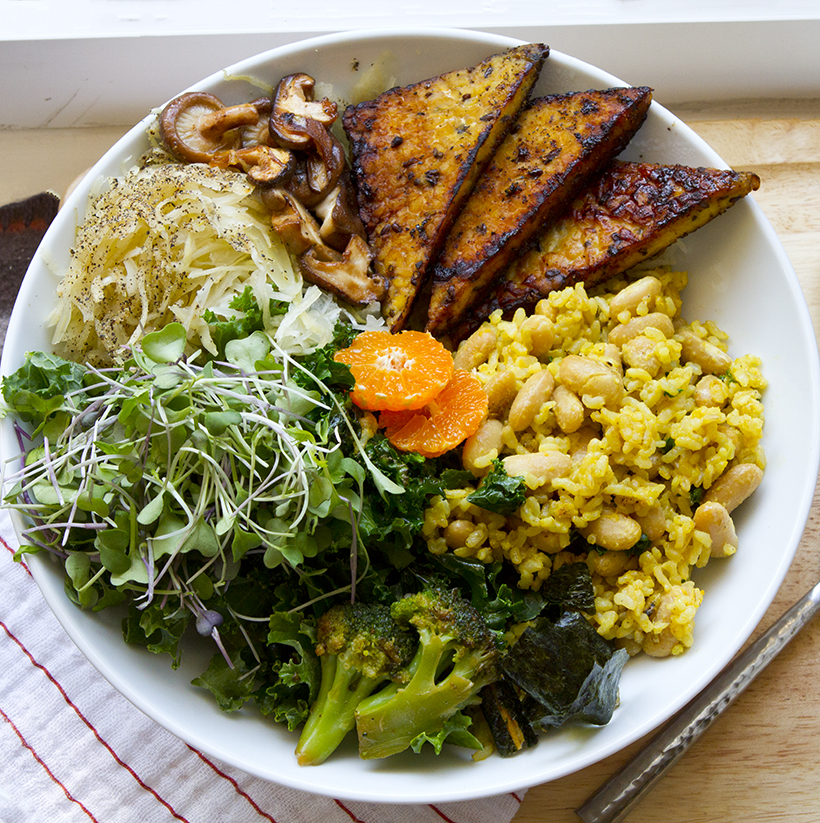 Macro Meal. Tender wilted kale hugged by warm, nutty brown rice and white beans. Peppered shiitakes tumble alongside, an accent of tangy sauerkraut and a few crisp, fresh sprouts on top. Maple tamari tempeh triangles fan along the rim of my wide, white bowl. A kiss of sweet, juicy, zesty satsuma. And plentiful amounts of rich, tangy tahini-maple dressing drizzled over top. This is my kind of macro meal.
I have been curious about macrobiotics lately. One can only order the "Macro" Bowl at Native Foods so many times before wanting to refresh their expertise of what "Macro" actually means…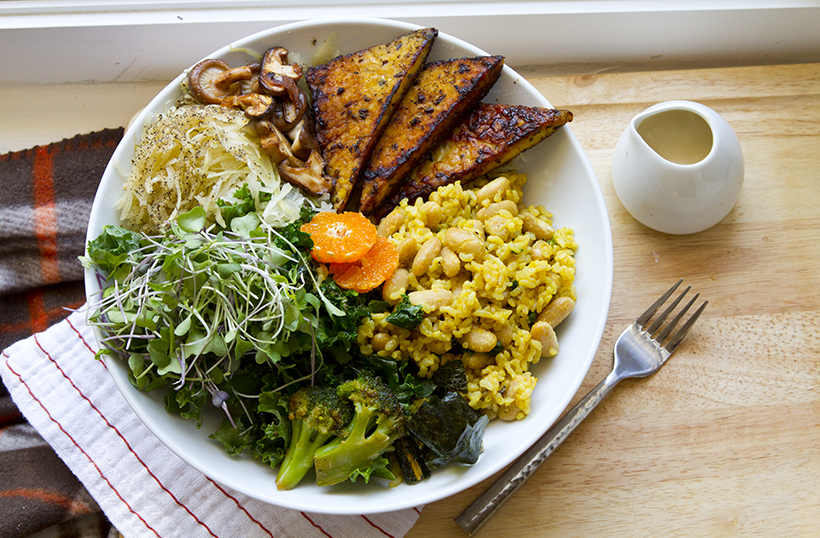 The term, "Macro Diet" (short for Macrobiotic) has been tossed around in pop culture quite often, especially because of its popularity among celebrities like Gwyneth Paltrow and Madonna. But dive a little deeper in to the topic of macrobiotics and you will find that it is more than just a diet.
Macrobiotics is a way of life. Much like veganism. Macrobiotics (just like veganism) is about more than what you put on your plate. These "diets" have a much greater purpose and reflect a philosophy on how you live life. Veganism of course is deeply rooted in animal welfare, while macrobiotics has a strong hold on everyday wellness and balancing of yin/yang. So put those two together, and see how a vegan macro diet can be a thing of beauty.
And while I'm not planning on taking a summer off to study macro cuisine at the Kushi Institute anytime soon (although that would be fun). I've certainly become a fan of building my own macro bowl here at home. Get my recipe below..
Learn the basics of Macrobiotic meals here, my post on Disney's Babble.
Vegan Macro Bowl
By Kathy PatalskyPublished 04/23/2012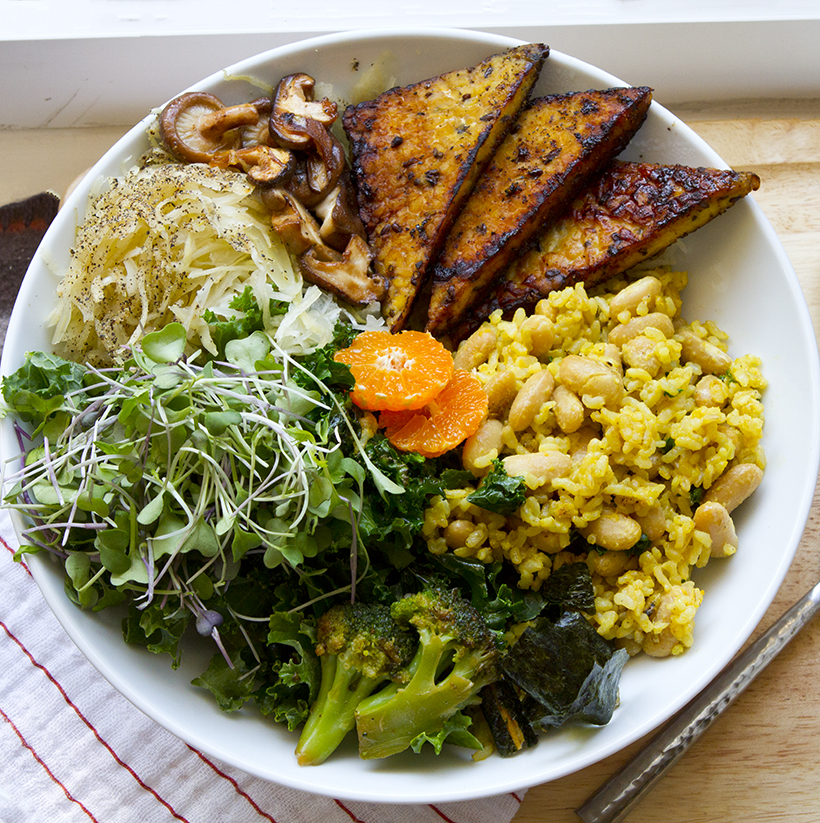 This meal in a bowl includes tempeh, sauerkraut, shiitakes, rice and veggies. This is a casual take on a macrobiotic meal.
Ingredients
Rice:
1 cup brown rice, cooked
1 cup white beans, cooked
¼ cup nutritional yeast

Mushrooms:
1 cup shiitake mushrooms, sliced
1 teaspoon tamari
a few pinches of black pepper
¼ teaspoon sesame oil (or EVOO)

Other:
½ cup sauerkraut or pickled veggies
2 cups organic kale, shredded
a few florets of broccoli (optional)
pinch of sprouts (optional)
1 tangerine, peeled/sliced (optional)
nori wrap, crushed or seaweed rice crackers

Tempeh:
4oz tempeh, sliced into triangles
2 teaspoon maple syrup
1 teaspoon tamari
1 teaspoon extra virgin olive oil
Dressing: 1 tablespoon tahini + 1 teaspoon maple syrup + 3 teaspoon lemon juice
Instructions
Start by preparing your tempeh. Saute tempeh and EVOO in a skillet over high heat. Flip after about 2 minutes. Add the maple and tamari and continue cooking until edges are slightly crisp and surface browned. Remove from heat. Set aside.
White pan is still hot, add in the sesame oil and mushrooms. Saute until tender. Finish with a splash of tamari and black pepper. Push mushrooms to one side of pan and add in the kale and optional broccoli florets. Press the kale into the hot pan to gently wilt. These veggies will absorb loads of excess flavor from the pan.
Pile the wilted kale into a plating dish. Add the cooked mushrooms alongside the kale. Also add the set aside tempeh.
Add your rice and beans to the sauté pan. There should be a bit of oil/flavor still left on the pan. Turn the heat up to high as you warm the beans and rice. If needed, add a splash of water or veggie broth to moisten the pan. Once the beans and rice are warmed, transfer to a large bowl and toss with the nutritional yeast to create a savory mixture. Now add about 1 ¼ cups of the beans/rice to your macro bowl. You may have some leftovers of this.
Optional: I like to gently warm my sauerkraut by placing it on the still hot skillet for 1-2 minutes. It also absorbs some of the excess flavors from the pan. Add to your bowl.
Add the satsuma, sprouts and seaweed to the bowl as well. Quickly whisk the dressing and drizzle it over top to serve.
Yield: 1-2Prep Time: 00 hrs. 10 mins. Cook time: 00 hrs. 10 mins. Total time: 20 mins. Tags: vegan,macro bowl,entree,rice,macrobiotic,
Maple Tahini Dressing. Triangles of Tempeh..