My vegan Mint Chocolate Rice Crispy Squares give the classic 'cereal box' recipe for Rice Crispy Treats, a mint-chocolaty-spin.
I hesitated to post this recipe because I figured "oh, it's just another rice crispy treat. Bor-ing." Been there. Done that.
I ran it by my husband and he assured me, "Yes! You have to post that one!" I giggled and remembered that when he first taste-tested these bars he dramatically raved, "This is your best dessert ever!"
Huh? These four ingredient bars were my best ever? Clearly he had let the cool mint cocoa aroma get the better of him as he drifted off to a mint chocolate cluster of marshmallow clouds. …Or wait a minute, maybe, just maybe, this is my best dessert recipe ever!!…
..Nah!
But they are tasty little squares. If you'd like to try my "best dessert ever" 😉 ..here you go!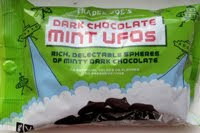 Mint UFO's. One of my favorite desserts is my Great Aunt Bee's Mint-Chocolate Chip Oatmeal Cookies. I loved them when I was a kid, so last year I veganized the recipe using Trader Joe's cool, creamy Mint Dark Chocolate Disks. Or, UFO's is what Trader Joe's calls them.
Those same UFO disks were perfect for this recipe! They melted like a dream and gave an intense crisp mint flavor to the bars. If you don't have Trader Joe's nearby, you can try to find vegan mint chocolate chips (I still haven't though!) or buy a vegan dark mint chocolate bar and break it up into pieces. One bar should be perfect for one batch of these treats.
Dandies! I love Dandies. Yes, they are expensive, but as a treat I love them in my soy cocoa, smushed and melted into smores or for classic (vegan) rice crispy treats. Dandies prove that you don't need gelatin to make a perfect marshmallow.

Alternative Use! Wow, I liked these treats as bars, but I loved them as cocoa crispies cereal! A few days after I made them, they dried out a bit. So, I crumbled a bar into a bowl and added soymilk. Perfect vegan cocoa crispies dessert cereal. If you want to skip the bars and go straight for the crispies, simply add less marshmallows (maybe only half the bag) to get a crispier cereal texture.
Now onto my recipe!..
Mint Chocolate Rice Crispy Squares
vegan, makes about 12 bars
1 bag of Vegan Marshmallows
*I used Dandies brand, 10 oz. bag
4-5 cups brown rice crispies (or white rice crispies)
3-4 tablespoon vegan buttery spread (I used Earth Balance)
½ – ¾ cup of mint-chocolate disks or chips (measure before melting)
pinch of salt
topping: reserve disks/chips for topping bars
modifications:
*use less marshmallows for crispier, crumblier bars
*use more buttery spread for silkier, shinier bars
*use more chocolate disks for richer bars
Directions:
1. Place large pot on stove, turn heat to med-high.
2. Add the vegan buttery spread and chocolate disks. Stir gently until most of the disks are melted.
3. Lower heat to medium and fold in the marshmallows. Stir until most of the marshmallows are soft and some have melted. Don't over melt the marshmallows though – a few big chunks are yummy.
4. Lower heat to low and add your pinch of salt and rice cereal. Fold until all the crispies are well coated and a thick mixture forms.
5. Remove pot from heat. Spread mixture into a lightly greased casserole dish or baking sheet. A smaller dish will give you thicker bars. Dot tops of bars with a few disks (optional).
6. Cover with plastic wrap and place bars in the fridge to cool and harden for at least 3 hours.
7. Slice into bars. Allow the bars to warm and soften a tad before serving. For crispies cereal, crumble bars into bits and store in bags.