Bold red bell peppers sizzle in a hot skillet with thinly sliced sweet onions, chilies, black pepper and spices. Toss in some vegan seitan strips and melt in some savory vegan cheddar cheese. Toast a fluffy, fresh hoagie roll and pile in the Philly Cheese filling. Accents of fresh green cilantro on top, a few juicy tomato slices too. Your Vegan philly Cheese Sandwich is served. Crave this..
Jump to Recipe
Special Request. I don't often get special requests from my husband. He usually just happily gobbles down whatever new or classic dishes I plop in front of him at dinnertime. But a few days ago we were reminiscing about one of our old favorite vegan delivery spots in NYC – 'Snice. He used to always get their vegan philly-style seitan sandwich. So simple – yet so delicious – with seitan, peppers, onion and vegan melty cheese.
Vegan Philly Cheese Please!
He offered up the challenge .. so I happily delivered.
Speedy Dinner.
This was an easy and fun dinner feast. I served our sandwiches with a light spring mix + avocado salad and some sunset sangria on the side. My sunrise sangria mix shown in the photo includes 1 part fresh orange juice, 1 part pomegranate juice + ½ orange (sliced) + ½ apple (chopped). Then you add it to red wine as you'd like. Serve over ice.
My vegan Philly Cheese Sandwich is made using farmer's market red bell peppers, a few green Anaheim chilies, some mild hatch chilies (canned), sweet onions, pepper, spices, extra virgin olive oil, a hoagie roll and a nice layer of melted vegan cheese.
Teese it. Since the cheese on a Philly Cheese is supposed to be melty, orange, cheddar and "kind of like CheezWhiz." (Or so I was told.) I opted for Teese vegan cheese. It melts in a flash and has a very "low brow" feel to it. However, Daiya Pepper Jack or Follow Your Heart Cheddar would also work.
Teese comes in a tube and you squeeze it out. It melts in seconds on a hot skillet – over top the veggies and seitan.
Vegan Cheese?
These days there are so many vegan cheese options to try. Check out my big vegan cheese review here.
Seitan. Classic Meat-Free 'Meat.'
I bought some easy seitan strips, WestSoy brand. For a gluten-free option, substitute with sliced portobello mushrooms – use gluten free bread too.
You could also use strips of tofu or tempeh. Or you could even make your own seitan using vital wheat gluten flour – if you want to go all Martha Stewart on me.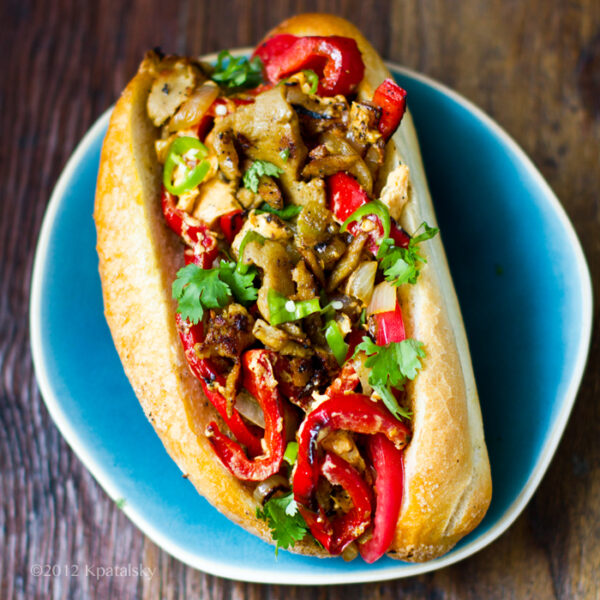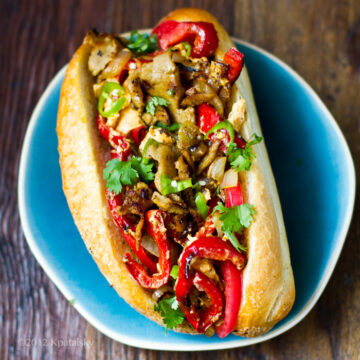 Vegan Philly Cheese
This simple vegan Philly Cheese sandwich is made using a sizzling skillet of bell peppers, seitan and lots of vegan cheese. Stuff mixture into warmed Hoagie rolls for an instant hearty, meatless meal!
Print
Pin
Ingredients
1

large

bell pepper, sliced

,

red or green, or both

1

small

onion, sliced

⅛

teaspoon

black pepper

,

+ salt to taste

1

pinch

cayenne

,

or use smoky paprika or chipotle powder – for heat

1

tablespoon

extra virgin olive oil

1

cup

seitan

,

unflavored or flavored – if using flavored, you may not need any additional salt, pepper or spices

½

cup

vegan cheese

,

any flavor you'd like – choose a brand that melts well

2

large

hoagie rolls

1

jalapeno, thinly sliced

,

optional

¼

cup

cilantro

,

optional
Instructions
Prep your rolls and warm in the oven to toast. Tip: brush inside and/or outside of bread with olive oil if you'd like.

Add oil to skillet and heat over high heat.

Add peppers, onions and optional jalapeno. Cook until the edges begin to blacken and the onions begin to caramelize. Add in the spices, pepper and salt.

Transfer this veggies to a plate.

While pan is still hot, add another small splash of oil and add the seitan strips. Saute until the edges blacken. Then add the veggies back into the pan and top everything with cheese. Warm until the cheese melts.

Add the filling to the toasted rolls. Garnish with the fresh cilantro. Serve hot!
nutrition estimate | per serving
Serving:
1
g
|
Calories:
435
kcal
|
Carbohydrates:
48
g
|
Protein:
23
g
|
Fat:
17
g
|
Saturated Fat:
3
g
|
Sodium:
909
mg
|
Potassium:
286
mg
|
Fiber:
6
g
|
Sugar:
6
g
|
Vitamin A:
2778
IU
|
Vitamin C:
116
mg
|
Calcium:
88
mg
|
Iron:
3
mg