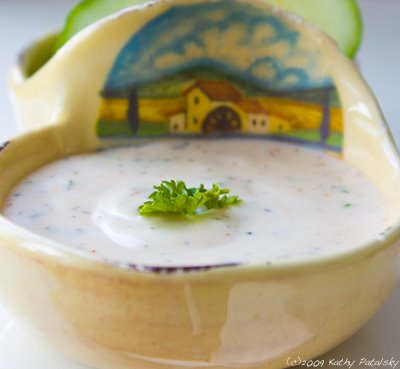 One of my very best friends back in California has an obsession with Ranch dressing and dip. She's not vegan, but since her husband is an awesome chef, she loves trying new foods and recipes. So maybe she'll try out this one. It's Cool. Creamy. Zesty. And vegan.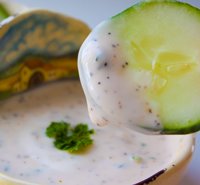 Zesty Ranch Memories. Recalling my favorite elements of a good ranch dressing: I love the mellow cool sweet flavor, creamy dippable texture and that slight zing of fresh herbs. My recipe is lovely, and just in time for spring and summer salad season. Click ahead for the recipe and more photos of my vegan Ranch Dressing and Dip…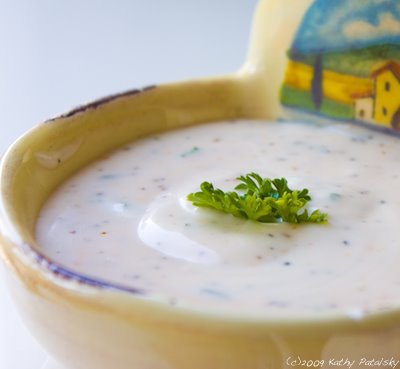 Ranch Dip and baby Carrots. That was the go-to snack for all the veggie loving Cali moms back in my 1980's childhood. It was the Hidden Valley Ranch craze. Cool, creamy but definitely not vegan! So, after one afternoon of watching one too many of yummy-looking Hidden Valley Ranch commercials I decided to embark upon Vegan Ranch Dressing/Dip. With cucumber slices, carrot sticks and plenty of creamy vegan ingredients in hand, I began my recipe creation.
Ranch 101: Recalling my must-have qualities-creaminess, zestiness, sweetness and fresh herb flavor, I used some vegan creamy bases of sour cream and veganaise, added in some lemon flavor, fresh herbs and voila! My cravable version of vegan ranch dressing was born.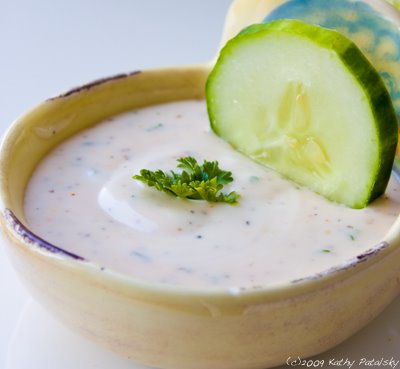 Vegan Ranch Dressing
vegan, makes a good tub-ful for dipping and drizzling
1 heaping tablespoon Veganaise
1 ½ heaping Tbsp's Vegan Sour Cream
2-3 teaspoon agave syrup or honey
2 teaspoon red wine vinegar
2 teaspoon lemon juice
½ teaspoon lemon zest
1 teaspoon black pepper
dash of paprika
dash of garlic powder
1 teaspoon chopped fresh thyme
1 teaspoon chopped fresh parsley
optional: dash of cayenne (spicy flavor addition)
To Make:
Simply whip all the ingredients together with a fork or whisk.
Chill until ready to serve!
Yum.

Notes:
*The ingredients are loosely measured. You may want to add more or less of a certain item to reflect your personal Ranch cravings and tastes.
*both veganaise and Sour Cream were Follow Your Heart brands.
*there should be enough salt in this recipe. But you can always do a taste test and tweet certain ingredients as you desire.
*for a thinner dressing, substitute some of the sour cream with a fruity olive oil. and more vinegar.