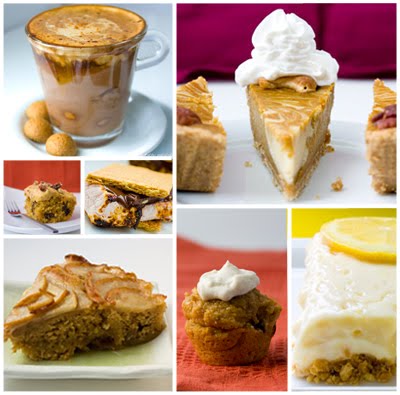 At last! Everyone's favorite part of the Thanksgiving Feast: the delicious desserts. The dinner planning is over, the dishes have been cleared from the table and you're ready for to relax with a hot mug of cocoa, coffee or tea to go with a sweet cozy dessert treat. So here are a few ideas for your vegan Thanksgiving dessert selection. Plus I've even included a never-before-posted recipe for my Chocolate Chip Mini Pumpkin Muffins with Fluffy Cashew Cream Frosting. Take a peak at my recipes and save room for dessert!…
Vegan Dessert Recipes for Thanksgiving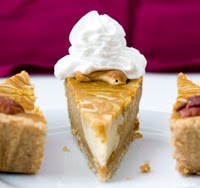 1. Cheesecake Pumpkin Pie
This is my twist on pumpkin pie, because I simply think it tastes better! Yes, you can certainly modify this recipe to be a pumpkin pie only version (no cheesecake swirl) but why would you want to do that? There are a plethora of vegan pumpkin pie recipes out there. But I prefer this version-a little pumpkin, a little nuttiness, a little creamy cashew cream cheese, a hint of vanilla and a pretty swirl to bring it all together. And you can easily make this recipe the day before Thanksgiving. This dessert is dreamy, creamy, swirled pumpkin decadence.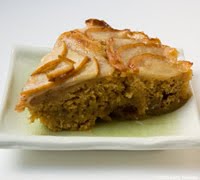 2. Right-Side-Up Pear Cake
Had your fill of pumpkin flavors? Want a light, fruity and elegant dessert? Perfect with your after-meal tea, coffee or chai? Then this pear cake is for you! Moist, low-fat and full of fall pear and cinnamon flavors. There's even my little secret blended in for taking baked goods like this from moist to super moist. This dessert is light and moist with spiced sweetness.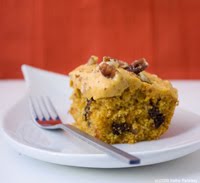 3. Chestnut Choco Cake with Pumpkin Cream Frosting
Incredibly festive flavors crowd this unique chestnut chocolate chip cake. I adore the light creamy pumpkin frosting that's swirled on top. Chestnuts as a dessert? Yes! This dessert is savory-sweet, home-style yet unique.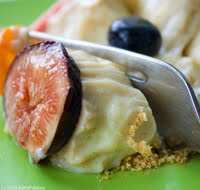 5. Fresh Fall Fruit Tart
I made this delightful fruit tart with summer flavors a few months back, but you can easily make the same vanilla cream base and add fall fruit to the top: persimmons, pears, satsuma mandarins, tangerines, pomegranate seeds, honeycrisp apples and even a few chopped chestnuts blended into the crust if you'd like. Cool vanilla pudding, sweet fruit: this dessert is fresh and fruity.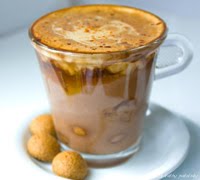 6. Diva-Chino Parfaits
For a unique spin on after-dinner-cappuccino, try my tofu-based vegan pudding parfaits. I call them Diva-Chino's because any coffee-loving diva will adore them. Flavors: cinna-vanilla pudding, mocha pudding and almonds. Add a shot of espresso and you are in caffeinated dessert bliss. Decaf is OK too… This dessert is energizing, creamy and cool.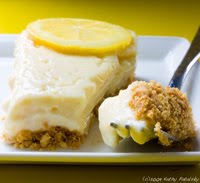 7. Lemon Custard Pie Cups or Bars
Need a light lemon-infused dessert after your big Thanksgiving meal filed with savory flavors? Lemon is just what some folks crave. So here is a zing-filled lemon dessert to please. Tofu based and full of zesty flavor. This dessert is zesty, light and bright.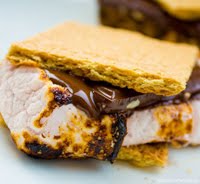 8. Ooey Gooey Vegan Smores
OK so smores aren't exactly traditional as a post Thanksgiving meal. But if you have a roaring fire going and your all snug, cozy and warm at home – why not break out the vegan marshmallows and vegan chocolate for some yummy smores? Your non-veg guests will be shocked to see that vegan smores can be crafted – and are mighty yummy. This dessert is fun, cozy and sweet.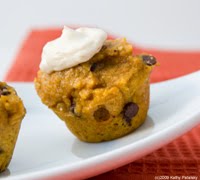 9. Chocolate Chip Pumpkin Mini Muffins with Fluffy Cashew Cream Frosting
As promised, here is my never-before-posted mini pumpkin muffin recipe. This is my spin on my pumpkin muffins recipe. This recipe adds in mini vegan chocolate chips, raw nuts and plenty of spice for decadent dessert mini muffins. A swirl of fluffy cashew cream frosting on top. Here it is:

Chocolate Chip Pumpkin Muffins
vegan, makes 24 mini muffins
1 ¾ cups whole wheat flour
1 cup vegan sugar
1 cup canned pumpkin
1 cup chopped raw nuts (pecans, walnuts)
2 tablespoon walnut oil (canola works too)
¼ cup soy creamer
½ cup of soy milk
½ cup of soy chai concentrate
1 teaspoon cinnamon
¼ teaspoon nutmeg
1 teaspoon salt
1 tablespoon baking powder
dash of cayenne (optional)
1 cup mini chocolate chips
*I used EnjoyLife brand
Cashew Cream Frosting
3 tablespoon vegan buttery spread, softened
1 container vegan cream cheese
2 tablespoon apple cider vinegar
⅓ cup agave or maple syrup
½ cup raw cashews
optional: ½ teaspoon vanilla extract
Directions:
1. Prepare muffins by combining all dry ingredients in a mixing bowl. Then stir in the wet ingredients until you have a nice fluffy batter.
2. Spoon heaping amounts of batter into each mini muffin tin.
3. Bake at 375 for 20 minutes, or until the tips of the muffins begin to crust up and brown. Remove from oven, allow to completely cool before adding chilled frosting.
4. To prepare your frosting, combine all the frosting ingredients in a food processor. Whip/chop until a fluffy wet mixture is formed. Place the frosting in a separate container and chill in the fridge for at lest an hour. The frosting will firm up a bit in the fridge.
5. Using a frosting tip bag or a simple spoon – swirl or dollop a teaspoon of frosting on top of each cooled muffin. Serve immediately, or place in the fridge until ready to be eaten. The frosting needs to be chilled.