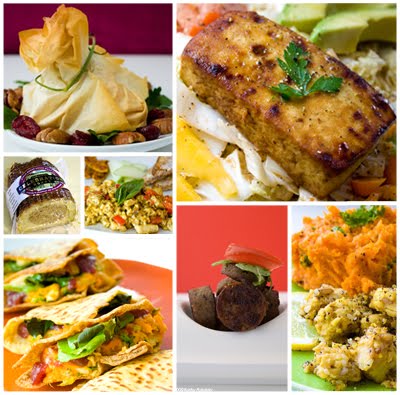 Wanted: "main dish protein" at my vegan Thanksgiving feast.
My no-Tofurky policy stands firm. I'm not against the cliche vegetarian turkey-substitute, but after a few Thanksgiving's of Tofurky-disappointment, I've moved on. To what, you ask? Quinoa, seitan, tempeh, braised tofu, Field Roast sausages, vegan Fillo Factory fillo purses and much more. Here are my top 15 recipe ideas for vegan main dish proteins. Ten are from-scratch recipes and five are easy-pre-prepped options. There is something for every type of veggie chef: busy moms, newbie vegans, gourmet foodies, Martha-Stewart-wannabes, takeout gurus and even the 'prepared foods only' cooks. I hope you will find something that inspires you on this list. Check it out…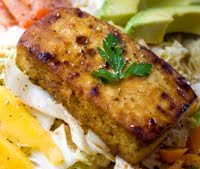 Side note: Do I Need a Main Protein Dish? Tradition says yes. But, the truth is, most of the foods at your vegan table will probably be high in protein as-is. Some veggies, some fruit, most whole grains, nuts and beans are all good sources of protein for vegans. So you don't really need a 'main dish protein' if you are including protein-rich whole foods at your table.
The 'veggie/tofu burger myth' is just that, a myth. Whole foods provide protein. You don't need to eat processed soy and grain products (like many veggie burgers are) for your protein. But for those of you who want something tofurky-esque, this list is for you. Tempeh, tofu and seitan are all here. But I also included a few 'easy-prep' proteins for those who want a super easy protein dish.
Ten Main Dish Vegan Protein Recipes – From Scratch:

***11/24 UPDATE RECIPE ADDITION: New Protein Entree: Soy-Cranberry Braised Tofu Steaks. I just tested out an amazing braising liquid/marinade for firm tofu. It's a combination of fresh made cranberry sauce, soy sauce, brown sugar, pepper and poultry seasoning. For 1 block of extra firm tofu: pat tofu super-dry. Cut into thin slices and marinade in ½ cup soy sauce, ⅓ cup fresh cranberry sauce, 1 tablespoon poultry seasoning, ½ cup brown sugar, dash of vinegar, squeeze of fresh lemon juice and a teaspoon of black pepper. If you need more liquid, add in a ¼ cup of apple cider or cranberry juice. Let soak overnight and simply saute in a teaspoon of olive oil and 2 tablespoon of the marinade liquid (add more marinade to pan as you saute the entire batch of tofu squares). I think I am going to use these cran-soy tofu cubes in a fillo-wrapped stuffing and tofu purse as my main entree. I love the soy-cranberry-brown sugar-poultry seasoning flavors so much! Test a little batch and see what you think.***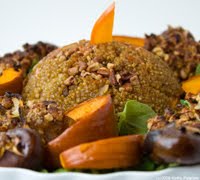 1. Golden Orchard Quinoa
Quinoa is a high-in-complete-protein grain, so it has become quite popular among vegetarians lately. It is nutty flavored with a delicate yet hearty bite. This year, I created apple cider spiced quinoa. It's dotted with fuyu persimmons, chopped pecans, satsuma mandarins and plenty of fall spices like cinnamon. This dish is also a part of my "Pumpkin Platter" which is featured below in #2.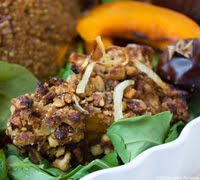 2. Pumpkin Platter: Pumpkin-Nut Crusted Tofu and Tempeh
It doesn't get more fall than this. Pumpkins, chopped nuts, cider and spices with a plating garnish of roasted chestnuts, pumpkin and arugula. My protein-rich pumpkin platter is centerpiece worthy for your Thanksgiving table. For those Martha-Stewart-wannabes, this intensive recipe is for you.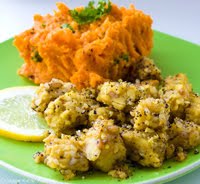 3. Tangerine Cinnamon Tempeh Cubes
I adore the simple flavor or lemon pepper tempeh-which is the recipe that the link above will direct you to. But you can easily make Tangerine Cinnamon Tempeh cubes by substituting the lemon juice for tangerine and also adding some cinnamon to the peppery spices. Delicious and oh so fall-harvest-inspired. Add some apple cider to the braising liquid and a few dashes of tangerine zest to complete this savory-sweet tempeh recipe for you and your guests.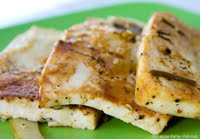 4. Easy Braised Tofu or Tempeh Steaks
You will be spending a lot of time on your custom vegan stuffing, homemade cranberry sauce and perfect sweet potatoes, right? So why not make the protein dish super easy and simply flavored: Here is an easy recipe for braised tofu or tempeh steaks. Simply plate and serve. Easy. Protein-rich. Satisfying. Yummy.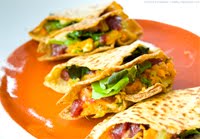 5. Sweet and Sassy Sweet Potato Pockets
My make-them-every-year traditional Thanksgiving recipe: sweet potato pockets! I use Trader Joe's Soy Pita pockets which are higher in protein than traditional wheat pitas. So yes, they do have a nice dose of soy protein. But for added protein, you can stuff some sauteed seitan, tempeh or tofu into the pockets as well. They are hand-held and super casual to eat, yet the complex Thanksgiving flavors keep these oven-toasted pitas classy. Kids-friendly.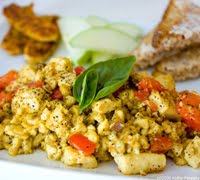 6. Saffron Scented Tofu Scramble – stuffed fillo purse
Here's a fun breakfast-inspired idea for your vegan Thanksgiving table. Make my recipe for saffron-scented tofu scramble and simply stuff the tofu into little individual fillo purse pockets. Bake until crisp and browned and serve. Super elegant with a home style flair. The citrus saffron-veggie tofu flavors will easily mesh with your Thanksgiving feast foods. Add in a few pomegranate pearls or chopped fuyu slices for a more complex fall-inspired purse. Breakfast for Thanksgiving, why not?! *Fillo Factory makes an awesome vegan fillo dough.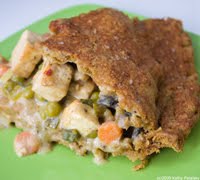 7. Home style Tofu and Veggie Pot Pie

Pot Pie for Thanksgiving: sounds like a great idea to me. I'd go heavy on the tofu cubes so that there is enough 'protein' in this dish to satisfy. The home style flavors should mesh well with your feast.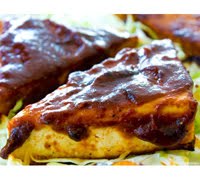 8. BBQ Tofu or Tempeh
A bit on the unusual side, but always a crowd pleaser- BBQ tofu or tempeh for Thanksgiving. If you want to turn the 'carnivores' onto your vegan lifestyle, try serving them some savory-sticky-sweet BBQ sauce this Thanksgiving.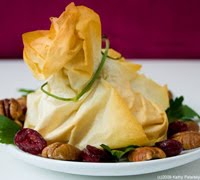 9. Sauteed Seitan-Stuffed Fillo Purse
This idea is similar to the tofu scramble fillo purse, but instead would be filled with a simple veggie-sauteed seitan dish. You can flavor the seitan with anything you'd like: cranberries, mushrooms, apples, pomegranate, sweet onions, celery, black pepper, citrus or maple. Use the Fillo Factory fillo dough-it's vegan! Freezer section of Whole Foods.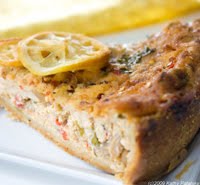 10. Vegan Tofu Quiche
Another brunch-at-Thanksgiving style recipe. For those who like to make-things-ahead-of-time (and who doesn't when you're swamped with guests) you can easily make this a few days ahead and simply warm up in the oven on Thanksgiving. Again, do a few switcheroos on the 'flavor' ingredients to add some 'fall-harvest' to your quiche.
Five Pre-Made Easy-Prep Products/Options:
1. Tofurky
Not a huge fan, but for the busy cook, the Tofurky is super easy and feeds a lot of guests. It is a must-try at least once. My main prep tip: add moisture! Tofurky's easily dry out. So be sure to cook it covered and baste it. I'd stud it with tangerine and persimmon slices-use cloves to secure the slices-and drip maple syrup/citrus juice over top for extra hydration.
2. Lightlife Tempeh-tations Tempeh Cubes
Love these. Pre-flavored, all you have to do it saute and done. Easy and protein-rich. Tempeh is my fave vegan protein.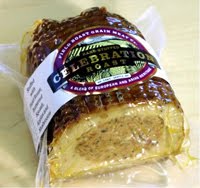 3. Field Roast Brand Celebration Loaf
I have not tried this, but it gets rave reviews from even the most gourmet of vegan foodies. Plus I adore the Field Roast Grain Meat Co's sausages, so I'd guess this product is also a winner.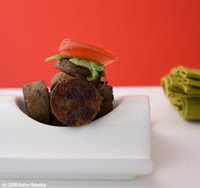 4. Field Roast Brand Apple Sage Sausage
I love these vegan sausages. The Apple Sage flavor is perfect for Thanksgiving. Definitely serve these if you are having guests who are not veg*n. Here is a super easy 2 minute recipe that tastes amazing: Slice 2 apple sage sausages into ½″ thick slices. Layer slices flat in a micro-safe glass dish. Grate a few tablespoons of Follow Your Heart Monterey Jack cheese over top the sausage slices. Place in the microwave for 2 minutes. Sprinkle some chopped parsley on top. Serve hot! You'll be shocked at how tender and moist the cheese keeps these sausages-even when cooked via microwave. Serve on a pretty platter and they will think you spent more than 2 minutes on these protein-rich sausage bites.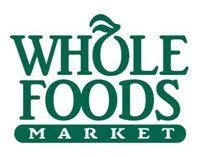 5. Thanksgiving Table To-Go
Too busy to cook this year? That's OK! There are plenty of vegan to-go-feast options from stores like Whole Foods. If you live in the LA or NYC area there are several vegan restaurants that offer to-go vegan meals. In NYC you can get a to-go vegan Thanksgiving feast from Candle 79, Pure Food and Wine aka One Lucky Duck and even vegan baked desserts from Babycakes. Yum and yay. So if you don't have time to cook, you can still eat happy, healthy and cruelty-free protein-rich Thanksgiving eats.