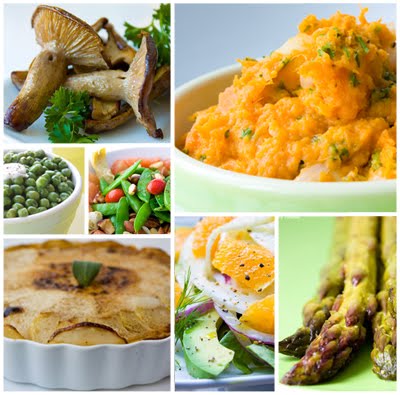 Don't forget the veggies this Thanksgiving! I know you are craving that decadent once-a-year stuffing, some rice cream topped pumpkin pie and that tart tingle of cranberry sauce hitting your taste buds. And you'll probably be spending a lot of 'kitchen energy' on whatever vegan "main course" you plan on making. But don't shuv the veggies in the corner! This is after-all a vegan feast, so it's wise to give the veggies a prime location on your Thanksgiving table. Need inspiration? Try crunchy sugar snap peas, lemon-roasted asparagus, maple roasted butternut squash, citrus braised brussel sprouts or even some classy 'buttered' peas. Get some farm fresh veggies this year and prepare them with pinache! If you must do the cliche marshmallow sweet potatoes…go ahead. But at least veganize them. That recipe, plus ten more Thanksgiving veggie dishes ahead…
Vegan Thanksgiving Potato and Veggie Dishes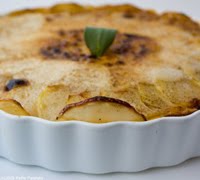 1. Triple Spiced Creamy Potatoes Au Gratin
Decadent and delicious describes this vegan potatoes au gratin dish. These are presentation potatoes for sure. Triple spiced with a bold warm flavor that any foodie veg or not will appreciate. A small scoop of these potatoes will add some spicy home-style creaminess to your Thanksgiving plate.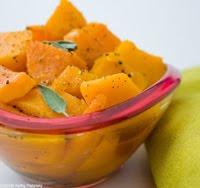 2. Roasted Butternut Squash
Nothing beats roasted butternut squash-from a real squash-not a can! To me it's like biting into a pillow of gold that's marinated in sunlight and a crisp fall breeze. Even 'squash-haters' will appreciate the tender bite this delicate squash provides. Move over sweet potatoes, there's room for one more golden starch at the table. Butternut squash is sweet, warm, aromatic and bursting with bright orange flesh. Bring roasted butternut squash to your Thanksgiving table this year and soon you'll be basking in oo's and ah's from your guests.
3. Sugar Snap Pea Maple Nut Salad
This is a great recipe for Thanksgiving because it can easily be made a day in advance and stored in the fridge. The maple-nut flavor compliments most any Thanksgiving-themed dish. Plus the grapefruit and peas are a refreshing palate cleanser amidst all the heavy flavors of fall. This cold 'bean' dish is also a great substitution for that classic green bean dish that everyone loves to hate. I've done away with green beans, I can't deal with the looks of disgust from those who have "green bean" issues. So Sugar Snap Peas it is!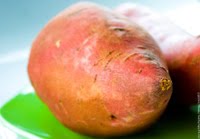 4. "Classic" Veganized Sweet Potatoes 'n Marshmallows
It's easy to copy your mom or grandma's recipe for "candied sweet potatoes" just by using two vegan substitutes: Sweet and Sara or Dandies Vegan Marshmallows in place of traditional marshmallows. And Earth Balance vegan buttery spread in place of butter! Easy right? However, I prefer to add a hint of sweetness to my sweet potatoes by adding maple syrup. But if you want to go the sentimental favorites route….go marshmallow crazy! Vegan marshmallows are awesome substitutes for the original.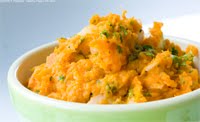 5. Kathy's Famous Sweet Potato Mash
I make my sweet potato mash every Thanksgiving. It's actually my very first 'ritual' dish. I've been making it since college every year. I usually don't serve it 'as-is'. I use it to stuff my Sweet Potato Pita Pockets. But you can easily serve it as a stand alone side dish. It has mellow garlic flavors, sweetness from a dribble of maple syrup, a tangy tahini accent from the hummus and a fresh light flavor from all the raw chopped parsley I fold in. Comfort sweet potatoes in a bowl.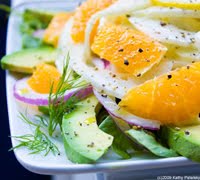 6. Fennel Arugula citrus Tossed Salad
This is the only 'traditional leafed' salad I have on this list. I like it because, like the snap pea salad, it has some great palate cleansing ingredients like citrus, fennel and arugula. The fennel is also great for digestion. Refreshing, light and palate pleasing. These flavors will mesh well with a Thanksgiving feast. Yummy with a dab of cranberry sauce on top…
7. Cheesy Dill Potatoes with Citrus Braised Brussel Sprouts
Brussel sprouts? Oh my. Yup. I love them and you can too. I find they hold up well for "dinner parties". And it's easy to make them delicious by adding tangerine juice, lemon juice, dill and cheesy flavors. Tell the kids that this is a 'cheesy potatoes' dish….oh yeah and there are a few brussel sprouts that might appear too.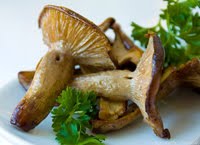 8. Easy Roasted Mushrooms.
Must have at any vegan Thanksgiving: mushrooms! Mushrooms are by far the easiest veggie to prepare. Why? Because they require so work. No flavor-additions required! This Thanksgiving, I am going to be serving a roasted mushroom medley featuring shiitake, crimini and chanterelle mushrooms. I simply toss the shrooms in a bit of EVOO and balsamic vinegar, sprinkle with salt and pepper and maybe a few herbs like rosemary and thyme – stick in the oven for 20 minutes, broil on high for a few more, and done! So delicious and so easy. My three fave ways to prepare mushrooms: saute, roast or bake.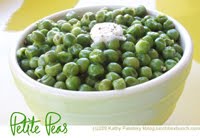 9. Super Easy Buttered English Peas
Another easy one: buttered peas…veganized. I found some English Peas fresh at Whole Foods, but you can also use frozen if you'd like. Simply cook the peas and toss them in a few tablespoons of vegan buttery spread, pepper and a dash of apple cider vinegar. That's it. Super easy. And peas are a good source of vegan protein too.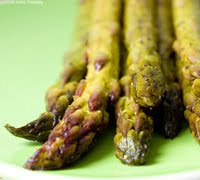 10. Asparagus: Lemon Pepper Roasted.
Asparagus is another easy, elegant and delicious veggie. I like to toss mine in a bit of lemon juice, pepper and EVOO. Stick it in the oven to bake/roast for about 15-20 minutes and you are done. You can even roast these in the same dish as your mushrooms to save some space.
And because you know you will be having sweet potatoes somewhere at your table…here are a few Sweet Potato Superfood Nutrition Facts.