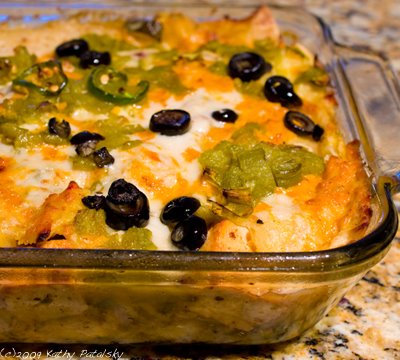 The very first dinner recipe that I learned to prepare on my own was a tofu enchilada casserole. I was just a teenager, but would do an elaborate spread of fiesta foods and flavors for my family. My inspiration came from growing up in Santa Cruz, California where I was exposed to a lot of authentic Mexican cuisine.
Fiesta! I adore 'fiesta' 'taco' or 'enchilada' night. My ingredients are simple, vegan, authentic and just-spicy-enough! This dish is prepared in one large casserole dish for the whole family to enjoy. Break out the guacamole, fresh pico salsa and a heaping mound of shredded vegan cheese! It's fiesta enchilada night and you're invited….
Vegan Tofu Veggie Enchiladas
vegan
2 cups tofu cubes, extra firm
1 cup shredded vegan cheese (mix of cheddar and Monterrey jack)
12 corn tortillas
1 cup mushrooms, chopped (any variety)
8 cloves garlic, chopped
1 cup zucchini, chopped
1 small poblano pepper
½ cup red bell pepper, diced
1 ½ cups enchilada sauce (red or green)
1 jalapeno
3 tablespoon black olives, sliced
¼ cup green chilies, canned (mild or medium heat)
3 tablespoon agave syrup
2 limes, juiced
1 tablespoon Mexican seasoning spice mix
olive oil
salt
black pepper
¼ cup cilantro, chopped-garnish post cooking
*Side Notes: You can also use spinach, corn, onions or any other mix of veggies you'd like. Just be sure to saute them before enchilada assembly!
Also, for a spicier enchilada, add some cayenne or even a few more jalapenos to the veggie and tofu sautes. Habanero pepper slices will add a lot of heat if you are a super-high spiciness lover.
Directions:
First, prep your enchilada pan by greasing it with olive oil.
Lay 2-3 corn tortillas in the bottom of the pan.
Next we want to prepare all the ingredients that we will be using to fill our enchiladas.
Peppers:
Before we chop our poblano, bell and jalapeno peppers we want to roast – How to Roast a Pepper 101- them on the stove top. If you have a gas stove top you are in luck. Lightly roast each of the peppers. Remove any dark black charred areas and dice each pepper.
Set aside.
(Roasting 101)
Veggies:
Next we'll prep our veggies.
Chop the zucchini, mushrooms and garlic.
Add 3 tablespoon olive oil, the juice from one lime and a dash of salt to a saute pan.
Add the zucchini and garlic.
Saute for a few minutes. You want to steam off a lot of the water in the zucchini.
Next, add in the mushrooms, bell pepper, poblano pepper and about a tablespoon of jalapeno slices.
Saute until the veggies are cooked down and a bit caramelized on the edges.
Set aside.
Tofu:
Add the juice of 1 lime, 3 tablespoon olive oil and tablespoon agave syrup to your saute pan.
Add the tofu cubes.
Saute on high until the edges of the tofu begin to brown up.
The tofu will take longer than the veggies to saute because you want to cook the tofu completely through.
Add a dash of salt and pepper and your Mexican spices to the tofu about half way through the cooking process.
Set the cooked tofu aside.
Assembly:
Now we are ready to assemble our enchiladas.
Take one corn tortilla and add about a teaspoon of shredded cheese, a tablespoon of veggie mix and about 2 tofu cubes.
Fold over tortilla and place seam side down in your enchilada dish.
Repeat until all the filling is gone and until the dish is filled.
If you have leftover filling, it is OK to simply stuff it into any crevices of your dish.
Then lastly, I'll lay 2 corn tortillas as the top layer.
Next, pour your enchilada sauce over your enchiladas.
Press the sauce gently into the tortillas and make sure you get a nice even spread of sauce.
Next, sprinkle about ½ cup of your vegan shredded cheese on top of the sauce.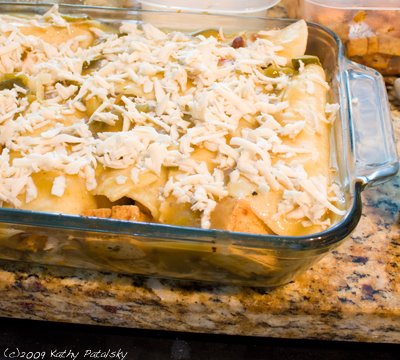 And lastly, spread your mild green chilies over the cheese and sprinkle your olive slices on top of that. If you have any leftover jalapeno rings, you can place them on top as well.
Rojo Enchiladas: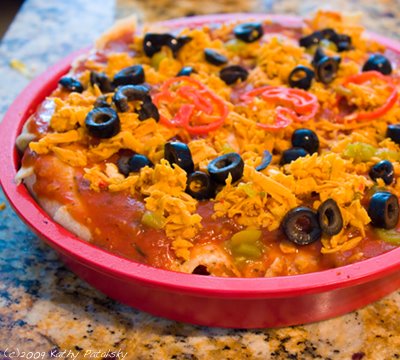 Verde Enchiladas: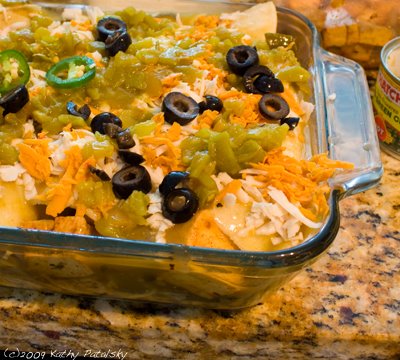 Cover with foil (spray it with oil first to prevent sticking).
Place in a 350 degree oven for 35 minutes. Then uncover enchilada's and broil on high for an additional 5 minutes to brown and bubble the cheese top.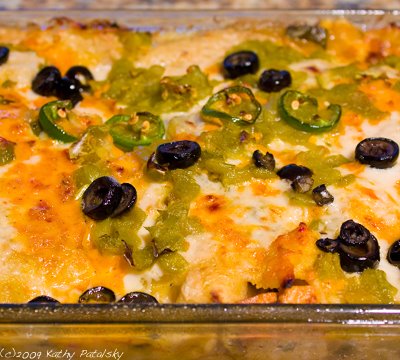 Keep in a warm oven until ready to serve. I like to dab a bit of vegan sour cream on top of each slice-and sprinkle some fresh chopped cilantro.
Serve hot and enjoy your FIESTA!