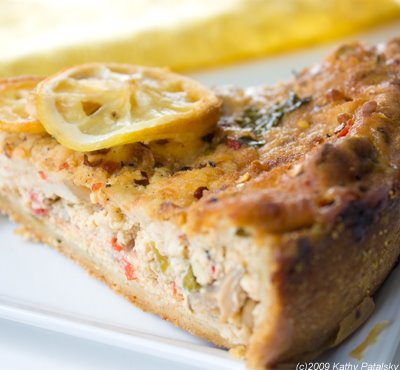 Sunday Brunch can flow over into Monday morning right?…
Vegetarian Quiche was one of may favorite recipes as a little girl back in California. I remember visiting the local French Bakery on Sunday mornings with my family. Sweet mood? Order a Sticky Bun. But if I was in a savory mood, I'd order the veggie quiche. It was soft and creamy with a buttery crust. The roasted bell peppers and zesty cheeses were an explosion of flavor in my mouth. But sadly, since going vegan, I hadn't yet found a good vegan quiche-anywhere! Until now. My Vegan Tofu Quiche with a bright blend of veggies, cheeses, spices, pine nuts and fresh herbs is filled with nutrients and flavor, and minus all the bad stuff we traditionally find in quiche, such as cream, butter, traditional cheese and egg yolks. This recipe is a must try for quiche lovers of all diets, veg or not…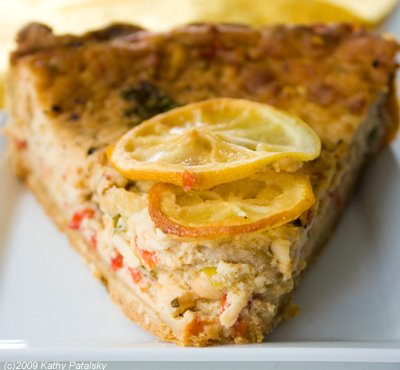 Spicy Italian Summer Quiche. This quiche is perfect for a light summer brunch or a mid-week light lunch. Yet it has a robust amount of flavor. And even a bite of spiciness from the red pepper flakes. Add more or less to adjust your spiciness preference. The recipe may look daunting, but it is actually an easy process-with a lot of ingredients. But you won't believe the layers and depth of the flavor that comes out of each bite.
Silken vs. Firm Tofu? Every vegan tofu quiche recipe that I have looked at online shows that they use firm tofu in their quiche. I don't get that at all. When I think of quiche, I think smooth, creamy, not grainy. When I have tested puddings or tofu-based cream pies with firm tofu it always comes out grainy. Thus, I decided to go against the mainstream advice and try Silken tofu in my quiche. And oh boy am I glad I did! I used my blend-it creamy method when using the silken tofu and then folded the blend into the cooked veggie mixture. The texture turned out perfect! The tofu was apparent enough to make it firm, yet the soft texture made the quiche almost custard-like. Delicious!
Homemade Herbed Crust. It's easy to whip up your own healthy crust. Pre-bake it for a few minutes before filling and baking the quiche. I love using herbs, and a mixture of healthy grains like spelt, wheat, fava-garbanzo bean and flaxseed flour in my crust. I also love the chewy texture that a bit of cornmeal adds to the edges. There's nothing that pleases me more than kneading my own dough rather than using a store bought crust.

Here is my amazing recipe for vegan quiche…
Mushroom Scallion Tofu Quiche with Herbed Grain Crust
vegan, makes one 9″ quiche
*If you have leftover filling, the mixture can be used to make mini-quiches or even a pan-fried fritter.

Crust:
1/2 cup water
1 tsp salt
2 Tbsp agave
1/3 cup flaxseed meal
*Ground up flax seeds
3/4 cup flour (any variety)
1/4 cup fava-garbanzo bean flour (or any variety you'd like)
1 Tbsp olive oil
1/2 tsp black pepper
1 Tbsp fresh chopped herbs (rosemary, thyme, sage, basil)
cornmeal for dusting
Quiche Filling:
Part One Filling-blender:
1 block 15 ounces, silken tofu
1/4 cup Arrowroot powder
*Arrowroot powder is like cornstarch, it thickens the texture.
1 tsp salt
1 tsp black pepper
1/2 cup soy milk
1 Tbsp vegan Parmesan cheese
1/4 cup white vegan cheese (mozzarella or Jack)
1/4 cup pine nuts
1/4 cup agave syrup
2 Tbsp parsley, chopped
Part Two Filling-Saute:
1 Tbsp cumin
1 Tbsp red pepper flakes
2 Tbsp pine nuts
4 scallions, chopped (green and white parts)
1 cup red bell pepper, diced
1 cup mushrooms, chopped
1/4 cup parsley, chopped
2 Tbsp lemon juice
3 Tbsp vegan buttery spread
Quiche Topping:
1 Tbsp olive oil
1 Tbsp red wine vinegar
1 tsp agave syrup
1/4 cup + 2 Tbsp vegan white cheese
garnish: lemon slices, chopped parsley
Directions:
Crust:
Grease a 8-9″ cake pan with vegan buttery spread.
Flour dust the inside as well.
Combine all the crust ingredients in a large bowl.
Add a bit more or less flour as needed to get a soft, but kneadable dough.
Roll out dough on floured surface to about a 12″ circle.
Drag bottom of crust through a few Tablespoons of corn meal.
Position dough in cake pan.
Try to get a nice even wrap-around crust with edges, but it's OK if it isn't perfect.
Brush crust with an olive oil/agave glaze.
Poke a few holes in bottom of dough.
Place a parchment paper circle on top of crust, fill with cooking weights or dry beans.
(This will prevent the crust from rising during baking.
Bake at 350 degrees for 10 minutes to partially brown edges.
Set Pan aside to cool while you work on filling.
Filling:
Prep the veggies.
Saute all the saute filling ingredients over high heat for about five minutes-or until cooked down and slightly caramelized.
note: add the pine nuts last, as they can toast up quite quickly over high heat.
Pour into large mixing bowl.
In a blender, combine all the blender filling ingredients.
Blend until smooth.
Should be a thick milky white mixture with accents of green and red.
Pour white mixture into veggie mixture.
Lightly fold in 1/4 cup of shredded white vegan cheese.
Pour the mixture into the crust.
Prep top glaze by combining vinegar, oil, agave syrup and black pepper.
Pour glaze over top of quiche.
Sprinkle a few red pepper flakes on top.
Sprinkle last 2 Tbsp of vegan white cheese over that.
Add a few lemon slices to the quiche before baking.
Bake at 375 for 45 minutes or until top is browned and edges are firm.
If the center is a bit soft, that is OK.
As the quiche cools, it will firm up.
Remove quiche from oven, allow to cool for an hour.
You may serve it warm or place in fridge to harden for a few hours or overnight.
Serve with a fresh grating of black pepper, fresh lemon slices and fresh chopped parsley.
Ingredients notes:
I use the Follow Your Heart brand of vegan cheese. I like a white cheese in this quiche (Mozz. or Jack).
Remember that you must adjust the salt for the ingredients. If your pine nuts are salted, use less salt in the recipe. If your tofu, pine nuts and butter have less or no salt, make sure you add enough. Tofu needs salt and seasonings to bring absorb flavors.