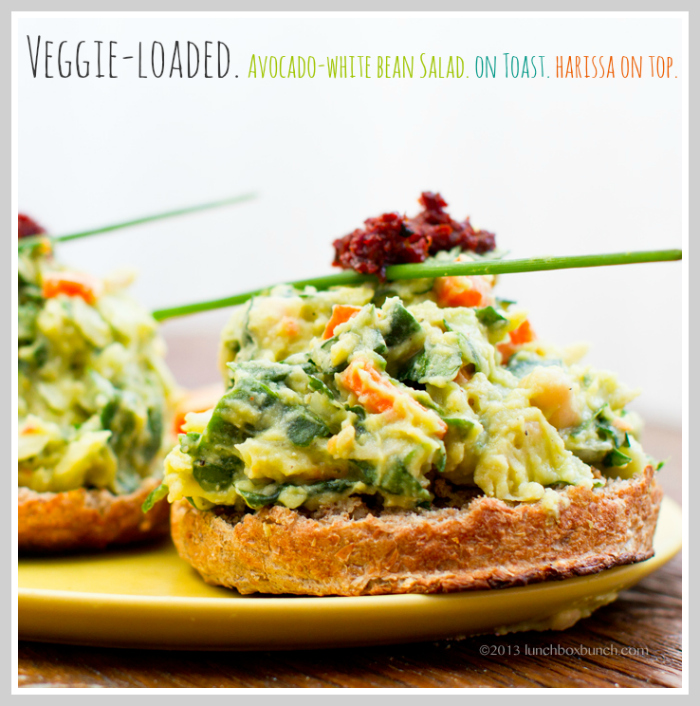 This delicious Veggie-Loaded Avocado White Bean Salad on toast is an easy vegan lunch (or dinner!) recipe to try. Avocado-lovers, meet a pumped up version of "avocado toast." Serve as an open-faced sandwich for a light and lovely lunch, or serve along side a spicy broth-y soup for a hearty dinner feast. The vibrant veggies and rich creamy avocado merge perfectly with nutty rustic white beans, and accents of citrus, white miso, cayenne and pepper.
I call this recipe an "avocado salad" since (kind of like this recipe) it is creamy and thick, and perfect for piling on top of toasted bread. You could also slather this mixture on top of toasted bagels, inside pita bread or even serve it on top of a fresh bed of greens for a 'bread-free' serving solution. I loved this recipe and will be making it again for lunch for sure! Get the recipe + nutrition info..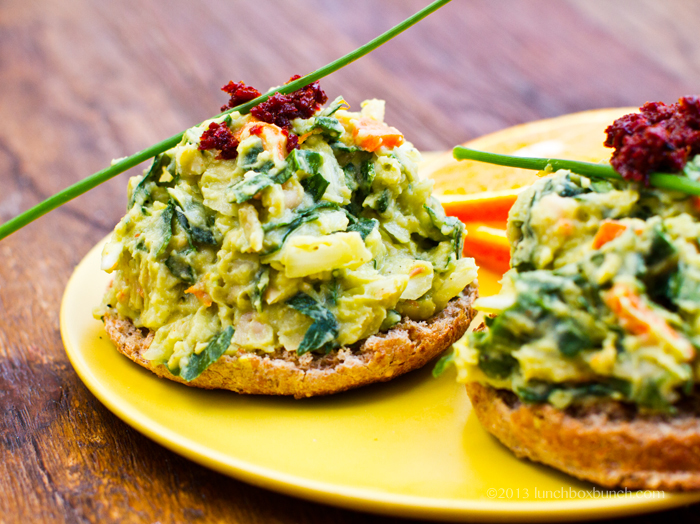 The dish. I wanted to create a recipe that took my beloved avocado toast and turned it into a true well-rounded meal. So I basically took avocado toast and fully loaded it up with goodies. Freshly chopped veggies like carrots, sweet onion, spinach – protein and fiber-rich white beans that easily mash creating a rich, rustic texture – plenty of bold flavors like citrus, white miso and a hint of nutritional yeast. And some spicy, smoky harissa on top to really make my flavors pop.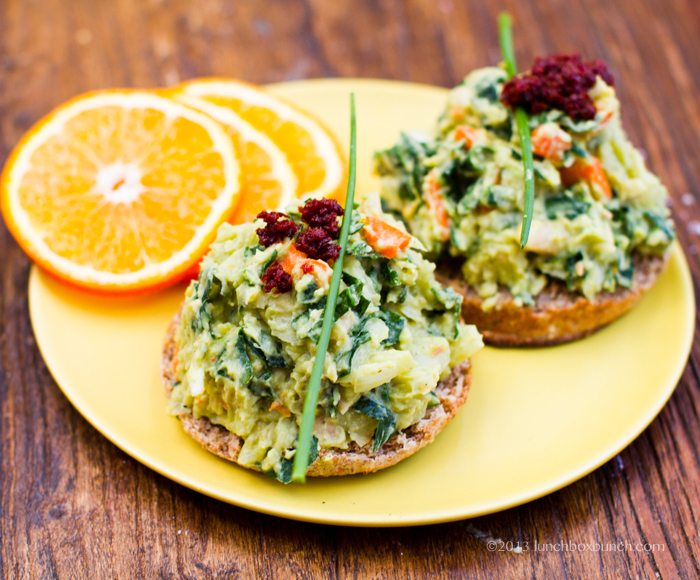 Nutrition estimate based on 3 servings per recipe..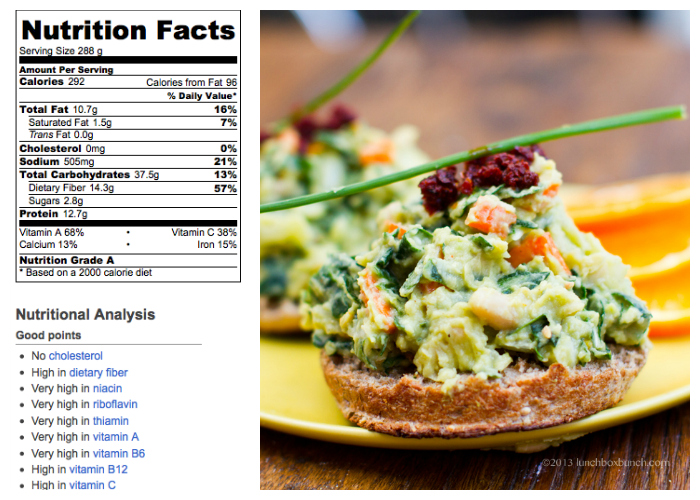 Veggie-Loaded Avocado White Bean Salad
vegan, serves 3
1 16 oz. can white beans (cannellini) – drained, rinsed
1 small avocado, diced
⅓ cup sweet onion, diced
1 small carrot, chopped
½ cup spinach, thinly sliced
1 teaspoon apple cider vinegar
1 lemon, juiced
2 teaspoon white miso paste
1 tablespoon fresh tangerine or orange juice + pinch of zest
2 tablespoon nutritional yeast
1 tablespoon hemp or sunflower seeds
pinch of cayenne pepper
salt + pepper to taste
topping: harissa + fresh chives
*I used Le Pain Quotidien harissa
toasted bread (I used sprouted grain English muffins)
note: obviously your can greatly tweak the ingredients in this recipe by trying different veggies, seeds, beans and even seasonings.
Directions:
1. Add the beans and avocado to a large mixing bowl. Mash well with a fork until thick and chunky, yet creamy like a chunky guacamole or hummus. Mash beans as desired. I like mine well mashed.
2. Prep all your veggies and fold into the avocado mixture.
3. Whisk the white miso paste with the citrus juices and vinegar. Fold this liquid into the mixture and continue folding until well combined and the veggies begin to soak into the creamy and liquid.
4. Serve right away or chill in the fridge for 15-30 minutes before serving. This fresh salad is best served right away, since it slightly separates when left over night in the fridge.
Tweak ingredient ideas:
* chipotle powder
* jalapeno, diced
* radish, diced
* kale, finely chopped
* parsley or herbs, chopped
* chopped nuts
* omit the miso and just use salt to 'salt'
* teaspoon of tahini
Want more avocado toast recipes? Check out my round-up on Babble.com: 12 ways to serve avocado toast