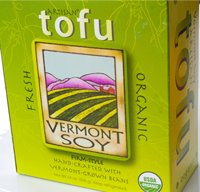 Recently, I stumbled upon Vermont Soy, a new-to-me brand of 'artisan' tofu, when it was on sale at Whole Foods. Upon tasting this new brand, I didn't expect much more a traditional store-bought tofu, so I was blown-away when I tasted how light, fluffy and perfectly tender this tofu was!
Angel-tofu indeed.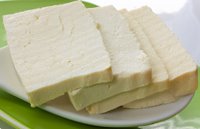 Vermont Soy. Soy Artists. I hadn't heard of Vermont Soy before, but what a great company. They really take SOY to the next level: artistry. They call their tofu 'artisan' tofu, a snobby term to some, but they live up to the term! This is a tofu that a soy artist can be proud of.

Quality Tofu. Like anything, quality matters. Tofu isn't tofu just like an apple isn't an apple. The producer, grower, artist, chef, brand, ingredients and other variables involved make a huge difference in the finished product. Start with good stuff, you are more likely to end up with good stuff. Vermont Soy uses great organic stuff!
**Two Awesome Vermont Soy Tofu Recipes I posted:
Sesame Peanut Crusted Tofu
Zen Green Tofu Salad
Click ahead for my official review of Vermont Soy Tofu…
My Review: Vermont Soy, Artisan Tofu, Extra Firm Style
Shelf-Appeal: I like the packaging. It's a nice thin box with spring green images of a farm. Beautiful branding that communicates this tofu-experience well. You can see the tofu through the plastic bag, so you know what you are getting. Once you open the package, the tofu is vacuum packed in sturdy plastic. Very fresh when opened. Perfectly moist.

Label Check: Tofu nutrition, no matter what brand, is about the same. High in protein, copper, calcium, iron and phosphorus and nearly free of saturated fat. Around 60 calories per serving. Five servings per package. 6 grams of protein per 60 calories. About 40% calories from protein and 60% from fat. There is only 1 gram or 4 calories from carbohydrates. Not a low-fat product, but high in flavor, so a little goes a long way.
Taste Test: I love this brand of tofu. It cooks up very fresh and fluffy. It tastes like the same tofu I get at my favorite vegan restaurant. No sliminess or toughness here. Perfectly moist and tender. Easy to add your own inspiration ingredients.
Price: This pack was on sale at Whole Foods for $3.19. Note, that's on sale. I got about two large uses out of it. Considering a side of grilled tofu at my fave restaurant is $6, I'd say yay to the cheaper do-it-yourself option.
Last Word: Vermont Soy is my new favorite brand of tofu. I can't wait to try the soy milk. I bought the last pack on the shelf at WF and I am dreaming about when they re-stock. Dreaming of my next recipe: Angel-fluffy-cloud tofu pillows.
Read my tofu vs. seitan post, here.