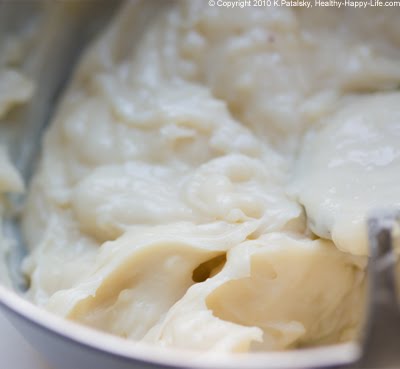 For Part One of my Easter Lamb Cake Post, I want to share with you my Fluffy White Cream Cheese Agar Whipped Vanilla Frosting. I just call it my Perfect White Fluffy Frosting.
I had the challenge of "veganizing" my mom's famous egg white vanilla frosting recipe. After several frosting-experimentation days, I finally came to an end result that I love. While this doesn't replicate egg white frosting – for the purpose of my Easter Lamb Cake, it's sweet perfection. All the components are there: white, shiny, fluffy, sweet, creamy, spreadable. It's great for any layer cake, cupcakes or frosted sweet loaf too. Get my recipe...
My Easter Lamb Cake batter recipe will be posted later today – but to get you started (and excited), here's the frosting…
Lot's of experimentation went into this frosting. I was thrilled to be able to add in some Agar Agar. And to get the creamy whipped texture I craved, I folded-in some store-bought Rice Whip.
Rice Whip, vegan (fold-in):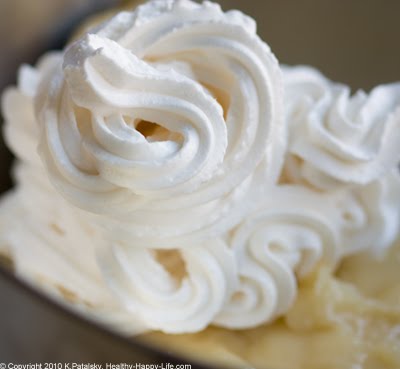 Chilled Frosting, Before Folding in Rice Whip: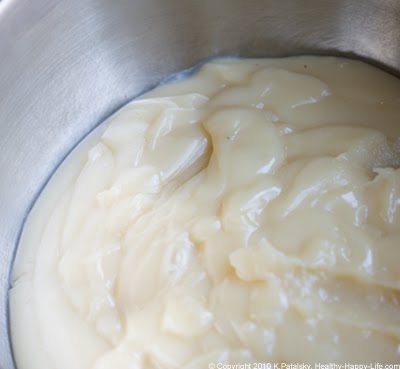 Frosting my Lamb Cake: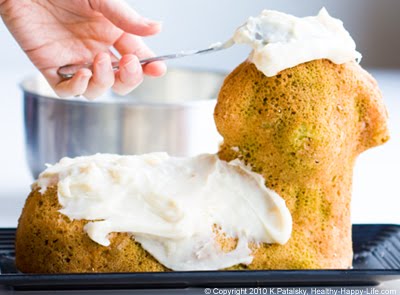 Creamy, Fluffy, Sweet, Decadent, Vegan: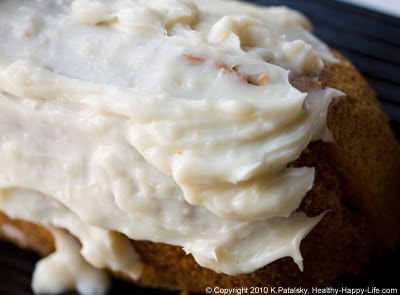 Products, Products to Experiment: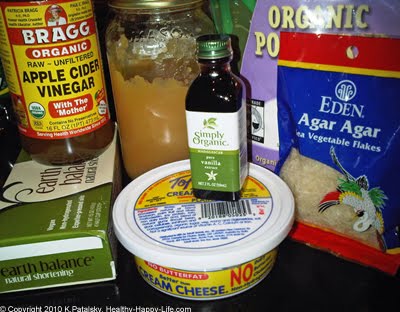 Agar Whipped White Cream Cheese Frosting
vegan
1 tablespoon agar agar
¾ cup soy milk
6 tablespoon vegan shortening + 1 teaspoon salt
OR 6 tablespoon vegan buttery spread (omit salt)
3 ½ cups powdered sugar
8 ounces vegan cream cheese
2 tablespoon arrowroot powder (or cornstarch)
Fold-in: 2 cups rice whip (in spray can)
Directions:
1. Frosting: Sift together powdered sugar and arrowroot or cornstarch. (salt if needed) Set aside.
2. In a soup pot, heat soy milk over med-high heat. Dissolve agar agar into soy milk.
3. Add shortening or buttery spread. Stir until melted. Reduce heat to low and stir/melt-in cream cheese.
4. Next, stir in half of your powdered sugar portion. When dissolved (a few lumps OK), remove from heat and allow to cool for a few minutes.
5. Then transfer to blender (or use immersion blender). Blend in remaining powdered sugar.
6. Quickly transfer to a large mixing bowl and place in fridge to chill.
Chilled, pre-rice whip frosting: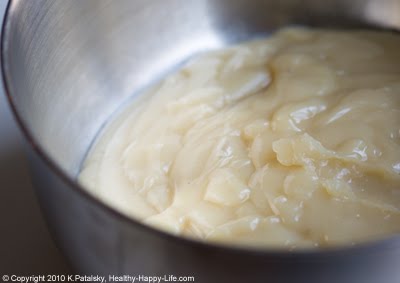 7. Prepare cake as directed. While cakes cool, grab your chilled/firmed frosting, fold in whipped rice cream until you get a white fluffy mixture. note: You can even use more rice whip than recipe calls for, for a fluffier, softer frosting.
Fold-in the Rice Whip: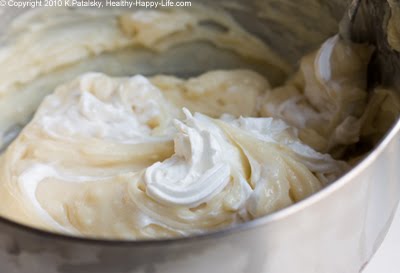 8. Frost chilled cake.
Note: You can also make this frosting a day ahead of time, although I advise folding in the rice whip right before you do the spreading of frosting on the cake.