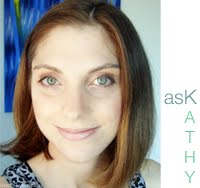 I love good questions. I've found that kids ask the best questions, like "why is a tomato red?" "Why doesn't my cat cry?" or "why is a lemon sour?" But my favorite adults are those who have never stopped asking simple good questions.
Ask Kathy. To kick off my new "Ask Kathy" feature, I'd like to answer a question I received from Food Network's Melissa d'Arabian. Melissa followed up her email to me by asking a very simple, yet incredibly good question that I actually do not get asked that often:
Why vegan? Why not just vegetarian?

It is a fabulous question. Check out my answer…

The question as it was posed to me:
"Can you tell me the issue behind animal products that don't hurt the animal (unfertilized eggs, milk, etc). In other words, why vegan and not vegetarian?" -Melissa d'Arabian

Great question.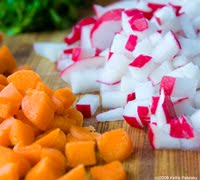 Why vegan, not vegetarian?
My Answer: My 'short answer' to the somewhat complicated question, "Why Vegan? Why Not Just Vegetarian?" is this: Honestly, it all starts with animals for me. I've had an intense love of animals since I was a child and after a lot of research into factory farming, I simply decided that any 'animal product' wasn't for me. And I've found nutritionally that I don't need animal products in my diet. I get all the protein, nutrients (and flavor) I need from fruit, veg, grains, legumes, etc. I know many vegans who choose this lifestyle for other reasons such as food allergies, health restrictions or simply because it makes them feel fabulous to eat vegan.
A side note, I understand that mainstream society still does not look up to 'vegans'. And to those people who still eat meat and other animal products, I simply encourage you to explore vegan foods and ways of cooking. I guarantee you will be delighted about many of the new recipes and foods you try. And when you do choose meat, I beg of you to look into choosing only grass-fed organic options. I did a post on this here.
I respect every persons diet and lifestyle, just as I wish for others to respect my diet and lifestyle. Never stop being curious and open-minded about foods and diets that may seem unfamiliar to you. Education and learning is my favorite form of PR for vegan living. (And feeding my friends and family delicious vegan recipes never hurts either)
More questions and answers: Have you read the Healthy. Happy. Life. FAQ's? Lots of info there.
Ask Kathy! If you have a good question, let me know. Email me (click the envelope icon in my blog navigation bar at top).