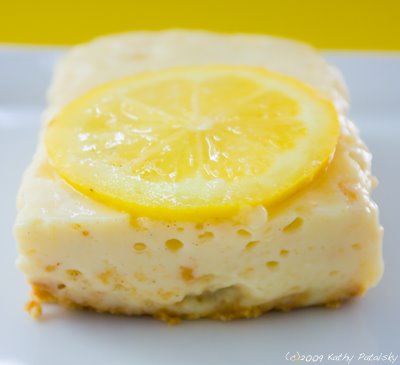 With a block of silken tofu in hand I set out on a quest to perfect my recipe for Zesty Lemon Custard Bars. I wanted a burst of fresh lemon zing in every bite! Like summer lemonade in your mouth. I have memories of those super sweet, powder-sugar dusted, plastic translucent textured, fluorescent yellow colored, sticky sweet lemon bars from my childhood. But I knew the eggs, processed white sugar and artificial flavors and colors simply had to go. So after much recipe trial and error, here is the end result. It's no-bake and super easy. I think you'll be pleased after one zesty lemon, creamy bite…lots of photos ahead…

Zesty Lemon. Creamy Tofu. I tried this recipe with both extra firm and medium (silken) tofu varieties. I found that the extra firm came out ultra grainy and not a bit 'extra firm' as I had hoped. Once I finally settled on accepting the creaminess of the silken tofu bar batch, I fell in love with it! Nothing beats the zestiness of real lemon juice combined with the subtle vanilla-flavored creaminess of tofu and vegan pudding.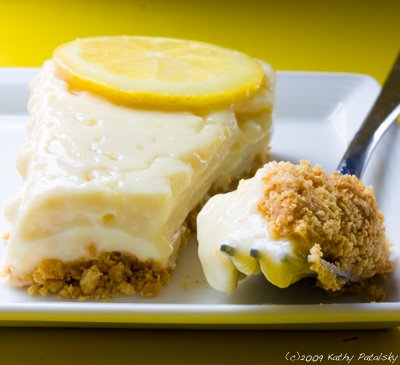 Real Fresh Lemon. These are lemon bars. And you have to use real fresh-squeezed (organic) lemons for this recipe. The pre-bottled plastic bottle juice will not do. If you use that stuff, you can pretty much call these Zesty Not-Real-Lemon Bars. I'm serious when it comes to fresh vs. packaged lemon juice. What is easier than squeezing a few lemons with a hand press? And you might notice those pretty holes in my bars. That is from fresh drops of fresh lemon juice that I splattered on top. So pretty and it really adds that zesty zing of lemon flavor.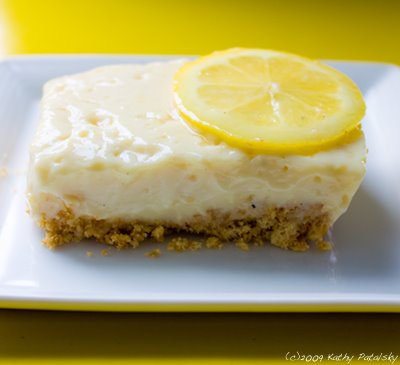 Here's my recipe….
Zesty Lemon Custard Bars
vegan, makes one batch of bars-around 12 squares
1 container silken tofu, medium firmness
6 small lemons, squeezed
2 teaspoon lemon zest
¾ cup vegan dry sugar (I use Florida Crystals /minimally processed brand)
2 tablespoon Arrowroot powder (substitute for cornstarch)
¾ cup powdered sugar (or any vegan dry sugar will work here.)
2 teaspoon sea salt
1 ¼ cups soy milk
1 vanilla pudding packet, (I use Dr.Oetker brand)
1 tablespoon canola oil, for shine and texture (may omit if desired)
8 large plain graham crackers or vanilla cookies, any crumbly vegan variety will suffice
a few thin lemon slices for garnish
Tools: blender, 8″ or 10″ brownie or cake pan, soup pan.
Notes: You may use less sugar if you'd like. The amount shown above makes a nice sweet bar. But less sugar would also make a divine lemon bar.
As stated, you must use silken tofu and not extra firm grainy varieties. The smoother, the better!
Tip: Add a few sprinkle of cinnamon to the cookie crust. It adds a nice hint of layered flavor.
To Make:
Prep serving pan.
Crumble your cookies/crackers into very fins powder.
Lay flat on the bottom of you serving pan. Spray bottom of pan with canola oil spray.
Stove top:
In a sauce/soup pan-
Heat pudding mix and 1 cup soy milk over medium heat.
Stir continuously.
Once pudding pack has dissolved and mixture starts to thicken,
add it half of lemon juice, salt, oil and lemon zest.
Stir continuously.
Add in arrowroot powder, gradually. Be careful of clumps.
Add in the sugar.
Once mixture is bubbling nicely, add in the tofu in loose clumps. Don't worry, the blender will smooth everything out in the end.
Stir well. Let tofu heat a bit with the mixture, about two minutes.
Remove from heat and allow to cool slightly for a minute.
Stir in remaining lemon juice, but leave out about a spoonful for garnish.
Transfer soup pan contents into blender.
CAREFULLY, blend on low.
Heated blenders may explode, so never aim towards face and always blend with extreme caution.
Once the mixture is 100% creamy and smooth-no clumps, transfer liquid into pan.
Slowly pour the mixture onto the cookie crusted pan.
Lay two thin lemon slices as garnish in center of dish.
Take your last spoonful of lemon juice and gently splatter the bars with a few random drops of juice-creating nice lemon hole in the top.
Place in fridge and allow to firm-up for at least 3 hours. Preferably overnight.
NEW!
Firm up tips:
add more silken tofu, less milk, or both.
(Use 1 ½ tofu packs and a bit less soymilk)
Also, drain water from tofu, then set tofu on paper towel for 20 minutes to soak up water.
Chill longer-overnight in fridge.
Use more arrowroot powder.
Use more cookie crust-will soak up more liquid.
Use 1 ½ pudding mix packs.
Allow to bubble/boil longer.
It should firm up if you use these tips.
Serve with a glass of lemonade. (Just kidding…) Maybe some chai. yum.