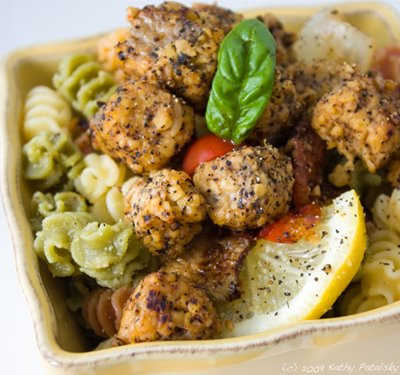 The classic zesty flavor of lemon pepper compliments Lightlife's 'Zesty Lemon' Tempeh-tations marinated cubes perfectly. The tempeh-tations cubes are already marinated with Zesty Lemon flavor, so it's incredibly simple to add a little black pepper ZING! to them. Here's my protein-packed recipe for Lemon Pepper Tempeh. Serve it over rice, pasta, salad or eat it alone! It takes care of the protein part of your meal-more nutrition info on tempeh here. Because even vegans get sick of tofu! I'm in love with this recipe and the bright flavors of summer that spring from it.
The easy saute recipe ahead…
Zesty "Lemon Pepper" Tempeh-tations Cubes
makes 2 servings
1 box Lightlife Zesty Lemon Tempeh-tations*
*click link for full product review
2 tablespoon black pepper
1 lemon, juiced
1 small onion, chopped
1 small tomato, chopped
1 tablespoon olive oil
2-5 cloves garlic, chopped
4 mushrooms, sliced
1 tablespoon maple or agave syrup
1 teaspoon sea salt
3 tablespoon veggie broth, orange juice or water
optional: 1 teaspoon cayenne or red pepper flakes
Directions:
Turn stove on high.
Add oil and lemon juice to lidded pan.
When liquid starts to sizzle, add tempeh cubes.
Saute tempeh on high for a few minutes.
Loosen cubes to separate, as needed.
Try to get all sides slightly browned (braising technique).
Add in onion, mushrooms, tomato, garlic and maple syrup.
Toss ingredients in pan and allow to cook on high for another minute.
Reduce heat to med-high and add 2 tablespoon liquid.
Sprinkle ingredients with 1 tablespoon black pepper.
Cover pan with lid and let cook for a few minutes. Shake pan every few minutes to prevent burning and stimulate steam.
Remove lid to check on saute.
If the pan looks dry, add another tablespoon of liquid.
If the pan looks too 'wet' remove lid and let steam escape.
About 1 minute before the dish is fully sauteed, remove lid and turn heat back up to high.
Sprinkle with remaining black pepper and toss .
High heat and black pepper crusting should toast and brown up the tempeh edges.
Plate tempeh steaming hot. Garnish with fresh lemon juice and or more fresh black pepper.
Yum!