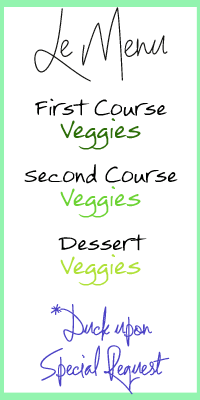 NYMag's Grub Street editors snicker that there may be a lot of grimacing faces at the $1,000 a plate Global Environmental Citizen Awards, honouring Queen Noor of Jordan and Edward Norton. Guests will be faced with a Sweet Potato Dolma entree and other veggie delights as their written menu. However, problem diners can special request the Duck Leg.
Grub Street reports that the Harvard Club event will forgo the 'meat' menu altogether. For the first time, the menu is 100% vegetarian.
Foodie Celebs like Alice Waters will be in attendance. And award-winning chef Dan Barber of Blue Hill at Stone Barns will prepare the menu titled: Tastes from the Greenhouse, Gardens and Fields.
Wow! Turning the tables on the special requests! I have never seen a gourmet special event menu have all vegetarian options and the *special request asterisk is reserved for the carnivores.
I give two big green thumbs up to Dan Barber and the Harvard Center for Health and the Global Environment for making this decision.
Click ahead for the menu Dan Barber will be serving….
The Menu, as reported by NYMAG:
Prepared by Dan Barber
Tastes from the Greenhouse, Gardens and Fields
Hudson Valley Kir
Hermann J. Wiemer Methode Champenoise, Blanc de Blanc, Finger Lakes 2002
Clinton Vineyards Cassis, Clinton Corners, New York
First Course
Prepared by Michel Nischan
Ancient Grain and Vegetable Risotto
Huge Bear Chardonnay, California, 2007
Entrée
Prepared by Ana Sortun
Sweet Potato Dolma with Pine Nuts and Tahini Brown Butter
(Braised Duck Leg available upon request)
Knights Bridge Estate Cabernet Sauvignon, California, 2006
Dessert
Prepared by Mary Cleaver
Almond Cakes with Gold Rush Apple Cranberry Compote and Fromage Blanc
Vere Chocolates