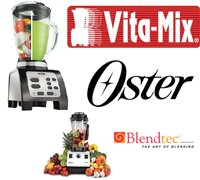 A few weeks ago I tweeted that my blender died and I was going through a temporary serious smoothie withdrawal! Not good. What brand did I end up buying? A snazzy Vita-Mix? A used-by-the-pro's Blendtec? Or the new low-priced dual-function Oster Fusion? You might be surprised in my split-second choice. Read my story and blender review, and get FREE SHIPPING on VitaMix…

Free Shipping. Use this Vitamix link and get Free Shipping on a Vitamix!
Buying a New Blender. Now! After a few days of unfulfilled smoothie cravings, I ran into a local department store and grabbed the best blender I could find on the shelf. There was no Blendtec or Vita-Mix on the shelf. The top of the line blender in the store was an Oster brand blender called the Fusion. The Oster Fusion is marketed as a dual purpose blender. For both frozen drinks and food-chop purposes. It cost me $80 retail, a welcoming price in comparison to the $400-$500+ Vita-Mix and Blendtec blenders. So, does this cheaper dual-purpose blender stand up to my rigorous blending standards?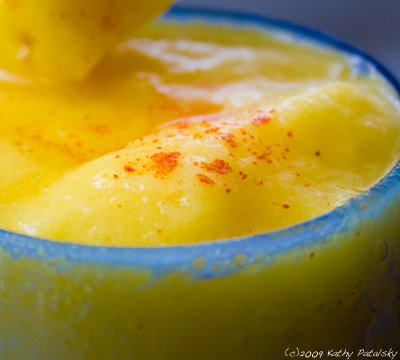 Best Blenders. Any smoothie junkie, raw foodie or healthy chef knows that there are blenders and then there are dual-use multi-function super-blenders! The two most consumer friendly, well-known brands are Blendtec and Vita-Mix. Both brands offer high power, diverse use machines for all your blending and food processing needs. Make smoothies, soups, salsas, dips, desserts and more. I've used both brands and yes, they are fabulous. But the big drawback is the price. But obviously some folks are just not ready to make a $400 investment in a blender. Especially when a $20 Hamilton Beach brand seems to blend up a strawberry-banana smoothie just fine, (until it breaks). So lets look at the stats of all three brands…
Vita-Mix Blender. 5200.
*Over 52 'kitchen tasks' in one.
*Seven year high quality warranty.
*Metal-to-metal (not rubber or plastic) container-to-base construction.
*High performance, cool running motor, propels the blades.
*4-Prong hardened Stainless-Steel Blades.
*Speed controls from 11mph to 240mph blending speeds!
*New BPA-free container. Made from an all-new material developed this year by Eastman called Tritan™.
*11.5 amps / 1380 watts
Blendtec Total Blender.
*3 year blender warranty. Lifetime on blade.
*2-Prong stainless steel blade.
*BPA-free plastic container.
*Six pre-programmed blend cycles.
*13 amps / 1560 watts
Oster Fusion Blender.
*Heavy Duty Glass jar. 6 cup capacity.
*6-Prong stainless steel blade.
*Reverse action capable blending.
*Pre-programmed smoothie vs. food chop settings.
*1 Year limited warranty. Does not cover normal wear and tear.
*600 watts/1000 ice crushing capability
*cool optional Oster Milkshake blade.
Power and Quality. When comparing blenders the big differences I find come in the category of power and quality. The Oster Fusion is the most powerful blender in its 'department store' class. Blenders in this $40-$60 range usually have around 400-450 watts. The Oster Fusion, at $80 retail, has an impressive 600 watts of blending power. However, for optimal power the price goes up. The Blendtec and Vita-mix blenders have 1380 and 1560 watts. Big differences.

Quality. Quality, aka how long will this blender perform well, is a huge factor. The Oster Fusion has a pitiful 1 year limited warranty. While the Vita-Mix has an impressive 7 year warranty. Blendtec, 3 years, lifetime on the blade. So how will the Oster perform two years from now? It remains to be seen…
Blend Test: Oster Fusion.
Smoothies: Awesome! Does the job and does it well. I love the pre-programmed features. All I do it press the button once and my smoothie is blended perfectly at the end of the cycle. I was a bit shocked at how easy this process was.
Food Chop: I blended a roasted corn chowder soup on the food chop cycle and it was great. The power seemed a little duller than the Vita-Mix and Blendtec's I've used in the past. But with a few extra pulses, the job was done well.
Cleaning: Easy to clean. I like the fact that I can still get a glass container. I'm not a huge fan of the plastic containers-although the new BPA free plastic containers sound like a very worthwhile upgrade in the Blendtec and vita-Mix blenders.
Price: Well this is an obvious difference. I found the Oster Fusion online at Amazon for $70. I paid $80 retail. This is a fraction of the cost of the vita-Mix and Blendtec which start at around $400.
What Blender to Buy? So the big question is: are you willing to pay a higher price for the better machine? And by better I mean better warranty, more power and a few more cool features and style/usability accents. If you are willing to invest in the top of the line high quality machines I suggest you buy a Blendtec or Vita-Mix. Both brands are fabulous. Although, the 7 year warranty with Vita-Mix really stands out for me. However, if you want almost equal results right now with a pretty-bad warranty and possibility that your machine will break or wear down in a year or two, get the Oster Fusion. At under $80 it really does an impressive job. With the Fusion, you can test out your smoothie and food-chop skills and decide if you want to invest in a higher quality model-eventually.

..in today's economy, you may want to buy the Fusion now and save up for a Blendtec or Vita-Mix. But if you are ready to dive into a $400 blender… You will be ensured a long few years of smoothie blending perfection. Hooray.
..oh and that Milkshake Blade for the Oster sounds like a must-buy. I need to try this.
My Kitchen Gadgets. My big investment kitchen gadget is my pricey Super Angel juicer. I love it. So yes, I do go all out in some areas of healthy kitchen gadgets. I'll probably switch back over to a Blendtec or Vita-Mix when the Fusion dies. But who knows, if it holds up well I may surprise myself again. My smoothie this morning was fusion-licious.
Here are a few Amazon links if you are ready to order one of the blenders I have reviewed:
Blender Brand website Links:
Blendtec
Vitamix
Oster Fusion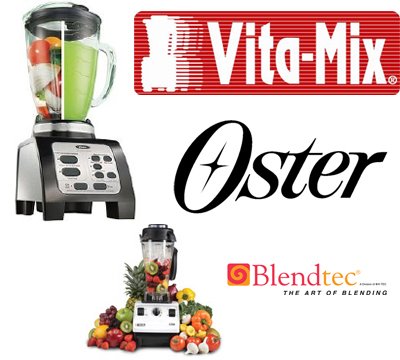 *disclosure: This post contains a Vitamix affiliate link. Ready to buy the best blender ever? Get free shipping by using my link!