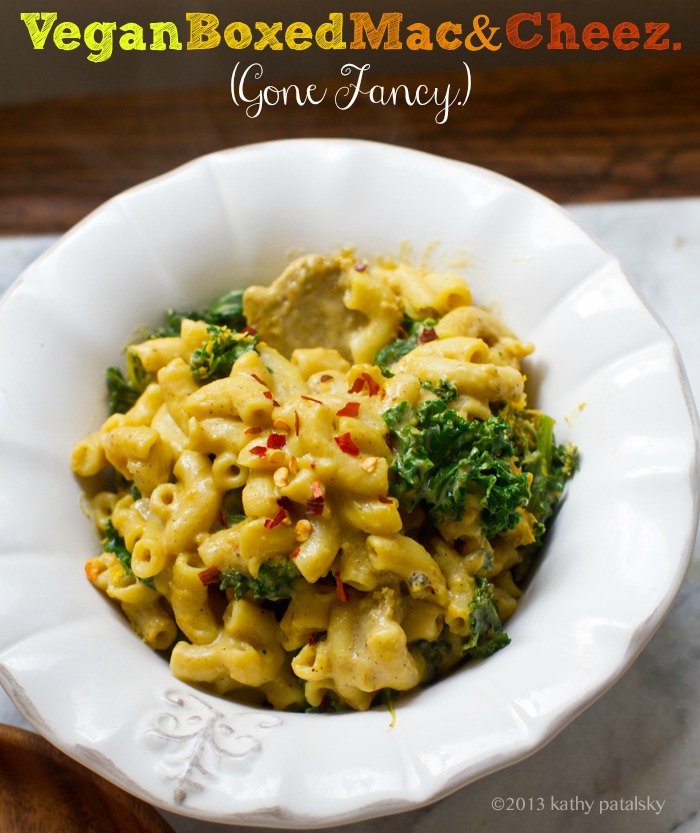 Everyone talks about "vegan makeover" dishes. Veganizing. Well here is a new culinary buzz word for you: transforming.
This recipe for Boxed Vegan Mac & Cheez Gone Fancy is easy, cozy (comfort food!) and tastes like it came from someone's culinary heart.
Not from a box.
Get the recipe plus my tips for 3 ready-made products you can easily transform..
One thing I love to do for dinner on a busy night is to do an easy vegan dinner transformation.

Easy Dinner Transformation: Taking a grocery store product that is supposed to be a ready-made dish (like canned soup or a vegan frozen pizza) and putting a few recipe tweaks and spins on it to make it taste homemade, infused with authentic flavors and easy fresh ingredients like fresh veggies, herbs and favorite spices.
Obviously I love cooking from scratch, I live for it! But some nights doing a quickie vegan transformation is a whole lot better than picking up the phone and ordering take-out. (Although I do love my Native Foods and Veggie Grill take-out nights too .. everything in moderation, right?)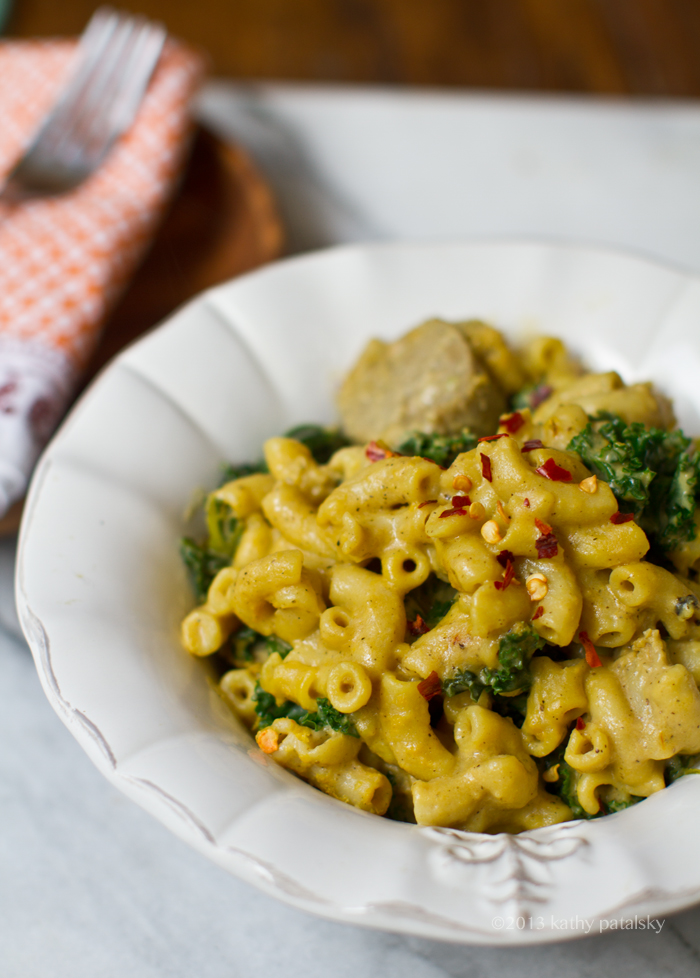 I instagrammed my "fancy" meal and you guys seemed excited about it, so I wanted to share the recipe!..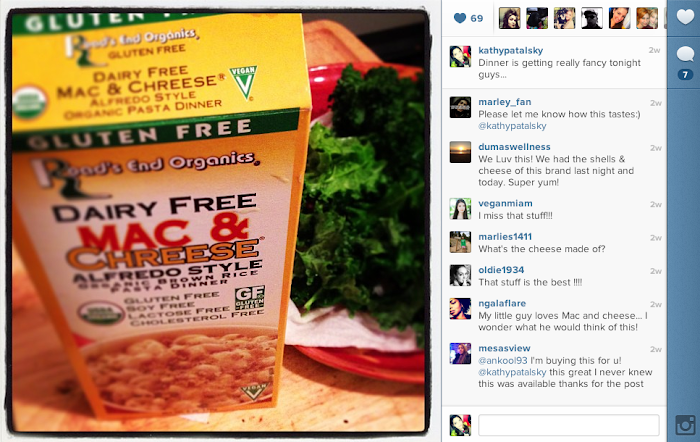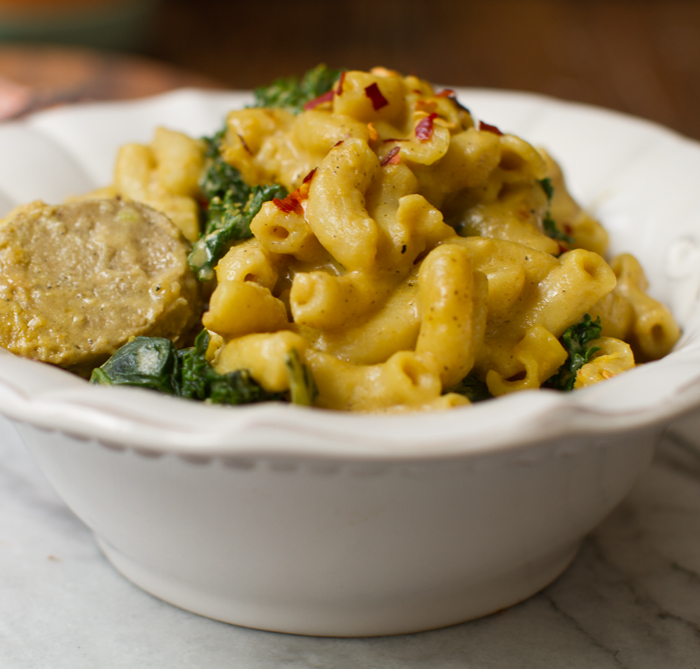 3 Ready-Made Foods and How to Make Them Homemade: Transformations!

1. Canned Soup. When I transform canned soup I usually add in a handful of chopped greens, a few dashes of cayenne for heat, maybe a bay leaf as everything simmers and usually some nutritional yeast to thicken the texture and intensify the savory flavor. If you want to extend the soup to make it more brothy, simply add a splash of vegetable broth. I also love adding in chopped vegan sausages like Tofurky or Field Roast if needed. I love Amy's Kitchen canned soups for these transformation soup nights.

2. Frozen Pizza. I do not think I have ever made a frozen pizza as it comes out of the box! I always pile on additional fresh veggies like onions, mushrooms, olives, lemon slices (remove before eating – but they add an amazing zesty flavor!), kale, spinach, bell peppers, additional vegan cheese, vegan pepperoni (my husband's fave) and some nutritional yeast and a drizzle of olive oil. The pizza comes out loaded with goodies and it always tastes homemade. I love Amy's Kitchen pizzas as well as the vegan cheeseless roasted veggie pizzas from Trader Joe's and Whole Foods.
3. Mac/Cheez. You will find my recipe below, but basically I add in TONS of additional nutritional yeast, some vegan butter (Earth Balance) and a generous amount of liquids when simmering everything together – veggie broth and unsweetened soy or almond milk. I also always add in my own veggies. Try frozen organic peas, broccoli florets, kale, spinach or mushrooms. And if you want to add some protein, try vegan sausage. I love the spicy chipotle Field Roast or Beer Brats Tofurky varieties.
What other easy-to-make meals and products do you give the homemade treatment?
Boxed Vegan Mac & Cheez Gone Fancy
vegan, serves 2-3
1 box of Vegan mac & Cheese (any flavor) – Road's End Organics used
1-2 tablespoon vegan buttery spread (Earth Balance)
1 vegan sausage, sliced (Tofurky Beer Brat)
3 cups fresh kale, chopped***
¼ teaspoon black pepper
½ cup nutritional yeast
1 teaspoon Italian dried spices (or another variety of spices!)
½ cup vegetable broth
¾ cup unsweetened soy or almond milk
on top: red pepper flakes
***This kale can be a wide variety of veggies. Broccoli and peas pair very well with cheezy Mac. Pretty much and veggie tastes better with a bit of cheezy-ness added, yes??
Directions:
1. In a large pot, bring about 5 cups of water to a boil. Add the pasta and boil until tender. Drain water and set pasta aside for a few minutes.
2. Add the vegan butter and cheezy sauce packet (from box) to the large pot. Add in the veggie broth and non-dairy milk. Stir over medium heat until a thick creamy sauce forms. Add the additional spices and nutritional yeast. Continue stirring to allow it to thicken.
3. Add the cooked pasta to the sauce and fold together. Over medium heat.
4. Add the sausages and kale. Toss well and cover with lid. Allow to cook for a few minutes until the kale wilts into the hot pasta.
5. Do a taste test. If you want a thicker, cheezier sauce, add more nutritional yeast. If you want to thin things out a bit more, add another splash of non-dairy milk or broth.
6. Serve with red pepper flakes on top .. and more nooch if you dare 🙂 nooch = nutritional yeast (vegan dictionary)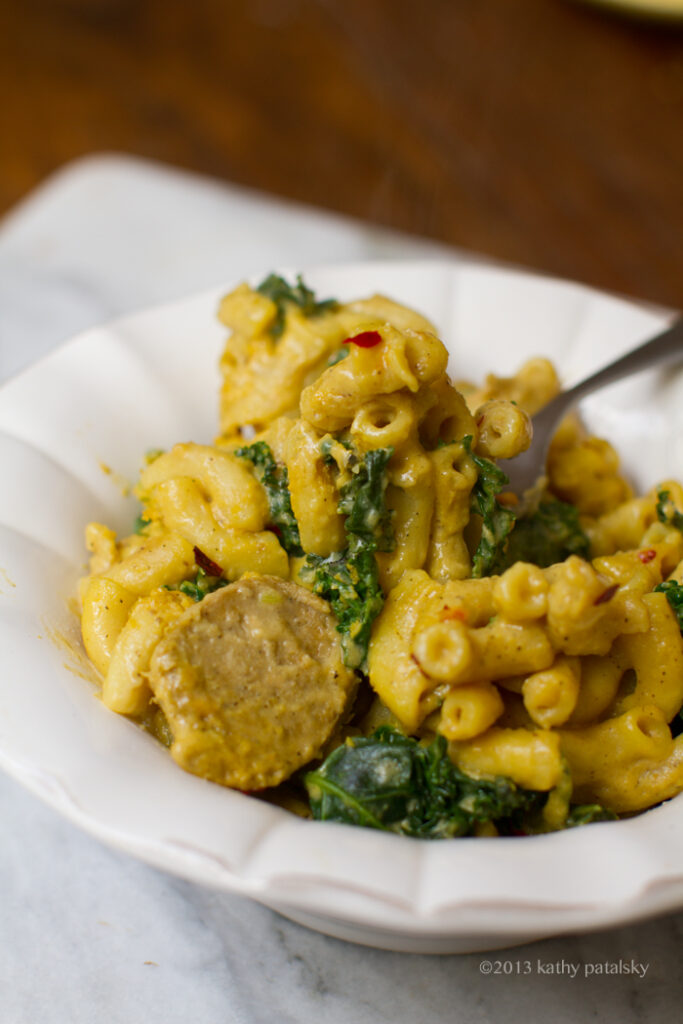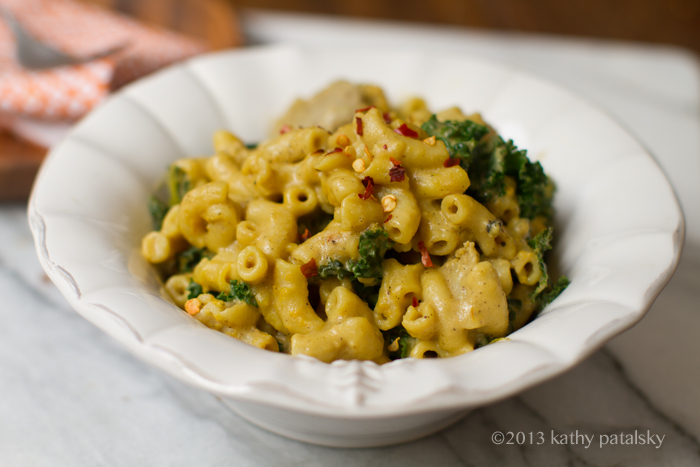 Oh, and YES you could totally make this without the boxed ingredients by taking a basic cooked pasta and adding the same ingredients and maybe blending in some raw cashews, sweet potato or butternut squash puree or silken tofu to thicken the sauce ….. but to me, the fun is in grabbing "the box" and turning it into something fancy. (Probbaly connected to all my memories of craving boxed Mac and Cheese as a kid .. even though my mom never made it for me! (Hm, thanks mom.) 🙂
Or for those "from scratch nights" of Mac and Cheez:
* Fake-Out Mac 'n Cheez
* Cheez, Peas & Pasta
* Spicy Chipotle Shells & Cheez