So you have a vegan entree, my mushroom tart, and a holiday dessert, my peppermint stick shake, and an amazing Christmas morning breakfast recipe, my vegan pancakes. Now we need some Season's Green-nings happening on the holiday feast table. So today I am sharing a creative spin on a plain old cold salad. My HOT + COLD Butternut Apple Maple Toasty Pecan Holiday Salad with Tahini-Ginger-Citrus Dressing. This salad recipe is perfect for a feel good entree or holiday feast side dish.
So countdown to a healthy 2015 with plenty of greens. And there is a nice #SeasonsGreenings giveaway to go along with this post! Yup, holiday recipe + giveaway season rolls on..
Psst.. Have you entered? Three days left until we choose a winner, $2700 prize! 12 Days Vegan Xmas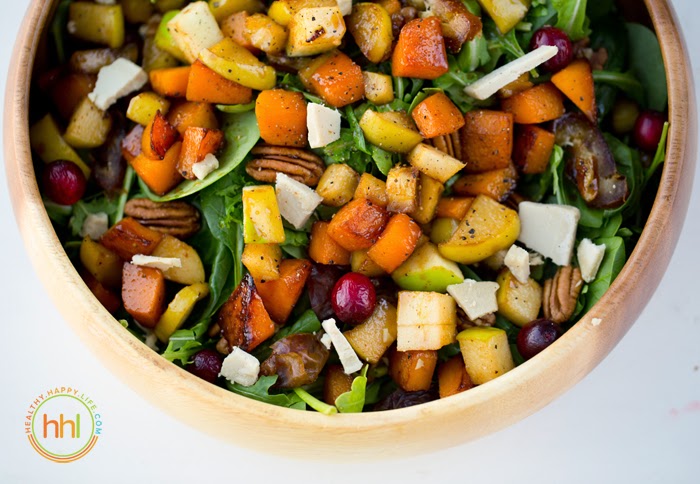 Tahini Dressing: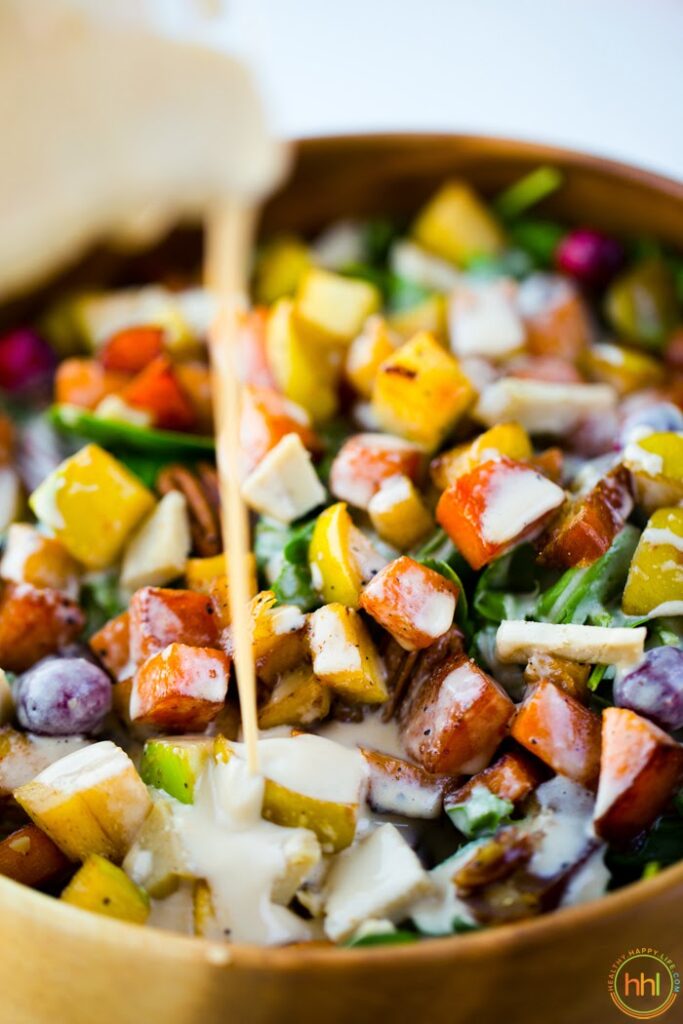 Dole Salads asked me to "think outside the salad bowl" this holiday season, but I just HAD to use a bowl for this recipe. But my creative twist: blending HOT and COLD ingredients to make one sassy savory sweet salad.
HOT + COLD salads are my fave. I have been making them for a long time, but I guess I have never actually talked about the technique here on my blog. It is pretty simple, you may already be making them yourself. But the idea is to top a giant bowl-ful of chilled, crunchy greens with something hot-from-the-skillet or hot-from-the-oven. Anything from roasted veggies to baked tofu to skillet-sizzled legumes and veggies and more!
Reasons I love HOT + COLD salads:

* The hot ingredients lightly wilt and SOFTEN the greens, while still keeping them RAW and fresh!
* RAW MEETS COOKED. I love raw veggies, rich in enzymes and jam-packed with fresh nutrients, but I also adore cooked foods. So this gives me the best of both worlds.
* You can add more FLAVOR OOMPH to your salad. Cooking ingredients (like squash, onions, beans, lentils, apple, pear and more) brings out the flavor in them – intensifying the yumminess of your salad. You add hearty and bold flavors to each bite. You are seasoning the cooked ingredients too, which further adds FLAVOR.
* More FLEXIBILITY is allowed with salads, you can make them entree salads, protein-infused (try tempeh or legumes in your HOT mix).
* More VEGGIES for your bowl. Forget more bang for your buck, adding HOT ingredients gives you more veggies per square inch of your serving bowl! Why? Cooking foods (usually) reduces them in size quite a bit. So you can add more of them to your serving dish.
* If you are adding VEGAN CHEESE to your salad like I did in today's recipe, you will find that the hot stuff lightly softens the cheese, further combining the flavors.
..speaking of vegan cheese. Oh man guys, there are SO SO SO many brands out there that are incredible now. And I mean AGED tree nut cheese that really tastes like gourmet aged cheese, without the dairy. Here are some brands I love.. List of vegan cheese brands: DrCow, Treeline, MiYoko's Kitchen, Daiya blocks, PunkRawk Labs.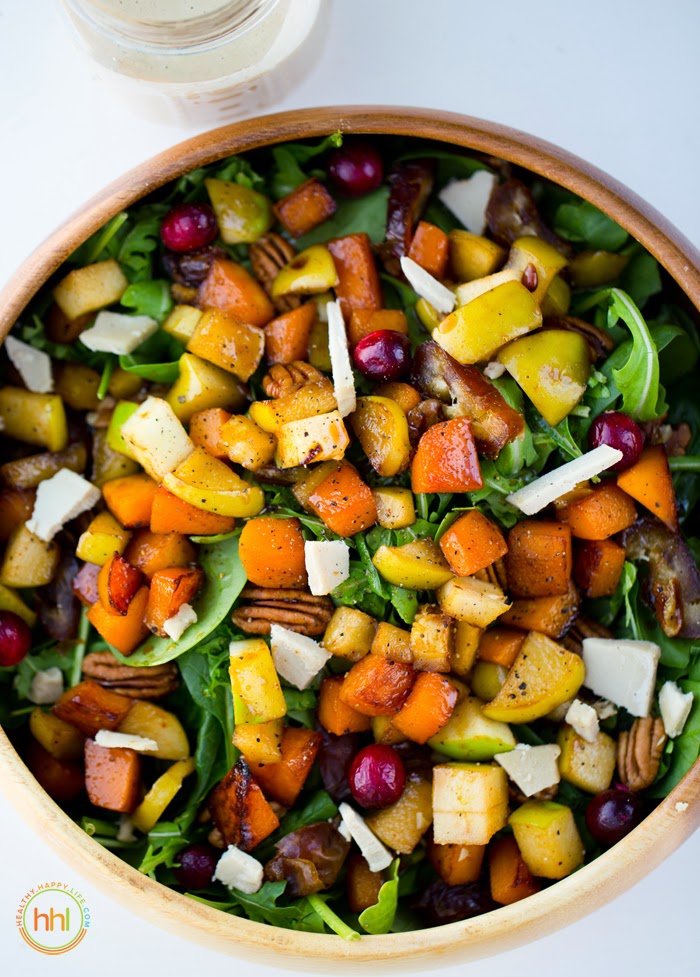 Another yummy salad to try!.. This Winter Citrus Salad from Dole – This medley of citrus, pomegranate and greens is every bit a colorful showpiece. Layers of baby kale, citrus and green beans are arranged with delicately sliced red pears. Add a sprinkle of mint leaves for a cheerful finish, and serve with citrus vinaigrette: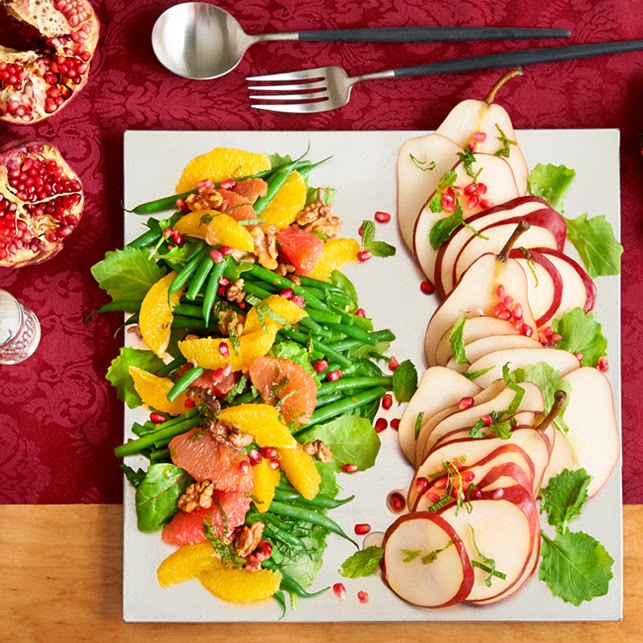 Or Butternut Tartines (just easily sub VEGAN CHEESE in place of the parm) – perfect for a party App.
Get my recipe + enter the giveaway below!..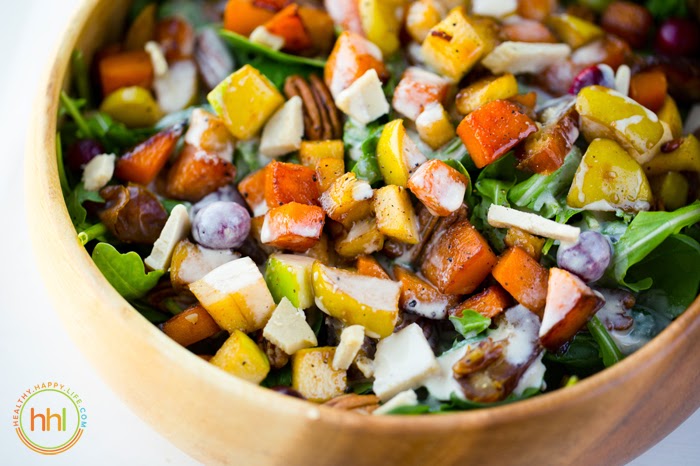 Butternut Apple Maple Toasty Pecan Holiday Salad
By Kathy PatalskyPublished 12/22/2014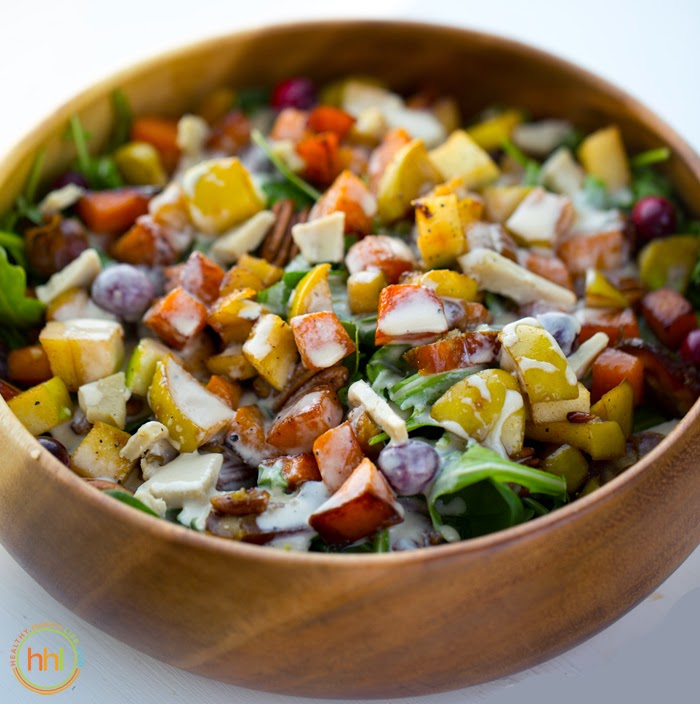 Delicious vegan salad with Dole greens, green apple, butternut squash, pecans, vegan cheese and tahini dressing.
Ingredients
1 package DOLE® Power Up Greens™ Baby Kale and Greens

Saute:
1 ½ cups butternut squash, diced
1 small green apple, diced
½ cup raw pecans
2 tablespoon maple syrup, grade B
2 teaspoon apple cider vinegar
¼ teaspoon cinnamon
¼ teaspoon salt
Optional fresh herbs: 1 sage leaf, finely chopped OR ½ teaspoon fresh rosemary, finely chopped
skillet: 1 teaspoon virgin coconut oil + ½ cup water

Fold-in / toppings:
2 tablespoon dried cranberries
2 large Natural Delights Medjool Dates, chopped
Optional: ¼ cup vegan aged cashew cheese, sliced and chopped

Ginger-Tahini-Citrus Dressing:
¼ cup tahini, Artisana brand used (raw, texture is thick and creamy)
2 tablespoon extra virgin olive oil
¼ – ½ cup fresh orange or tangerine juice – add less for a thicker dressing — + a pinch of zest
2 tablespoon lemon juice
¼ teaspoon salt
2 tablespoon maple syrup (or 1 Medjool date + 1 tablespoon water)
⅛ teaspoon fresh ginger, grated with a microplane
a few pinches of cayenne or cinnamon for extra spice
Instructions
Warm a skillet over high heat, melt 1 teaspoon virgin coconut oil into the pan. Then add the butternut squash and carefully add in ¼ cup water. Cover pan with a lid if oil starts to splatter too much during cooking process. Cook for 2-3 minutes, or until liquid is absorbed. Then flip squash and add another ¼ cup splash of water. Reduce heat or cover with lid if splattering occurs. Your goal: brown the edges of the squash, while softening the texture to make it tender. Keep cooking until this is achieved. Once your squash cubes are tender, move onto step two.
To the warm skillet, over high heat, add the apple, pecans, 2 tablespoon maple syrup, salt, cinnamon and optional fresh herbs. Saute until sizzling and maple syrup absorbs into mixture, and apples become lightly browned. Reduce heat and add the apple cider vinegar. Saute for another minute, turn off stove, and set hot skillet aside.
In a blender, process all the dressing ingredients until a creamy tahini dressing forms.
Add the Dole Power Up Greens to a large mixing bowl. Add a drizzle of the dressing and toss well.
Add the greens to large serving bowl and pour the skillet mixture over top. Add the cranberries and optional vegan cheese over top. Serve with extra dressing on the side.
Yield: serves 6Prep Time: 00 hrs. 10 mins. Cook time: 00 hrs. 15 mins. Total time: 25 mins. Tags: salad,cheese,dole,greens,recipe,holiday,butternut,pecans,apple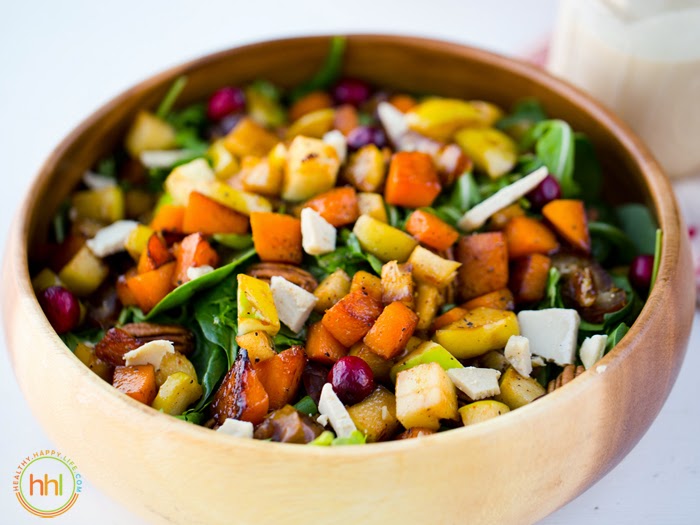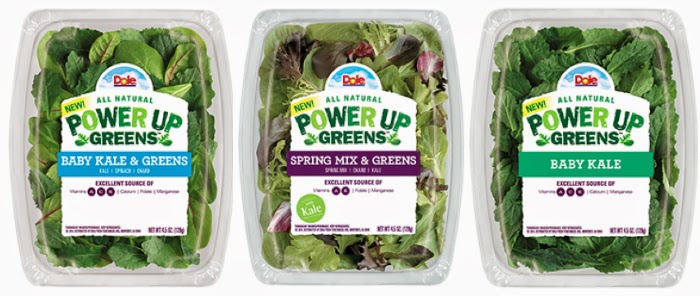 It is easy to get green-inspired with greens like this from DOLE® Power Up Greens™ ..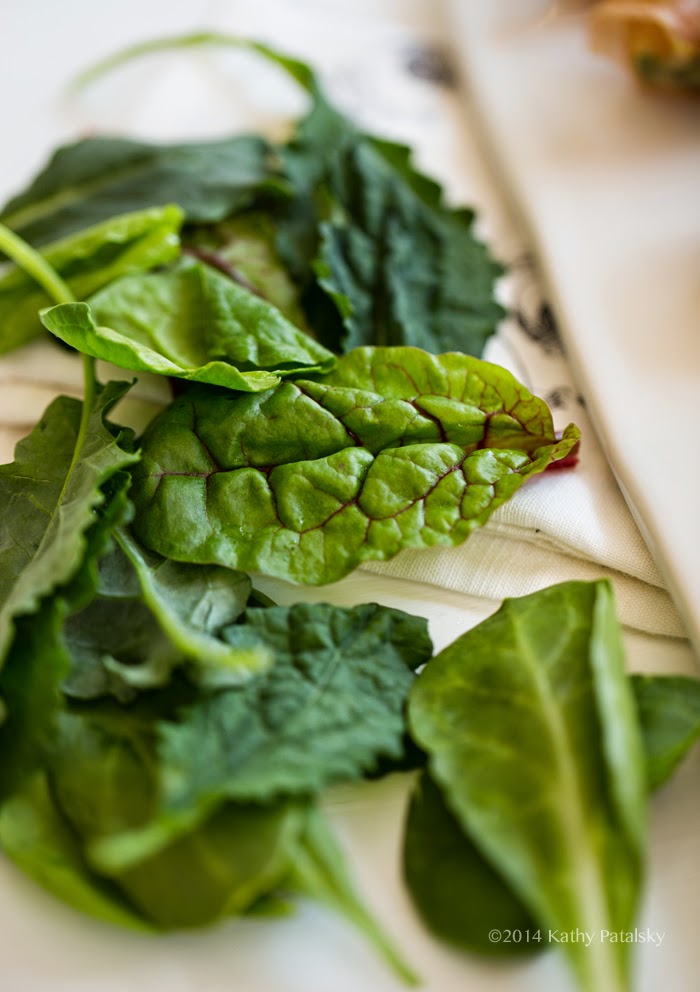 *This is a sponsored post by Dole Salads, but all opinions are my own. Thank you to all my HHL sponsors who make my website possible! I only work with brands and people that I love and adore.