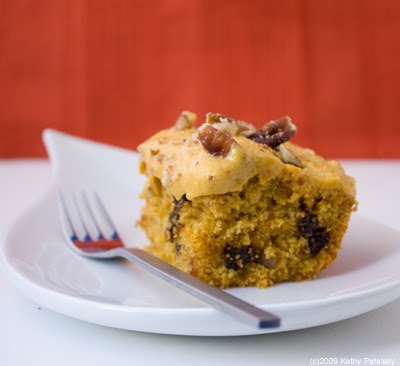 6am. Half-awake. In bed. Under the Covers. My drowsy mind was brain-storming for my chestnut post. Nutrition facts, snack ideas – an easy, informative post. But a little boring for a Friday. Two post day, I decide. Chestnuts. Chestnuts. Chestnuts. What can I do with a chestnut that's sweet, fun, creative and TGIF-esque? Hmmm. Roasted Chestnuts. Canned Pumpkin. Vegan Chocolate Chips. Maple Syrup. Raw Pecans. Vegan Cream Cheese. Cinnamon. Vanilla Sugar. Formidable ingredients. All yummy. But together? In a chocolate-chestnut-creamy-pumpkin dessert? Hmm… I fell back asleep….

9am. Fully Awake. I suddenly recalled dreaming about some crazy-creative recipe: Chestnut Choco Cake with a Cinna-Pumpkin Cream Frosting. Wow. Should I do it? What would Martha do? Oh who cares, I'm so making my dreamed-up chestnut dessert recipe. Get my recipe and check out the results…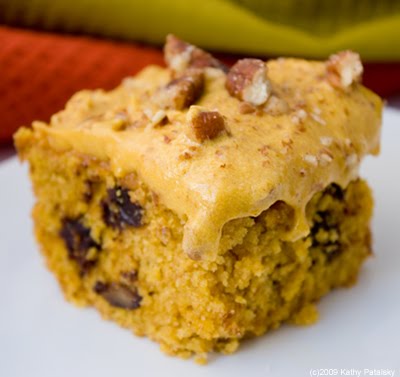 Taste Test. I couldn't wait to try this creation. I had no idea how it would taste, but oh my it smelled divine! The pumpkin puree was fragrant and added a fluffy moisture to the cake. The aromatic combo of cinnamon, chestnuts and vanilla almost knocked me over when I pulled the cake out of the oven. If "sweet fall breeze" had a perfume fragrance, that smell would be it. Hmm, maybe I should brand that. Anyways, back to the taste test. First bite: yum! Super moist pumpkin cake. Those large chewy soft chunks of chestnuts are amazing. I actually wanted more chestnut chunks! (Feel free to add as many as you'd like to your batter.) The speckled bits of chocolate chips were a nice touch, but actually not necessary. You can leave them out for a lower-calorie treat. The chestnuts stood out well all on their own. Yum. The frosting was the perfect accent. It smelled like cinnamon, vanilla and pumpkin. Beautiful orange color. I loved the spice accents in both the frosting and the cake. Don't skimp on those high quality spices.
What's in a Name? Blondies or Cake. Hands down, this is a dessert. Aka, treat. But perhaps a treat to be eaten with tea, coffee or chai. At first I wanted to call these 'blondies' aka vanilla brownies, but then I realized that they really bake up light and fluffy like a cake. However, because this recipe has so much 'good stuff' in it (not simply flour and sugar like a traditional 'cake') I wanted to call it a tea cake. But I ended on just plain old 'cake' branding for it. 🙂 And by good stuff in it, I mean whole wheat flour, pumpkin puree, pecans, chestnuts, spices and soy milk. Whatever you call it, it's delish. Oh, and the sweet pumpkin cream frosting certainly sweetened up the 'cake' part of the deal…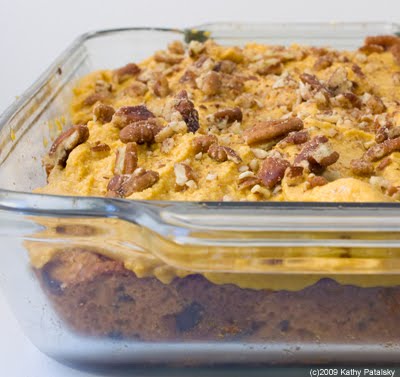 Chestnut Choco Cake with a Cinna-Pumpkin Cream Frosting
vegan
Cake Batter
dry:
2 cups whole wheat flour
¾ cup raw vegan sugar (evaporated cane juice)
1 tablespoon baking powder
1 ½ teaspoon sea salt
1 tablespoon Vanilla Powder Flavoring
*You can also use vanilla extract as a substitute if needed
dash of cinnamon
dash of nutmeg
wet:
½ cup melted vegan buttery spread
½ cup canned organic pumpkin
¼ cup vanilla soy creamer
1 cup vanilla soy or hemp milk
Batter Fold in:
1 cup vegan chocolate chips
1 cup roughly chopped chestnuts
Drizzle:
1 tablespoon maple or agave syrup
pinch of salt
Cinna-Pumpkin Cream Frosting:
6 oz. vegan cream cheese
2-4 tablespoon vegan buttery spread
*more buttery spread will make a richer frosting
1 tablespoon Vegenaise
½ teaspoon salt
½ teaspoon spices (cinnamon/nutmeg blend)
¾ cup canned pumpkin
4-6 tablespoon maple syrup
1 tablespoon soy creamer
5 tablespoon raw pecans
1 teaspoon arrowroot powder (optional)
Topping: Leftover Raw Pecans, chopped
Directions:
1. Pre-heat oven to 375 degrees.
2. Grease with spray oil, a casserole dish.
3. Add all dry tea cake ingredients to a large mixing bowl. Mix well.
4. Add in the wet ingredients. Stir until well blended. You should have a fluffy dense batter. It will not be of liquid consistency.
5. Fold in the chopped chestnuts and chocolate chips.
6. Pour batter into casserole dish. Smooth out batter to edges with a knife or back end of a spoon. Drizzle better with a bit of maple or agave syrup and a sprinkle of sea salt.
7. Place in oven and bake for 25-30 minutes. Or until a light brown crust forms on the edges and the cake begins to pull away from dish.
8. Prepare the frosting. In a food processor, add all the frosting ingredients except the pecans, maple syrup and creamer. Blend until smooth. The frosting will be thick.
9. Add the maple syrup and creamer slowly. Lastly, add in the raw pecans and blend until smooth. Do a quick taste test and adjust flavor to taste (salt, sweetness, creaminess, nuttiness). Don't worry if the frosting consistency seems watery. It will firm up in the fridge.
10. Pull cooked cake from oven and allow to cool. Stick frosting in the fridge for at least 2 hours.
11. When both the cake and frosting have cooled, you can frost the cake. Sprinkle with leftover chopped raw pecans. Slice into squares.
12. Serve cool. Store in fridge.
Notes:
Vanilla Powder – *I used a vanilla-sugar sprinkle that I found at Williams and Sonoma. Similar to what you might sprinkle on your chai latte at Starbucks.