Five years ago I posted a recipe for cookie dough ice cream. The funny part was that it wasn't really a recipe. (I mean, I didn't make the ice cream or the cookie dough, hehe. Hi.) I remember this post well because someone either emailed me or commented on social media (can't remember) saying that it was not even a recipe. I felt so stupid. Whoops. Blogger fail? Oh well, no biggie.
I always look back on stuff like that and laugh. They aren't all winners and that's ok. It's a learning process – cooking, blogging – life. Another example, when I posted these chocolate covered bunnies a few years ago and a few readers started calling them Donnie Darko bunnies. OK yes, they were pretty darn ugly. LOL.
But back to the ice cream. I have been dying to redeem myself. Today's the day!
And ps, I did redeem those poor bunnies.

This Chocolate Chip Cookie Dough Ice Cream is beyond dreamy. The fluffy vanilla cashew base swirls with thick chunks of homemade vegan cookie dough, finely chopped chocolate bits in every bite.
We served big, melty bowls of this stuff and loved it so much! Hope you can try it and love it too.
(And FYI, if you use store bought cookie dough I promise I won't judge. There are so many rad vegan brands out there these days!)..
DIY cookie dough balls. You can make them as small or giant as you'd like! That is the beauty of DIY.

PRO-Tip: The way you get those tiny specks of chocolate in your cookie dough is to use a chef's knife and really finely chop your chocolate. I chopped up vegan chocolate chunks, but you could chop up a bar or even morsel chocolate chips. The key is to get very shredded chocolate that blends into the dough very well. You can even blend that chocolate directly into the ice cream base for bonus chocolate chippiness.
Ready to be scooped!..

This cookie dough ice cream makes me feel like this..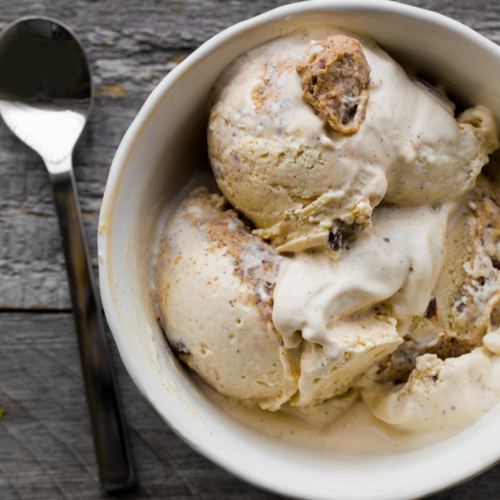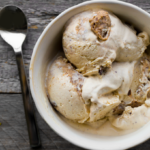 Print Recipe
Vegan Chocolate Chip Cookie Dough Ice Cream
This super creamy and decadent chocolate chip cookie dough ice cream is made using cashews and homemade cookie dough.
Ingredients
Cookie Dough:
⅓ cup vegan butter, softened

⅓ cup maple syrup

1 banana, mashed or ½ cup silken tofu, blended

¾ teaspoon vanilla extract

¾ teaspoon sea salt

½ cup buckwheat flour (or sub oat flour)

1 cup all purpose flour
Fold in:
¾ cup finely chopped vegan chocolate chunks
Ice Cream Base:
3 cups raw cashews

2 ½ cups non-dairy milk (I used unsweetened soy)

⅓ cup maple syrup (or agave)

1 teaspoon vanilla extract (or try the inside of one real vanilla bean)

⅛ teaspoon sea salt

¼ cup of the cookie dough
Fold into ice cream:
1 ½ cup of the cookie dough, rolled into small balls

½ cup finely chopped chocolate — optional
Instructions
The day before you want to serve your ice cream you need to prep by doing three things: 1) Soak the cashews in water – at least 6 hours. 2) Make and chill the cookie dough. 3) Make sure your ice cream maker bowl is in the freezer and will be fully frozen by tomorrow when you want to start.

To make the cookie dough: Add all the vegan butter, maples syrup, banana, vanilla, salt to a large mixing bowl. Beat on low until smooth. Fold in the flour and chocolate chunks. Tip: Finely chopped chocolate tastes better in ice cream because when frozen, the chocolate gets very hard. Smaller pieces are easier to bite and also melt in your mouth faster as you eat. (Was that ice cream TMI? Not sure.) Note: Because you are not baking this dough you do not need to add any baking powder or even any serious egg replacers. However, yes you could also bake this dough!

Place your cookie dough in a small bowl, cover and place in the freezer to chill overnight.

The next day: Pull your cookie dough from the freezer and allow to thaw a bit. Enough so that you can scoop out pieces and start rolling into small balls. Keep rolling balls until you have about 1 ½ – 2 cups of small cookie dough balls. About the size of a large blueberry.

Ice Cream: Drain the water from your very plumped up cashews. Then pour the soaked cashews into a blender. Add the non-dairy milk, sweetener, vanilla, salt and cookie dough. Blend until smooth and thick – like melted ice cream, basically.

Start up your ice cream machine. Pour the ice cream base mix into the set up machine. Allow it to churn for 20 minutes – or until it starts to thicken up a bit to where you can see it swirling and firming up along the edges.

About a minute before you stop the machine, add about half of your cookie dough balls – right into the machine so that they mix in well and infuse the vanilla base a bit.

Turn off the machine and spoon your finished ice cream into a freezer-friendly container. I use a loaf bakeware pan. From here, swirl in the remaining cookie dough bits.

Chill the ice cream for a few hours, until it is firm enough to scoop. Enjoy! Tip: When serving this cashew ice cream always allow at least a half hour for it to thaw to a scoopable state.

Optional: If you want MORE chocolate chips swirled into the ice cream, you can absolutely add those over top the ice cream, or swirl them into the machine.
How Much Dough? You will probably have some leftover cookie dough, it is perfect for nibbling later on, or adding to your next batch of ice cream. The dough freezes very well! If you do not want leftovers, you could halve the dough recipe. (You could even bake it into cookies, but don't expect them to fluff up too much because there is no baking powder added.)
Dairy-Free Ice Cream. You may have notice that I have a thing for homemade cashew ice cream. I have posted a few variations since obtaining an ice cream maker last summer. The best part is that the ice cream is ready to serve basically within the hour of blending and churning. (A little longer chill time if you like firm ice cream.)
Here are some of my other vegan ice cream recipes:
– Cookie & Cream Ice Cream
– Avocado Mocha Almond Fudge Ice Cream
– Pumpkin Pie Ice Cream
– Salted Caramel Cashew Ice Cream
– Healthy Peanut Butter Ice Cream
– And when you crave a Banana Split!
Not Too Sweet. My complaint about most store-bough cookie dough ice cream is that it is just a bit too sweet. So for DIY, I try not to make things overly sweet. The cashew base is mildly sweet and then I let the cookie dough chunks the opportunity to sweeten things up. If I were feeling even more decadent, I would've just added even more cookie dough – there was a bit leftover. But just like this I was in ice cream heaven.